Hair washday for natural hair is usually tedious and straining. To get through it, you need to know how to wash your hair properly and how to detangle natural hair too.
Detangling natural hair can be frustrating and time-wasting – especially for those doing it all wrong – while trying to avoid breaking your strands in the process. For many with natural hair, stories about hair day can fill a river and then some.
Alas, there is hope for those who want to finally get it right. You can be sure to have a less stressful process of detangling your natural hair with these helpful tips.
How to Detangle Natural Hair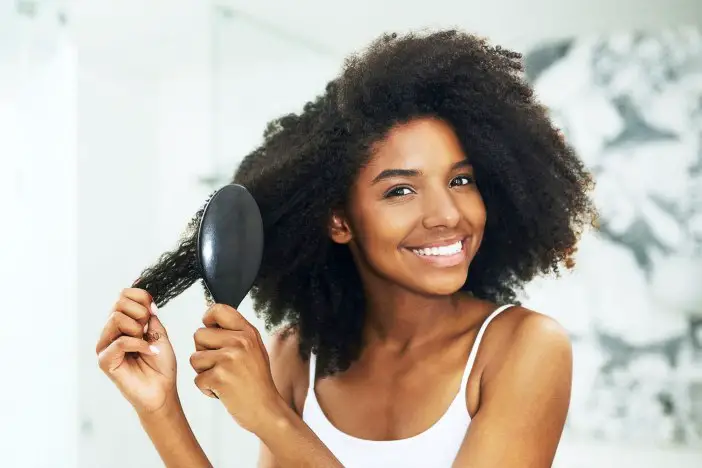 1. Use Oil
This is meant for denser hair. The first thing you need to do is add essential or mineral oil hours before your detangling routine starts. This gets your hair prepared ahead and prevents dryness and harshness.
Massage the oil deeply into your hair, cover it with a wrap, and leave it in for a while (advisably overnight) to get it ready. Your hair wouldn't break or brittle while detangling.
You can use coconut oil, olive oil, or castor oil for this pre-step.
2. Damp Your Hair
The first thing you would want to do is dampen your hair. It shouldn't be 'just out of the shower dripping wet' but little minutes away from drying.
Wet hair is known to be weaker than dry hair but is still needed in the detangling process. Why is this so? Wet hair is softer and easier because it is weaker. The key to detangling when hair is wet is to do so while hair is damp, not fully wet.
Also, for the hair textures like type 4s, damp hair is the best condition you want to start with when detangling.
3. Apply Conditioner
The next step is to add your recommended detangler or conditioner to your hair. This step and step three can be interchanged based on your preference and what your hair needs.
For severely matted hair, a conditioner comes first to ease the parting of your hair into sections.
It is best to apply a generous amount for the product to get to your roots faster. The key purpose of this step is to get into the dark corners of your hair.
When done with conditioning your hair, keep some conditioner in a spray bottle for when combing. Don't forget the mist helps to grease the comb as it drives through your tresses.
For excellent mist effect, mix the conditioner with a good amount of water, shake and keep for when needed.
4. Section Your Hair
The next step is sectioning your hair. For good coverage, you should part your hair into at least six sections.
This is because detangled natural hair can easily fall back into tangled because of texture. So for you to know what areas you have treated and what areas you haven't, section your hair. Our hair clips are most helpful in this step.
Sectioning also helps to avoid breakage and using unnecessary force on your hair. This also helps to relax your arm while fighting a tight knot, thereby breaking your hair in its tug-of-war.
Sectioning helps to make areas with dead knots and matted hair manageable. You can be gentle on your locks because it's not too much in your hands, and thereby focusing on the necessary parts.
You can section your hair in a quadrant first, and then you break into further divisions for easy working of your brush.
5. Detangle With Your Hands
After sectioning, don't start working on your locks with your comb or brush. That is a dangerous move.
Use your hands first. They can see how your hair looks inside. You can feel it instead. The fingers will provide that sensory insight. While combs and brushes won't give you the delicacy you want sometimes, your hands will.
You also get to lose fewer hair strands by doing this first.
6. Detangle With Your Brush
This is the tough part of the process. Detangling with a brush of your choice (wet brush recommended though) can be done the right way or the wrong way.
Most times, our instinct tells us to start from the bottom and work our way down. This is wrong.
Starting from the crown of your head isn't the easiest because whatever knot unsettled goes down and piles up with other knots. Not clear enough?
Let's take this example. You are working on a section at the top of your head. Instead of smoothing out as you think, the knot is moving down, probably to form a bigger one with another knot below.
So the important rule when detangling- starting from your end.
Hold your hair out just above the section you are working on, and brush from the bottom up. So whatever knot is in your hair is being untangled at the tips.
You keep doing this until the entire section is tangle-free.
SEE: How to Get Natural Hair Straight: See Methods That Work Without Heat or Relaxer
Why Detangling Your Natural Hair Is Important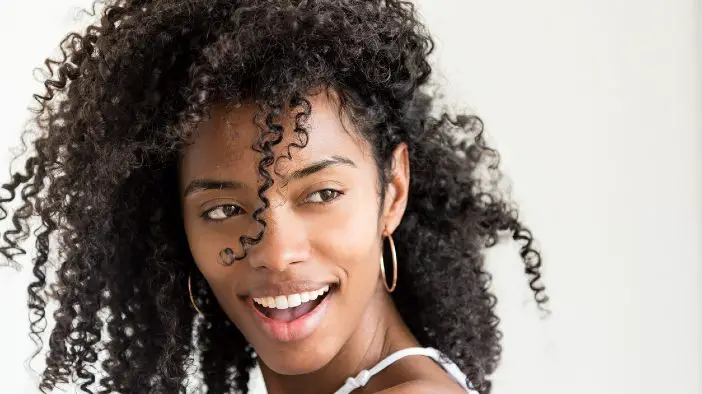 Even though it is tasking and draining, detangling your natural hair should be the first step in your hair routine because it prevents breakage.
When your hair is tangled and matted, detangling it is the most assured way of avoiding breakage. And hair that doesn't break is growing hair.
Also, it sends the headache away. Yes, that headache from having a fleece of wooly hair on your head over time. With detangling, combs can easily penetrate your soft and lofty hair with ease, making you feel less pain.
To keep these benefits, you need to routinely detangle your hair. But too much of a thing isn't always good. You have to keep this in mind when trying to create a stable hair routine.
It is said that the best time to detangle natural hair is after changing hairstyles. And if you aren't wearing any, twice a week is the best.
The key is to make sure you manipulate it as little as possible but still maintain it as regularly as you can.
This is simple, right?
Products Needed to Detangle Natural Hair
Detangling your natural hair goes beyond getting a detangle brush to root out your hair. You need the help of products designed to make the process easy.
Knowing the right products to use to detangle your hair is a big plus. For some with soft natural hair, water is a good enough lubricant to detangle your hair.
However, for those with thick locks like type 4 hair, you need specialized products that will help slip your hair with ease and make detangling painless.
More than water, you would need products like detanglers, hydrating conditioners, and oils.
1. Detanglers
Detanglers do exactly what they are named for, detangle. They are products made with natural ingredients like oils, butter, and vitamins.
Detanglers are made with the sole purpose of easing friction, making your hair slip while the comb glides through your hair, and providing an easy detangling experience. They help free your hair from knots and tangles as you detangle.
You can use one of the popular detanglers like SheaMoisture's Raw Shea Butter Moisturizing Detangler, Kinky-Curly Knot Today Leave-in Detangler, Honey Baby Naturals Knot My Honey Instant Detangler, Aunt Jackie's Curls and Coils Knot On My Watch Instant Hair Detangling Therapy, and Oyin Handmade Oh My Glide Detangling Spray.
There are other great detangler options for natural hair.
2. Conditioner
If you aren't using a detangler, another option is a conditioner. Conditioners are great because they provide that "slip" to help soothe the detangling process. Another benefit of conditioners is that you don't have to wash them off.
After spreading a generous amount in your hair and combing through it, you can style your hair immediately as you want, leaving the conditioner in. That is why they are called leave-in conditioners.
However, be sure to avoid bad conditioners that will leave your hair dry and brittle. Those types damage rather than aid, and you would not like that. 
SEE: Best Professional Hair Dryer
Some great conditioners include Aunt Jackie's In Control Moisturizing & Softening Conditioner, TRESemmé Expert Selection Conditioner, and Mielle Organics Pomegranate & Honey Moisturizing and Detangling Conditioner.
3. Oils
This is used more as a pre-detangling (pre-poo) ritual than the process in itself.  You can apply the oil to your dry hair and finger-detangle it. Then you add water and shampoo, starting the detangling process.
Oils can also be used for gentle detangling. That is if you are in-between changing hairstyles and don't want to go through the lengthy process of washing, drying, and detangling. Oils are also good because they prevent dryness, making hair breakage hard.
Some mineral oils you can use include coconut oil, olive oil, castor oil, and sweet almond oil.
Having one of these products in the detangling process is only complete if you use the right tool.
Brush and Tools to Detangle Natural Hair
A workman without his tools is as bare as a lion without its teeth and claw. It needs them to hunt and prey. So do you.
You need your detangling tools to claw and prey at those knots and tangles resting on your head. You might not think it, but you are going to war with them, and only with the right tools can you win that war.
1. Wet Brush
A major tool needed for this war is the wet brush. They are lifesavers.
Wet brushes offer you flexibility, speed, durability, and efficiency as they work through your hair. As their brittles work in creating friction-free glides through the hair, there are mini detangler balls at the end that helps to soothe the hair.
The Denman brush, wide-toothed brush, tangle teezer, and paddle brush are other alternatives but if you can stick to the wet brush, sister please do.
2. Spray Bottles
Since damp hair is important in the detangling process, spray bottles are essential because they provide the mist. This mist can penetrate deeper as you spray the secluded part.
Spraying as you brush through helps the detangling process by providing the wet mist to aid the brushes. It also makes it easy to glide through your natural air.
3. Sectioning Clips
This helps with sorting. Seriously, you will need this to sort through your tresses on a bad hair day. Also, breaking your hair into sections helps make the detangling faster. And the best way to hold the sections up instead of looking for more hands? Clips!
The clips hold the sectioned hair in place and give you room to work in specific areas at a time.
Alligator or butterfly clips are the best options.
4. Hair Scissors/Shears
When experiencing what is called 'fairy knot' (single-strand knot), scissors are the fastest way of dealing with it because of its difficulty. Shears also help in trimming off split ends or light-dusting your ends.
5. Fingers
They say the hands are the most powerful tool of man. They aren't wrong. The fingers are part of the body making it is easier for you to feel a tangle and gently pull apart.
You can also control the extent of force to use on a comb. Furthermore, the fingers are experts at combing through the air, especially during shampooing.
Having your detangling products and tools in hand, you are ready to follow these quick steps for a successful and less painful detangling.
After You Detangle Your Natural Hair
After the whole process of detangling, maintaining your hair to minimize the number of knots in a given time is important.
To do this, you have to keep your hair in protective styling. This keeps your hair and edges from tangling up.
You can find different protective styles that would protect your hair and keep it less tangled. It includes keeping it in box or crotchet braids, flat twist, braided bun or twist, and among others.
Also, using satin headwraps, bonnets or pillowcases will help you keep the tangles away. Unlike cotton that causes friction when you move or shift your head, satin makes it easy to glide against any friction, keeping the tangles away.
Satin pillows will serve as a backup for days when your headwraps or bonnets fly off during your restless nights.
SEE: Essential Detangling Hair Tips to Help Prevent Hair Loss
Frequently Asked Questions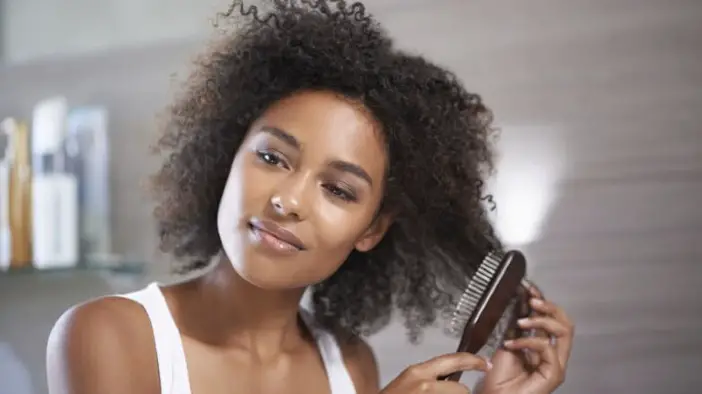 How many times should I detangle my natural hair?
Once a week. You need to detangle your natural hair once a week to keep it in a knotless and tangle-free state.
If you are wearing hairstyles like braids or weaves, you can detangle as soon as the hairstyle comes off.
Should I detangle my natural hair in the shower?
No, you shouldn't. You shouldn't detangle your hair in the shower. Fully wet hair is weak and could break easily.
However, you can start the detangling process by fingering through your hair. This gets about close to half of your knots. But a full detangling regimen is not advised.
What will happen if I don't detangle my natural hair?
You'll most likely suffer hair breakage in the worst-case scenario.
You need to detangle your natural hair to avoid losing your curls and coils. Detangling makes it easy to style and maintain your hair. If you do not detangle, it becomes harder to maintain, therefore, hair breaks and becomes damaged.
Conclusion
Now that you have this info and tips in your arsenal, detangling natural hair on hair day will be easy to conquer. It wouldn't have to be a hard chore you dread. What's more, you might find the process enjoyable.
To see the best results of detangling your natural hair, do make sure you partake in other activities in keeping your hair healthy and strong.
Thanks for reading.
Africana Fashion provides suitable beauty articles to boost your healthy hair lifestyle.