Since the hair typing system was first started by stylist Andre Walker, it's been modified, broken down, reshaped, and upgraded. Although much is still to be known about our hair characteristics, we can now categorize hair into types.
It actually feels great to be able to classify our hair into types and categories. Not only do you have it easy with identifying what your hair is, but you can also take proper care of it. This is especially good news for afro-textured hair.
Afro-textured hair is different because its natural state is full of curls and coils. And most afro-textured hair falls under the type 4 hair category. And in this category, we have the subcategories 4A hair type, 4B hair type, and 4C hair type.
4A is known to be the toughest because of its coils. But what about the second toughest 4B hair?
4B hair is the second coiliest hair in the curl chart. And I would be treating this hair type, identifying its characteristics, and how to care for it with helpful products.
What is 4B Hair Type?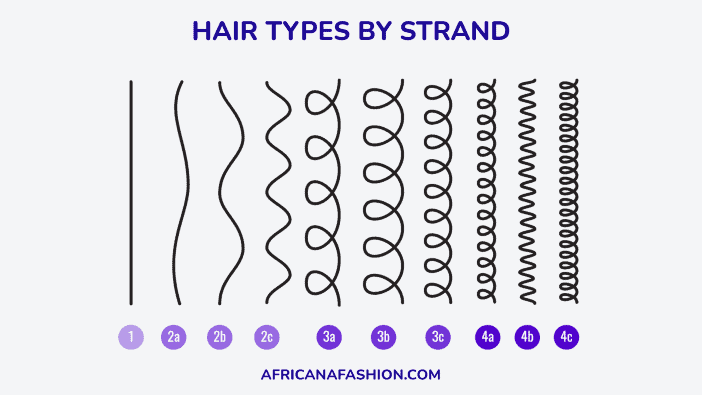 Type 4B hair is another kinky afro-textured hair that has a wiry texture. Its coils are usually wound in a tight 'Z' shape that looks like a zigzag with sharp angles. When you see the hair, it looks like cotton candy because of its fluffy texture.
4B hair type is also one of the most common hair types among tan to dark skin tones. Often sidelined, 4B hair has both characteristics of 4A and 4C hair. You can find curls and coils. But what is most significant is its density.
Characteristics of 4B Hair Type
1. Prone to dryness
4B hair is tightly coiled. This makes it hard for natural oils and products to get to the ends from the shaft and root. Therefore it's hard for the hair strands to be nourished. This, in turn, makes it prone to dryness and breakage.
2. Shrinks up 70%
4B hair looks shorter because it shrinks up to 70% percent. The coils are tightly woven and would need to be stretched for the real length to be noticeable.
3. Coily 'Z' pattern
4B hair type is characterized by its sharp-angled 'Z' pattern. The pattern looks more like a zigzag on the hair. It also means the hair has sharp angles and curves. This makes the hair prone to dryness.
4. Fluffy texture
The texture of the 4B hair type can be dense and fluffy. The fluffy appearance makes it look like cotton candy or yarn of wool. The fluffy texture can be wiry and fine or rough and coarse-textured.
5. Has a dull look
This is natural for 4B hair because it lacks oils, both natural and applied. Dullness is an apparent feature common with all type 4 hair.
However, 4B is prone to dullness more because it cannot transfer oils through its strands. This also makes it easy for products to build up on the scalp.
6. Frizzes easily
4B hair type frizzes easily due to its lack of oil. And hair not moisturized at its ends becomes frizzy. That's why 4B hair needs to be moisturized regularly.
Hair Care Routine for 4B Hair Type
1. Moisturize
This is critical for the 4B hair type. You need to moisturize your 4B hair all the time. This includes your wash routine and weekly product application. Use deep moisturizing products to keep your hair hydrated and nourished.
In addition, you need to use treatments like hot oil treatment to keep your hair replenished. You can also use leave-in conditioners to keep your hair perfectly moisturized.
2. Detangle
Detangling your hair is a regimen every hair has to work through. If you have natural hair, you should detangle your hair with your fingers or use a detangling brush along with detanglers to keep your hair tangle and knot-free.
Asides from this, using a wide-toothed comb to get the knots free from your tangles is the best way to detangle if you are not using your fingers. It's gentler.
3. Protect your hair
This is natural for natural hair women who want to grow their hair healthily. Protecting essentially means wearing hairstyles that would not break or harm your strands.
Protective hairstyles like cornrows, wigs, hair extensions, Bantu knots, and box braids keep your hair from breaking. Notwithstanding, you should detangle and wash your hair as you transition between styles.
4. Always section your hair
4B hair type is tightly coiled and angled. That means it's hard to get between the strands. You should section your hair when you detangle, wash, or co-wash your hair.
Furthermore, this helps to keep your hair from tangling and breaking. Rather than comb a chunk at a time, work slowly in sections to protect your hair.
5. Stretch your curls and coils
Whether you are using a tool or hairstyle, you can stretch your hair by changing the curls naturally. There are also curl enhancing products you can also use to stretch your hair out.
6. Use thermal tools
When you condition your hair, use thermal or hot tools to enhance your curls. This eases the penetration of the conditioner.
If you have a low porosity 4B hair, you need to use hot tools like a thermal cap or a steamer to get your hair deeply penetrated with products.
7. Be less manipulative
This includes washing your hair too much, changing hairstyles too frequently, and touching it too much. Let your hair breathe and grow organically by leaving it alone. If you feel the need to cleanse your hair, use a dry shampoo or co-wash as in-between routines.
Manipulating your hair as little as possible gives it the freedom to grow. However, this does not mean you shouldn't apply products or comb and detangle. You need to do these at the right time. 
8. Trim
Trimming your hair regularly would keep frizz and split ends away. Also, you get to protect your hair by trimming hair. Moreover, problem parts of your hair are mostly your ends, so when you trim your hair, you are left with a healthy midsection and roots.
Products for 4B Hair Type
1. Shampoo
You need to use cleansing and clarifying shampoo for your 4B hair. Since the hair builds up products and grime easily, it needs to be cleansed and washed.
You can use Cantu Sulfate-Free Cleansing Cream Shampoo to cleanse your hair without losing your natural oil.
Read Also: Protect Your Hair's Natural Oil With Sulfate-Free Shampoo
2. Conditioner
Giving and retaining moisture is the needed feature of any conditioner you would be using for your hair. 4B hair needs lots of moisture and hydration. Therefore the conditioners you use need to be deeply moisturizing and have sealants to prevent the moisture from slipping.
You can use Carol's Daughter Wash Day Delight Detangling Jelly-To-Cream Conditioner as your regular conditioner.
And use Creme of Nature Pure-Licious Co-Wash Cleansing Conditioner for your co-wash routine.
3. Deep conditioner
Hair masks are indispensable products for a 4B hair type. You can deep condition once or twice a month to lock moisture in your hair. Additionally, the conditioners have to protect your hair from frizz and also control friction.
For deep conditioning, use Arvazallia's Hydrating Argan Oil Hair Mask and Deep Conditioner to keep your hair moisturized and nourished.
4. Oils
Oils are required in caring for your hair. They contain nutrients and antioxidants to keep your hair strands healthy. Using oils like jojoba oil, coconut oil, avocado oil, and argan oil would help 4B hair type.
Also, these oils are light and can penetrate the hair shaft easily.
5. Moisturizer
A moisturizer is needed in your 4B hair routine. You need to moisturize daily with special products designed to give your hair moisture.
Naturally, a leave-in conditioner would provide the daily moisturizer. Moreover, they are light and would not build up on your scalp.
tgin Butter Cream Daily Moisturizer is a great moisturizer that would go a long way in keeping your hair moisturized. And you can switch it with tgin Green Tea Super Moist Leave-in Conditioner For Natural Hair.
In addition, you can use Mielle Organics Moisturizing Hair Milk to keep your hair moisturized and shiny. However, you are to rinse before styling.
6. Styling products
4B hair should use gels, butter, and crèmes to keep their hairstyles in place and moisturized. Hair mousses would also work well with the fluffy cotton candy texture of your hair. You can also use it to define your curls.
Use Sheamoisture Curl Mousse to keep frizz and dryness away. Similarly, use RENPURE Creme Curling Jelly to style your hair to perfection.
4B Hair Type FAQs
Is my shrunk 4B hair type unhealthy?
No, it isn't. Shrunk 4B hair does not mean unhealthy hair.
4B hair shrinks due to its tight coils that have zigzag patterns. This does not relate to unhealthy hair. However, you can get unhealthy hair from not caring for your curls. The healthy regimen includes detangling and adding moisturizers.
What is the difference between 4A, 4B, and 4C hair types?
The difference is in their curl pattern.
4A hair type has tightly defined 'S' shaped patterns. Meanwhile, 4B hair has a tightly coiled 'Z' shaped hair pattern. On the other hand, the 4C hair type does not have a defined hair pattern. It mostly has tightly coiled 'S' and 'Z' shape patterns.
What hairstyles are good for 4B hair type?
4B hair can wear the following hairstyles:
Dreadlocks
Afro
Bantu knots
Cornrows
Braids
Layered afro
These hairstyles would highlight the fluffiness and utilize the density of 4B hair. Also, they would protect your hair.
Conclusion
Hair typing has made it easy for women to categorize their hair. Although afro-textured are typed in the densely and curliest of categories, they still have different subcategories. One of the tightly coiled categories is type 4B hair.
4B hair type is characterized by angles and curves made by 'Z' shaped patterns. The hair is prone to dryness and frizz. Therefore it needs moisture.
However, having 4B hair does not mean you have unhealthy hair. Keeping healthy hair means using the right hair care routine and products. And with the routine and products highlighted in this article, you should be able to achieve that.
You can love your 4B hair if you know and understand it more. So I encourage you to continue to follow up and read up on your hair challenges and how to overcome them.
Then you can get the healthy 4B hair.
Thanks for reading.
Africana Fashion provides relevant hair care articles to improve your healthy hair.