Co-washing hair is becoming an interesting alternative routine, especially among women with natural hair.
Do you have dry curly hair? Afraid shampooing would wash out whatever that is left of its moisture, damaging your hair more? Then this routine is for you.
Co-wash is the sod-free method gaining traction in present times. It's natural and does not need a shampoo for the routine. Here's all you need to know if you are looking for in-between hair treatment.
What is Co-Washing?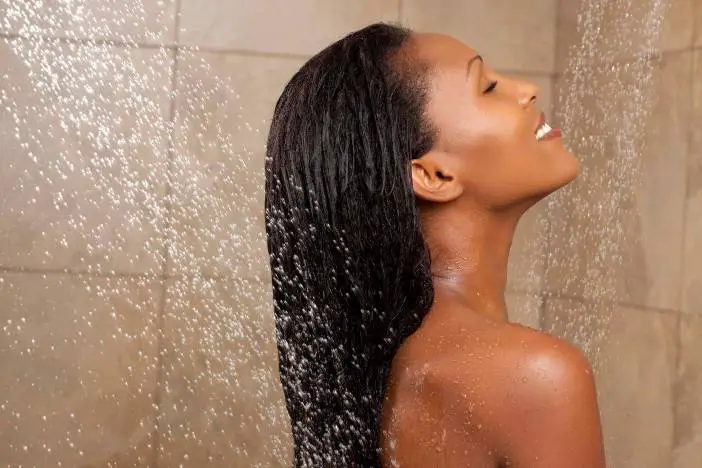 Co-washing simply means "conditioner-only washing". It is a method of skipping shampooing, using only a conditioner during your washing routine, be it weekly or biweekly.
This shampoo-free method prevents the nutrients and natural oils of natural hair from washing out. It also prevents you from shampooing often, saving your natural hair from harsh shampoo ingredients that dry the hair of nutrients, causing breakage.
For your co-wash routine, all you need to be armed with is a good conditioner (a moisturizing one is recommended) and water.
This type of wash routine cleans the hair of sweat and dirt residing in it, leaving the hair softer. Co-wash does not keep your natural hair squeaky clean, but it does leave it in between thoroughly clean and second-day hair.
Co-wash is also good for extremely dense and curly natural hair. Due to the density of natural hair, it is always hard for nutrients and oils to reach the scalp, which is why the hair gets dry quickly.
However, the co-wash method allows the nutrients to spread deeper into the roots of the natural hair, finally reaching the scalp. This way there won't be any loss of nutrients. It will also give your hair a nice shining and bouncing afterglow.
Is Natural Hair Fit for Co-Washing?
Yes, it is. The Co-wash method bests suits women with thick curls as earlier said. It is also good for natural hair that is dry, coarse, or breaking.
Co-washing is also good for women with an active lifestyle. Like those who exercise frequently (sweat easily), those who are always on the move with little time to spare, and those who live in dry geographical locations or experience cold seasons (like winter).
If you have oily hair or a scalp condition like dermatitis, you don't need this method because shampoo is supposed to be your hair's best friend. Furthermore, if you have long relaxed hair, steer clear of co-wash, your hair could get weighed down instead.
Benefits of Co-Washing Natural Hair
1. Keeps the hair moisturized
Co-washing natural hair keeps the hair moisturized and cleanses it simultaneously. This is a major benefit of shampoo. Shampoos have chemicals like sulfates that strip curly hair of natural oil and nutrients.
However, when you co-wash your natural hair, not all the nutrients are washed away, keeping the right moisture your hair needs.
2. Easy styling
Since your hair is moisturized with the co-wash routine, you can easily style your hair as you want. Clean hair is difficult to style, but with co-washing, the hair becomes more manageable to maneuver as you wish.
3. Detangles curls
Co-washing your natural hair helps keep your hair tangle-free. Due to your regular application of the conditioner, your hair is easy to comb through. This reduces hair breakage. As a result, your curls become vibrant and bouncy.
SEE: Here Is How to Detangle Natural Hair
4. Healthy scalp and hair
Shampoos have a harsh effect on dry scalps and hair since they wash off natural oils and nutrients. When you co-wash your natural hair you can be sure that the nutrients remain intact, while still getting rid of dirt and also being mild to your scalp and hair.
5. Saves time and money
You won't have to spend money on shampoos and conditioners simultaneously when using the co-wash method, thus saving you a lot of money. Also with the elimination of the shampoo process, you save time and energy.
How Often Should You Co-Wash Natural Hair
There is no specific standard for the required amount of time to co-wash your natural hair in a given period. Therefore, this all balls down to your preference.
You can co-wash as often as you shampoo. That means, if you shampoo once a week, then co-wash once a week. And if your shampooing routine was daily, you can co-wash daily. It depends on what you want.
Do remember that you are to shampoo and clean out the buildup in your hair so that it wouldn't become too heavy.
SEE: Is Jojoba Oil Good for Hair? Here's Why Every Hair Type Needs It
How to Co-Wash Your Natural Hair
Wet your hair with water. It should be soaking wet. This helps loosen the dirt in your hair, making it easier to rinse out.
Divide your hair into desired sections (at least six).
Squeeze a healthy amount of conditioner that would penetrate from the root of your hair and to the tips. Apply the conditioner to the sections.
Massage the conditioner into your scalp and spread evenly. Make sure your handwork on the dark corners of your hair. From the scalp, glide upwards to your tips, lining in-between the curls.
Do this for every section.
Lastly, rinse the conditioner after a while.
SEE: How to Shop for the Best Professional Dryer for Your Hair
Do this every time and you are sure to enjoy the benefits of co-washing your hair. To also get the best results, avoid making mistakes with your routine.
Mistakes to Avoid When Co-Washing Natural Hair
1. Co-washing with a weavy product
To get that smooth hair without too much grease and weighing down, you should look for a light conditioner or a conditioner made for co-washing. Save your heavy conditioners for shampooing days.
2. Not detangling hair thoroughly
Your hair products worked together to give you optimum results. Tangled hair will not great even when styled perfectly. For this, you have to make sure you detangle your hair properly.
3. Using ingredients that do not work for your yair
Even the best ingredients don't work the same for everyone. If you figure out if the conditioner isn't delivering the results you want, look at the ingredients. There might be ingredients that your hair doesn't like or the brand is not for you.
Bottom line: If the product isn't working for you, move on to something that does.
4. Not rinsing completely after co-washing
If you don't have the hair that needs to constantly be hydrated, be sure to thoroughly wash out or rinse after co-washing. Otherwise, you run the risk of buildup.
Also, some conditioners seem to run interference when styling. If you use such products, make sure to rinse properly with water when you are done co-washing.
5. Ignoring your scalp
After co-washing, It's important to rub your scalp thoroughly to loosen and remove dirt, grime, and buildup. Whether you alternate co-washes with shampoos or you only co-wash, spend a little more time rubbing your scalp than you do on your hair.
This way, any lingering dirt is sure to be washed off.
Best Co-Washing Conditioners for Natural Hair
If you have thick hair, your regular conditioner will do just fine for your co-washing routine. However, make sure to avoid conditioners with silicones in the ingredient list. They are chemicals used to smooth the hair, and without shampooing, they would build up in your hair and weigh you down over time.
If your natural hair isn't dense or deeply curled, there are products specifically designed for co-washing. These products contain more cleanser than conditioners do, but also use natural cleansers like aloe vera to remove the soft dirt in the hair.
Good conditioners used to co-wash natural hair include Aussie Moist Conditioner, TRESemme Naturals Nourishing Moisture Conditioner, Christophe Robin Cleansing Mask With Lemon, L'Oreal Paris EverCreme Cleansing Conditioner, SheaMoisture Coconut and Hibiscus Co-Wash Conditioning Cleanser, and among others.
You should carry out your research about the product that would best suit you.
SEE: Best Conditioner Products To Boost Your Hair Growth
Frequently Asked Questions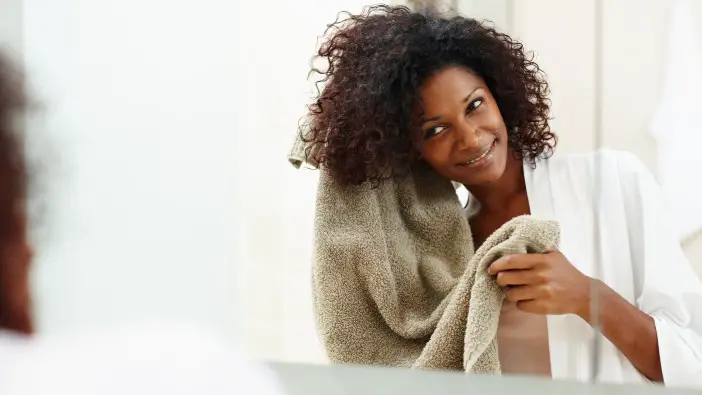 What should you do after co-washing?
Dry and style your hair. You can also detangle your hair while you co-wash or after you co-wash. It is also important to add oils like coconut oil or jojoba oil to moisturize your hair.
After co-washing your hair, you need to keep your hair's moisture sealed. Therefore use sealing products to keep your hair protected.
Can you co-wash your natural hair every day?
No, you can't. You can co-wash your natural hair once or twice a week.
If you have type 4 hair that is extremely curly and dry, you would need to constantly keep your hair moisturized. However, if you have soft or fine hair, you can co-wash your natural hair once a week.
Can you co-wash braids?
Yes, you can. You can co-wash any type of braids just as you wash them. If you want to keep your braids and hair strands moisturized, you need to keep conditioned.
Use a leave-in conditioner to keep your hair moisturized. You can also use a deep conditioner and wash it off after its set time.
Conclusion
You need to co-wash your hair once in a while to maintain steady moisture and shine. Your hair also needs a co-wash to improve its health. You can also detangle in-between washes.
Nonetheless, you shouldn't co-wash every day. It should be spaced to avoid thinning your hair or building up grime in your hair. When you want to co-wash, keep in mind that you are only using just enough to get your hair clean. You do not need thick conditioners to weigh down your hair.
If you co-wash properly, you will find your hair strand shiny and glowing all the time. So add the hair care routine to your beauty regimen.
Thanks for reading.
Africana Fashion provides hair care articles to improve your healthy hair lifestyle.