Some of you might avoid a flat iron on your hair like an Egyptian plague. Those things can kill. Is it the choking air from hair is frying, the burns and scars around the ears and hands afterward, or the inconsistency in the straightening while trying to be delicate.
There are enough stories to go around when it comes to flat ironing hair.
I am tired of having to go through the discomfort of flat ironing my hair the wrong way and something needs to be done because whether we like it or not, they are useful to the hair.
Therefore, to learn how to do things properly I researched and found out some information on how to flat iron your hair. I thought I will share what I learned with you all who have the same issues I also have with the flat iron.
What Is a Flat Iron?
A flat iron is simply an electric tool used in changing the structure of our hair. They are in the same family with a tonging iron. A tonging iron curls, while a flat iron straightens.
The electric heating makes them hot and when placed on the hair, the heat touches the positive hydrogen bonds in the hair cortex, causing the hair to open up and bend or straighten.
The structure and shape of the irons have changed over time since it was first introduced in the sixties. The modern flat iron use ceramic plates that can be one layer or multiple layers.
Flat irons are so useful nowadays that almost every woman has one tucked in a cupboard somewhere in the house. They are just not easy to apply and you have to do it carefully so as not to cause damage to your hair and skin.
Unlike me that didn't take note of some things before flat ironing my hair, there are some things you need to do to prepare your hair properly before using the hot tool.
Preparation
When preparing your hair for a flat iron, you have to be cautious of some steps you need to avoid damaging your hair.
The first is to rid your hair of oil and grime by shampooing. You have to make sure that your hair is free of oils and dirt because they are the ones that would make the hair sizzle as you straighten.
Not that the hair needs to dry up, it still needs some form of moisturizer. After using your conditioner, gently comb through the hair and rinse. After rinsing pad the hair down with a towel and blow-dry your hair. It is ready for the hot rod.
Also, your hair isn't the only thing prepared for the flat iron. Your body and surroundings should also be well covered and protected, especially if you are a klutz like me. You need the help of heatproof mats. The heatproof mat is to prevent any possible fire.
Moreover, a cover cloth for yourself, in case the iron falls from your hands. Just saying you never know.
How to Flat Iron Your Hair Properly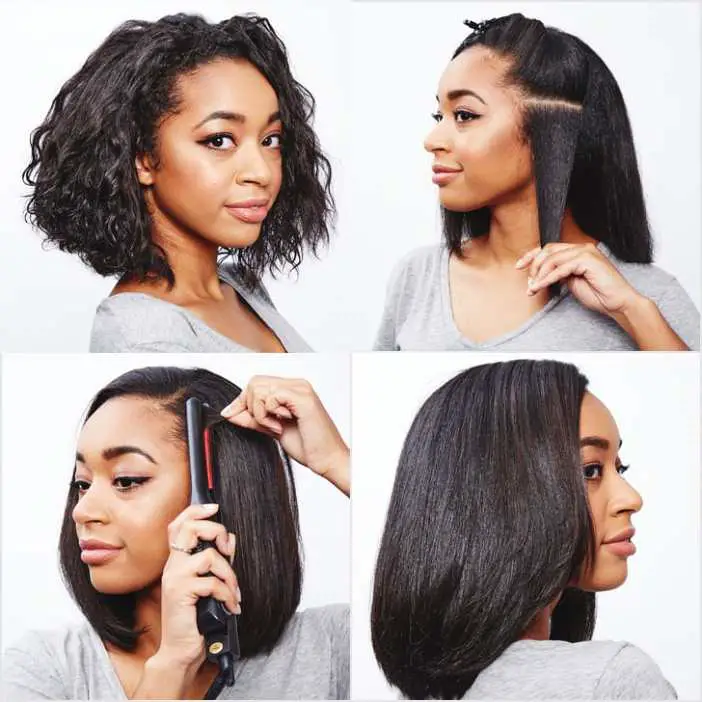 Following the preparation tips is the first step you need to take before heading to war with your flat iron. The following tips will guide you through the task of using a flat iron for your hair.
1. Shampoo and condition your hair
Shampooing your hair is necessary to get the oil and grime out of your hair. Your hair can avoid burning up or shrinking because of the hot presses.
As shampoo gets rid of the oil in the hair and makes it dry, you need a conditioner to add moisture to the hair so as not to become brittle. And brittle hair breaks easily under heat.
SEE: How to Detangle Your Hair Effectively
2. Use a heat protecting product
Apply heat-protecting serums or sprays after patting your wet hair with a towel. The serums will protect your hair from heat tools like dryers and flat irons. Some serums protect the hair from up to 450 degrees of applied heat.
3. Blow-dry your hair
You can only use a straighter or any other iron on dry hair. You have to blow-dry your hair cleanly. And when blow-drying, make sure to start when your hair is half-dried. That way your hair would have absorbed some of the moisture applied before facing the heat.
SEE: The Best Hair Dryer for Your Hair
4. Separate your hair into sections with clips
For you to reach all strands and parts of your hair, section it. You use a set of clips to partition your hair. And then you start left down first then you move upwards. You have to slowly ease the clips out of your hair and use the flat iron. And you continue this until you have covered all the sections of your hair.
5. Don't overheat the flat iron
To avoid hair damage, don't increase the temperature of the tool to the highest. When you start with the straightener, you start from the lowest temperature then increase your way up.
If your hair needs more heat, then you can increase the temperature. But never start with the hottest your flat iron can get.
6. Place the flat iron close to the roots as much as possible
The trick is to put the flat iron close to your hair and not on the roots themselves so as not to burn your scalp. You can also have your roots looking voluminous. This is easy to do. All you have to do is pull your tips upwards and straighten them, which will help your hair looking voluminous.
7. Continue at a slow and steady pace
You don't have to rush when using the straightener. You work on your hair at a slow and steady pace, using the tool over the sections a couple of times. I think for someone like me I hate heat on my hair so I usually run through the process as quickly as possible. But that is going to have to change.
8. Finish with a serum
When you are done running the iron through your strands, you finish up by applying serum or hair balm. This will get it smoother to touch and also make it shine. It will also help to temper the straightened hair, especially for those with natural hair.
9. Clean your plates
You have to clean your plates immediately while it is still hot. The grime and hair sticking to the hair will be easier to remove than when dry. You can use an alcohol-dampened cloth to really get the stains off and make it spotless.
SEE: Hair Hack: How to Straighten Curly Hair Without Frizz + Guide
Frequently Asked Questions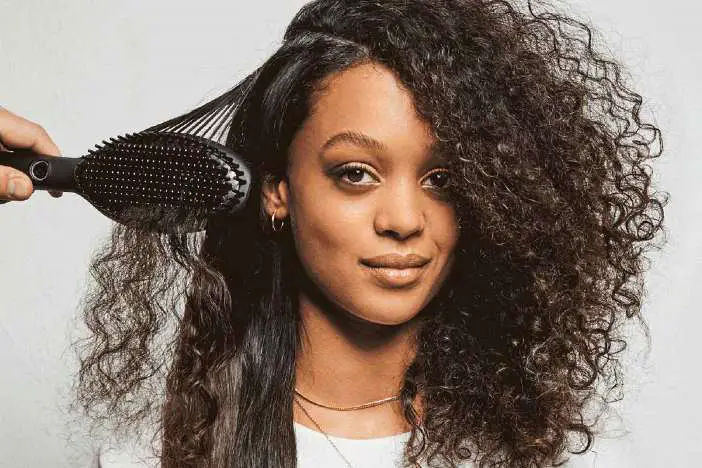 Can you flat iron without a flat iron?
Yes, you can. You can use a blow dryer with cold air to straighten your hair and get the long and smooth strands you want.
Is a flat iron safe to use?
Yes, it is. Although the heat could burn and bruise your skin when you use the tool, it will not burn your hair if your use it safely.
You should follow the procedures before, during, and after to protect your hair and your skin.
Can a flat iron make hair frizzy?
Yes, it can. If you overheat your flat iron, your hair could become dry and frizzy after using the hot tool. That is why you should use a heat protectant or use the flat iron in low heat.
Conclusion
When it comes to flattening our hair, we have to make sure that we are not using the tool with the highest temperature, that way our hair wouldn't shrink from the heat. We also have to be sure of the things we add after straightening our hair.
Too much product will get the hair to shrink up again. So to enjoy your straightened hair, use natural oils and hydrating serums.
I think these tips will help greatly in getting our hair straightened without harming us. I know what I have to do better and I am sure you do too. So let's give it a try and see the best results we want.
Thanks for reading.
Africana Fashion provides suitable hair care articles to improve your healthy hair lifestyle.