Tribal braids are as old as the history of African cultures. Today, braids are fast moving away from being a thing of the past.
This comes as no surprise as we get to see more black celebrities embracing the black culture legacy.
Traditionally, the Africans used braided hairstyles as a way of communication. The braiding style an African woman wore spoke about her status, age, relationships, and more. 
In our modern world, hair braiding styles have become a recognition of heritage or roots and showing off style. These braiding styles are constantly being remodeled to suit your lifestyle and any other preferences. 
So, if you have been thinking of changing your hairstyle, this article is for you.
SEE: Different Types of Ear Piercings: Here's 15 Chic Piercings for You
Tribal Braiding Styles
Tribal braids are now made into different styles, patterns, and textures. They are very protective hairstyles that women with thin hair can wear. And they last for about three to five weeks. 
The tribal look majorly comes from adornment with accessories like cords and beads of all kinds – wooden, glass, or cowry shells.
1. Fulani Braids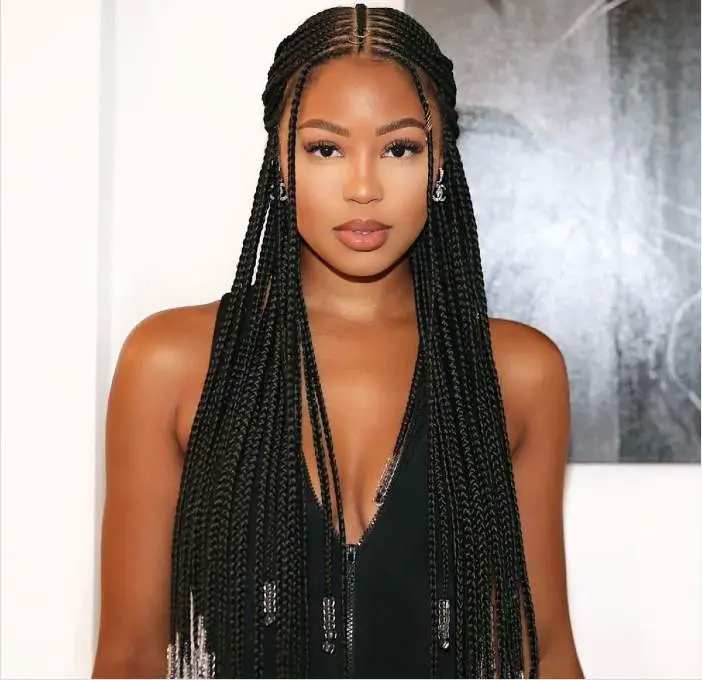 The name comes from the Fula people in West Africa who wear this braiding pattern as a traditional look. The Fulani braiding style is one of the most popular ways black women wear tribal braids hairstyles.
This hairstyle incorporates a braid or twist, starting from the crown of the head running through to the center. Medium or thin-sized braids either fall loose to the sides or are braided into an updo. The Fula touch comes with rings and beads that adorn the braids.
2. Tribal Box Braids
Box Braids can go out of the regular jurisdiction into something easy and simple with cuffs. They can also be installed as full tribal braids with a mix of the Fulani style.
Box braids are defined by the way they are sectioned into squares before braiding. You can have cords woven around the length of some of the braids.
See also: Best Hair Extensions to Change Up Your Style
3. Jumbo Tribal Braids 
Jumbo braids are a variant of box braids that give you a well-pronounced look. The signature look is defined by the thickness and length of the braids. Rings, hair cuffs, and beads that adorn the length of the braids create a unique traditional effect.
Women with very thick and dense hair will jump on this one because it is installed in almost no time and is still very elegant.
SEE: Hair Color Ideas for Short Hair: Get 29 Best Hair Colors Here
4. Ghana Braids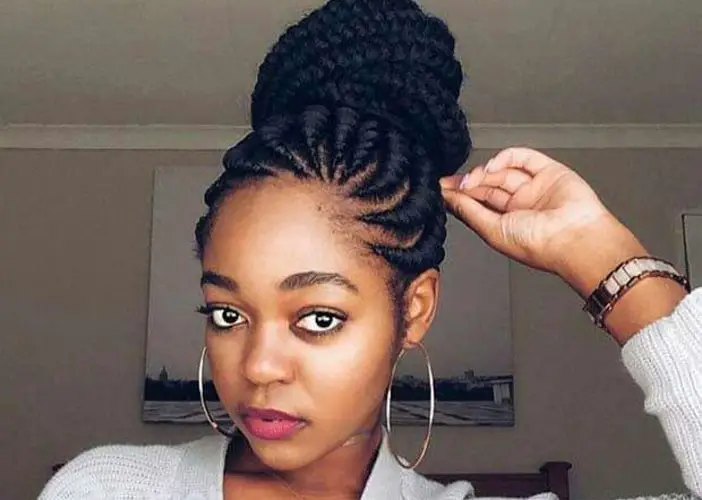 Ghana braids are the traditional hairstyle of the women of a West African country, Ghana. These braids are recreated with different braiding patterns. 
Ghana braiding is made by creating thin micro braids that taper out to become full and thicker plaits or twists. The unique tapered effect is the signature look of this braiding style.
5. Center or Middle Part Tribal Braids
Like every other middle part hairstyle, the middle part tribal braids perfectly suit women with round and oval face shapes. The middle parting draws your eyes to the center of your face, making your face look slimmer and longer.
6. Side Part Tribal Braids
As mentioned earlier, tribal braids are being remodeled to suit different lifestyles and preferences. That is to say, there is a tribal braiding style for any face shape.
Side part tribal braiding styles are for women with square and diamond face shapes. 
This side parting draws attention to your eyes and cheekbones, showing off your angular jaw with a soft and feminine look.
7. Two Layer Tribal Braids
When braiding two-layer braids, your stylist divides your hair into two horizontal sections. Then, each section is braided into cornrows of different patterns. The stylist feeds in extensions as each cornrow is braided. 
The braids can be parted by the side or middle with one braided cornrow running from the crown to the end of the upper section of cornrows. Cornrows can also run to the side of the forehead to perfectly give the traditional look. 
8. Tribal With Box Braids
Simple and elegant. This pattern is very easy to install and wear. Also, it suits anyone. It can be recreated in whatever style you want- short, long, or bob braids adorned with cords, cuffs, and beads.
See also: Hair Braiding Styles: Hairstyles You Should Try
9. Short Tribal Braids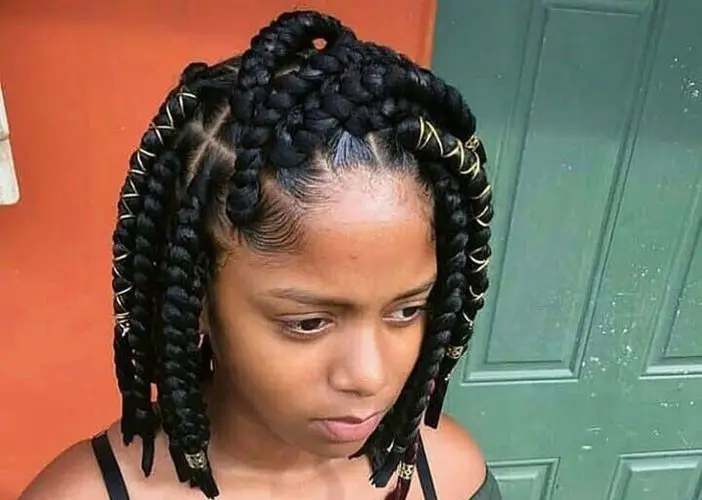 Women with shorter hair who wouldn't want to add extensions will find this braiding styling a perfect fix. Short tribal braids can be made into plaits or Senegalese twists. To get the traditional look, add some rings or beads on the length of the braids.
10. Tribal Braids With Beads
Tribal braids cannot be separated from accessories. Braids of medium length are furnished with shells and beads of different sizes, colors, and textures.
Moreover, this hairstyle does not limit your options. You can get very creative with the styles, texture, and color of braids; the more, the better.
SEE: Small Knotless Braids- Beautiful Hairstyles for You to Try This Season
11. Goddess Tribal Braids
Goddess braids are thick braids worn by African women. The braiding technique follows the upper hand braiding method. Adorn goddess braids with beads, rings, or wire for the traditional touch. Also, you can have the braids hang loose or styled into a ponytail.
12. Bohemian Tribal Braids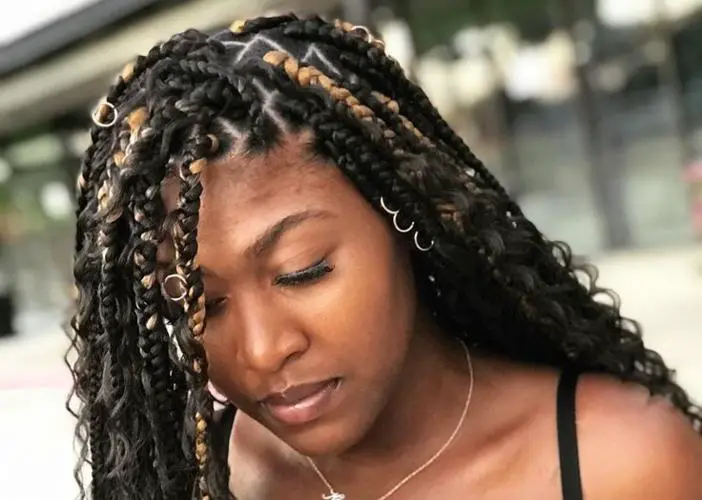 With tribal braids, all you need to do is make a choice since you can have them styled into various patterns. For the free-spirited woman, bohemian braids give you a mix of braided strands with loose hair. 
For other braiding styles, all of your hair is plaited or twisted. Bohemian tribal braids, on the other hand, give you a wild and feminine look with half-braided hair.
13. Feed-in Tribal Braids
Feed-in braids create longer, thick, and fuller braids using the knotless technique to add extensions to your hair. Knotless feed-in protects your scalp from tension and stress.
Whether you have short or thin hair, feed-in extensions can make beautiful and thick tribal braids.
14. Tribal Braids Bun
Not many know that braids are also suitable hairstyles for special occasions like weddings. Style your thick braids into a classic bun and adorn them with gold wire to give the traditional touch.
15. Tribal Braids Ponytail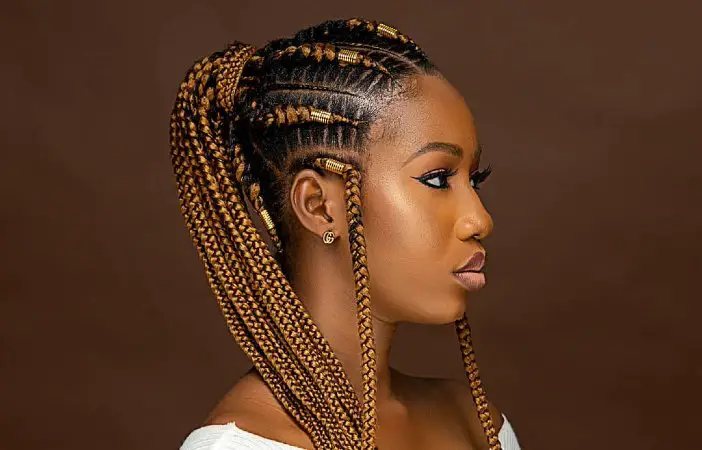 There is no end to styling braids. You can also have stylish ponytail braids with unique loose braids hanging to the sides and one braid at the center. Feel free to play around with your braids with different hair colors and accessories like cuffs and beads. 
SEE: Does Braiding Damage Hair? Find Out if Braids Are Bad for Your Hair
16. Sky High Ponytail
Here's another ponytail style for the woman who loves to speak with fewer words. This ponytail sits high on the head with one braid hanging loosely to either side or both sides.
17. Lemonade Tribal Braids
Unlike other braids that sweep from the front to back, Lemonade braids run from the left to the right. This braiding style got its name from the hairstyle Beyonce wore in her Lemonade visual album. 
Lemonade tribal braids cornrows are braided a little further apart so that more of your scalp is seen. Then, you can add beads and rings.
18. Tribal Braid With Forehead Braids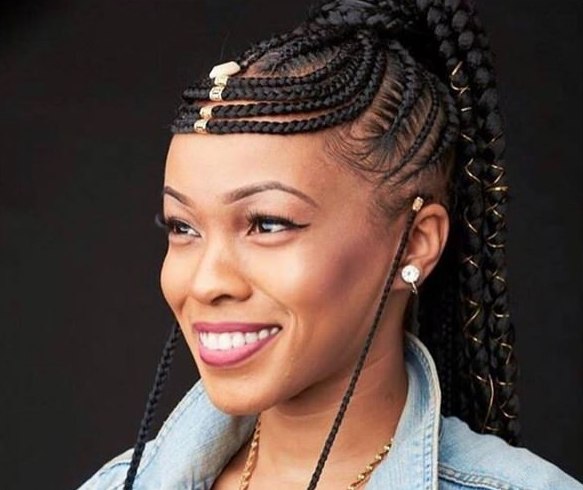 If you are looking to always get a "wow" or look like a goddess in simplicity, this hairstyle is for you.
Braids of your desired texture and length are complemented with a braid that runs across your forehead like the base of a crown. And, of course, the length of the braids has cuffs and beads.
19. Triangle Tribal Braids 
Triangle braids are styled by sectioning hair into triangles and that's how they got their name. To make these twisted box braids look traditional, adorn them with a gold thread.
See also: Protect Your Hair's Natural Oil With Sulfate-Free Shampoo
20. Senegalese Tribal Braids
Senegalese twists are also known as ropes. This hairstyle incorporates twisting extensions with your hair from the roots all the way to the end of the hair shaft. As the name suggests, these braids originate from Senegal in West Africa.
21. Tribal Braids With Color
Colors do speak. Try out the colorful tribal braid and get an Afropunk edge. An ombre of bright colors will surely announce your presence in a crowd.
22. Blonde Braids
Blonde naturally suits everyone and subtly switches your look. You can have Fulani braids, ponytails, or any hairstyle recreated with a blonde. So, if you're bored of that regular look, make the switch already.
23. Cute Tribal Braids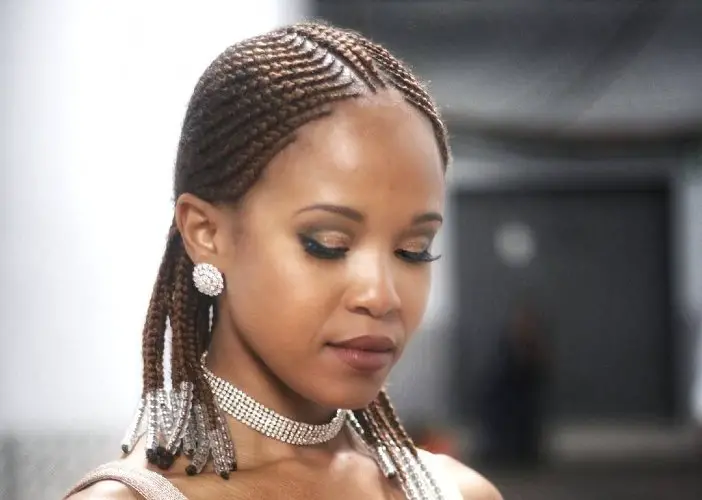 Hair braiding styles make women look younger. This hair has mid-length, thin braids with the Fulani pattern to give a youthful look. The seal of cuteness is the adornment of the ends with glass beads.
24. Thick Accessorised Braids
This hairstyle says you're all ready for summer or vacation. It incorporates triangular box braids with stylish parting. And, shells, rings, and cords hang adorn the length of the braids. Everything about this look is elegant and irresistible. 
25. Tribal Braids With Buns
This hairdo has a lot in it. There are two buns and one braid that runs to the center. Also, cornrows run from the back and drop to the sides of both ears. The unique pattern makes it perfect for festivals.
See also: The Best Way to Wash Your Hair – A Simple Guide
26. Small Braids + Accessories
For this look, the braids are small and of mid-length. They are also beautifully adorned with beads, gold rings, or cuffs and shells. This easy-to-wear hairstyle is perfect for a beach vacation and maybe a festival. 
Frequently Asked Questions
How long do tribal braids last?
Tribal braids usually last for about three to five weeks. The variations depend on the size of your braids and how tight your braids are. However, hair experts advise that you wear braids for a maximum of five weeks to avoid breakage, product build-up, and frizz at the edges.
Can short hair get tribal braids?
Yes, short hair can get tribal braids. Generally, for your hair care, avoid hairstyles that can cause tension and stress on your scalp. 
Braiding styles like short braids, feed-in extensions, box braids, lemonade braids, and two-layer tribal braids are tension and stress-free hairstyles that are perfect ideas for short hair.
Can I wash my braids?
Yes, you can wash your braids. If you have cornrows on, all you need to do is cleanse your scalp and not wash the braids.
Conclusion
Tribal Braids are protective hairstyles that keep natural hair worked into extensions. These braids have been revamped into exotic hairstyles that you can wear anywhere. 
Sometimes, you just want a tweak in your regular hairstyles; maybe a break from the wigs and even the regular braids. Traditional braids keep elegance in check while giving you a feel of what the days of tradition used to be.
Whichever way you choose to style your tribal braids, you can be sure that you're making the right choice.
Africana fashion provides you with relatable beauty articles to up your glam game. Thanks for reading.