Whoever thinks box braids for men are going out of trend needs to be re-informed. What I think and know is, braid styles will always be refreshed and make statements. And, it's no longer just a thing for women only.
Box braids come in a variety of styles for men regardless of the length of their hair. Also, braids are now made on any haircut, whether it's a fade or an undercut. It doesn't reduce the glam.
If you're reading this, I know you are tired of wearing just cornrows or a ponytail. So, I have compiled a list of new and trendy box braids for men that you can try.
Read Also: 20 Trendy Haircuts for Men – Best Haircut Ideas to Make Them Look Good Again
What Are Box Braids?
Box braids are a versatile type of hairstyle largely worn by black men. In order to achieve this braiding hairstyle, your stylist sections your hair into squares. Then, the hair is braided using natural hair or adding synthetic hair.
In addition, these braiding hairstyles are low-maintenance and last up to 8 weeks. But, you should be ready to spend some time and money.
Trendy Box Braids Hairstyles
1. Short Box Braids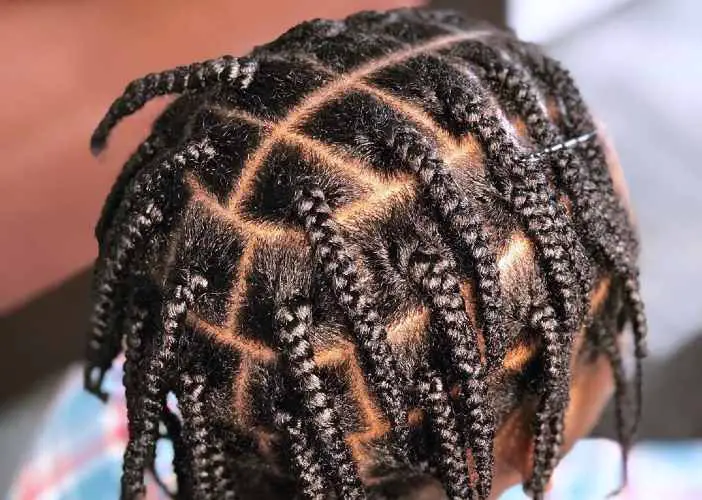 This hair braiding style is for men who want simple and cool. For this hairstyle, you do not need to add extensions and the boxes are more visible. And a trustworthy stylist has to handle the braiding because the length doesn't give room to cover errors.
Similar to a two-strand twist, each braid is thick with a rope-like appearance. To make the braids more pronounced, you can add a skin or temp fade haircut. You do not need to bother with styling them, just let them hang loose.
2. Medium Box Braids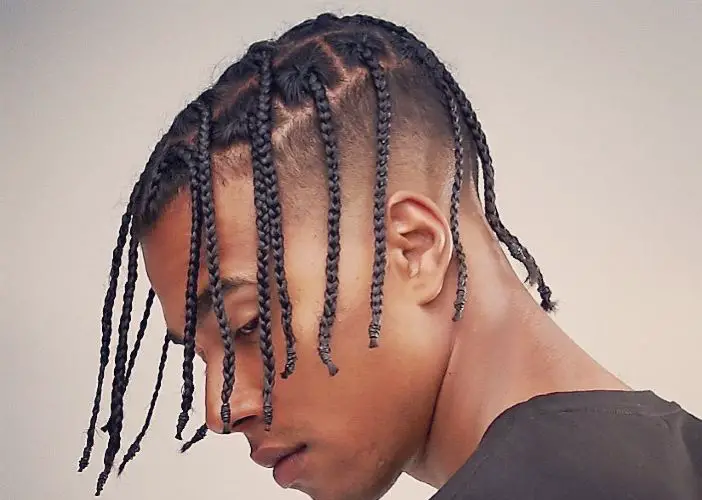 Medium box braids are not too long neither are they too short. They set you on a middle ground. Also, braids can hang loose to about the length of your jawline or you can have them tied up.
3. Long Box Braids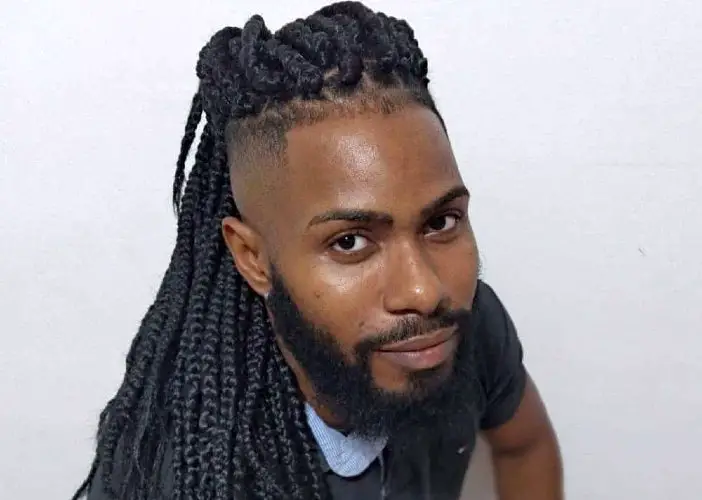 Long braids complement almost every face shape. It makes your face looks slimmer and longer. This hairstyle may need extensions if you feel your hair is not long enough.
In addition, they are very flexible. You can have your braids in layers, hang loosely, pulled back, or up in a ponytail. Like the short braids, you can have them on top of a haircut.
4. Four Box Braids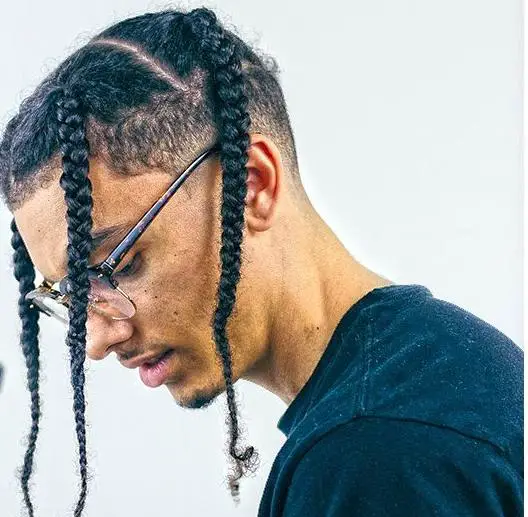 Just as the name implies, this hairstyle sections your hair into four braids. The way the braids sit atop the head is one of the features that makes this hairstyle unique yet simple.
5. Small Box Braids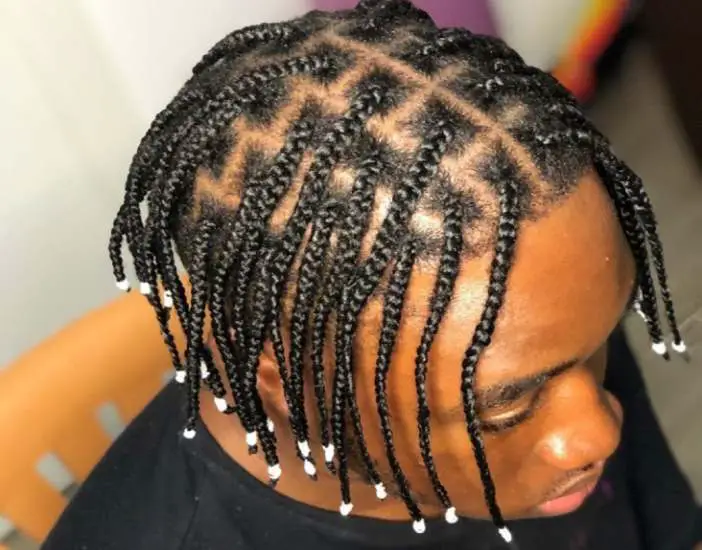 Small box braids incorporate hair sectioned into small squares and braided to give thin plaits. This braiding hairstyle is very suitable for men with thin and long hair. They can be in medium length and left to hang loose or gathered up in a ponytail.
6. Big Box Braids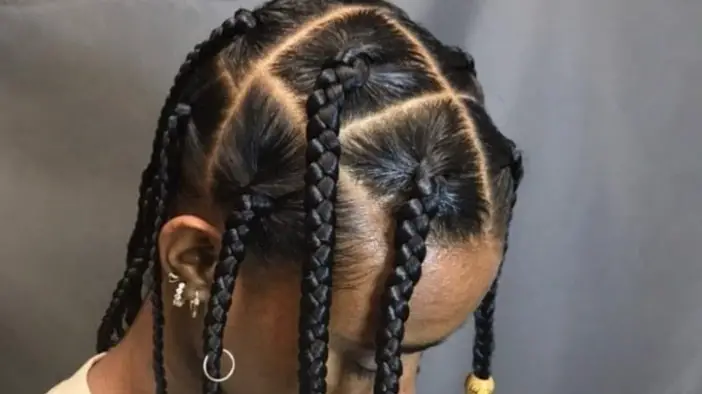 Big box braids are also called jumbo box braids. All that thick long hair that is a result of hair growth endurance and care can be put to use. The hair sections are wider with thicker braids and this makes them look heavy. 
Also, if you want a heavier look, you can have them installed with hair extensions.
7. Triangle Box Braids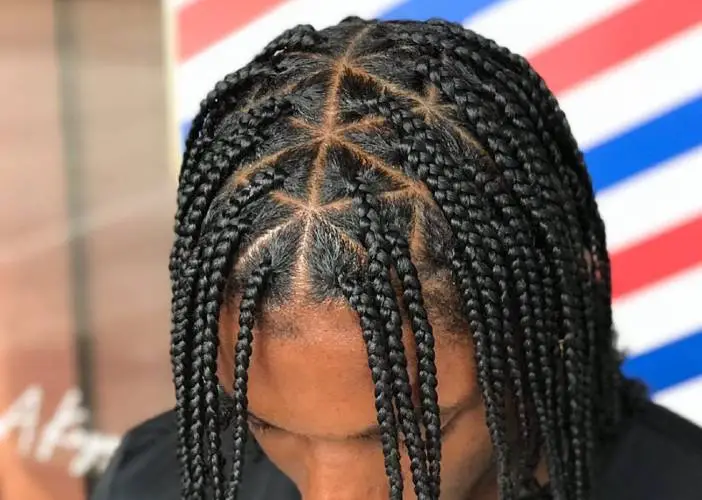 This hairstyle is for men who do not like to be put in a box. Rather than the conventional squares, you can step up your game with triangle box braids.
The sections this hairstyle gives your hair puts you at the center of a crowd. I don't think you should sit on it any longer.
See Also: Beard Grooming Answers for Every Curious Beginner
8. Blonde Box Braids
Color. You know how two contrasting shades blend into funky and sweetness, right? That's exactly what blonde box braids offer. Unless you want to, you do not have to bleach your hair to get blonde braids. Hair extensions are available in this color.
9. Red Box Braids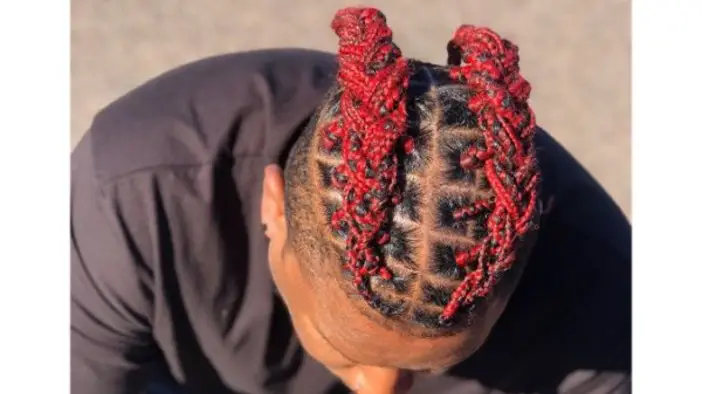 Yet another color. If you love adventure and do not like to conform, this is certainly for you. Red box braids do the talking for you. Who will forget a red-haired man? Not me.
10. Cornrows + Box Braids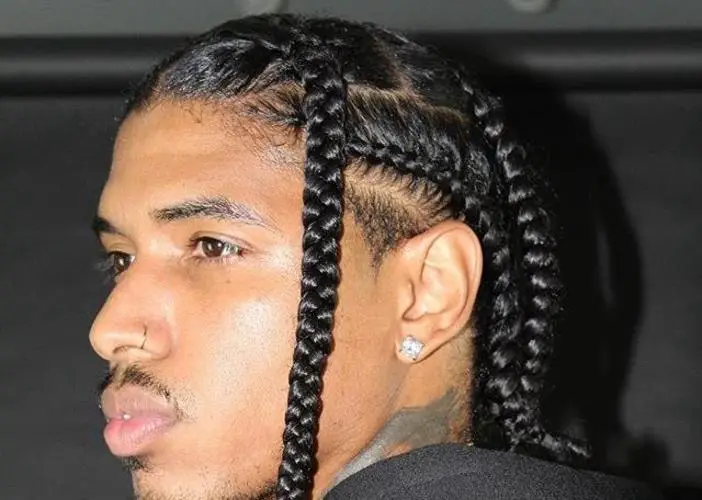 Who says you can't have two at a time? This hair braiding style could be as cornrows by the side with jumbo box braids at the top center for a bold look.
Also, your stylist can section your hair into two horizontal halves and braid the top section into cornrows and then, the other half into box braids. This looks more subtle than the cornrows by the side.
11. High Top Box Braids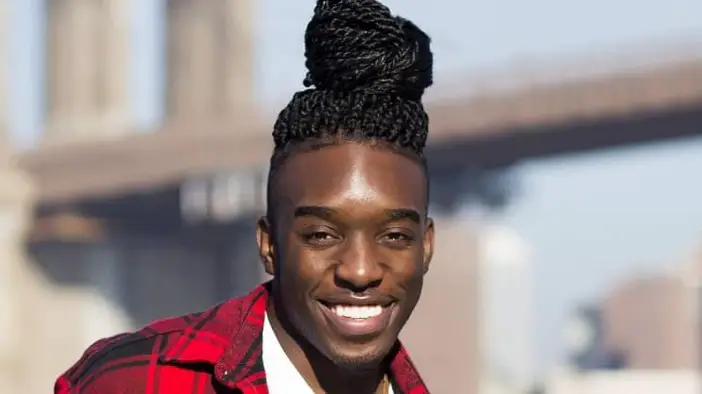 High-top box braids are similar to high-top haircuts. This hair braiding style draws your hair to the center of your head. There are no restrictions to the size and texture of the braids. Also, you can wear this hairstyle for any occasion.
12. Box Braids Ponytail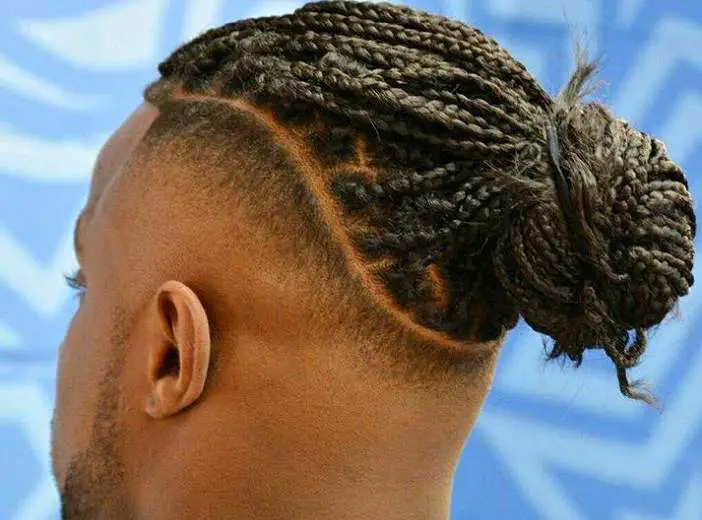 There really is no end to styling braids. Rather than wear your braids loose, you can have them gathered into a ponytail. This reduces the amount of hair around your face and keeps you looking cool.
Also, they are very suitable for formal events and even the gym. Box braids ponytail can be made with natural hair if it is long enough. Hair extensions are added if you want a thicker and longer ponytail.
13. Box Braids + Accessories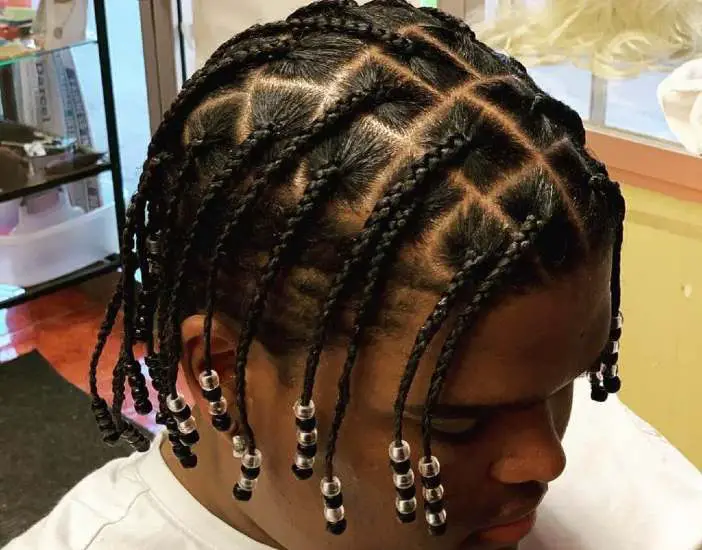 Men's box braids can also get accessories. This just switches things up. You can add cuffs or beads of any kind to your braids. You can wear this to a hang out with friends or a less formal meeting.
14. Two-Strand Twist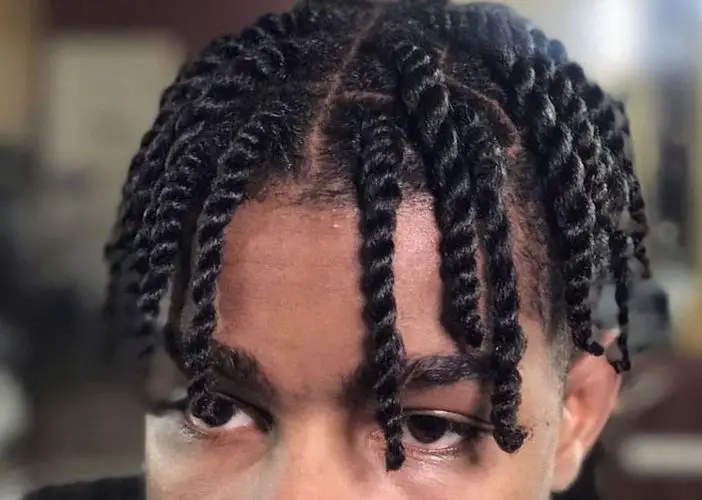 The two-strand twist is a slight modification of the conventional braiding pattern of box braids. Each square section is divided into two and twisted from the root all the way to the end of the hair shaft.
Read Also: Aftershave for Men: Best Selected Products to Buy
15. Box Braids With Designs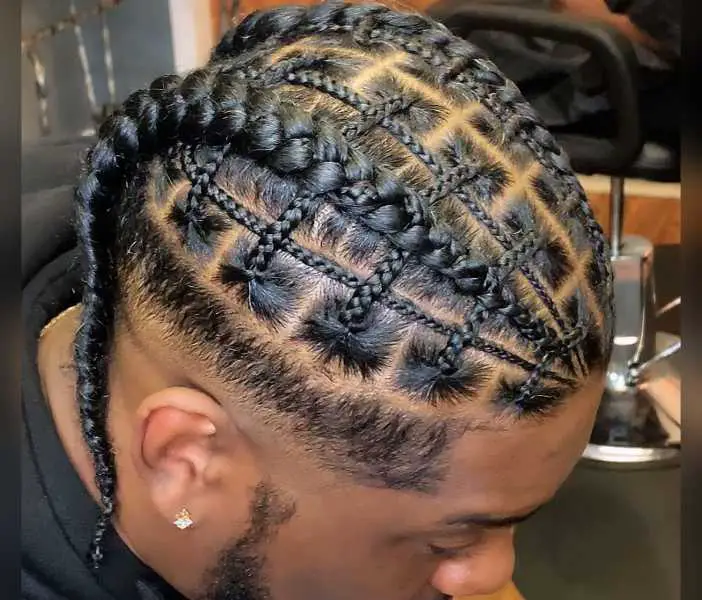 There is a lot going on here and it requires a great deal of skill. Designs are made with a combination of different textures of braids and maybe cornrows. Small box braids make it easier to make creative designs.
Frequently Asked Questions
1. How long does my hair have to be to get box braids?
To get the shortest length of box braids, your hair has to be at least 3-4 inches if you won't be adding hair extensions. But, if you will be adding extensions, a minimum length of two inches is enough.
2. Will braids damage my hair?
No, braids will not damage your hair. Hair braiding styles are one of the most protective hairstyles around. Also, braids do not require heat.
However, if they're too tight and worn for too long, they can result in hair breakage.
3. How long should I wear braids?
Braids can last up to 6-8 weeks. You can take them off when you feel they are pulling at your hair or you have won them enough. Generally, how well you care for braids determines how long they last.
4. How do I take care of my braids?
Good care for braids determines how long they will last. You can follow this routine to maintain your braids:
Wash your braids with a good shampoo at least twice a week
Apply a leave-in conditioner every morning
Always moisturize your scalp and braids with oils
Alternate styling between letting your hair loose and packing them to reduce tension on your scalp.
Conclusion
Braids are low-maintenance hairstyles and they are worth every cent. A majority of them are very flexible. That is to say, you can wear them in a variety of styles and remain classy and cool.
The decision to get braids does not take you away from those classic haircuts. You can always have both of them as and when you wish. Box braids can be complemented with any haircut – an undercut or fade on the sides.
Moreover, hair braiding styles double as fashion trends and are a way to protect men's hair.
Thanks for reading.
Check Africana Fashion for more trendy hair articles.