Jordan is the new black. We've seen it all over our feeds, but what is it about these shoes that make them so special. Is it the design? The colorways? The fact that they're so expensive?
Known for their quality, durability, and style, Jordan sneakers are the go-to kicks when you want to look super fly. They come in a variety of styles and colors with rubber soles, which makes them perfect not only for sports but casual wear as well.
This article will teach you everything you need to know about how to pull off this trend fashionably. From choosing the right outfit and shoe combination to what style of tops works best, we'll cover it all.
How to Style Jordans
Jordan sneakers are a staple in any fashionista's closet. They come in many colors and styles that work nicely with all different types of clothing.
You can wear the right pair of Jordan sneakers with anything, from jeans and camo pants to a crop top, short dress, and sweatshirt. The opportunities are endless. Here are some tips for styling your Jordans sneakers that will make you want to wear them every day.
1. Choose Crop Tops
How do you style your Jordans to make them more original and unique? Well, one way to do that is to pair it with a crop top. This is a comfortable yet stylish look that will have people asking where you got your Jordans.
Another way of making this outfit more unique is by mixing up textures. The jordans are leather, so if you wear them with a cotton crop top, a corduroy jacket, and denim pants, it will create an interesting contrast between the fabrics that will stand out in pictures.
2. Jordans + Leather Pants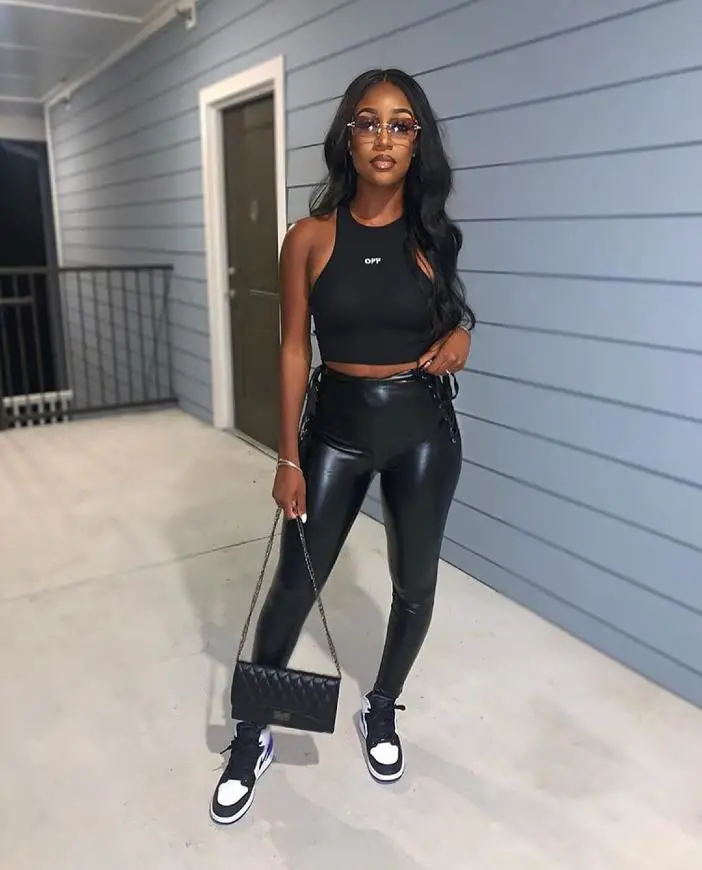 It's all about the details. You can have a pair of leather pants, but if you put it with the perfect Jordans and the perfect top, it will look like you spent a lot more money than what you actually did.
Match your favorite top with black leather pants and a pair of white and black jordans to complete this street outfit. You can also accessorize with a wristwatch and a necklace for a relaxed yet refined look.
3. Jordans with Short Dress
Basically, you're wearing jordans with a short dress- the best of both worlds. The trend originally started with Ayesha Curry, who was pregnant at the time she wore jordans to her wedding and styled them with a long gown.
You can wear this stylish outfit anywhere- from daytime events to your late-night clubbing. Also, to tone down the feminine look, you can wear an oversize shirt as a jacket on top of the gown.
SEE: Do Nike and Jordan Mean the Same Thing?
4. Style Jordans with Biker Shorts
There's no middle ground, you either nail or fail this look. Biker shorts are a great option for styling jordans. They're high-waisted and comfortable, but still stylish.
Match your jordans with biker shorts, an old t-shirt, or even a biker jacket if you're feeling fancy to give a trendy yet casual look.
5. Go Casual with Hoodie
So you love Jordans, but you don't really feel like dressing up. The good thing is that there are ways to wear your Jordans without having to take too much time to dress them up.
As a result, you can style the sneakers with your favorite hoodie for an awesome everyday look. This is also a great option for colder months, as it will keep you warm and comfortable.
SEE: 17 Amazing Ways to Style Your Denim Jacket
6. Jordans + Oversize Tee
Oversize tees and Jordans. What could be more iconic? They make such a splendid match that you might think it's an obvious pairing, but the two go together like peanut butter and jelly.
The only thing is you have to make sure you're wearing them correctly so you won't look like a complete mess. For this look, the best color for your Jordan sneaks is one that matches the original color of the shirt.
That means that if your shirt is blue, then you should wear jordans that have shades of blue in them. Accessorize your look with a simple necklace and a waist bag to achieve an effortless tomboy look.
7. Jordans + Camo
Well, someone's about to give the US marines a run for their money. Camo pants are a pattern designed to break up the human shape and hide in shadows or bushes to protect from enemy fire.
With this in mind, the aesthetic of camo pants is often linked to tactical and street clothing, making it an ideal pair for things like your Jordan sneaks. Also, the laid-back hairstyle gives this a more composed military-style look.
SEE: What Does GS, OG, GG, BG, OVO, PRM, and HC Mean In The Jordans Model Abbreviations?
8. Jordans with Boyfriend Jeans
Say what? Yes, these two go together like bread and butter. There are many ways to wear Jordans with boyfriend jeans but to create the perfect carefree look, I recommend pairing your Jordans with a top that matches the color of your sneaks.
You can also match the colors of your jordans and outfit together by using a similar shade. A denim jacket in the same shade will take this outfit to the next level.
9. Jordans + Bodycon Dress
As you already know, there's nothing worse than looking your best and feeling uncomfortable in an event. To solve this problem, all you have to do is find a bodycon dress that fits your style and makes you feel confident, and then swap your heels with a pair of jordans. 
To nail this look, dress up in a bodycon dress, a pair of jordans, and some accessories to create an appealing sensual, and comfy look. This outfit is perfect for a night out in town and will ensure you have fun with friends, feel relaxed while still looking your best.
10. Jumpsuit Jordans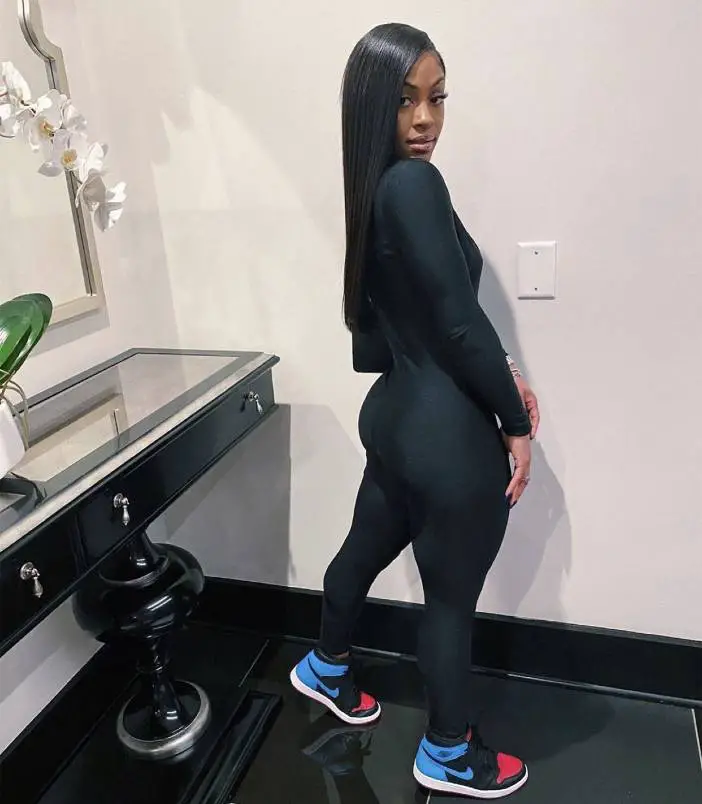 You can never go wrong with a classic. That's the case with Jordan's sneaks and jumpsuits. The first thing you need to know is that there are many different styles of jumpsuits out there such as lace jumpsuits, bodycon, and sleeveless jumpsuits.
You want to find one that is stylish and comfortable for your day at work or a night out with friends.
11. Jordans with Joggers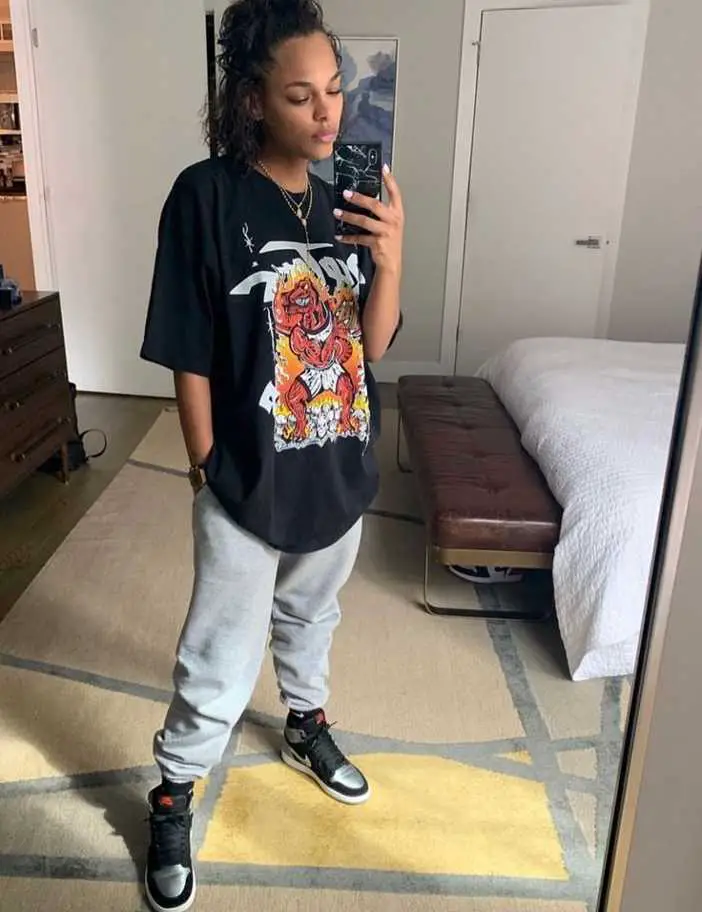 Did you know that Jordan sneakers have some of the most iconic designs that will never go out of style? I'm telling you, one style you should never sleep on is styling your Jordan sneakers with joggers. 
Joggers are very comfortable, so when paired with Jordan sneakers, give a comfy yet fashionista look. Not only will you look good, but you'll also feel comfortable as you go on with your day.
SEE: Create Your Unique Style With Tips on How to Be More Fashionable
12. Jordans + Shorts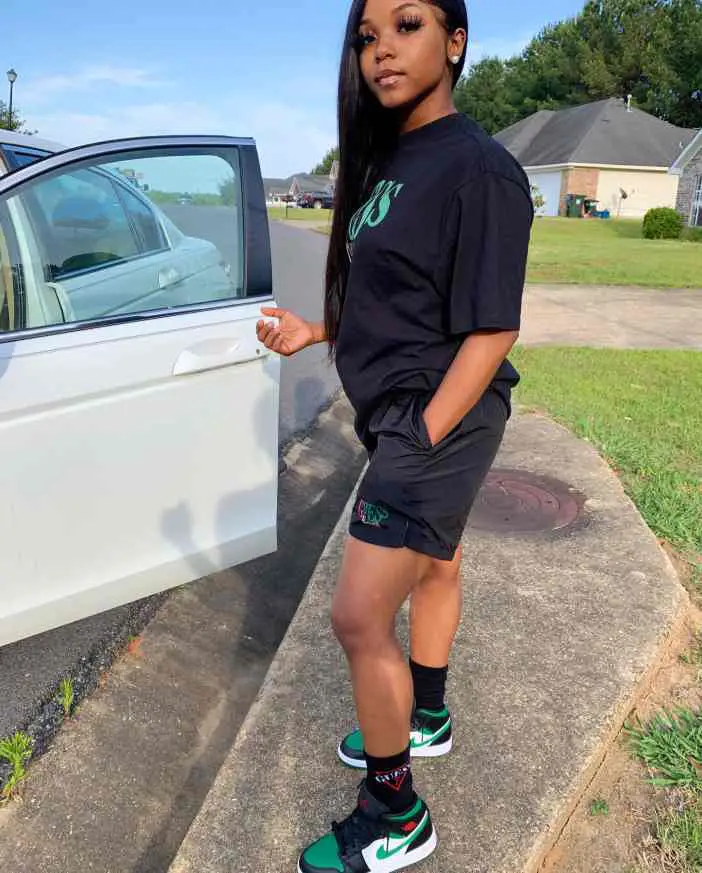 It's summertime and that means you'll be dressing in shorts. Jordan sneakers are a great shoe to wear with shorts. They add a pop of color to your outfit and they're super comfy.
With a cool tee, black socks, and post-back earrings, this outfit will keep you feeling fresh and looking good all day long. Also, this is a comfortable look that is perfect for everyday wear and casual occasions
13. Jordans + Sweatshirt
It's not easy to find the right balance of style and comfort. Styling your Jordan sneakers with a trusted sweatshirt is an easy way to achieve this seemingly difficult task.
This outfit creates a "boyfriend" look that can be paired with matching joggers or shorts for warmer weather. You can match this look with different accessories and a backpack to match.
14. Match Jordans with Longsleeve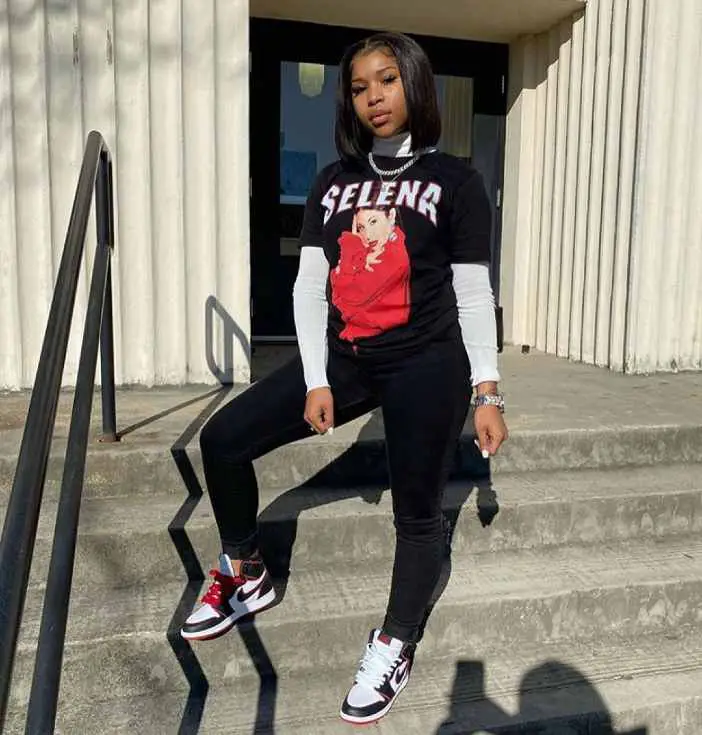 If you're looking for an outfit that will make you feel warm and cozy this fall then this is just right for you. Layer a cool tee over a turtleneck long-sleeved top and match with your Jordans for a comfortable yet defined look.
To be real with you, this is also my go-to look for days when I just feel like dressing up casually but still want to look stylish. It's also perfect for school and night-outs with friends.
15. Jordans with Leggings
You can't go wrong with Jordans, but have you ever tried styling Jordans sneakers with leggings? It is a classic look that never goes out of style.
Match your Jordans sneakers with leggings for a sporty-chic look that is perfect for summer.
SEE: 15 Cool Ways You Can Style a Flannel for Any Occasion
16. Jordans + Mesh Top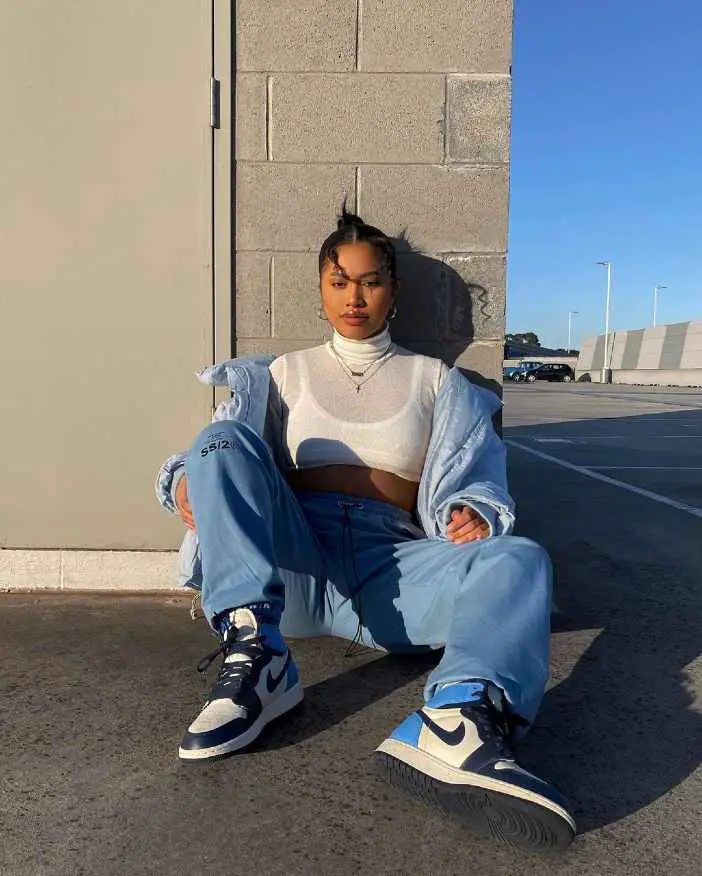 A mesh top is one of the plenty ways to style your favorite pair of Jordans and make it work for your shape and casual lifestyle. Wear a sleek white mesh top over a white bralette and pair it with your J's for an alluring cool look.
A nice bomber jacket and accessories to match will take the style up a notch. I recommend pairing this look with sleek straight hair for daytime events or curly bangs for nighttime activities.
17. Jordans with Baggy Pants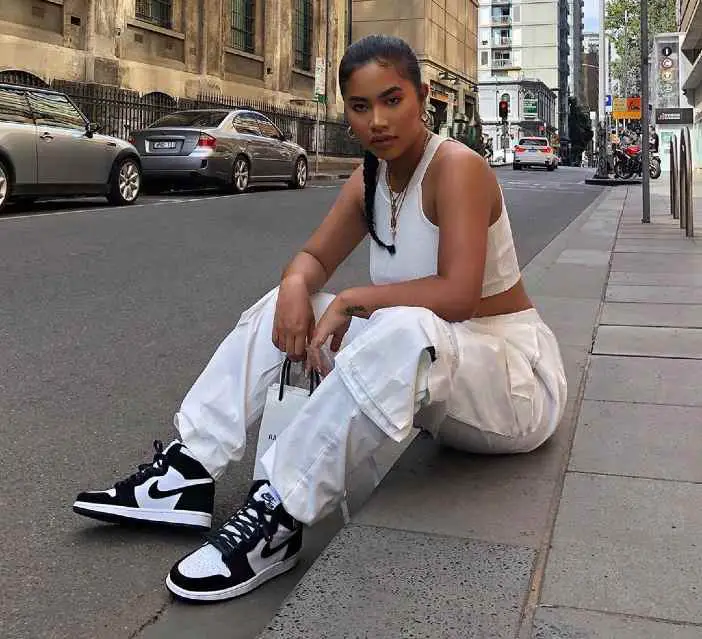 If you're looking for a way to style Jordans without pairing them with an outfit that is too formal, try wearing baggy pants. This will give your outfit a laid-back vibe that will still look great.
When choosing the right Jordans, make sure they match the color of your pants and your tops. Amplify your game with hoop earrings and maybe a gold layered necklace for a proper street-style look.
Brief History of Jordans Sneakers
The Jordan line has been around for a very long time. Originally released in 1985, Peter Moore, Tinker Hatfield, and Bruce Kilgore designed the first pair of Nike Air Jordans.
The original Air Jordan 1 was priced at $65 and released in March 1985. The shoes were red with black and white trim, a clear sole, and a hologram on the tongue which signified Michael's number 23 in the NBA.
With its bold colors and unique shape, this shoe ushered in a new era of basketball sneakers. From then on, Air Jordans became a style staple for athletes and consumers alike, adapting to each decade's changes while maintaining its iconic status.
SEE: Best Evergreen Gift Ideas For Women You Need To Know
FAQs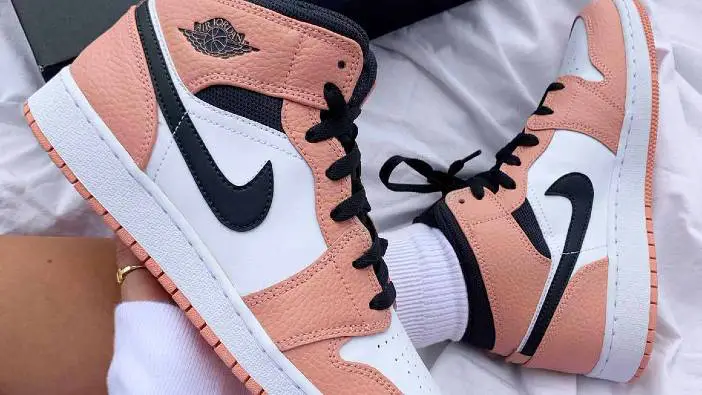 Can I wear Jordans with hats?
Yes, you can. Jordans are so versatile they look good on just about anything. Depending on the look you want to go for, you can style your jordans with baseball caps, bucket hats, or beanies.
How much does Jordans cost?
An average price range is about $100 to $300. However, many variables go into the price of a pair of Jordans such as the color, size, and year that the shoe was released as well as the country in which you buy them from.
How do I tell if my Jordans are real or fake?
Check the logo. The Jordan logo should be positioned well on the outside of the tongue and on the back of the shoe. If they're not there, then they're fake.
Also, you can know if the jordans are real by checking the label on the inside of the box. If the label on the inside of the box is a red tag, then your Jordans are authentic.
Conclusion
Jordans are iconic sneakers, and while they've been popular for decades, they've never gone out of style. From their signature colorways to the ubiquitous autograph on the tongue, Jordans are a true fashion staple.
Not only are they stylish, but the best thing about these unique pieces is also the customizability of the shoes themselves: there's a jordans for everyone and every outfit. You can wear them with anything from joggers to jeans to shorts, and they'll still look great.
So, whether you just got your first Jordans pair or you are looking for some ideas on how to style your favorite Jordans, these tips will ensure you stay comfortable and stylish with a touch of sporty flair.
Thanks for reading.
Africana fashion provides you with amazing fashion tips to keep you updated with the latest trends.