Flannel shirts have made quite the comeback and are now very versatile. Unlike what most people think, you can wear the cool and casual yet class material any time of the year. But, you can only achieve this if you know how well to style your flannel.
We commonly see flannel shirts in soft, woolen, or cotton check, or plaid prints. Also, it used to be just a men's affair. Well, ladies seem to have hijacked flannels and I plead guilty. But, who wouldn't love a piece of clothing as simple and comfy as flannel shirts?
Talk about casual and smart casual, talk flannel shirts. From daily errands to an evening date, you can count on a flannel shirt. So, if you have borrowed some from your partner or you got some from a department store, this flannel styling guide is for you.
Cool Ways to Style a Flannel Shirt
1. Flannel With Midi Skirt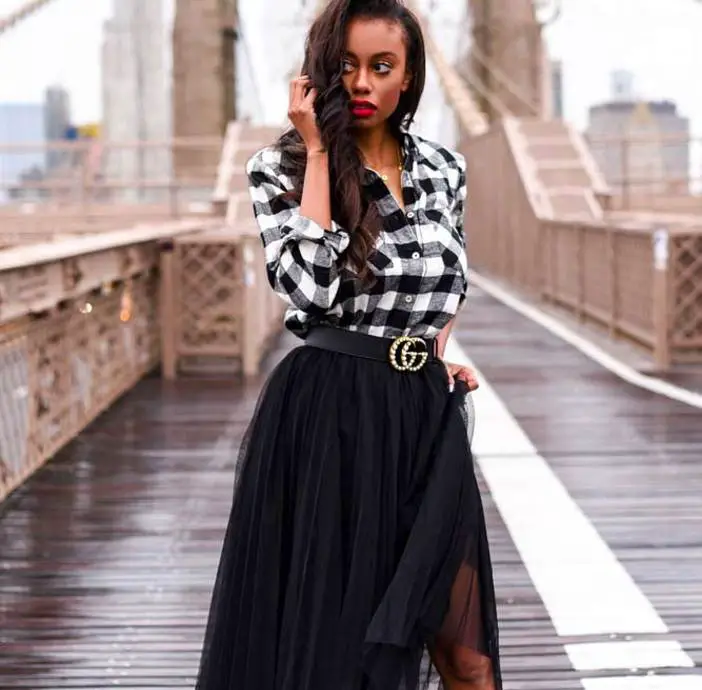 See how flannels go to work. Although they look simple and just for casual or smart casual outfits, you can also wear your flannel to the office. Pair your plaid shirt with a straight, pencil, or flay midi skirt and step up in a pair of pumps or sandals.
Corporate wear is not supposed to be all colorful, so, you should be mindful to wear a shirt with cool colors. Also, a black or any other neutral color skirt would be a perfect match to keep things cool and stylish.
In addition, wear simple jewelry to finish off your look. I bet you'll get nice compliments at work.
2. Flannel With Mini Skirt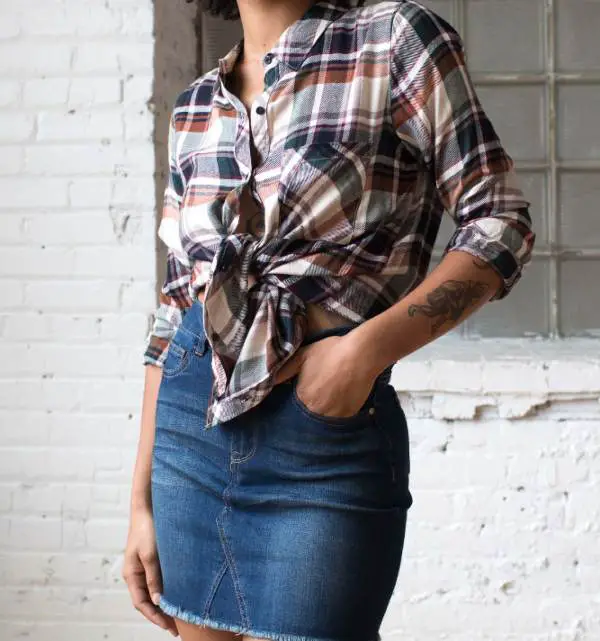 Cut down on length and add some spice to your skirt affair. Wear flannel tucked in or knotted over a leather or denim mini skirt. Buttoning the shirt up to the collar is a good way to draw attention to your outfit.
Flaunt those nice legs with a pair of ankle boots or sandals. And, complete your look with a chunky necklace just over the buttoned-up shirt. This outfit could pass for an after-work date or a weekend at the park outfit.
3. Flannel on Tailored Pants
Flannel has always been regarded as playful wear but I reassure you that it will go to work only if you style it well. Wearing flannel on pants is not your regular flannel on jeans. Tuck your shirt into a pair of tailored pants and slay to work.
To perfectly wear this style, make sure your shirt is fitted and has fewer bright colors. Additionally, a blazer with one of the colors on your shirt will take your outfit to the next level.
Complement your corporate look with light makeup and a simple pendant necklace. For smart casual to an art exhibition, for instance, you can wear a pair of Chelsea boots. Otherwise, wear pumps or flats. 
4. Flannel on Denim Pants
Flannel on denim is the easiest and traditional pairing this quintessential cold-weather fabric gets. The two clothing items are versatile wardrobe staples that can make fashion statements whether worn separately or together.
Wear your favorite checkered shirt on denim pants and add a pair of boots or sandals for a spin. This outfit is perfect for a movie date, grocery shopping, or a day at the park. Moreover, you can tuck in your shirt halfway or completely to go out of the conventional style.
Also, for a switch, you can wear a plain or graphic tee underneath the flannel. When it gets warmer during the day, you can take off the flannel and tie it around your waist. Accessorize your look with simple jewelry and a small handbag or go hands-free with a backpack.
SEE: How to Style Business Casual The Right Way
5. Layered Under a Jacket
Flannels are one of the many few fabrics that work for every season. When you know to properly style your favorite flannel, you'll be dancing all through the year. During the colder months or the 60 degree weather days, it remains a fashion piece.
For instance, wear a flannel skirt with an oversized jacket over your shirt for extra warmth. Yes, they are thick woolen or cotton fabric but sometimes, they aren't enough. This ensemble keeps you warm throughout the day at work or during a chilly visit to the library.
The type of shoes you wear to match the above pieces depends on the weather and how your feet are responding. Also, the purpose for which you're styling determines whether you should wear a pair of boots, sneakers, or pumps.  
6. Layered Under a Sweater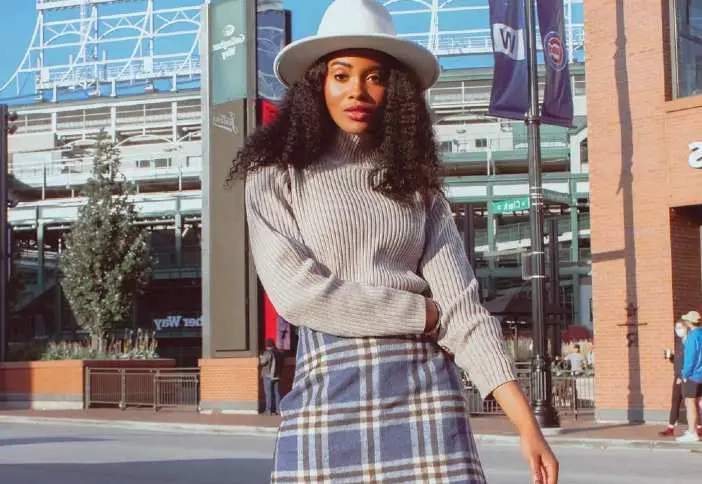 Flannel underneath a sweater is another match for the colder months. But, unlike pairing with a jacket, layering a sweater over tends to look less bulky. You may rather wear a cardigan so the whole of your shirt is not concealed.
Also, unless it doesn't feel warm for you, you can roll up the sleeve of your sweater to show the beautiful colors and pattern of your shirt.
Similar to wearing a flannel with a jacket, it serves as a shield against the chills. So, you can wear it over a skirt- midi or mini, pants or denim. Match your ensemble with boots, sandals or sneakers, and some simple jewelry. 
7. Flannel and Shorts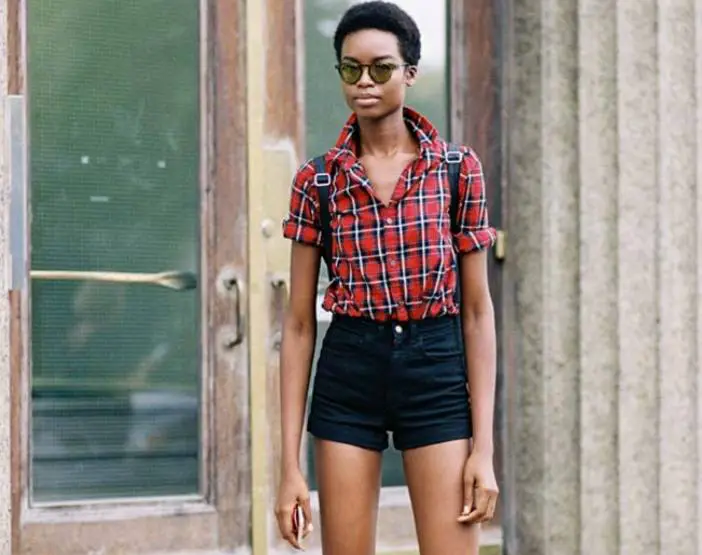 How can wearing your flannel get boring? Here's a perfect and simple way to style this versatile piece of clothing during the warmer months. Wear your flannel over a pair of shorts and a fitted top like a crop top for instance.
The fitted top will accentuate your slim waist over the shorts and underneath the flannel. You can wear this to a hangout with the girls, a picnic, or a visit to the park.
Add fun and a bit of funkiness to your look by adorning your ears with big hoop earrings and wearing dark shade lipstick. Finish off your look with a pair of high or ankle boots, or white sneakers. But, your choice of footwear largely depends on the weather.
8. Oversized Flannel
After successfully borrowing your partner's shirt, here's what to do with it. Style the flannel like a dress as long as it is long enough. Wear foundational garments, like tights, that are shorter than the shirt and won't peep from underneath.
Amplify your game with a pair of high boots or chunky sneakers and a pair of dark shades. Feel free to accessories with hoop earrings and maybe a matinee-length necklace.
Moreover, you can balance out the size of your shirt with a pair of very skinny pants like leggings.
9. Flannel Skirt
A flannel skirt may tend to look like a school uniform but it is equally a stylish piece. Your skirt could be short, midi, or long. Either way, be assured you're going to look very fashionable to work or anywhere.
Wear a slim-fitting top like that evergreen crop top or a graphic tee. And, when in the colder months, a sweatshirt would do. Feel free to style up with sneakers or stiletto sandals to look dressier.
SEE: How You Can Walk Perfectly in Heels as a Beginner
10. Flannel Pants
Flannel skirts then flannel pants; each is just as in trend and classy as the other. Match flannel pants with a neutral or matching color long sleeve bodycon or bodysuit. When it's colder, you can throw on a blazer, denim jacket, or trench coat.
If the weather favors going lighter, pair your pants with a light fabric blouse or tuck in a plain tee for smart casual. Accessorize your outfit with a multi-string or a pendant necklace.  
11. Flannel on Flannel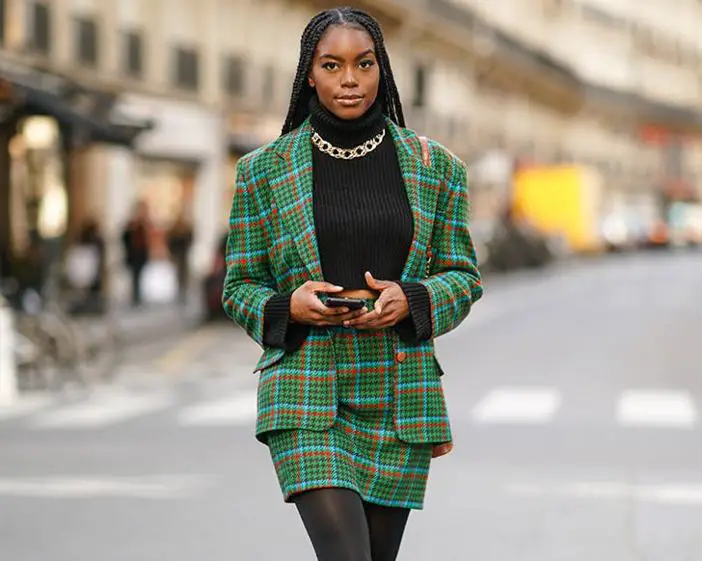 Like you'd twin up denim, you can do the same with flannel to make a fashion statement. Since you're going pattern on pattern, you may want to opt for flannel with less bright colors.
Meanwhile, if you're daring or a lover of the unconventional, you can wear two flannels of different colors. Bottoms can either be a flannel skirt or pants. You can pair the clothes with either boots or open-toe sandals and simple jewelry to tone down a little.
12. Flannel Over a Dress
To look less formal and more casual, style your flannel with that work dress. However, you do not want to do this over a dress that will look buried under the shirt. So, it is most likely going to be a simple dress without certain attachments.
When you're going this way with a patterned dress, you should perfectly match the colors so you don't look funny. Also, it should be a well-fitted dress that will showcase your shape underneath the dress.
Rather than wear flats or a pair of sandals, try it out with those beautiful ankle boots and see what you get. You can wear this outfit when you go solo to the movies or on an evening walk with that special someone.
13. Flannel Over Baggy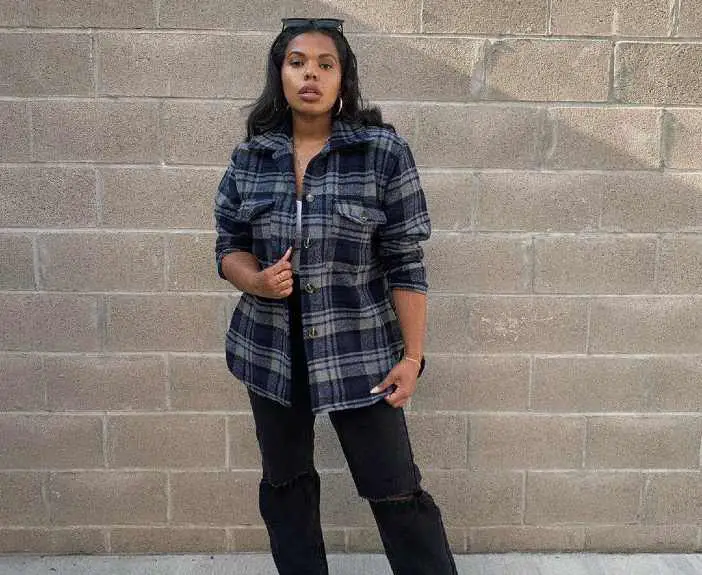 Dare to ditch those fitted pants for something baggy. And, make sure your throw on an oversized flannel for a full effect. However, you should wear matching colors so you do not come across as clumsy or something of the sort.
For a music festival or carnival, wear chunky sneakers and maybe tie a bandana across your forehead to seal the look. On the other hand, you can wear a pair of sandals to look more casual and draw less attention.
Because your clothes are going to take the whole of your body, make your face more visible with accessories like medium hoop earrings. Also, you can hype things up with a bucket hat.
14. Tied Around Your Waist
With flannels, you can effortlessly look classy and stylish. And, you do not always have to drape it around your body. Tying a flannel around your waist says a lot more than back to the old school.
SEE: Find Out if Organic Makeup Will Be Worth the Switch
It gives you a laid-back appearance and draws attention to the inscription on your tee and your shorts. Match this combo with a pair of boots or sneakers for a beach trip, a hangout with friends, or grocery shopping.
15. Flannel + Overalls
Overalls are timeless fashion pieces that often find one use or the other. Also, flannels aren't one of the newest clothing. So, they both know where to vibe. Pairing a flannel with an overall brings a sense of vintage and youthful look.
Your overall could be baggy denim with a color that does not fall far from the colors on the shirt. Pair your outfit with boots or sneakers and simple jewelry.
Frequently Asked Questions
1. Is flannel still in style?
Yes, it is. Flannel will never go out of style. It has always made a comeback and is now very versatile.
Flannels are one of the classics that remain evergreen and flexible for every occasion. Whether for corporate or casual outings, over pants or skirts, or to layer over and under; this fabric fits any style.                             
2. Is there a difference between flannel and plaid?
Yes, there is. Flannel is a type of fabric while plaid is a pattern. Although it is common to see flannels in plaid prints and one is often mistaken for the other.
Regardless, flannels appear in other prints and maybe plain too. Also, other fabrics can have plaid print.
3. How do I style a flannel to work?
Although this class of fabric looks playful and casual, you can tuck in a plaid flannel to work. Pair a flannel shirt with a midi skirt or tailored pants over pumps and simple jewelry for a corporate job.
Moreover, it doesn't always have to be a flannel shirt. It could be a flannel skirt or pants dressed underneath a shirt or light fabric blouse.
4. How can I break in my flannel?
If your flannel doesn't feel as soft as you'd like it to, use a mixture of water and fabric softener or baking soda to rinse your flannel after wash. You should always use warm or cool water to wash your fabrics to prevent stiffening and shrinkage.
Additionally, wash flannels with mild detergents that do not contain phosphate.
Conclusion
Flannels are quintessential wardrobe staples that work with any weather and season. Just because they look simple should not undermine their degree of versatility. I believe these fashion ideas have cleared certain reservations about this fabric.
So, whether it's summer or fall, you can always fall back to a flannel shirt. Rather than just making it a go-to when you've run out of ideas, intentionally decide to style your flannel to work, dinner, or a hangout.
Thanks for reading.
Check Africana Fashion for relevant fashion articles to keep you updated with fashion trends.