Different times of the year come with different weather temperatures. When it's not too warm for summer clothes or too cold for a winter jacket, dressing up becomes a lot of work. In 60 degree weather, effortlessly knowing what to wear should be lauded.
During these periods, you should be wearing clothes that warm you up yet allow your skin to feel some of the chills. And, it is common to see women pack a pair of sandals to switch the boots when they get too warm for their feet.
You may not need to go shopping for what to wear in 60-degree weather. Those summer and winter staples in your wardrobe are enough to get you styled up for any occasion. All you need to do is remember that the day's high and low temperatures are best met with layering.
Continue reading to see a list of outfit inspiration to help you pick what to wear in 60 degree weather.
Fashion Inspirations for 60 Degree Weather
1. Midi Summer Slip Dress + Jacket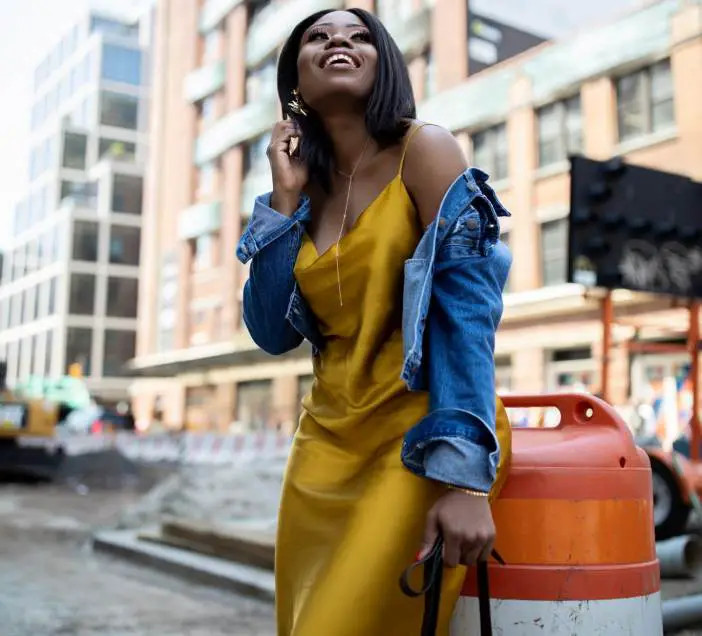 Just because 60 degree weather can be tricky, you need to match clothes for warmth and chills. Whether the temperature climbs or drops, you're covered. When it gets too warm for you, take off the jacket and drape it across your shoulders.
On the other hand, when the chills come, enjoy the warmth your jacket provides. Meanwhile, you can do with a lot of coziness, so you'll need little and less prominent jewelry to slay the look. Adorn your ears with a pair of small hoop earrings or studs.
Additionally, a pair of high leather boots will perfectly complement your jacket and midi dress. This style is excellent for evening outings with friends or even a date.
SEE: Is It Fashionable To Wear Hoodie Over Hat?
2. Trench Coat + Pants
Trench coats are timeless fashion items that find use in almost every weather and season except summer. And, they are fast becoming wardrobes' must-haves.
For your corporate job, pair a warm-colored hip- or knee-length trench coat with pantsuits and pumps and I bet you'll have them looking again. Because the temperature may drop during the day, wear light blouses or a long sleeve bodysuit.
If you're going out with friends or to the park with the kids, you can wear your trench coat for a casual look. Pair it with denim and a t-shirt or sweater or a loose blouse.
When the fun has gotten you warm, you can take off your coat and enjoy your time outdoor. For your feet, you can wear a pair of flats, sneakers, or ankle boots to stay casual and still stylish. 
3. Denim on Denim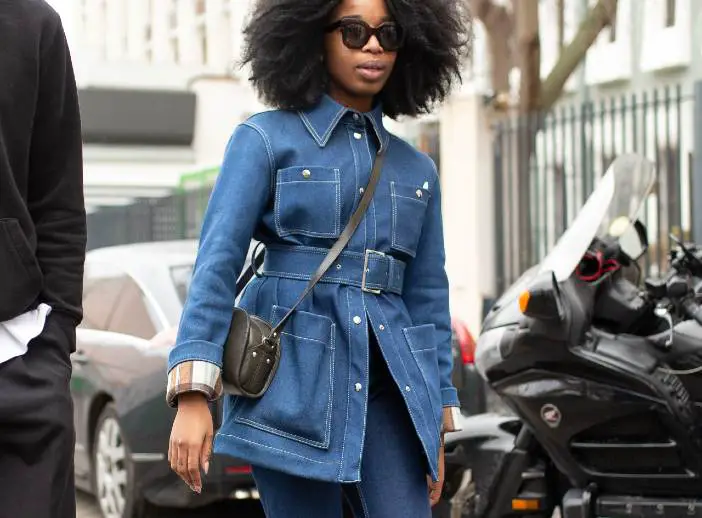 Denim is as timeless as trench coats. And, they have become versatile that they can be worn during any season. Denim over denim combo is a great choice of clothing to keep you warm in 60 degree weather.
If you love to make fashion statements even in the simplest of dresses, this outfit is just what you need. The snugging you need is better achieved when you wear loose-fitting denim.
Meanwhile, underneath your denim jacket, you can wear a blouse made with light fabric. This is so that, you have nothing to fear when it gets warmer during the day. Spice up your style with accessories like jewelry and maybe a pair of shades.
SEE: Fabric Types – Everything You Need to Know [With Pictures]
4. Blazers on Denim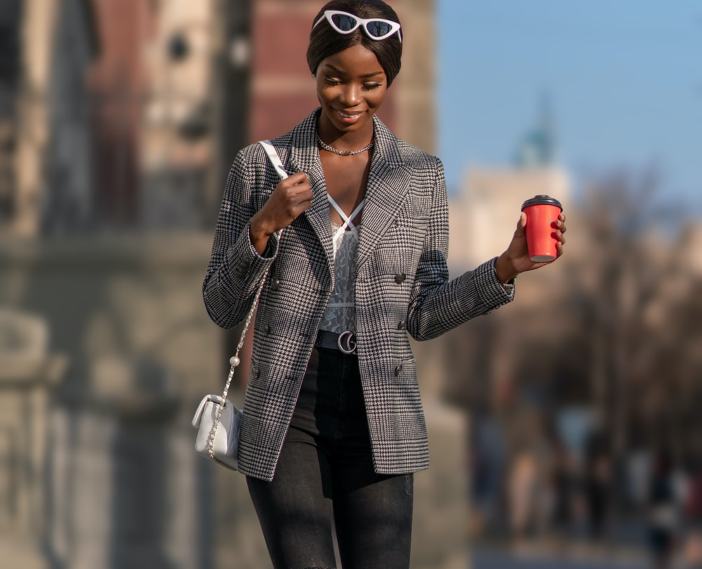 What you wear in 60 degree weather is generally encircled in layering thicker clothing over lighter ones. A blazer on denim is a classic outfit that is not difficult to style.
Pair the denim with a lightweight tee or any other blouse and layer it with a cotton blazer for warmth. Add simple accessories like a matinee- or opera-length necklace and a pair of high boots for work or a meeting.
5. Turtleneck Top Over Tailored Trousers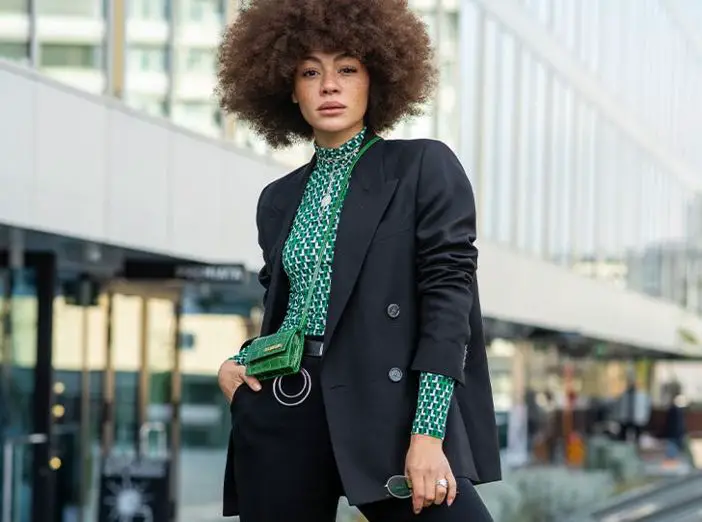 Here's another corporate style for the tricky weather condition. This pair makes you look graceful, classy, and slightly laid back. You can throw a lightweight jacket or blazer over your top.
The turtleneck top shields you from the chilly air and the loose pants make sure that your legs aren't choked with warmth. However, you should wear a lightweight turtleneck top because it might get warmer later in the day.
Complement this look with light makeup and jewelry and you are all set for work or a business meeting.
6. Jumpsuits
There is a jumpsuit for any weather and its temperature peculiarities. But, in 60 degree weather, you want to pick a jumpsuit made from a warm textured fabric.
Also, jumpsuits are very versatile and are designed to meet every need. You can wear a loose-fitting jumpsuit as you do a DIY at-home manicure with friends. 
For a corporate job, you may style it with a blazer or wear it alone. And, maybe add simple layered necklaces or any other jewelry. Moreover, if it's a casual outing, you can throw a denim jacket across your shoulders and slip into it when necessary.
SEE: What Is Fast Fashion? All the Information You Need Is Here
7. Midi Skirt + Sweater
With the day's high and low temperatures, you should be covered but not with heavy fabrics. This pair can be worn to work and anywhere at all. You can wear a leather or cotton midi skirt under a woolen sweater- tucked in or out.
Accentuate your look with pair of boots or sneakers plus some dark shades. Most importantly, if you'll be wearing a cotton skirt with colors or patterns, you should carefully pick the color of the cardigan.
8. A Pair of Sweatsuits
This time of the year is not too chilly to be indoors. Sweatsuits have moved from being just indoor wear. Sometimes, knowing what to wear for a casual outing in 60 degree weather is a hard nut to crack. But, it shouldn't be anymore.
If you have a game or pop music concert to go to, grab those brightly colored sweatsuits and seal the look with a pair of chunky sneakers. Additionally, you can pack your hair into a bun and stylishly tie a bandana.
SEE: Working Out In A Hoodie Guide
9. Oversized Blazer + Mini Skirt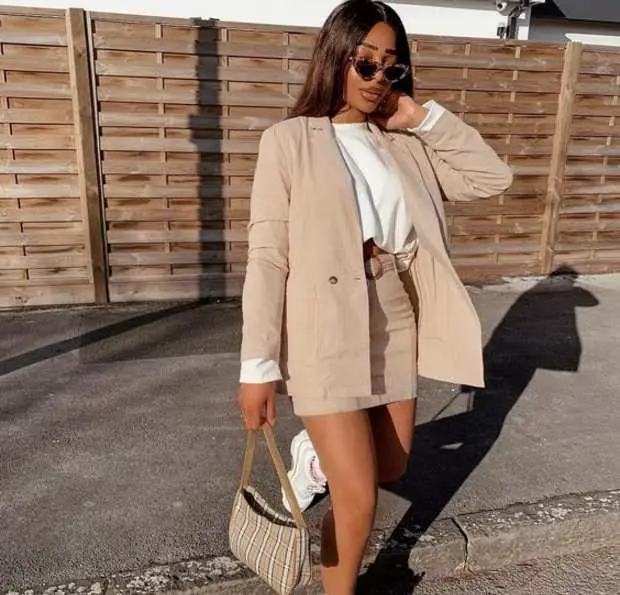 Pairing contrasting outfits is an effortless way of making profound fashion statements. Sport a cotton blazer with a cotton or leather mini skirt for a breezy evening date. To match the energy of the wind, you should wear knee-high boots to keep your feet warm.
On the other hand, if the evening seems warmer, drop the boots for a pair of black tights to reduce skin flashing. Tights always add a touch of youthfulness to an ensemble. Underneath your blazer could be a plain tee or any blouse of light fabric.
SEE: Stay in Trend With These 10 Square Toe Shoes for Women
10. Oversized Blazer + Midi Skirt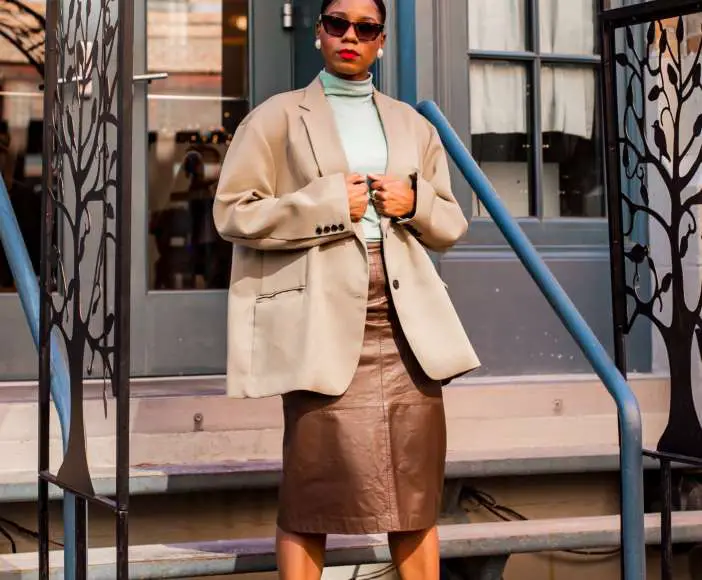 Like I said earlier, you may not have to go shopping for what to wear in 60 degree weather. Your wardrobe has the clothes; all you need to do is use these ideas to match them. Here's another way to style your oversized blazer.
This outfit is usually worn for business or informal dinners. It keeps you covered for corporate days and warmed against the chills of the evening. Take control of your extra clothing by working with the weather.
If it seems warmer, a tank top would be your best bet for underneath the blazer. But, if it's breezy, wear a short sleeve or sleeveless woolen top. For your feet, a pair of combat boots or low-heeled sandals would just be perfect.
11. Oversized Blazer + Midi Dress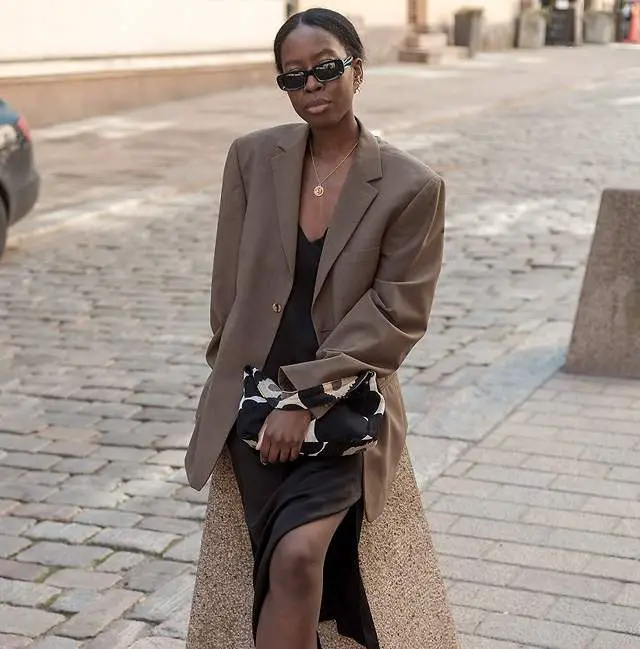 Those midi dresses can come out of the wardrobe already. Make a perfect pair of colors with the dress and blazer and you're set for brunch, a formal business meeting, and even work.
Also, wear high boots to shield your legs from the gusts of the wind. Feel free to accessorize with a pair of dark shades and simple jewelry. Most importantly, you should take note of the colors of your dress, blazer, and boot.
12. High-Waist Denim + Big Button-Down Shirt
If you are a lover of classics or like me, you tend to run out of ideas of what to wear, you should make this outfit a quick go-to. This style is simple yet classy and can be worn to work or a less formal dinner. Complement the look with heeled ankle boots and simple jewelry.
In addition, you can carry a small handbag for your phones and other important items.
13. Jackets and Scarves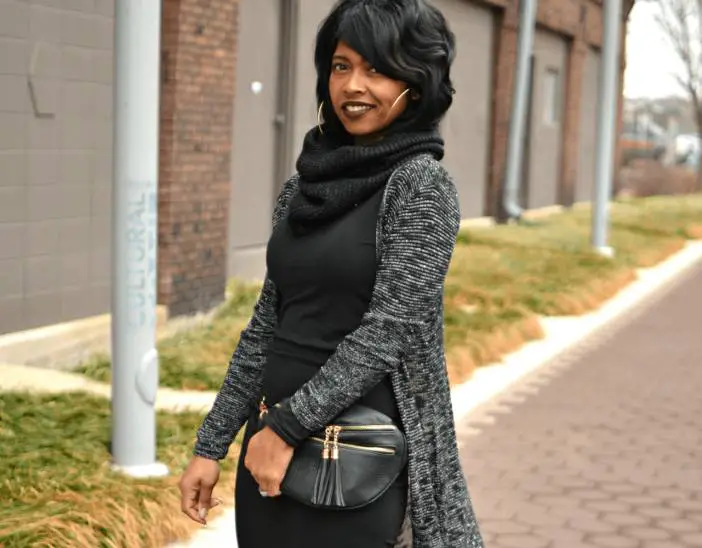 Jackets and scarves also help to keep you warm as sweaters and other woolen clothes do. When it's not so chilly or warm either, they are your go-to. For a chic look, wear a lightweight jacket and tie a silk scarf around your neck for warmth.
SEE: Trendy Kaftan Tops You Just Have to Own
If you'll rather go without a jacket, you should wear a cotton blanket scarf to keep you warm. And, we all know that there are no limits to styling a blanket scarf. Wear jackets and scarves to accessorize loose or fitted pants or skirts.
14. A Sweater/ Blazer Dress
Sweaters and blazers come in mini- or midi dresses for a chic look. A blazer dress says girl-boss and classy while a sweater dress speaks of your confidence and need for coziness.
Wear either of these with ankle or knee-length boots to keep your feet warm. Besides, you do not have to wear any plain. Accessories like scarves and necklaces will seal the look to make fashion statements.  
15. A Windbreaker Jacket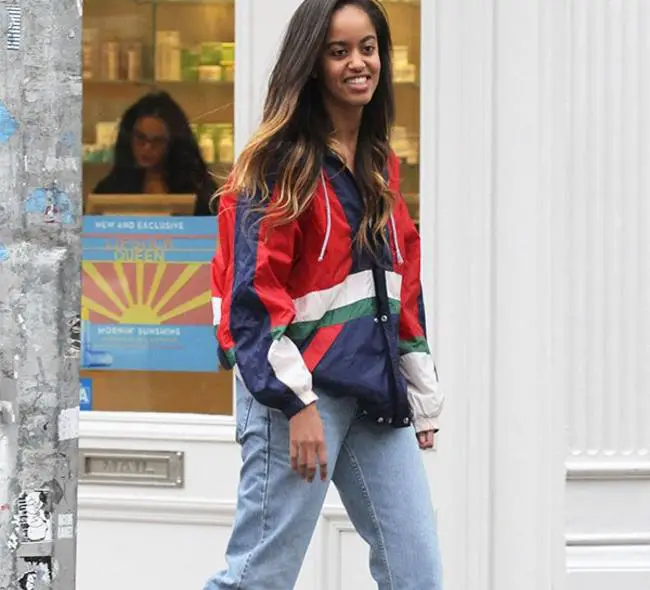 If you want a lighter jacket, opt for a windbreaker jacket to shield you against the gusts of the wind. Moreover, it is rain resistant. So, whichever way 60 degree weather comes, your windbreaker got you covered.
For grocery shopping or a walk around the park, you may wear just a thick camisole underneath the jacket. Then, pair it with spandex pants and a pair of sneakers.
Furthermore, you can wear a windbreaker jacket over your ensemble to work. The walk from your house to the bus station could be chilly. So, use it as a shield against the cold breeze.
16. Layering Leather Jacket Over a Maxi Dress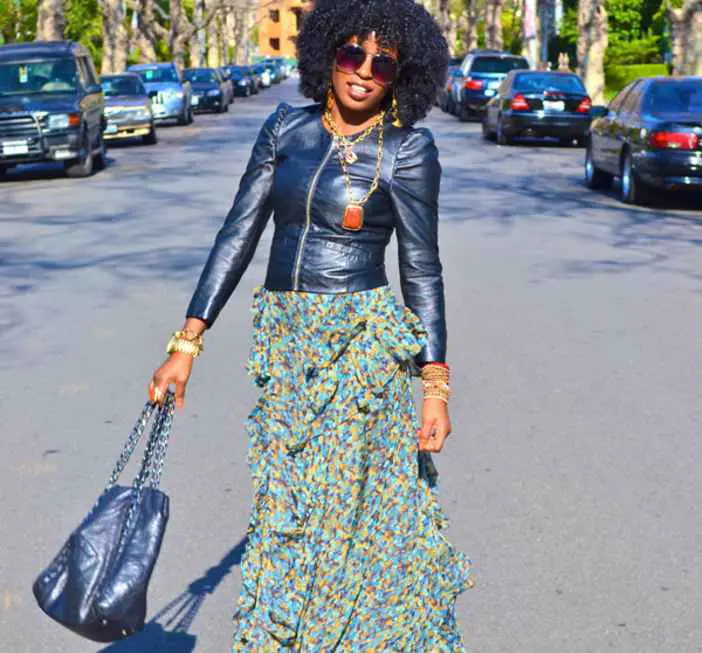 The more the contrast, the more elegant layering looks. Although we're looking to stay warm, there's still a need to look dressy. Take your maxi dress to another level in the 60 degree weather days with a leather jacket and a few accessories.
A flowing dress makes sure that no one sees what's on your feet. So, feel free to look funky with those chunky white sneakers. You could also get dressy with a pair of sandals or boots.  
17. Crop Top Over Pants
Yes, a crop top. No rule ever mentioned that crop tops were summer-only fashion items. For a chic and elegant look, make sure you're wearing fitted denim or jeans to accentuate your silhouette. And, you could wear ripped jeans for a touch of funkiness.
Your top may go off your shoulders for a little flashing. This outfit makes well for an evening movie date. However, make sure you go out with a cardigan, sweater, or leather jacket to keep you warm when it gets chilly. 
SEE: Keep Your Hands Moist With the Best Hand Cream
Frequently Asked Questions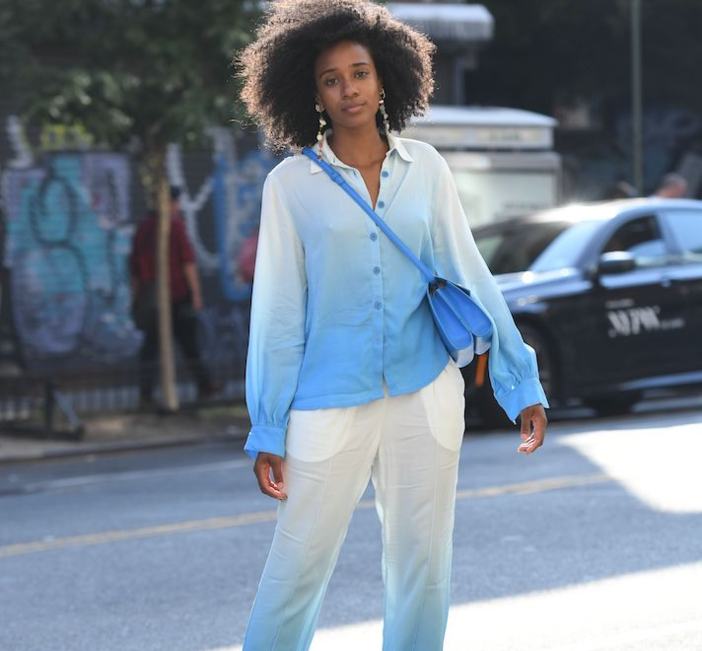 1. What does 60 degree weather feel like?
In 60 degree weather, the temperature is relative and can be quite tricky. Sometimes and for some people, it feels colder. On the other hand, it may be warmer in some areas for some persons.
Most importantly, you should be well aware of your environment and your body responses.
2. Can I wear shorts in 60 degree weather?
Wearing shorts in 60 degree weather is relative. If your legs feel warmer in 60 degree weather, you can wear shorts but you should wear something like a bodysuit or body con top to cover your chest and arms.
Above all, you should dress according to your body needs during different weather conditions. Temperature regulations differ with people. Moreover, different body parts regulate temperature differently.
3. What should I wear to the beach in 60 degree weather?
The beach is a different environment when it comes to weather. This is because of the sea and the sand. When you go to the beach, you should dress up against the chilly and breezy weather. You can wear a t-shirt and jeans and have a jacket around.
However, if your legs feel warmer, you can wear shorts. For your feet, a pair of sandals would do.
Takeaway
You can and actually should enjoy the weather as it comes. But, you can only achieve this if and when you dress to match the temperature peculiarities. What to wear in 60 degree weather should no longer have you staring long minutes or hours into the mirror.
Because it is a relative kind of weather, you should dress up according to the rhythm of your body needs and take into account the purpose of your outfit. Whatever combo you're going with, ensure to win extra points that come with matching colors and patterns.
With these fashion inspirations, I believe you've got a lot of ideas already. Enjoy the best of the weather.
Thanks for reading.
Check Africana Fashion for relevant fashion articles that suit your lifestyle and preferences.