Lemonade braids aren't one of the new and trendy hairstyles but they have always come back refreshed and stunning. They were originally called side braid until Beyoncé wore them in her iconic Lemonade album.
Ever since then, these braids have become one of the most popular hairstyles worn by black women. This is many thanks to Tiktok and Instafeed. If you're on this page, I know it's because you want to be a part of the trend.
So, I have put together beautiful lemonade braids style inspirations that suit your fashion taste and other preferences. There's no way you will be left out of this trend.
What Are Lemonade Braids?
As I mentioned earlier, the braids were named after the celebrity icon, Beyoncé. They used to be called side braids and this is because the cornrows sweep from one side of your head to the other side and end as braids.
Lemonade braids are also protective hairstyles but they do not last as long as other hair braiding styles. You can wear your braids for about 4-5 weeks. And, if you have longer hair, you can get them installed without adding extensions.
They have been revamped and are very versatile. So, you can wear your braids in different styles to match your events and lifestyle.
Moreover, you do not always have to wear plain braids. You can accessorize your hair just like Fulani braids. Cuffs, strings/ wraps, hair rings, shells, and beads of all kinds can be used to adorn your hair and add some extra juice to your look.
Beautiful Lemonade Braids Hairstyles
1. Small Lemonade Braids
Anyone can get small lemonade braids but it favors women with thin hair more. It doesn't put any tension on the scalp or hair strands. Following the cornrows-to-the-side pattern, your stylist sections your hair into small cornrows before braiding.
It takes more time at the salon to get this hairstyle done but it'll be worth the patience. The small braids make your hair look voluminous but not as heavy as chunky lemonade braids.
2. Medium Lemonade Braids
If you want to strike a balance between the thickness ranges of your braids, the medium size braids are the perfect pick. Also, unlike the chunkier braids, they bring attention to your face; highlighting your facial features and makeup.
With a little extra extension, you'll be adding more volume and length to the versatile version of lemonade braids. You can also highlight your look with cute baby hairs.
3. Jumbo Lemonade Braids
Jumbo or chunky lemonade braids give your face all the dramatic look you can ask for. They are very protective of weak, breaking, or frizz-prone hair. Also, getting these braids installed is not time-consuming.
You can get experimental with colors and accessories like cords on the length of your braids. So, if you're a woman who likes to make fashion statements, this is a hairstyle for you. Make sure you get them thick and long.
4. Micro Lemonade Braids
Small braids can get smaller. Micro braids are low-maintenance and protective hairstyles. Moreover, they tend to last the longest although it takes a lot of time to get them done. Also, they are a very good option for women with thin hair.
SEE: Best Hair Mask For Hair Growth
5. Micro and Thick Lemonade Braid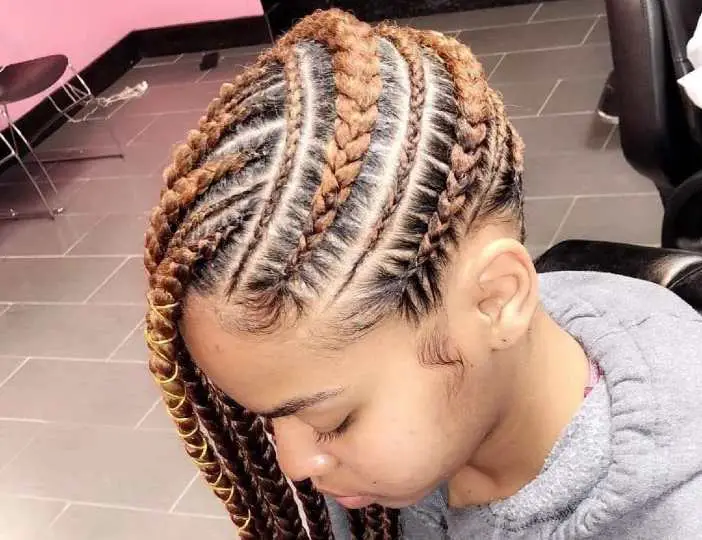 Because you can get very experimental with your braids, I decided to add this style with mixed thickness. Add some juice to your hairstyle by incorporating micro and thick- medium or jumbo braids.
Feel free to have this style in any color and hair length.
6. Short Lemonade Braids
We cannot overemphasize the comfort that comes with wearing short braids. They relieve your hair of the bulkiness of extra length of extensions. Also, they require low maintenance to keep them looking as beautiful as day one.
Moreover, they are pocket-friendly as they require fewer packs of extensions to get them installed. And, you won't have to spend so much time sitting in a salon chair.
During the warmer months, you probably do not need so much on your head and around your body. This makes this hairdo a perfect choice for the summer.
7. Long Lemonade Braids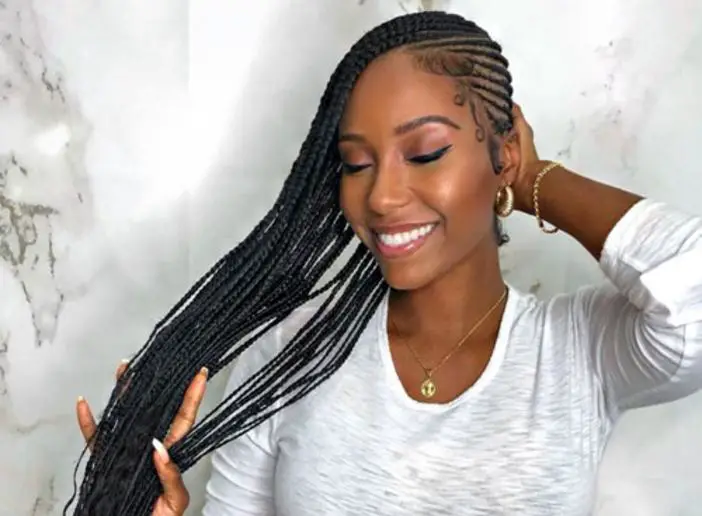 Typically, lemonade braids are one of the hairstyles that make use of length. But, you can go extra with your length and allow it to run beyond your waist. However, you'll need more packs of hair to get this done.
The extra length adds an extra diva look to your style. There is no limit to how stylish you can get with the thickness or color you decide to wear.
8. Tribal Lemonade Braids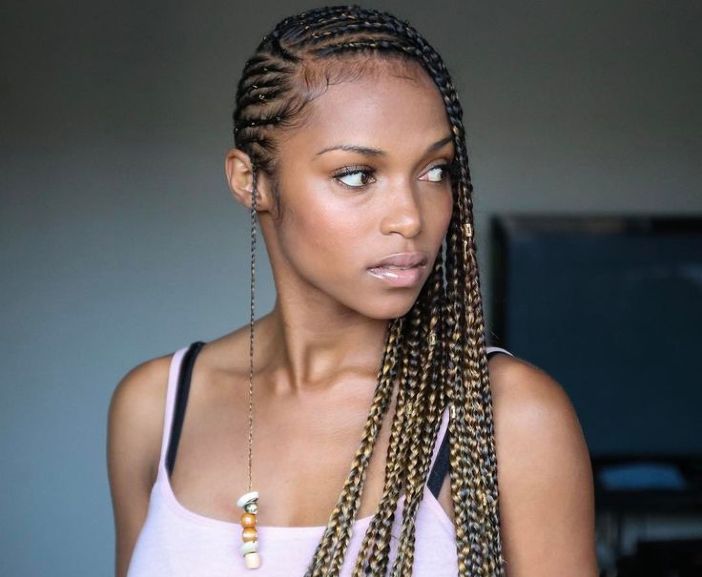 Lemonade braids can also be worn traditionally in different patterns and textures. Lovers of tribal braids can always take the hairstyle to the next level by turning the braids to the side.
For a complete tribal look, adorn the cornrows and length of the braids with hair rings, golden cuffs, and beads of any kind.
SEE: See New and Refreshing Tribal Braids Hairstyles You Should Try
9. Lemonade Braid + Ponytail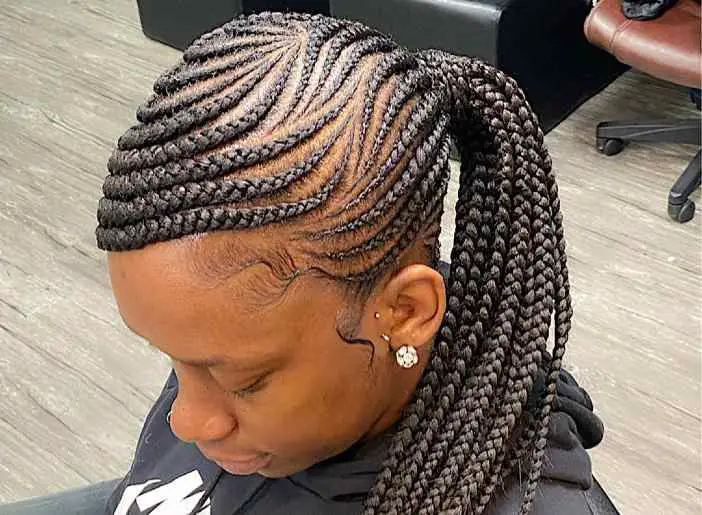 Rather than always making your lemonade braids run to the side of your face, you can raise them into a ponytail. And, the ponytail can either sit at the top of your head or close to your neck.
Additionally, you can make use of colored extensions to seal the look. Hair accessories like cords can also help to perfectly detail your style.
10. Lemonade Braid + Side Part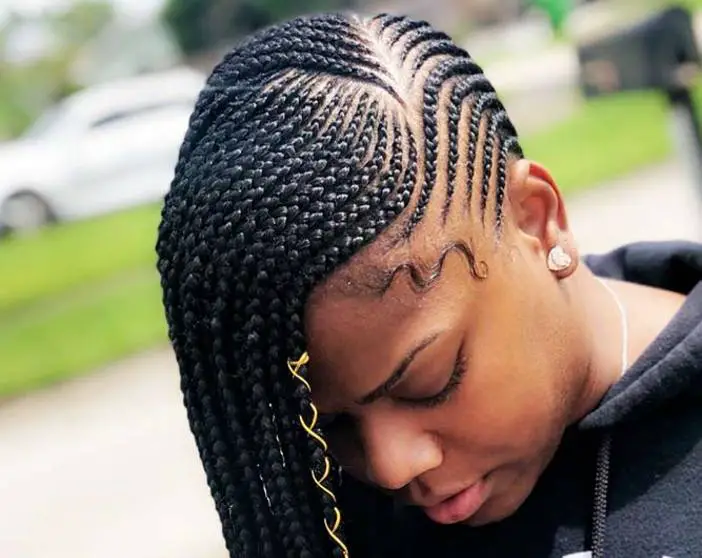 Who says you can't give your braids a switch? Just like almost every hair braiding style, you can also get a side part with this hairstyle. This way, your hairstyle looks like lemonade braids and like you got some other hairstyle.
With the parting on the side, you can have your braids fall to both sides of your shoulder. Also, you can have the one half to the back while the one in front partly covers your face.
Moreover, it is the perfect hairstyle to help flaunt your highlighted cheekbones, jawline, and makeup.
11. Zig-Zag Lemonade Braids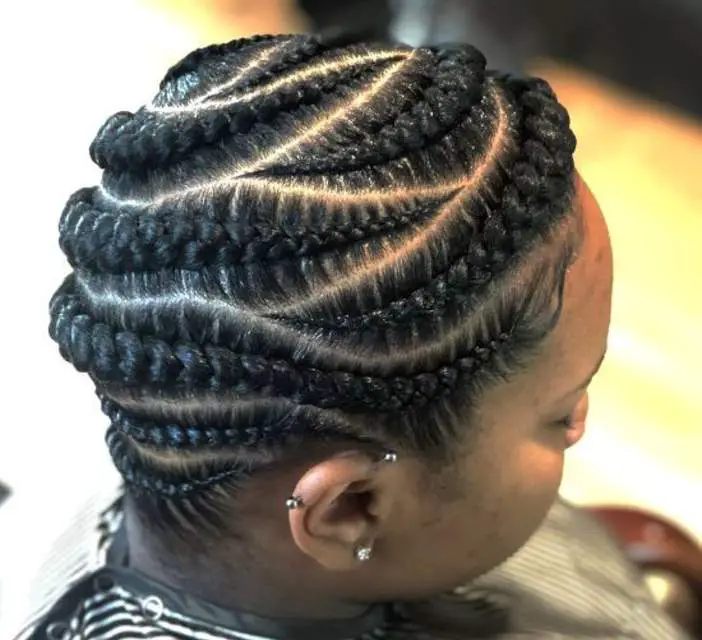 Zig-zag hairstyles have always made fashion statements. This stunning hairdo has your hair braided in cornrows that lie in opposite directions to form the zig-zag pattern.
Besides, you can also switch jumbo-sized braids with a zig-zag pattern and you'll have heads turning your way. The pattern adds charm and elegance to your look.
12. Wheel Patterned Lemonade Braids
Here's another way to maximize the jumbo thickness of lemonade braids. Your stylist sections each cornrow into horizontal bits and braids them together with extensions using the feed-in technique. They may look bulky but they aren't really so and they are low maintenance.
13. Boho Lemonade Braids
A lot of black women love to sport the boho look. The curls on the length of the braids make your hair look soft and more voluminous. This creative hairstyle is a perfect way to flaunt an exceptional fashion sense.
14. Blonde Lemonade Braids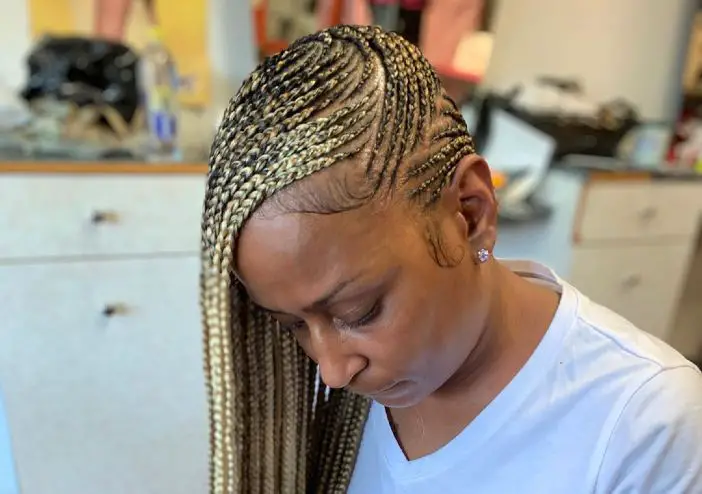 Women who love to be experimental with colors will totally love this look. Blonde colored hair has a way of highlighting both your face and hair. This draws attention to your entire look. So, what are you waiting for?
SEE: Use These Best Shampoo and Conditioner Sets for Better Hair Care
15. Ombre Lemonade Braids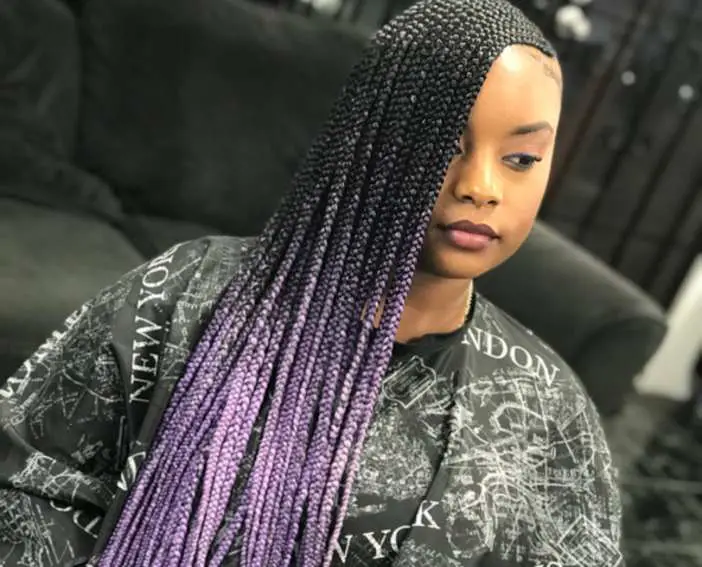 The color graduation that comes with ombre braiding hair is very beautiful. There are vibrant colors to highlight your skin tone and face shape that you can try out. And, you can use ombre braiding hair for any style of lemonade braids.
16. Side Lemonade Braids
Aren't lemonade braids made to the side? Yes, they are but you can have them go completely to the other side of your face. The conventional way to wear them is to allow some braids to partly cover your face.
On the other hand, side lemonade braids take away the hair on your face. Your stylist braids all the cornrows to the direct opposite end of your face, very close to the ear. It could be a quite tasking one for your stylist but a good deal of creativity will pull this off.
Additionally, this hairstyle is a perfect pick for the warmer months as it takes the hair off your back and out of your face. And, if you get thin braids, they flatten the back of your head and gives an illusion of a shaved hair.
17. Lemonade Braid + Wavy Ends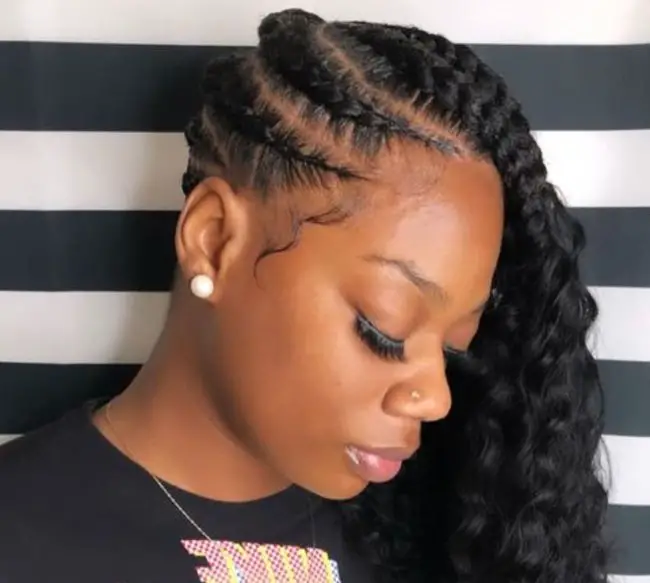 The majority of lemonade braids hairstyles have straight braids but do you always have to be conventional? So, come out of the box with wavy ends and see how many compliments or stares you'll get before you get past a few blocks.
18. Lemonade Braid + Accessories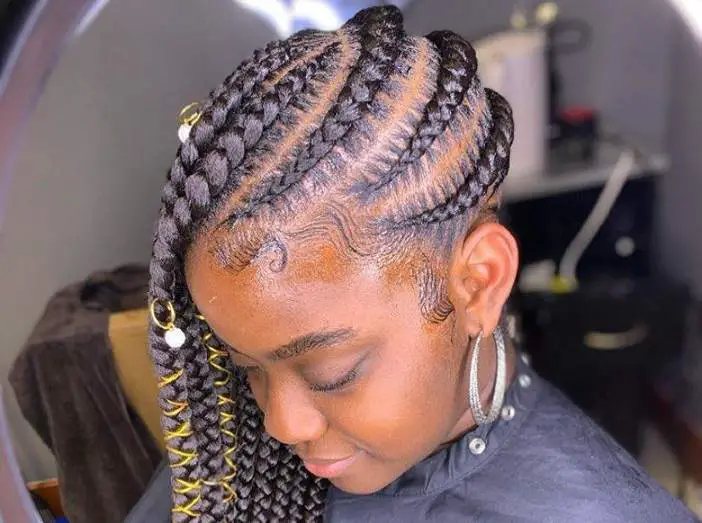 Hair accessories like beads, cuffs, shells, and cords are popularly used to adorn braids. And, they mean much to the black woman. So, you can equally have them on your lemonade braids.
Whatever the style, thickness, or color of your braids, you can always have an accessory on them. And, there are different types of beads – gold, glass, or wooden for you to pick from. With any accessory you use, you can be sure they'll highlight your braids.
19. Curvy Lemonade Braids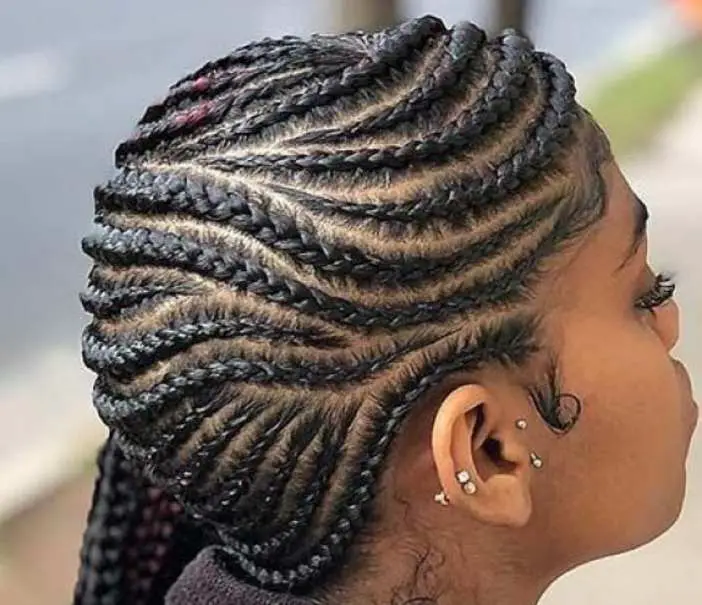 There is quite a lot going on with this hairstyle and it requires a great deal of creativity and skill to pull it off. Your stylist has to section your hair into concurrent curves before braiding.
It comes out with more curves than the typical lemonade braids. And, the curves make your hair look more sophisticated. However, you should be ready to spend hours sitting in a salon chair for this hairstyle to come out perfect and beautiful.
SEE: Best Hair Extensions to Change Up Your Style
20. Two-tone Lemonade Braids
Two-tone lemonade braids are for women who love color and creativity. With this hairstyle, your braids are not totally blonde neither are they black. It is a fun and experimental hairstyle that you should copy very soon.
Moreover, you can have it in whatever length and thickness you want. For me, this color contrast is the top of the look.
Frequently Asked Questions
1. How long do lemonade braids last?
Lemonade braids last up to four weeks. But, if extra care is taken, you can wear them for up to six weeks. Most importantly, how long your hair lasts depends on the size and the care routine you follow.
The care routine includes washing, oiling, gentle styling with gels and mousse, and how you protect them when you sleep at night.
2. What type of hair should I use for lemonade braid?
Kanekalon is the commonly used hair extension for human braids. This is because of its easy-to-braid texture and cost-effectiveness. Also, you can dip it into hot water to seal the ends.
However, some stylists prefer to use human hair for a natural, shiny look. And, it tends to hold the hair in place for a longer period of time. 
3. Will lemonade braid damage my hair?
No, it won't. This hairstyle falls in the group of protective hairstyles. They are installed using the feed-in technique.
Although it may damage your hair if the braids feel too tight, and for too long. It puts undue tension on your scalp and hair. Signs of these include bumps around your hairline and hair breakage.
4. Can I make lemonade braid with my natural hair?
Yes, you can. Braids are one of the best hairstyles for your natural hair because natural hair curls are very prone to frizz and breakage. So, it is best to hide them in hairstyles like lemonade braid.
All you need to do is clean your hair and scalp properly and stretch your curls before styling. Ensure you apply a heat protectant before using a hair straightener to protect your hair from damage.
Bottom Line
If you're a lover of classics, you may want to try of one these beautiful and trendy lemonade braids hairstyles. This class of hairdo answer well to the high demand for protective hairstyles that do not put so much tension on the scalp.
Although they may not last as long as other hair braiding styles, they still protect your hair for up to four weeks. And, you can have them with your natural hair if you want a break from extensions.
This is another flexible hairstyle that you can explore with length, color, thickness, and accessories. There is an inexhaustible list of options. So, when next bad hair day serves you lemons, make lemonade braids.
Thanks for reading.
Africana Fashion provides you with relevant beauty articles on trendy hairstyles.