Our makeup brushes are part of our overall beauty routine. Without them, we wouldn't get far when applying our makeup. Out of this set, the foundation brush plays one of the most important roles. That is why you have to know how to clean a foundation brush.
Day in and out, we use a foundation brush. Whether it's for light, medium, or full coverage, they are essential parts of your makeup routine. And dipping it in water and bar soap or a detergent does not cut it.
Therefore, you need expert tips that would not only effectively clean your foundation brush but also protect your bristles. No matter the shape or size of your foundation brush, you can bring it back as good as new.
So stay with me as you learn how to clean foundation brushes with ease.
How to Clean Foundation Brush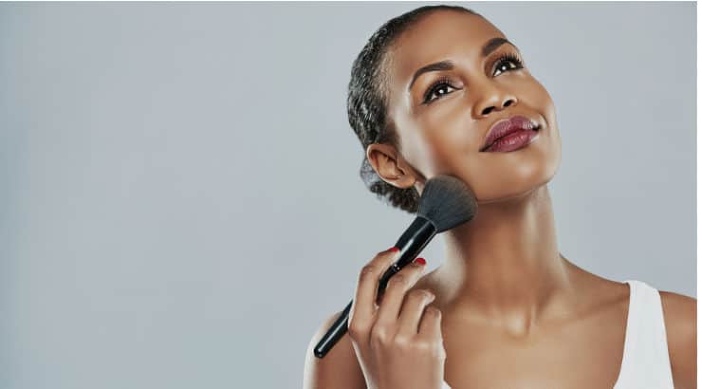 1. Water and Gentle Soap
As I said, water and normal bar soap alone wouldn't cut cleaning your foundation. You have to use a gentle soap to get the grime off your bristles without hardening them. You can opt for a gentle shampoo, a makeup brush cleanser, or a dishwashing soap.
I would recommend you use a cleaner like Parian Spirit Professional Makeup Brush Cleaner. The cleaner is easy to use and filled with food-grade solvents that dissolve wax, liquid, and powder-based makeup.
Steps:
Add a drop of cleaner into a cup half-filled with lukewarm or warm water.
Dip only the bristles in the water.
Massage the bristles gently in the water with your palm.
Squeeze out excess water in your bristles and remold back to its original fluff.
Dry the bristles with a towel or a paper towel. However, make sure the paper towel is lint-free. They would leave no particles on your bristles.
Leave out your foundation brush to dry.
Set back in your makeup box after drying.
2. Micellar Water
Micellar water is used as a gentle makeup cleanser for your face. It's a multipurpose product that works wonders. You can use micellar to clean your foundation brush too. It is safe for your foundation bristles, and it would not stick them together.
Steps:
Pour out enough quantity of your micellar water in a bowl.
Dip a cotton pad in the micellar water, saturating it completely.
Then press the pad lightly against your foundation brush, avoiding the handle.
Do this until the bristles are clean.
Follow this up by leaving the brush to dry.
Due to the micelle compounds in the micellar water, you would get soft bristles that are also silky when you touch.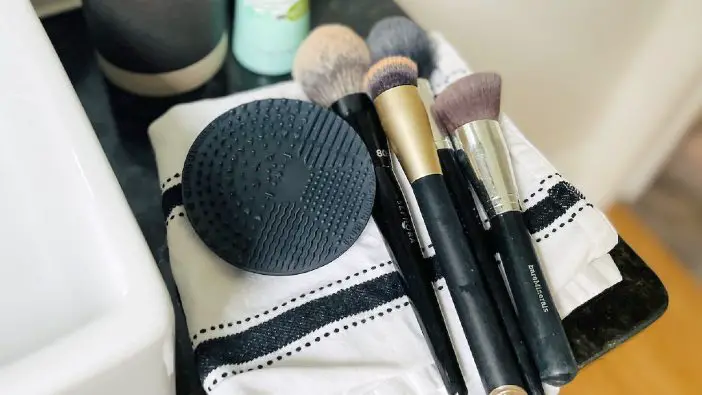 3. Brush Cleaning Pad
Instead of swirling your foundation brush on your palms, you can use a brush cleaning pad. The pad is made of silicone and raised edges of different shapes and sizes. The silicone pad is easier to use. However, you would still need a gentle soap to get the residue and dirt off.
Steps:
Add a drop of gentle soap on your foundation brush.
Lay your cleaning pad on your hand and place under a running water.
Swirl the bristles of your brush on the pad, going back and forth.
Squeeze the water out of your bristles.
Air dry on a smooth flat surface.
You can keep your silicone pad in your bathroom closet or with your washcloth. Moreover, the pads come in varying sizes. Some come in glove form or sponge form. You can use whatever you want based on your preference.
For instance, Norate Brush Cleaning Mat is a portable cleaning pad known for being lightweight and easy to use. Furthermore, the cleaning mat has different edges that suit any type of brush other than a foundation brush.
4. Anti-Bacterial Hand Soap
Anti-bacterial soaps would be cleaning your brush twice as much because they also kill bacteria and fungi lodged deep in your bristles. You can use anti-bacterial hand soap like Solimo Antibacterial Liquid Hand Soap to remove clean your foundation brush.
The steps are also the same as a normal cleansing routine with a gentle soap. However, you should leave the bristles in soapy water for a while before massaging. This gives it enough time to get the bacteria out of the bristles.
5. Cleaning Spray
You can also use a cleaning spray to spritz your foundation brush. A quick cleaning spray would help you in cleaning your brush if you have a little buildup.
Steps:
Holding the brush upside down with the bristles down, spritz your foundation brush.
Hold on for a few seconds (just enough time for the liquid to penetrate the bristles.
Then you roll or swirl your bristles in lint-free paper towel or micro-fiber towel.
Shake the brush to re-form the brush.
Leave it out to air dry on a smooth surface.
How to Clean a Beauty Blender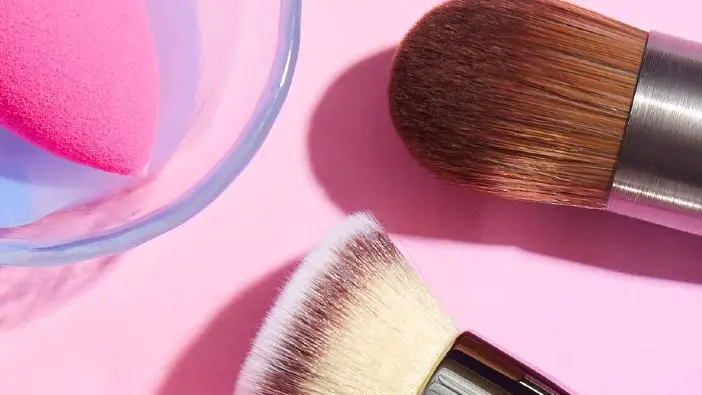 A beauty blender is also used to apply pigmented products. It is an essential tool for makeup because it gets into the corners and angles on the face. Therefore, you need to keep it clean (along with other makeup tools).
You can opt for a beauty blender cleaner like BeautyBlender Liquid BlenderCleanser. Similarly, gentle soaps and cleansers can be used to clean the blender.
Steps:
Dip your blender in lukewarm water mixed with a cleaning agent.
Squeeze the foam lightly in your palm, using your fingers to rub the surface of the blender.
When you are done, squeeze excess water from the blender.
Leave it out to air dry on a smooth surface.
SEE: Types Of Foundations: Choosing The Best For Your Skin Tone
Quick Tips in Cleaning Your Foundation Brush
It's not enough to keep your foundation clean, you have to maintain a nice wash routine for it also. You can keep the following tips:
Do not dip the full brush in with the handle. Only dip the bristles in water.
Use lukewarm not hot or cold water.
Air dry fully before using your foundation brush.
Add coconut oil in the soapy water to give the bristles a silky touch.
Wash your foundation brush regularly to avoid breeding bacteria.
Spritz foundation brush after sharing with someone else.
Keep foundation brush in a clean makeup kit or dry place.
Why Do You Need to Clean a Foundation Brush?
Cleanliness is next to godliness
A clean brush is easier to use. Plus, you get to keep a clean environment. In addition, you get to avoid breeding bacteria in your foundation brush. This is needed for makeup artists who use their brushes on several faces with different skin types.
Renowned dermatologist and founder of Dr. Loretta skincare, Loretta Ciraldo, M.D., says, "We know that makeup brushes grow bacteria and fungus." Therefore, keeping your foundation brushes clean would prevent the bacteria from growing and infesting our faces.
Prevent buildup
Dirt, oil, and makeup residue build up on the brush, making it stiff and heavy. Layering your makeup up with ease becomes difficult if there is a buildup in your foundation.
However, if you clean regularly, you would have no problem creating a streaky clean foundation surface, which is the basis for a good makeup layer.
Prevent breakouts
According to Certified Physician Assistant Cristina Monaco, PA-C, "Buildup of dirt and oil on your brushes cause acne breakouts and possibly dermatitis." With buildup, you could breed bacteria, which in turn could cause your skin to break out with acne.
You need to learn how to clean foundation brushes to give you an edge on how to clean yours effectively, curbing acne breakouts on your skin.
This is a tip you should keep in mind if you are prone to acne or have oily skin. If your brush is clean, you can prevent bacteria from spreading on your face, which delays breakouts.
Ruins makeup
A dirty or stiff brush could ruin your overall makeup. This becomes easy when building the foundation on your face. It could come out looking patchy with uneven coverage. To avoid this, you must use clean and soft bristles that would build the foundation on your face.
SEE: This Is How to Use Setting Powder for a Flawless Makeup
Frequently Asked Questions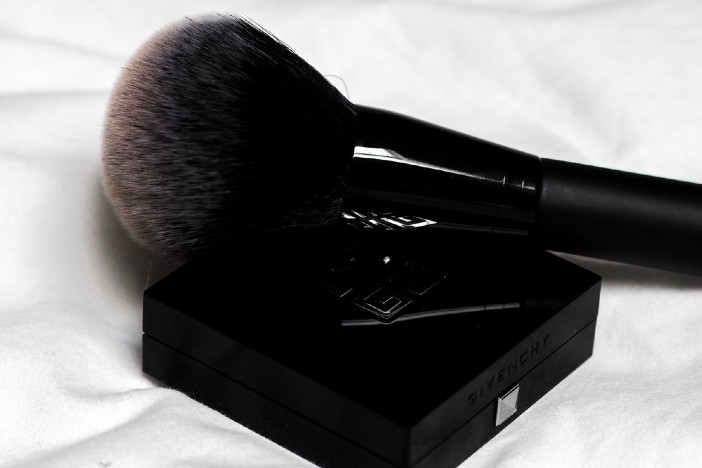 How often should I clean my foundation brush?
Once a week. This would help prevent product buildup. Foundation brushes can gather buildup easily because they are used for pigmented products. Therefore, washing them once a week will keep your skin clear.
Nonetheless, some rarely use makeup tools. If you fall under this category, wash your foundation brush once every two weeks to stop dirt and bacteria from spreading.
Can I soak my foundation brush?
Yes, you can. You can soak your brush if you have a thick buildup or a sticky brush. The soap solution would need time to dissolve the dirt, grime, and oil in your brush if it is extremely dirty.
However, you cannot soak for more than a few minutes. 15 minutes is best.
Can I use shampoo to clean my foundation brush?
Yes, you can. Shampoo is also a gentle cleanser that works well with brushes, especially natural brushes.
You can use your normal sulfate-free shampoo to get the grime out of your bristles.
When should I replace my foundation brush or sponge?
When they start to lose their shape. You should change your foundation brush when the bristles are falling limp, shedding, or start to fray.
On the other hand, you should change your beauty blender after using it once, if it's meant to be used once. However, for microbial-resistant sponges, you can use them for at least four months.
Conclusion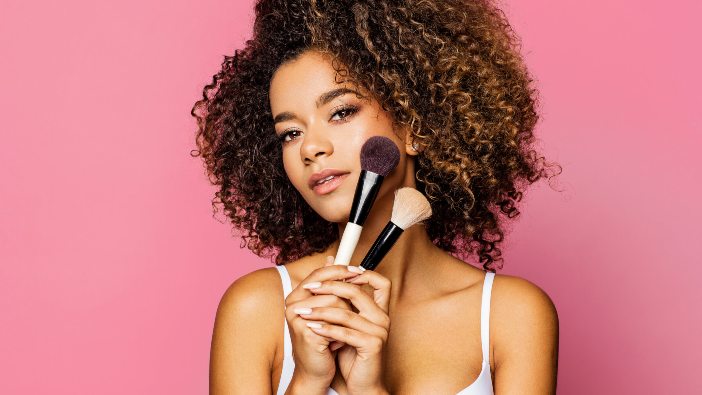 Your foundation brush is essential in your makeup routine. However, using it over time will build up dirt, oil, grime, and residue. If not cleaned, it could also lead to the early damage of your brush.
Moreover, a dirty brush is a breeding nest for bacteria and fungus. You might experience a fair share of acne breakouts if you let this happen. Therefore, there is a need to learn how to clean a foundation brush.
You can opt for micellar water, gentle soap, a cleaning pad, or cleaning spray. Nonetheless, keeping your brush clean with a regular wash would prevent it from going bad. And when the bristles are worn out, you can change your brush.
Thanks for reading.
Africana Fashion provides helpful beauty tips to keep your beauty lifestyle upbeat.