The need for a new and better way to scrub dirt, grime, and makeup off the face brought about a new product by the French called Micellar water. And since it became a homestay for beauty-loving women, there is no going back with it.
This is natural. People tend to never let go of a good thing when they have it in their grasp. That is what micellar water is, a good thing you shouldn't let go of.
The beauty and skincare product is a great alternative to harsh cleansers and makeup removers that sometimes leaves the skin too dry.
This multitasking alternative has become a staple in the beauty cabinets of women that I had to do a roundup of the best products you can get when you want one.
If you want to try micellar water after all the reviews and rave you have heard about them, you should start from this list. The products here would live up to your expectations.  
Best Micellar Water
Starting your nighttime skincare routine can be tiresome if you've had a long day and can't wait to peel off the layers you applied in the morning or earlier in the day. Micellar water comes in handy at such times.
As a multipurpose product, it eases the process as a double cleanser and makeup remover. Besides, it does this while being gentle on the skin. That's why you need the best of this product for your particular skin type and condition.
You will find the best micellar in the market right now on this list. They would get you started on your path to effortless makeup removal and cleansing routine.
This list was created by collecting sales data from e-commerce stores and online product engagement.
1. Overall Best Micellar Water
Bioderma Sensibio H2O Micellar Water comes in as the best the market can offer right now. The product is made for all skin types; nonetheless, it is most suitable for sensitive skin. The gentle cleanser is soothing and non-irritating on the skin. It would not leave any residue.
In addition, it does not need to be rinsed off after cleansing. The water-like texture soothes the skin as it gently removes makeup and grime. Furthermore, it cares for the skin's unique natural composition, leaving your skin in the most smooth and soft state.
You can use it for your double cleansing routine, and the outcome is comfortable to the skin.  
2. Best Micellar Water for Dry Skin
Dry skin types have it tough when it comes to keeping their skin hydrated. They need all the help they can get. That's why they need the best micellar water like Garnier SkinActive Micellar Cleansing Water for Dry Skin to cleanse and hydrate your skin.
Fortified with ingredients like water, rose damascene flower water, cocoa butter, and glycerin, the cleansing water keeps the skin deeply hydrated. Moreover, it does not contain alcohol, fragrance, and oils.
You can use the formula to clean, freshen, and hydrate your over-drying or parched skin. And it is a no-rinse makeup remover. You can leave it on your skin or apply another gentle cleanser on your skin.
All skin types can also use this water. However, it is most suitable for dry and sensitive skins. You can also use it to remove difficult eye makeup.
3. Best Micellar Water for Oily Skin
La Roche Posay Effaclar Micellar Cleansing Water is the option for oily skin due to its oil-free and clarifying formula. The product can remove dirt, makeup, oil, and pollutants stuck in the skin pores.
The cleansing water works by encapsulating dirt in the micelles, lifting the dirt on the skin. It also has antioxidant properties that soothe and protect the skin.
Besides this, the formula is no-rinse and hydrating. You can leave it on your face for deep penetration and cleansing. Similarly, it is non-comedogenic and alcohol and paraben-free. Your skin won't feel irritated when you use it.
Apply the water on a cotton pad and gently rub. Repeat on your face until the pads look clean.
4. Best Value Micellar Water
Simple Micellar Cleansing Water Double Pack is a great value for your product. The set is inexpensive and suits all skin types. The cleansing product is moist and gentle on the skin, including sensitive skin.
In addition, the soft cleanser boosts your skin's hydration, giving your skin the needed moisture. The cleanser also doubles as a makeup remover and dirt and impurity cleanser.
The product is a complete and simple pack. It goes through a triple purified process without the addition of harsh chemicals, colors, or perfumes. Rather you have the formula enriched with multi-vitamins.
Furthermore, it's not difficult to apply, and it does not need to be rinsed, making it easy for your nighttime or morning routine.
5. Best Drugstore Micellar Water
Garnier SkinActive Micellar Cleansing Water for all skin types is easy to acquire. The product is fortified with helpful ingredients like glycerin and water to keep your face refreshed at all times.
It also works fast and effectively in keeping the skin cleansed and hydrated. Moreover, the multitasker benefits the skin by removing dirt, excess oil, makeup, and glowing up the skin.
The water will remove dirt and makeup without irritating the skin. It also removes difficult eye makeup like mascara and eye cream. You can use water for your morning and nighttime routine.
6. Best Micellar Water Makeup Remover
Skin expert L'Oreal Paris' Skincare Micellar Cleansing Water is a liquid that suits all skin types in removing makeup effectively. The oil also makes it easy to deep cleanse the eye area without irritating the eye area or your eyes.
The cleansing water also works as an anti-redness and pore minimizing cleanser that is gentle on the skin. You can remove makeup, thoroughly cleanse your skin, and leave your skin hydrated and matted.
All you have to apply the water on a cotton pad and rub gently to remove leftover impurities.
7. Best Micellar Water for Sensitive Skin
CeraVe Micellar Water works as no-rinse cleansing water for sensitive skin. The gentle cleanser has long-lasting hydrating components that keep the skin moisturized all day.
In addition, with ingredients like niacinamide, ceramides, and glycerin, the skin lipids are increased to fortify the skin barrier. The cleanser helps to restore the skin's natural barrier.
Furthermore, it cleanses the pores of the skin, penetrating the skin so as not to strip the surface of its oils. It does not have parabens, fragrance, or drying components. Consequently, you can use the cleanser if you have dry and sensitive skin.
8. Best Micellar Water for Gentle Cleansing
If you need a gentle cleanser, use Burt's Bees Micellar Cleansing Water. The cleansing water is fortified with coconut and lotus extract to keep the skin gently toned. The formula is non-comedogenic and healthy on the skin.
Furthermore, it is all-natural and does not leave the skin irritated. It is also dermatologist and ophthalmologist tested. It does not contain harsh chemicals like parabens, phthalates, fragrances, and petroleum.
You can apply a gentle cleanser to remove dirt, impurities, and makeup. Moreover, it brightens and lifts the skin, clearing the dull look with one sweep. You can add a gentle cleanser to your everyday skincare routine.
9. Best Micellar Wipes
Simple Micellar Wipes is more advanced than other facial wet wipes because it has micelles in the wipes that clean the pores and clears off dirt and makeup. The wipes are designed to gently and evenly cleanse any skin type.
The wipes also work to remove difficult and heavy makeup on the skin. You can use the makeup remover to hydrate your skin and cleanse with its triple purifying components. Moreover, the wipes make a convenient and on-the-go cleanser.
10. Best Anti-Aging Micellar Water
Enriched with aloe vera, witch hazel, and other astringents, Emilia Micellar Cleansing Gel helps to tighten your skin pores, keeping wrinkles and fine lines away.
The cleansing gel works as a gentle magnet that attracts and sweeps dirt, makeup, and other impurities out of the skin pores.
Furthermore, the cleansing gel is no-rinse. You can leave it on the skin or work with another double cleanser. It also soothes the skin when it is applied, giving you a nice experience.
You can rest assured your skin is in top condition because it does not contain harmful ingredients like parabens and sulfate.
11. Best Micellar Gel
You can start with Aveeno Positively Hydrating Micellar Gel for glowing and hydrated skin. The gel is a deeply hydrating formula with enriched components like soy and kiwi complex.
The cleanser draws out dirt and impurities with its rich oil, acting as a natural magnet. Furthermore, it does not clog the pores with its oils. The oil is naturally non-comedogenic and hypoallergenic.
Asides from this, it does not have parabens, phthalates, and fragrance. It is safe on the skin and for all-day, everyday use.
How to Choose the Right Micellar Water
Skin Type
Skin type when choosing your micellar water involves knowing the characteristics of your skin. That is, you can be oily, dry, combination, normal, or sensitive skin. You should pick a formula that suits your skin type.
Quality
The quality of any product should be the optimum best for your skin. The micellar water should reflect or show some improvement in your skin. High-quality products would glow up your skin and give you the natural essence you want.
Ingredients
Asides from your skin type, the cleansing water should have the right ingredients in the right formula for the right skin type.
Additionally, the cleansing water does not contain ingredients you are allergic to in the formula. If you notice any changes in your skin, discontinue the product immediately.
How to Apply Micellar Water
Micellar water is easy to apply and use. Moreover, it is used for several other skincare routines asides from cleansing. You can use micellar for the following:
Cleansing and toning your face in your morning and nighttime routine. Apply it as you would a normal cleanser.
You can also use it as a double cleanser. If you want to deep cleanse, use the micellar water first before you add another cleanser.
It can be used as a makeup remover. The gentle cleanser clears makeup products with a simple wipe.
You can also use the product to clean mistakes when applying your makeup.
If you want to apply your micellar water as a cleanser, you can follow these steps:
Pour a little portion into a cotton pad or ball.
Rub the wet pad on your face.
Wash off with water or leave on your face if it is no-rinse.
You can also use this guide to remove makeup. However, use a gentle cleanser to remove leftover residue on the skin.
Cleanser vs Micellar Water
Oftentimes, micellar water is tagged as a normal cleanser. However, they are far from the normal cleansers you have on your drawers. They do the same things, but they vary. The following are the difference between a cleanser and micellar water.
Formulas: Micellar water comes in one form, oil suspended in water. Meanwhile, cleansers can come in different forms.
Features: Micellar water is a gentle cleanser. It can be used for general makeup removal and soft cleansing. Meanwhile, a cleanser can be used for a thorough cleansing to remove heavy makeup and dirt.
Aftereffect: Micellar water cleanses the face without leaving a drying effect. Contrarily, cleansers could leave your skin dry and bare.
Frequently Asked Questions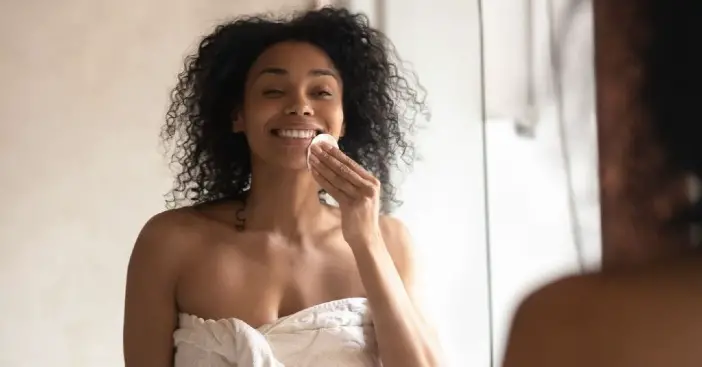 Can I be allergic to micellar water?
Yes, you can.
Micellar water contain micelles and surfactants. Although the reactions and irritation to these components are low, there are cases of people feeling irritated due to their sensitive skins.
Furthermore, there are micellar waters that contain alcohol, which is abrasive to the skin. If you experience irritation after using the product, discontinue immediately.
Is micellar water the same as a toner?
No, it is not. However, it can provide the general function of a toner.
Micellar water also has the same hydrating effect as a toner because of its lightweight moisturizing properties. Therefore, you can use micellar water just as you do your face toner.
Can micellar water remove sunscreen?
Yes, it can.
Micellar water is formulated with oils and surfactants that can grab sunscreen, grime, and makeup off your skin.
Besides this, the formula can effectively remove zinc sunscreen that is hard to come off. The water's oil sticks to the zinc sunscreen and peels it off as the cotton pad glides across the skin.
The oil and surfactant product works better than water cleansers in removing sunscreen.
Can micellar water cause acne?
Yes, it can. Micellar water can be a no-no for congested or acne-prone skins.
Micellar water can leave a residue that acts as a film or barrier on the skin. This, in turn, can clog the pores. Therefore, it is advised you go for acne-prone micellar waters that would cater specifically to your breakout skin.
Conclusion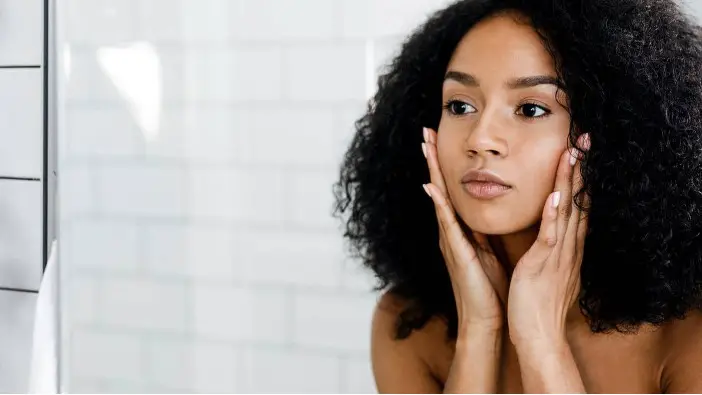 A multitasking product is a cash cow in the beauty industry. That's because women want something to ease their routines. The French knew this too, which was why they developed micellar water.
The world also knows this too, which is why the cleansing and makeup removing water is now a staple in the skincare and beauty industry. Micellar is everywhere with enough specs for different skin types.
For instance, you have Garnier SkinActive Micellar Cleansing Water for dry skin and La Roche Posay Effaclar Micellar Cleansing Water for oily skin. And if you are on the go, you can keep Simple Micellar Wipes with you anywhere you go.
However, I would say Bioderma Sensibio H2O Micellar Water is the best among the bunch. That is because it caters to all skin types. It is also gentle on the skin and wouldn't irritate your skin any further.
Having the best micellar waters at your reach gives you wider choices on how you want your routines. I know having it on my vanity would definitely help those tiresome days I can't wait to plump on my bed.
Thanks for reading.
Africana Fashion provides helpful beauty review articles to suit your everyday lifestyle.