Having to curb flaky and peeling skin could be a task. More so, if you don't know the cause. Yes, I am talking about you with dry skin. Your skincare routine for dry skin has to be impeccable if you want glowing skin.
One feature prominent with dry skin is the need to moisturize, then moisturize, and then moisturize again. That's because dry skin is often scaly, flaky, and tight due to its lack of moisture and hydration.
As an oily-skinned woman, I have my share of worries when it comes to maintaining the right skincare routine for it. It's the difficult times I wish I had another skin type. Then I remember that no one has it easy with skincare, at least when you are still trying to find a balance.
So, when you know what to do with your dry skin, it's natural to not want to let it go. That's why I would be giving a complete guide on the right skincare routine for dry skin types.
What Is a Dry Skin?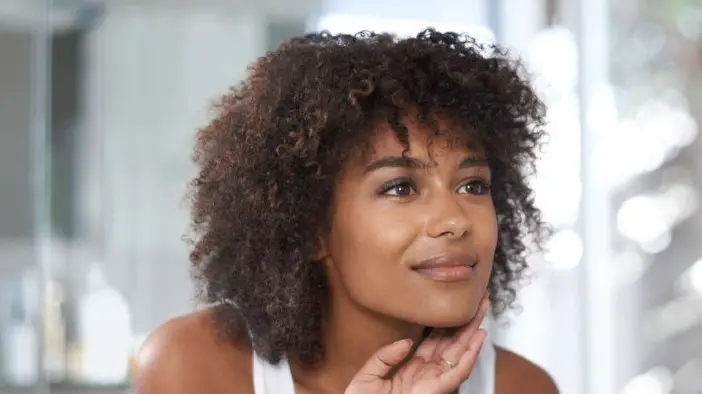 Dry skin is dehydrated skin. It's a type of skin that has closed or tight pores. This, in turn, makes it hard for the skin's natural oil (sebum) to get to the skin's surface and keep it moisturized and protected.
Furthermore, less moisture is absorbed, ultimately leading to dry and flaky skin. The dryness of the skin makes it scaly or with tiny cracks, thereby causing visible lines along the skin.
Having dry skin means your skin can't protect itself from external agents and the environment as a whole. That's why it needs assistance in maintaining hydration and keeping itself protected.
Moreover, the skin could be uncomfortable, painful, and borderline sensitive. Therefore it needs to be soothed and calmed. However, not all flaky skin is dry skin. Dehydrated skin should not be counted as dry skin.
Dehydrated skin is a skin type that lacks moisture which is caused by trans-epidermal water loss. It also becomes dry due to changes in the climate. But once a dehydrated skin has received enough hydration, it goes back to its normal skin type state.
Meanwhile, dry skin is caused by various factors. Of them are genetics, environment, exposure to hard water, exposure to irritants, medical conditions, and excessive washing. Vitamin B deficiency has also been linked to causing dry skin.
Due to dry skin needing all the help it can get to stay healthy and hydrated, you need a meticulous skincare routine for dry skin to keep up.
Skincare Routine for Dry Skin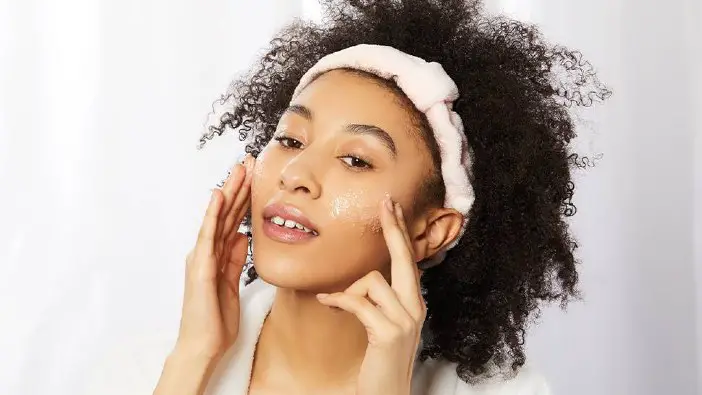 Dry skins should follow this skincare guide to maintain their skin's hydration.
1. Hydrating Cleanser
Every skin needs a cleanser to start its skincare regimen. All skin types need a cleanser, but a hydrating cleanser best suits dry skin. Hyaluronic acid, vitamin E, and glycerin are basic ingredients you will find in a cleanser for dry skin.
It's also best to use a soft cleanser because it would be gentle on the skin. Exfoliating cleansers are not ideal for dry skins.
That is why you should use CeraVe Hydrating Facial Cleanser. The cleanser contains hyaluronic acid, glycerin, and ceramides to hydrate the skin without stripping its natural oil.
2. Chemical Exfoliator
Chemical exfoliators use enzymes or acids to peel dead skin cells and grime off your face. They are less harsh than mechanical exfoliators. Furthermore, they wouldn't strip your skin of its natural sebum oil.
Chemical exfoliators wouldn't put the skin at risk. Therefore, look for exfoliators with ingredients like alpha hydroxy acids (AHAs). The acid would cleanse and exfoliate the skin surface and keep it moisturized.
Paula's Choice SKIN PERFECTING 8% AHA Gel Exfoliant is perfect for dry skins. It has gentle ingredients that are non-abrasive with also hydrating components to keep your skin moist.
Dry skins are to exfoliate once a week. Too much contact with an exfoliator could be irritating to the skin.
3. Moisturizing Toner
A face toner preps your skin before adding targeted products. A moisturizing toner will provide the necessary boost to balance your skin pH and keep it ready for the remaining products.
A toner cleans and clears the pores. It also keeps your skin pores hydrated. Although, you should avoid toners with alcohol in them. They would dry your skin further. Use hydrating and moisturizing toners like AHC Toner for Face Aqualauronic Hydrating Skin.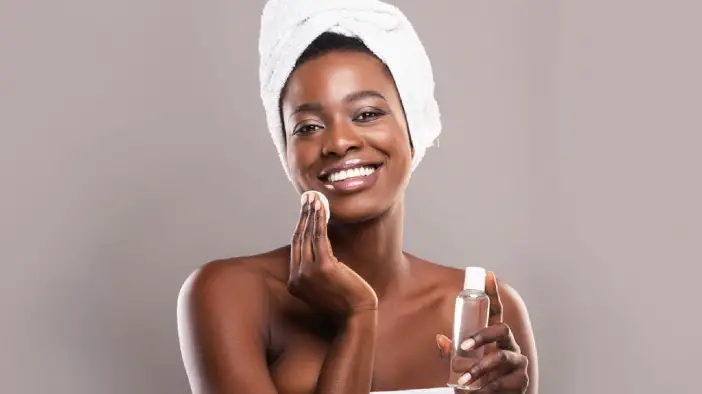 4. Hydrating Face Serum
After your toner, you follow up with a serum. A serum is a targeted skincare product. It provides solutions to specific issues. Asides from your dry skin, you could be having issues with breakouts, sensitivity, or any other skin issue.
Dry skin is best suited with hydrating serum with ingredients like hyaluronic acid. Humectants that help to absorb and trap moisture in the skin are essential ingredients in serums too.
The serum should also have antioxidants like vitamin C that would keep your skin from being harmed by free radicals. You can use TruSkin Vitamin C Serum for Face. It has hyaluronic acid and vitamin E to keep the face hydrated and plump.
Read Also: Arbutin Serum: The Under-Radar Skin Perfector You Need
5. Moisturizer
This is the most crucial skincare product a dry skin should never forgo. You need a hydrating moisturizer that does not contain harsh chemicals or irritants.
It should also have humectant ingredients that lock in moisture. Additionally, it would be safer to look for moisturizers with non-comedogenic formulas. The product wouldn't clog your pores.
You can use Neutrogena Hydro Boost Hyaluronic Acid Hydrating Gel-Cream Face Moisturizer product. It boosts dry skin moisture and keeps it smooth. Plus, it is non-comedogenic.
6. Eye Cream
The skin around the eyes is sensitive. As a result, you need special eye creams with hydrating formulas. Eye creams with ingredients like ceramides, niacinamide, and hyaluronic acid are great for the skin. It would smooth and brighten the eye area.
You can keep your eye area smooth with Cerave Eye Repair Cream. The eye cream has hydrating ingredients that would keep the under-eye skin in healthy and smooth condition.
7. Sunscreen
The last step in your skincare routine is to protect. Sunscreens are meant for your morning skincare. It comes before you add your makeup. It protects you from harmful UV (ultraviolet) radiation.
Go for sunscreens that would also moisturize your skin. Matte sunscreens would dry up your skin's surface and make it tighter. A sunscreen like Sun Bum Original SPF 50 Sunscreen keeps the skin moisturized with ingredients like vitamin E.
Read Also: Bursting the Myth – Is Sunscreen Good For Dark Skin Tones?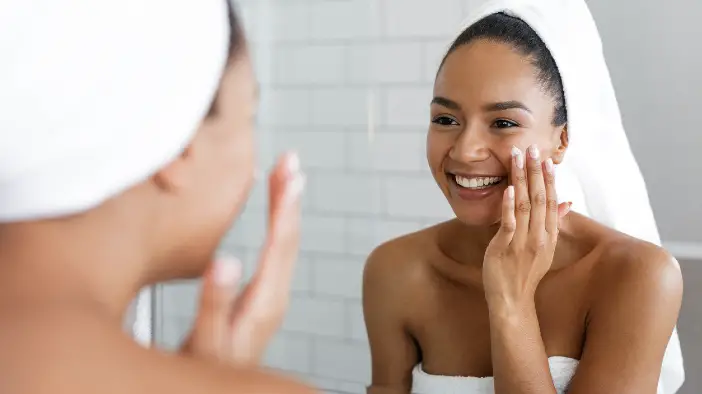 Other skin care products dry skin can use include:
8. Facial Mist
A facial mist is a light hydrating product that produces quick hydration for your skin. Get face mists that do not contain astringents because they could dry up your skin faster.
A face mist works as a toner, so it prepares your skin to absorb skincare products. It also gives it a quick boost of hydration. You can use Olay Face by Hydrating Facial Spray Essence.
9. Overnight Mask
An overnight or sleep mask is crucial in keeping your face hydrated while you sleep. It provides the necessary hydration to your skin while it rejuvenates. It should be an essential product in your nighttime skincare routine for dry skin.
Naturally, an overnight mask should have hydrating ingredients. Also, it should have antioxidants that would fight free radicals while you sleep.
COSRX Ultimate Moisturizing Honey Overnight Mask has lightweight ingredients that are suitable for any skin type. It soothes and keeps the skin hydrated while you take your long rest.
10. Facial Oil
Facial oils are most especially needed during winter. However, if you live in humid or mostly sunny areas, you can use facial oils when your skin is really dry and tight. A facial oil soothes and brightens the skin. Moreover, it does not leave behind greasy residues.
You can use Palmer's Cocoa Butter Skin Therapy Oil for Face to keep your skin supple and smooth.
Skincare Tips for Dry Skin
Before you start your skincare routine for dry skin, have the following tips and advice in mind. It would guide your skincare regimen to a safe, stable, and healthy result.
1. Avoid ingredients with alcohol
Alcohol in skincare is okay. However, dry skins are to stay away from products with any form of alcohol in them. If any product has ethyl alcohol, isopropyl alcohol, denatured alcohol, or benzyl alcohol, avoid them. They tend to make the skin drier than usual.
2. Avoid foaming cleansers
Foaming cleansers could leave your skin drier too. Therefore, avoid foaming cleansers no matter how effective they are. Some contain sulfates that could comprise your skin barrier. For your cleansers, use gel or stick cleansers.
3. Avoid astringents
Astringents and toners are not the same. Astringents are made to remove excess sebum which dry skin does not have. So using it would deplete or dry your natural sebum up.
4. Don't cleanse your face too often
You have to cleanse your skin, but doing it often could strip your skin of its natural oil and moisture. Cleansing twice a day is enough. And when you do, do not use deep cleansing products for both times.
For instance, you can use a cleanser with deep hydrating components for your morning regimen. And for your nighttime skincare regimen, go for micellar water to soothe your skin and keep it cleansed and moisturized.
5. Do not use matte makeup
Matte makeup has a drying and plastering effect. So whatever you do, go for silky or dewy makeup products. Matte makeup would make your face patchy, cracked, or cakey.
6. Don't skip your nighttime routine
Always care for your skin before you go to bed. Your nighttime routine is just as important as your morning routine. Before bed, cleanse, moisturize, and apply an overnight mask to protect your skin.
7. Have your face mist with you always
You could end up in a dry or cold environment at any given time. That's why you should have your facial mist with you to hydrate your skin on the go.
8. Wear a face mask once a week
A face mask with hydrating components pre-soaked in it would give your skin the boost it needs. Use a face mask once a week to brighten and hydrate your skin.
Frequently Asked Questions
Can I change my dry skin?
No, you can't. You can't change your dry skin if you naturally have it.
Dry skin caused by genetics or hormonal conditions cannot be changed, but they can be managed or prevented.
Furthermore, you have to know that the skin suffers from dehydration. But this is not the same as dry skin. These two types share causes and remedies, but they are not the same.
For dehydration, your skin can go back to its normal state once treated. However, you can only manage your skin and prevent it from becoming drier if you have dry skin.
Can I prevent my skin from becoming dry?  
Yes, you can.
You can prevent your skin from turning too dry by staying consistent with your skincare routine for dry skin.
Also, you should hydrate by doing something fundamental; drinking water. Water keeps the skin hydrated too.
Are morning and nighttime skincare routines for dry skin the same?
No, they are not.
Your morning skincare routine for dry skin is designed to protect. That's why you have sunscreen as part of the essential product.
Nighttime routine, on the other hand, is designed to rejuvenate and hydrate your skin while you sleep. It replenishes the nutrients you lost during the day. Additionally, it helps in the regeneration of new skin cells.
You don't need sunscreen for your nighttime routine.
Conclusion
Dry skin types have it rough when it comes to keeping their skin hydrated. They need all the help they can get. That's why the skincare routine for dry skin has to be meticulous so it can get the skin enough hydration.
If you have dry skin, use a gentle cleanser, chemical exfoliator, a face toner, the must-have moisturizer, and then cap it up with sunscreen.
Your nighttime routine is just as important as your morning routine because your skin needs overnight protection.
When you keep in mind all the essential products, you are bound to get your skin glowing and moisturized. However, stay away from harsh chemical products, no matter how effective they are.
Thanks for reading.
Africana Fashion is your best guide on all things beauty, skincare, and health. Get relevant skincare articles here.