Braids hairstyles for men are trending, and it's easy to see why. That is because, anyone looking for a hairstyle that is innovative, low-maintenance, and stylish can easily find something that suits them.
Braids have made a comeback and hairstyles for men are no exception. Men can now enjoy the various benefits of braids as they're not only restricted to women.
Braids are also versatile enough to suit any type of hair or style preference. With more options available now than ever, braided looks make the perfect addition to any man's hair routine.
Braids have been a trend for quite a while now. But, wearing braids as a hairstyle for men is something that you might not be too familiar with. So, in this article, we will be going through the different types of braids for men and how to wear them.
SEE: Hair Color Ideas for Short Hair: Get 29 Best Hair Colors Here
Braids Hairstyles for Men
A braid is a unique type of hairstyle formed by interlacing three or more strands of hair. Braids are also a great way to get a cool and unique look that can't really be achieved with other styles, like fades or buzz cuts.
Braiding your hair is a great way to add some flair and style when you feel like looking a little different.
You can also wear braids in many ways, depending on your choice and your hair type. So, if you want to change up the way you've been styling your hair, this article covers everything on braid hairstyles.
There are many different ways you can braid your hair, some of the popular and easy-to-do ones include: Cornrows, the Dutch braid, and Box braids. Today, we're going to be exploring braids hairstyles for men and what they entail.
1. Cornrows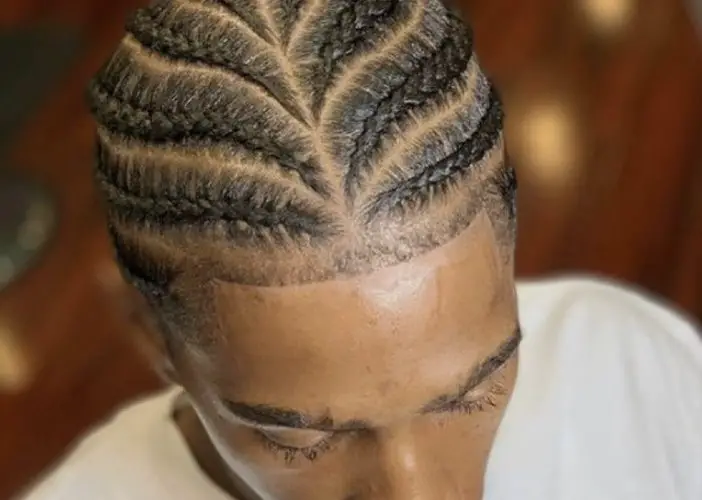 Cornrows are a conventional style of braids that originated in African cultures like East Africa and West Africa.
This is a delicate hairstyle in which you braid your hair close to the scalp, in a raised and continuous row.
You can make your cornrows in straight, simple lines. Besides, they can also be styled in complex or elaborate designs.
Cornrows when maintained properly can last for weeks.
2. Box Braids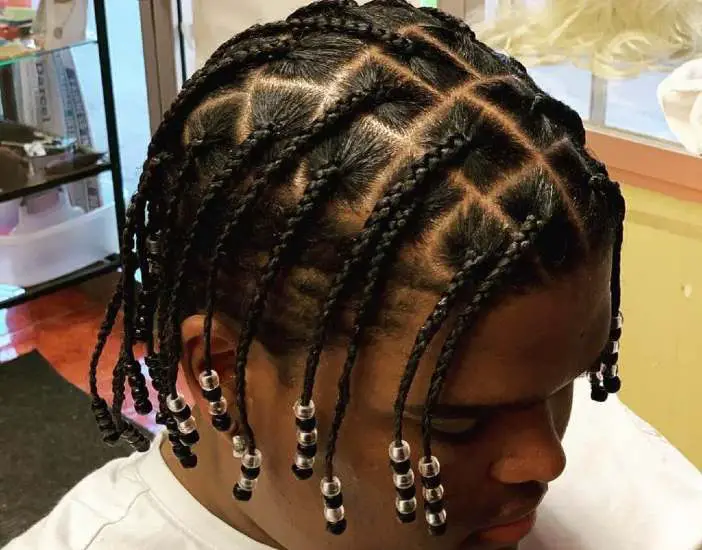 Box braids are single braids plaited in small square sections. You can braid box braids in any size, with your natural hair or synthetic hair for extra length and fullness.
Box braids can be worn loosely or styled in a whole lot of ways. We know celebrities like Travis Scott and ASAP Rocky for box braids and their unique braid hairstyles. 
Read Also: 15 New and Trendy Ways to Wear Box Braids for Men
3. Double Braids With Fade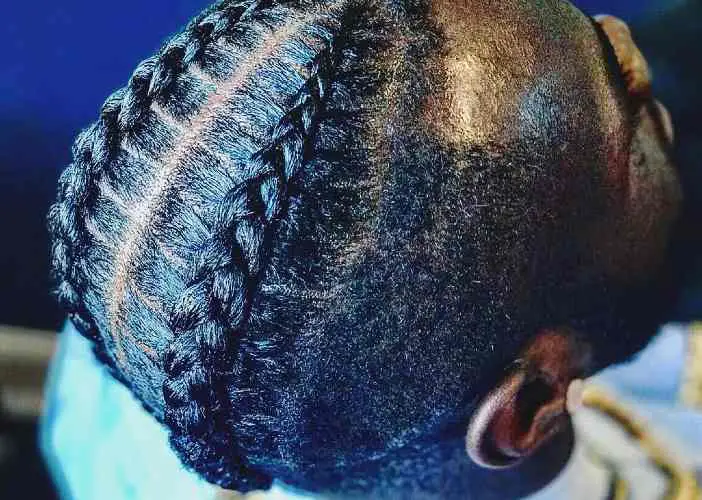 Oftentimes, braids hairstyles for men are a subtle expression of their masculinity, courage, and style. This hairstyle truly compliments the fade, thus, illustrating the man's masculine energy.
4. Braids With Top Knot
In this hairstyle, the layer of braids is being tied into a knot on the top; this particularly gives the hairstyle more texture and also makes it stand out as a stylish braids style.
5. Zig – Zag Braids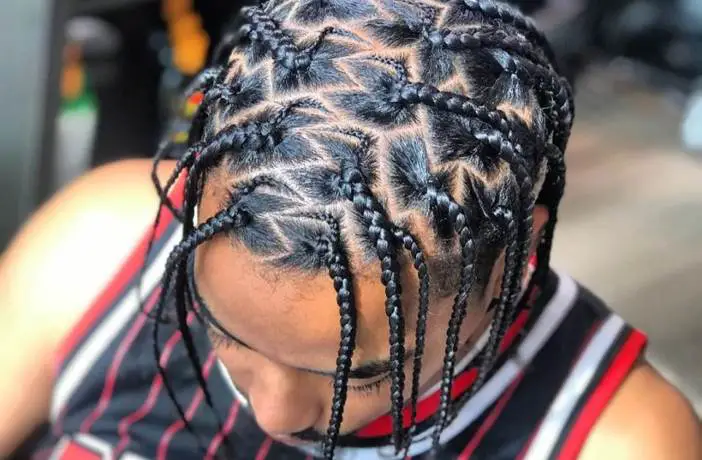 Zig Zag braids have a zig-zag pattern instead of a straight pattern. You can braid the zig-zag pattern into any desired style.
Without a doubt, it's one of those fashions that can hardly go wrong. Besides, it's fresh, classy, and elegant, but it also takes time and patience to achieve the perfect look.
SEE: How Long Do Perms Last For Guys?
6. Man Bun Braids
With this braids hairstyle for men, you have a very fashionable appeal. This hairstyle consists of several braids ending in one or two bun(s), this is also a style that most people can pull off.
The most striking thing about this style is that it represents your tough and rugged personality, while also highlighting your sensitive part. If you like to make braids, this is a perfect hairstyle.
7. Colored Braids
Fashionable hair extensions add color and excitement to your hairstyle, it creates an exotic flair to the overall braided hairstyle.
A touch of color is not just an eye-catcher, but a subtle improvisation that makes normal braids absolutely stylish. This also adds an interesting twist to your overall style appearance and helps you stand out.
8. Travis Scott Braids Style
American rapper Travis Scott has made a huge difference in the men's fashion industry. The rapper's hairstyles are distinctive in all aspects.
It's cool, trendy, and creative. Be sure to get a second look when you rock this hairstyle.
See Also: 12 Best Beard Trimmers Black Men Need to Improve Their Grooming Game
9. Braided Braids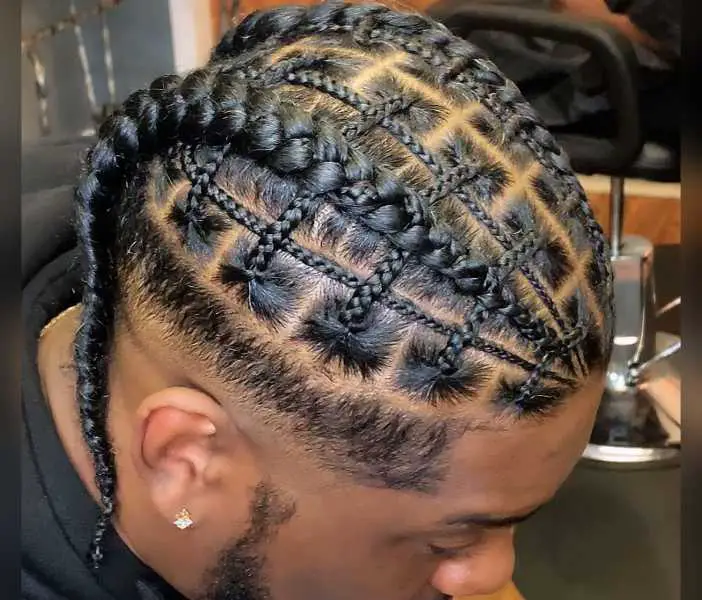 This is one of those braids hairstyles for men that you just have to try. You pull the braids together in a braid to form a whole new hairstyle.
This gives regular braids a stylish and amazing look, making them pop and stand out anywhere.  
10. Feed-In-Braids
If you like thicker or stronger braids, you should absolutely go for this hairstyle.
To make it easier for you, Feed-in braids are very thin at first (mainly at the hairline) then gradually get thicker and expand as they go downwards. This hairstyle is also perfect for men who need a strong and alpha look. 
11. Viking Braids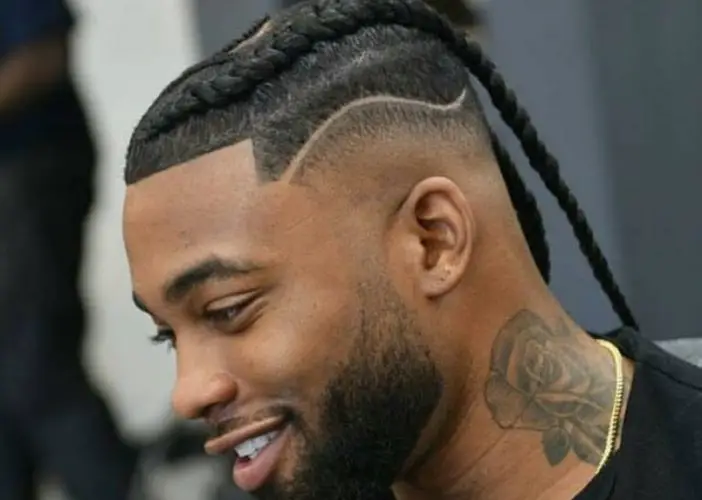 Do you want a minimal look? This hairstyle will do the trick!
As seen in the series Vikings, You divide your hair into two sections and, plait it into two single braids to give a fearless warrior look.
It is a casual and resilient braids style that shows you are in control.
12. Natural Hair Twists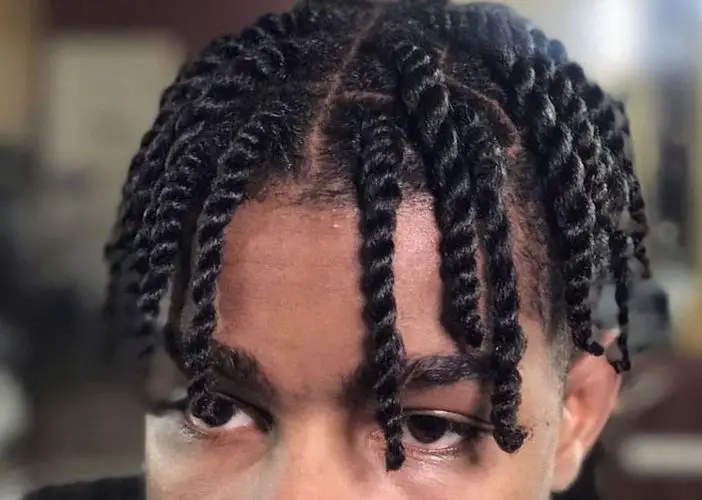 If you don't like regular braid styles, this hairstyle will surely do the job! It's curly, elegant, and absolutely beautiful.
Hair twists can be your go-to look for work, nights out with friends, or even just walking around on a casual day. The style is easy to put in place, and easy to rock flawlessly.
13. Dutch Braids
This is a traditional style that ends in a ponytail at the back. You split your hair into two sections then braid right down to create a waterfall effect. Dutch braids are one of the simplest braided hairstyles, if done right, it looks really cool.
SEE: Dread Styles for Men: Stylish Ways to Wear Dreadlocks
14. Half Braids Half Curls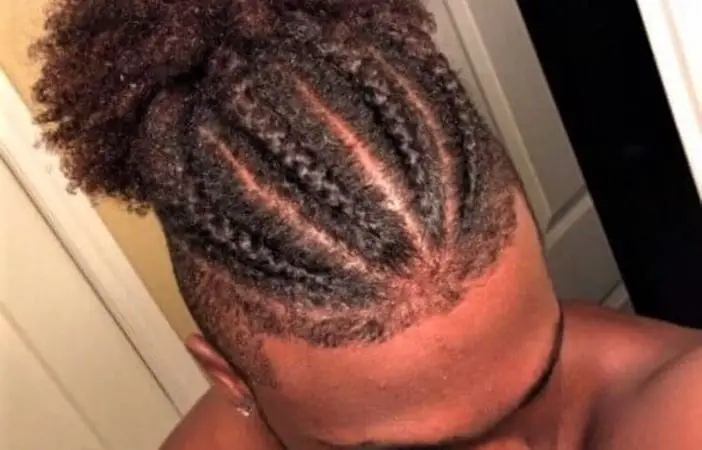 Be it a braids style for a boy or a mature man, this half braid half curl style has a timeless appeal. It's practical, comfortable, and incredibly stylish.  
You can do this hairstyle in different ways depending on your taste and the look you want to go for.
See Also: Aftershave for Men: Best Selected Products to Buy
15. Braided Locs
Dreadlocks are rope-like strands of hair made by locking natural hair (or sometimes, natural with synthetic hair). This 2 in 1 braid style combines two hairstyles into one.
In this hairstyle, you braid your dreadlocks in different styles to create a distinctive look.
Braided locks are great for both short and long hair. This hairstyle is best if you want a trendy or fashionable look.
Read Also: 20 Trendy Haircuts for Men – Best Haircut Ideas to Make Them Look Good Again
Frequently Asked Questions
How do I wash my hair with braids?
Whatever your hair type is, it is possible to have it washed properly with braids. The best way to wash your braids is to use a clarifying shampoo to remove dirt and debris from the scalp.
Wash your hair from tip to root in a vertical and horizontal motion, until your hair is clean and free from dirt. Then, apply a small quantity of conditioner as part of your routine also.
It is a simple process that is done in the shower and, if done correctly will result in healthy-looking hair.
For how long should I keep braids in?
I recommend 4 – 6 weeks but you should ensure to keep your braids for no more than 8 weeks to maintain good hair and scalp health.
Nevertheless, talk to your hairstylist to determine how long your braids can be in, to maintain healthy hair and scalp.
Is it okay to braid my hair wet?
No, it is not okay. Wet hair causes individual strands of hair to swell with water making the hair brittle and weak.
Braiding your hair wet will ruin the natural curl pattern and leave you with kinks that are difficult to fix.
Prolonged braiding of wet hair may lead to hair breakage, alopecia, (trust me you don't want to find out the rest). Wait till your hair is completely dry to get a fresh and good-looking hairstyle.
Conclusion
In summary, braids hairstyles are one of the most popular hairstyles for men and with good reason – it's simple, stylish, and low-maintenance.
Fashion trends are constantly changing and men's hair is not immune to these changes.
These hairstyles will make you look classy and unique in any setting.  Be prepared to turn heads once you enter the room!
Africana Fashion provides you with fashion and beauty articles to improve your lifestyle.
Thanks for reading.