Dreadlocks are one of the common hairstyles to see on a black man. This hairstyle is not only ancient, but it is also stylish especially when worn correctly. Wonderfully, dreadlocks are not particular to a certain age group. In essence, there are different dread styles for men of all ages to suit individual preferences.
Just like with any hairstyle for men, it shouldn't be boring with dreads. Also, just as it is with women, men can wear their dread in any style. Your loctician or any stylist can always work around the length and thickness with faux locs, if necessary.  
See below a list of exclusive dread styles for black men. Be assured that you'll find more than one style to suit your preferences.
1. Short Dreads for Men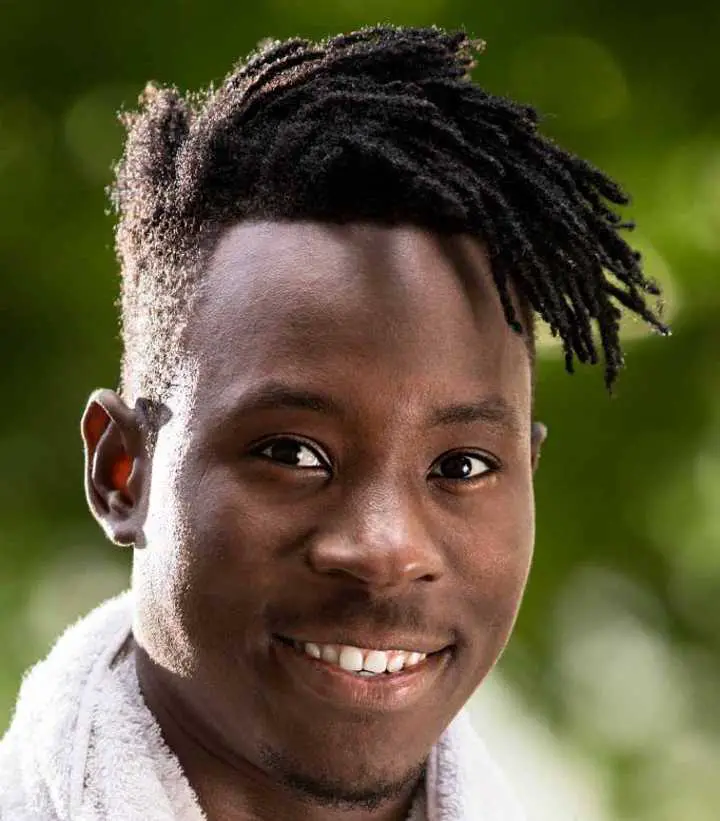 Short dreads are possible with natural or faux locs. Visit an experienced loctician to help cut your dreads, if you want shorter hair. Short dread styles are quite common among black men.
You can have short locs in different colors or stick with your natural hair color. You can either wear your short dreads as a classy man or go daring and bold.
2. Long Dread for Men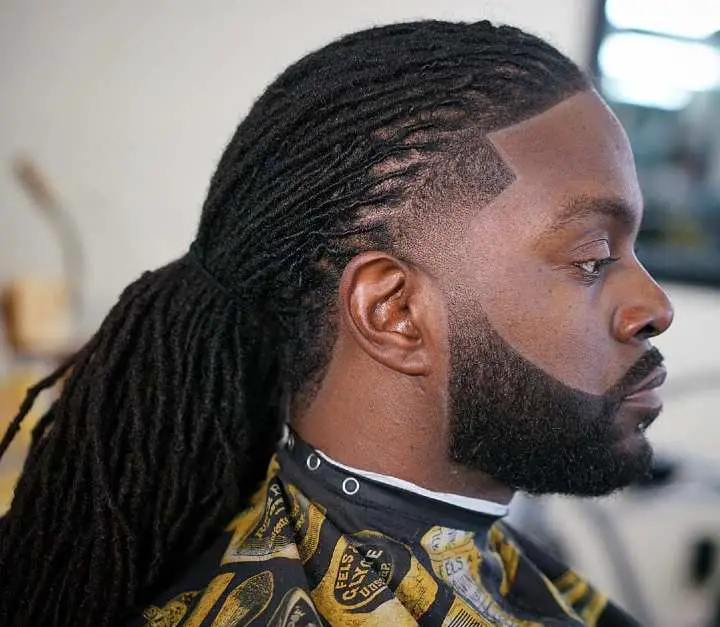 While some men wouldn't want the burden of extra length, some do not mind. It takes a lot of years to grow your hair into long dreadlocks. But if you're a fan of long dreads but don't have long locs, you can add faux locs extensions to add length.
Long dreads are very flexible. There are several ways to style long dreads to make them look more admirable.
3. Braided Dreads
Whether short or long dreads, putting them in braids has a way of making them more stylish and neater. Taking a few strands and braiding them into one could be just what you need to change your look. You could have thick or thin braids, depending on what you want.
4. Half Up-Do Dreads Style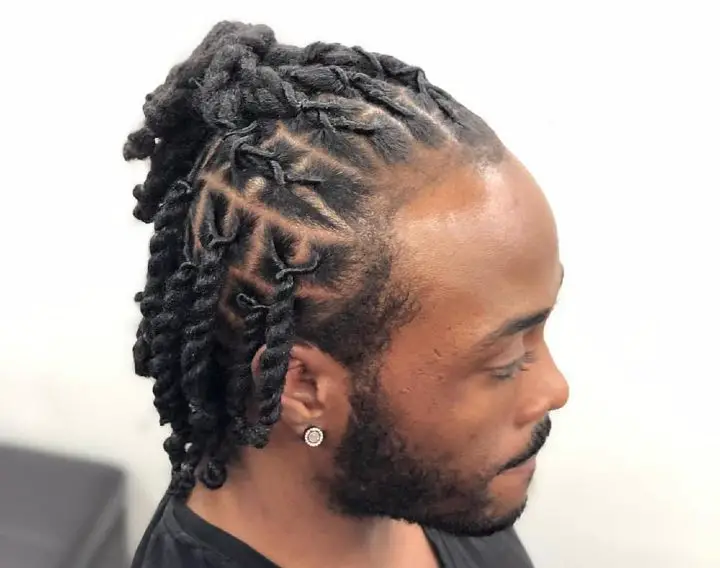 The half up-do dread style works for any length and thickness of dreadlocks. Instead of gathering all the locs together, you can have some gathered up while the others hang loose.
This style takes the hair off your face and gathers them together at the back, allowing you to show off your facial muscles. Moreover, it draws attention to your strong jaw and beards.
5. Medium-Length Dreads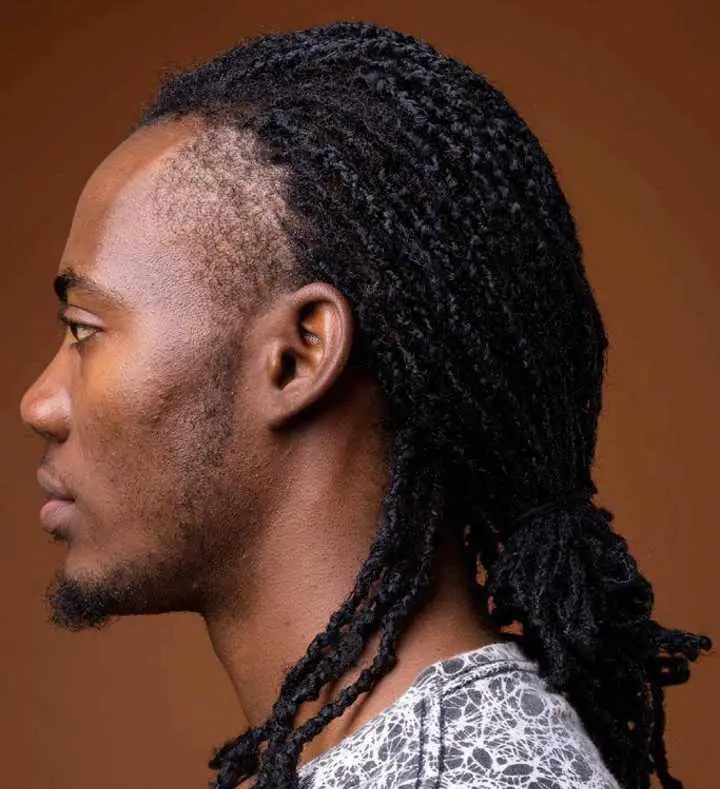 This dread style borders between the short and long locs. With medium-length dreads, you can enjoy the comfort of less hair and the flexibility of dreads with more length. If you have short dreads, you can achieve this look with extensions.
Furthermore, you can cut long dreads to medium length, if you want a change with your look.
SEE: New and Trendy Ways to Wear Box Braids for Men
6. Dreads in a Bun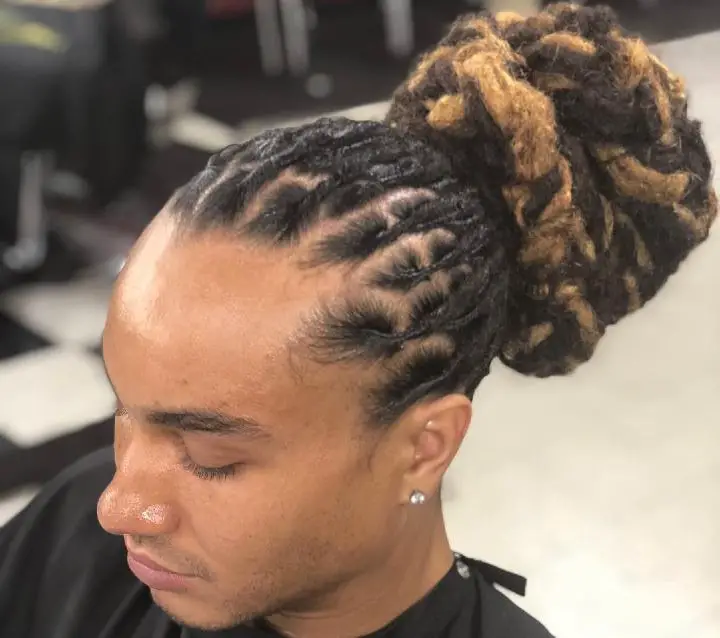 A classic bun is a perfect choice for every setting. It's quite common to see black men wear their dreads in a bun in a corporate office, at the gym, and in a kitchen. This style takes the hair off your face and body and leaves you looking more youthful.
7. Ponytail Dreads for Men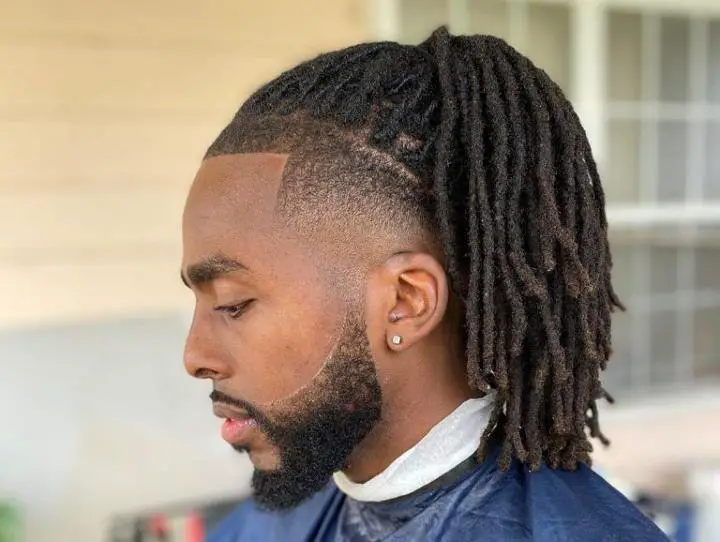 Ponytails and buns have just a thin line between them. While the ends of your hair are either wrapped or knotted in a bun, they hang loose in a ponytail. They both give the face a similar look of youthfulness and simplicity yet a great sense of style.
Moreover, gathering your hair at the back of your head has a way of drawing attention to other details of your style like your beards.
8. Mohawk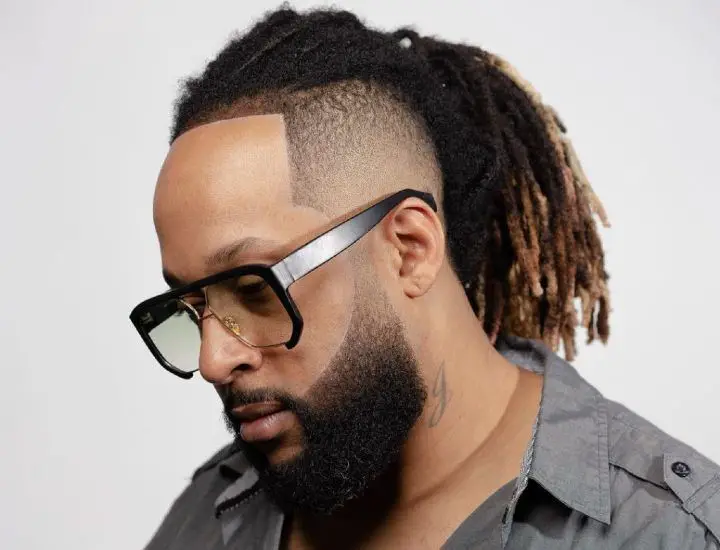 A mohawk is not only common with men who cut their hair. It's also one of the common dread styles black men wear as a symbol of unconformity. You can either dread the strip of hair or shave the sides of your dreads to achieve this look.
In addition, you don't have to make a clean shave on the sides of your head. A little more hair than a clean shave will also give you a mohawk.
9. Dread + Fade for Men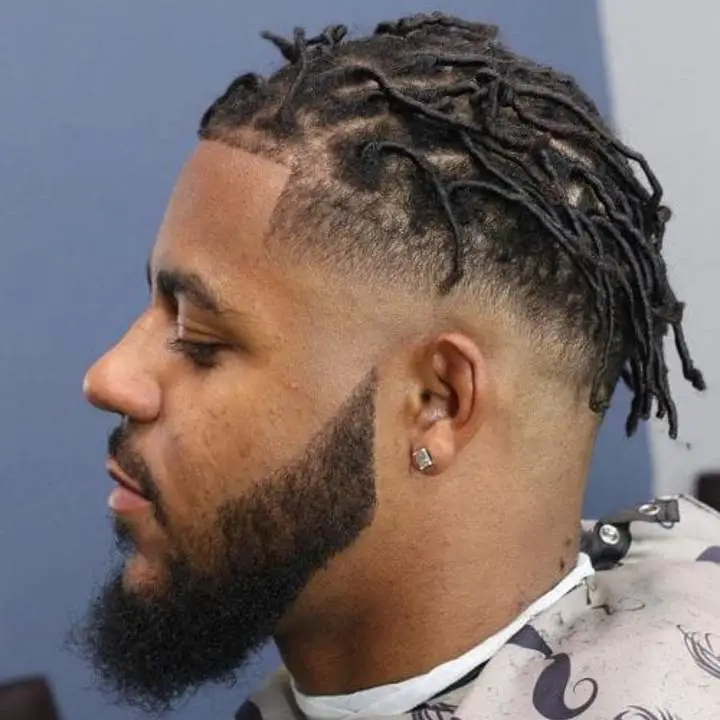 You don't have to ditch your haircut to wear dreads. And you can add a fade to the sides and back to give your dread a different look. There are different levels of fade according to your preferences. It could be a low, mid, or high fade depending on how much hair you want on the sides.
10. Dread + Taper for Men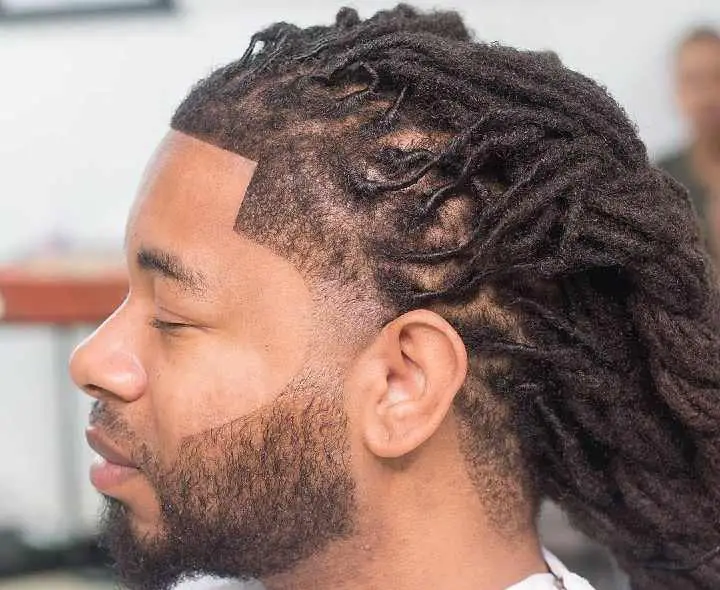 A tapered haircut is almost similar to a fade, except it reveals less skin on the sides of your head. There are also different degrees of a taper that you can wear at different times. Adding a taper haircut to dreads is very common among black men.
11. Dread + Taper Fade for Men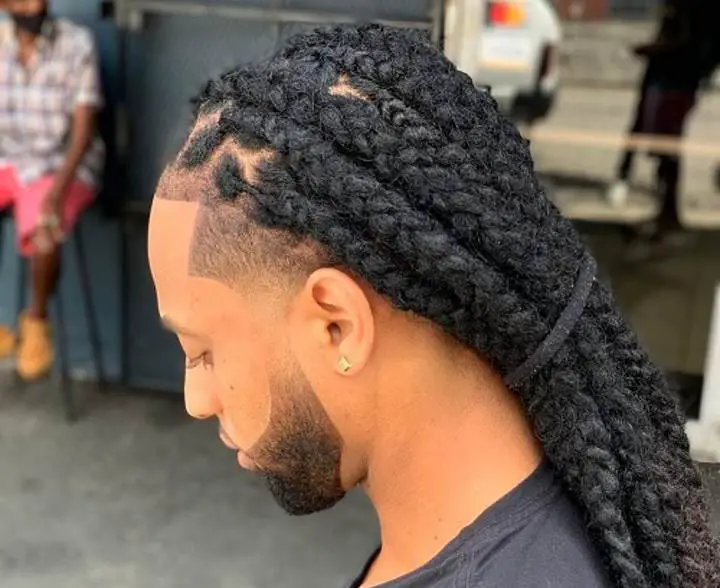 A taper plus fade is an excellent haircut merge, and it makes a more excellent combination with your dreads. Whether you're wearing natural dreads or faux locs, you can add a taper fade to give your look more highlights.
12. Dread + Beard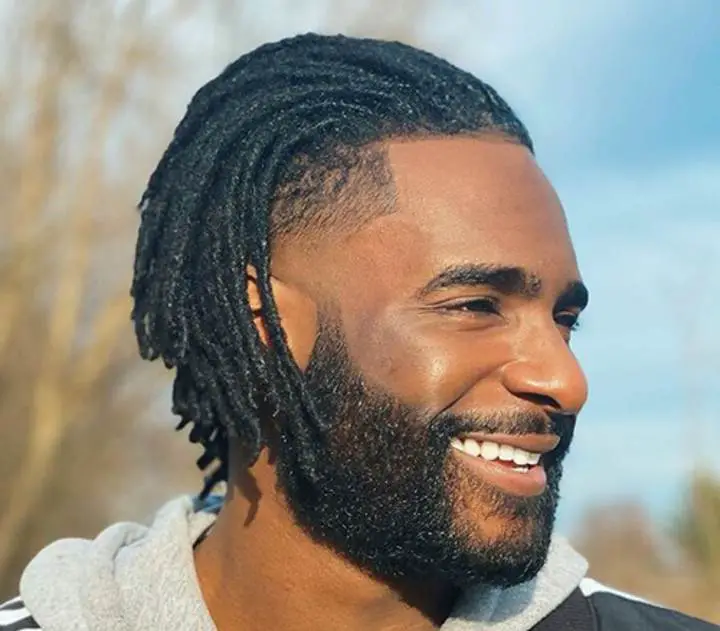 Own your style by intentionally growing a beard that matches your face type and dread style. A beard and a man's hairstyle are major details of his look, so you want to make a good match. For instance, you can match a stubble or short beard with a ponytail.
SEE: Beard Style for Men- Exclusive Beard Styles for Black Men
13. All Back Dreads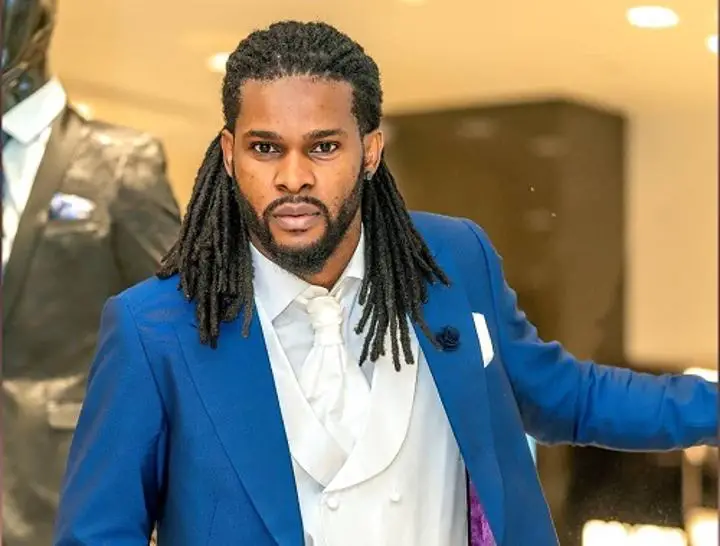 If you don't want to style your dreads, you could just sweep them to the back and let them hang loose. This dread style is great for men with medium-length dreads. With long locs, it could be too much for your back, except you're cool with it.
14. Dreads in Cornrows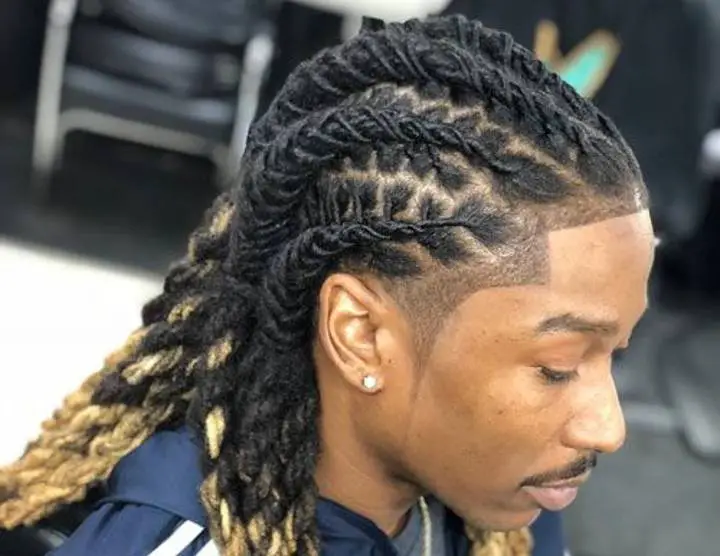 Cornrows are one of the simple yet classy dread styles to see among black men. Rather than have your locs hang loose and always have to style them every morning, you can have them in cornrows. It may be difficult achieving this style by yourself, so you should ask for help or visit a salon.
15. Matted Dread Style for Men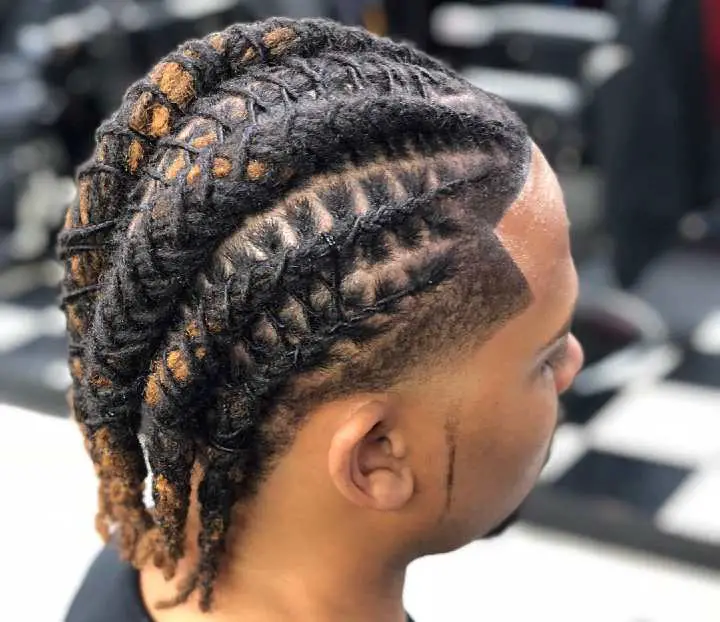 This dread style screams all shades of creativity and patience. The locs are intertwined or crisscrossed to give a basket-like finish. Like cornrows and braided dreads, a matted dread style also lasts long.
16. Colored Dreads
For adventurous and free-spirited men, colored hair is always a good fit. Get bold with colors like green, blue, or red. If you're a newbie with colored hair, you can start with the tips of your dreads and see how it goes. Then, you can proceed to have fully colored dreads.
SEE: Braided Hairstyles for Black Men
17. Dread + Undercut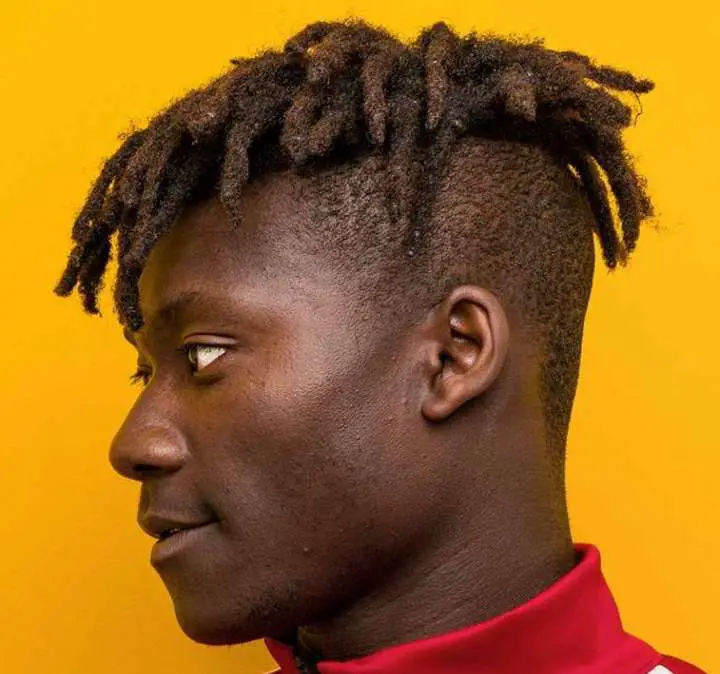 Just like having dreads with a fade or mohawk, you can have dreads with an undercut. To get this dread style, you can either dread the hair atop your head or visit a barber to style your dread this way.
You can switch things up a bit by adding color to the tips. A loctician can also help make the locs lay flat, facing downwards instead of upwards.
18. Top Knot Bun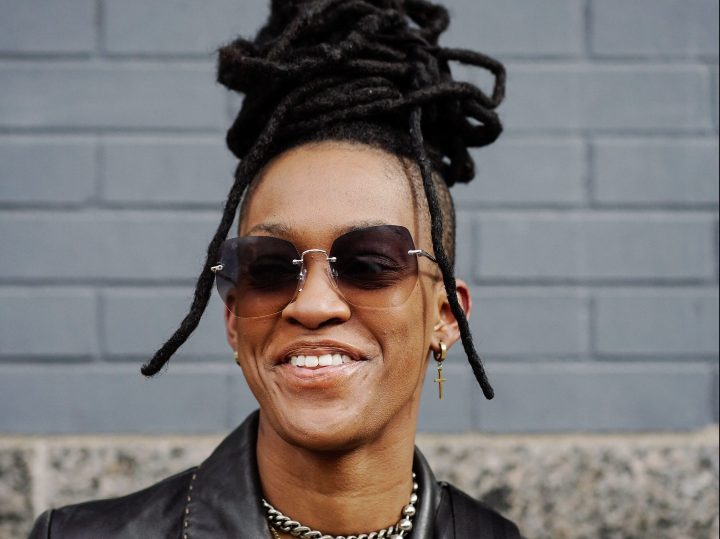 Bun styles are endless. You can have a bun in the center of your head or a knot at the top. A top knot bun is effortlessly stylish and sometimes, it could be all the detail to your look.
19. Side Swept Dread for Men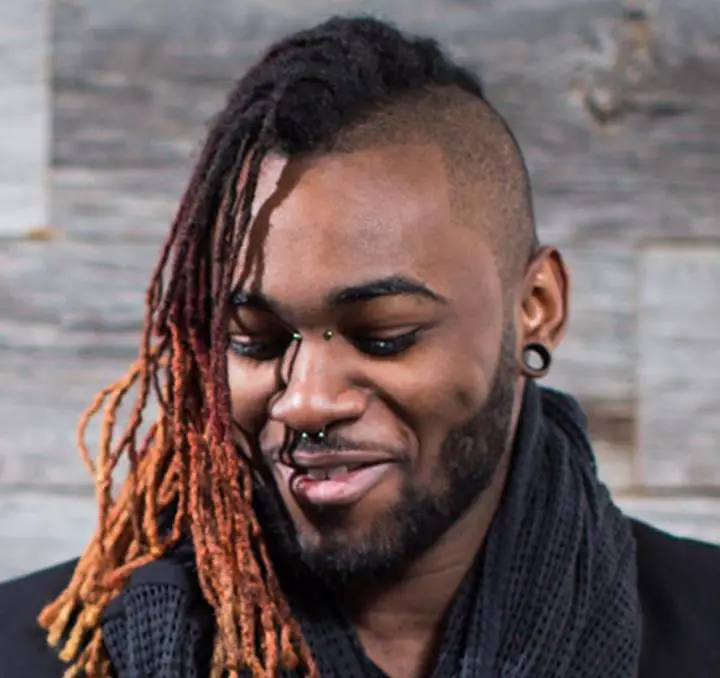 Here's another simple yet stylish dread style for men. If you wear your dread on a haircut like an undercut, mohawk, taper, or fade, good for you. You could just sweep them to the side and flaunt your strong jaw and cheekbones on the other side.
20. Spiky Dread Styles for Men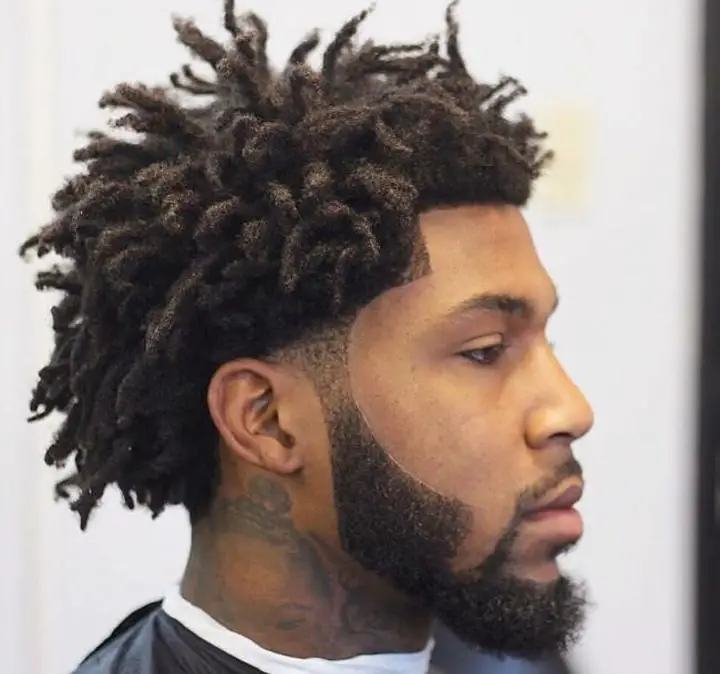 Spiky dreads add fun to your look. They also make thin dreads look more voluminous. It's easier to achieve this look with thick, short locs than with thin, long locs. For a funky look, tie a bandana at the roots, close to your forehead.
21. Tightly Coiled Dread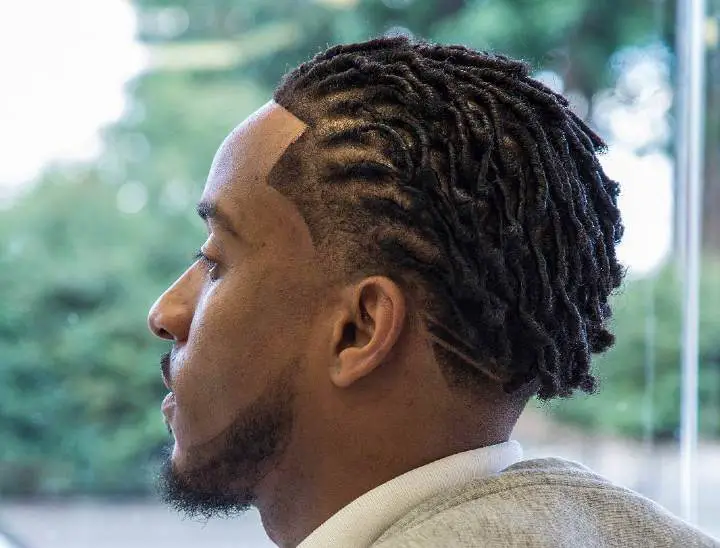 Coiling your locs can help add volume, especially if they are thin. Use curling tools and products meant for dreadlocks to make smooth coils. Coils are easier to achieve with soft locs, so you can enjoy this while your locs are still growing past the baby and half of the budding stage.
22. Tinted Dreads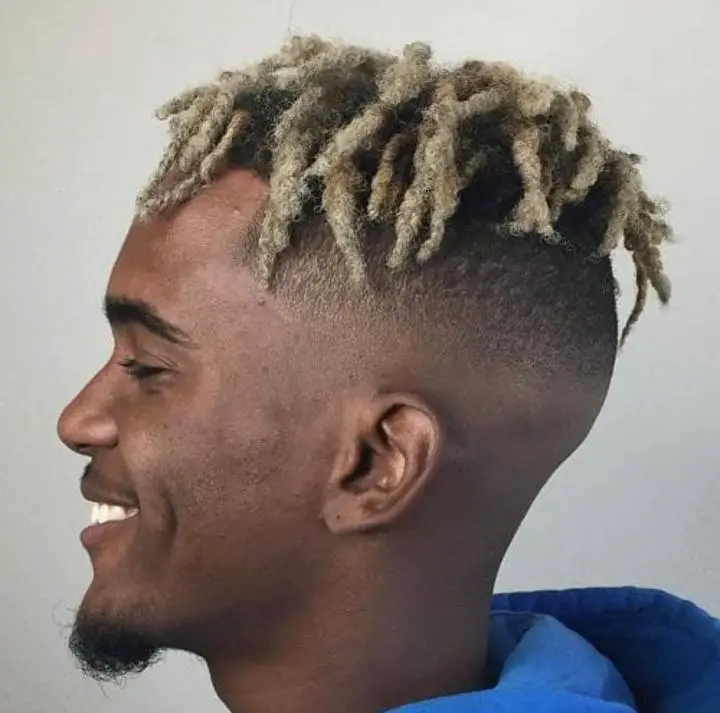 If you have pre-tinted hair, you can turn it into locs or tint your locs to achieve this look. Although depending on the shade you wear, you may not be able to wear this dread style everywhere and anywhere. Most importantly, use a shade that matches your skin tone and can help personalize your style.
23. Bantu Knots Dread Style for Men
Who says men can't have Bantu knots as well? No one. Unlike with women, making Bantu knots with dreads is great for thin and small locs. With thick locs, it may rather look funny instead of stylish as it does with women.
You'll most likely need a hand to achieve this look because of the locs at the back. Secure each knot with an elastic band to keep it from unraveling.
SEE: Aftershave for Men- Best Selected Products to Buy
24. Twisted Dread Style for Men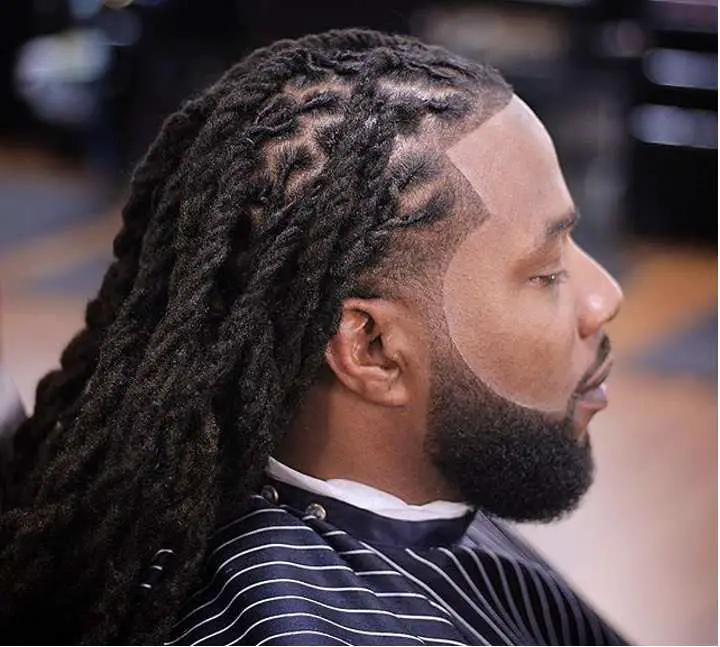 Twisted Dread style is quite easy to do by yourself. All you need to do is take a few strands and twist them as you'd twist your hair. Repeat it all until your whole head is covered in twists. Tie the ends with a thread to keep the twists from unraveling.
You can either leave the ends hanging loose or gather them into a ponytail for a neater appearance.
25. Blonde Dreads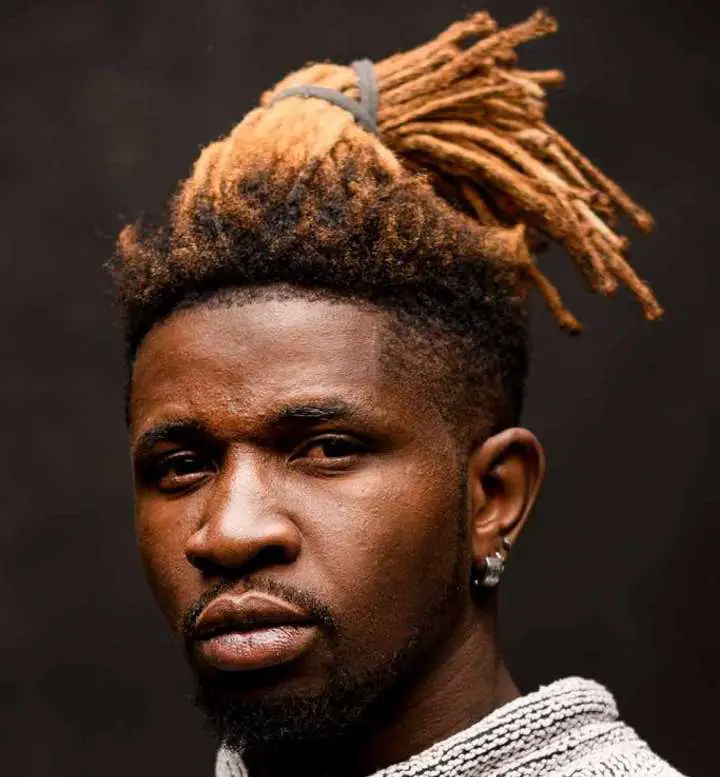 What draws attention like a blonde? Blonde is not only the woman's color; it is also good for men. You can have colored locs without going wild or bold. Blonde makes the perfect choice for subtle hair color. In addition, you can have your dread in any style, length, and even add a haircut.
FAQs
Do dreads smell?
Dreads are not supposed to smell if you care for them properly. Dreads only smell when you do not dry them properly before you wrap or style them.
In addition, if you don't clean your dreads regularly, they could become smelly.
Can you undo your dreads?
Yes, you can. When you get tired of wearing dreads, you can undo them back to your natural hair. You may need to cut the dreads before combing out the locs.
You should, however, keep in mind that you'll experience hair loss. With the right tools, a great deal of time, and patience, you'll get the locs out.
How do you know what dread style suits you?
Your hair type, face type, and other factors like age, beard style, and personal preferences determine what dread style you'll wear.
For instance, people with round faces should wear medium-sized dreads while thin dreads are good for people with small faces. Also, your haircut will determine how your style your dreads.
Conclusion
Men's fashion is indeed something worth looking into. Just as women have the luxury of styling options for their locs, men can also have a list of ways to wear dread in different styles. Whether you're wearing natural dread or faux locs, you can always do it stylishly.
While dreads are naturally admired, you can get more attention to your look with how you choose to style it. Get yourself a good stylist for those styles you can't help yourself with. Most importantly, the beauty of dreads lies in how you care for them.
Thanks for reading.
Visit Africana Fashion to read the best articles on fashion ideas and tips for black men.