Braids are one of the most popular hairstyles for black men as braided hairstyles are stylish and easy to maintain. Braid styles are also popular as plaits, and you can do it on short or long hair no matter the haircut or shave. It will help to create a stylish and unique look. 
As a black man, you can never go wrong with braided hair. You can try it if you are bored with rocking low cuts and you'd like to go for a new look. You can adopt a unique hairstyle to help define your look. 
If you are looking for braided hairstyles ideas for black men, you have found the right guide for you right here as this article contains several braid styles that you can try. Keep scrolling to find 25 of the best braid hairstyles that you can choose from. 
SEE: Grow and Shine Your Hair With Top-Rated Hair Serum
25 braid hairstyles for black men
The purpose of braided hairstyles for black men is to combine style with protection to achieve a stylish look. There are hundreds of styles to try out, ranging from individual braids to cornrows. There's just too much to choose from. Below are 25 of the best hairstyles you can try for a new look. 
1. Cornrows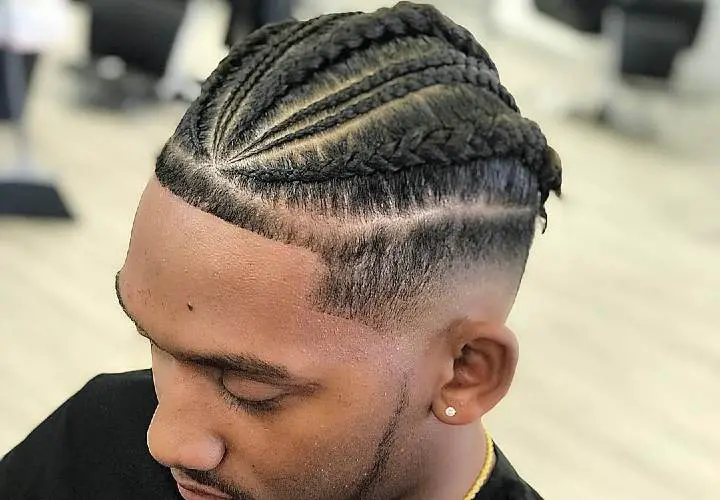 Cornrows are one of the most popular braided hairstyles among black men. This is a traditional form of braiding that has been around for so long. While maintaining a tight, clean look, cornrows are easy to maintain and are very stylish. This style is also versatile and you can do it creatively in different shapes.
2. Box Braids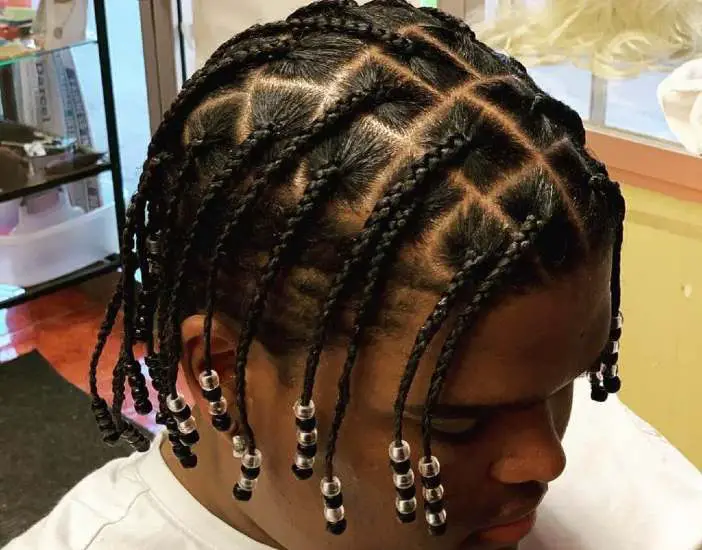 Box braids are like the most popular braid types as they are distinct and versatile. It doesn't need to stay attached to the scalp as they come in squares as individual strands.
This makes it easy to style and position them in several angles and forms. You can also leave it dangling or packed as a ponytail.
3. Man Bun Braids
This is for you if you prefer to not leave your plaits hanging loose all the time. You can tie your hair up in a man bun, which is closely similar to the traditional bun.
This style is ideal for you if you don't have time to keep up with other trends. For this, you can make thick braid styles around your edges and get creative with the center. 
4. Fishbone braids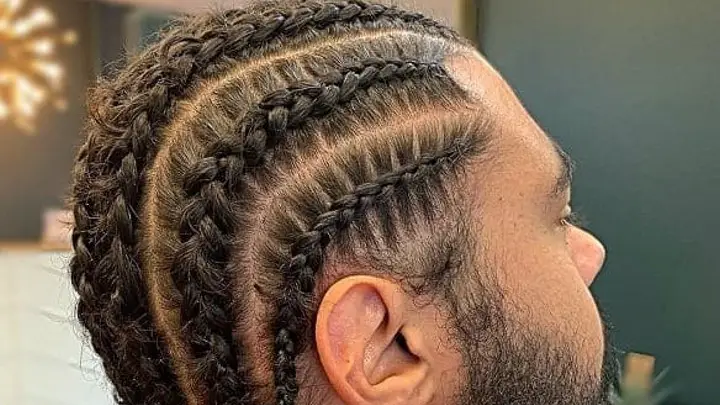 This is a very popular African American braid style plaited closely to the scalp. It joins one thick braid in the center with a thinner cornrow at the angles. 
It can also be made by creating tiny individual strands and joining them in the center. If you prefer soft yet stylish braid looks, this one is for you.
5. Dreadlock Braids
You can still give your dreadlocks a new lock by braiding them to create a classic style. This helps to give your locks extra volume, and you can change your braid style as often as you wish without worries. Dread braids are more ideal for men with short hair.
6. Braids + Undercut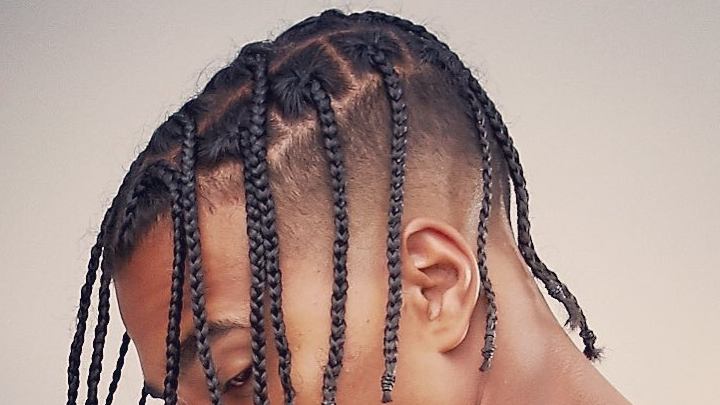 Getting an undercut will give your braids a chance to stand out and not fade into the background like the rest of your hair. This gives your back and sides a sleek look. 
7. Box Braids + Fade
Getting braids with fades will help to give your haircut a sharp and versatile look. It allows you to maintain control of your hair without losing the main style idea. You can simply add plaits to the top hair, and the contouring created from the fade will leave you with a fresh look. 
8. Braids for Short Hair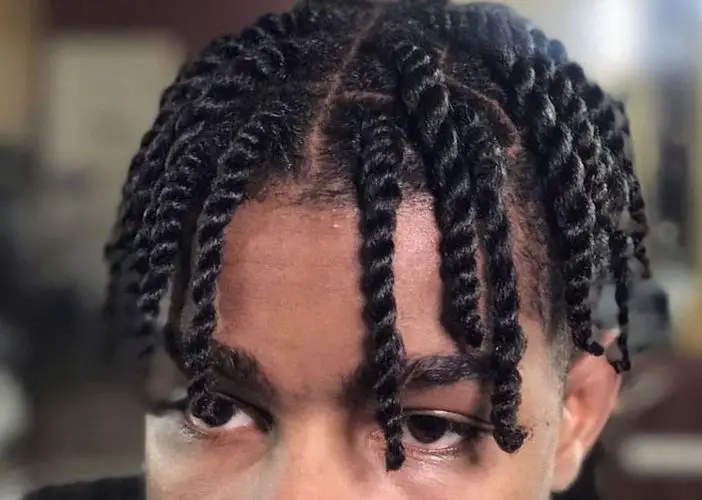 You don't have to wait till your hair is long before making the plaits you want. Keep the back and sides low while you opt for using hair extensions to make individual braids on your hair.
9. Long Braid Hair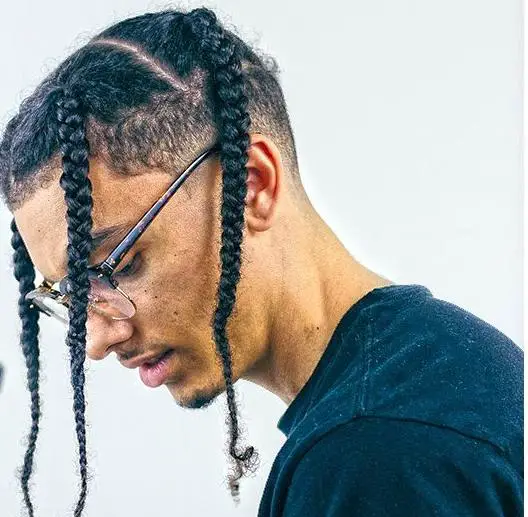 If your hair is voluminous, this style is ideal for you. Simply braid your hair down to get the fully-long downtrend by tying your hair into three or four plaits on each side of your head to get the full effect. 
10. Single Braids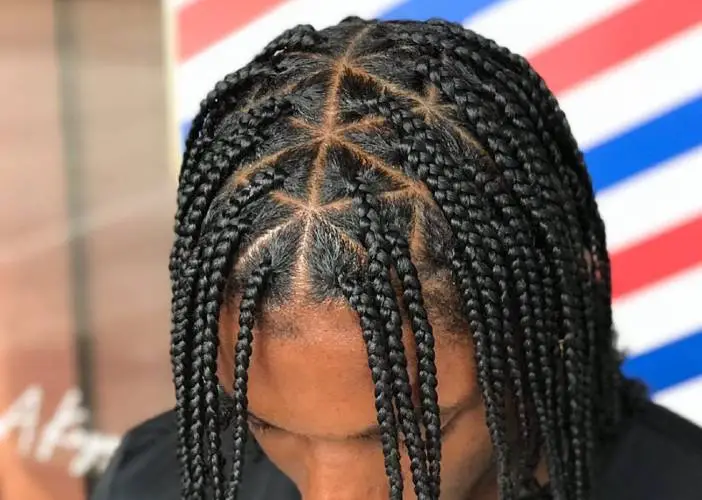 This individual braid style is dynamic. There are diverse ways to rock a single braid. If you would like something very different, you can place a single braid around the edge of your hair, and you can add cornrows in the center in intricate designs.
11. Double Braids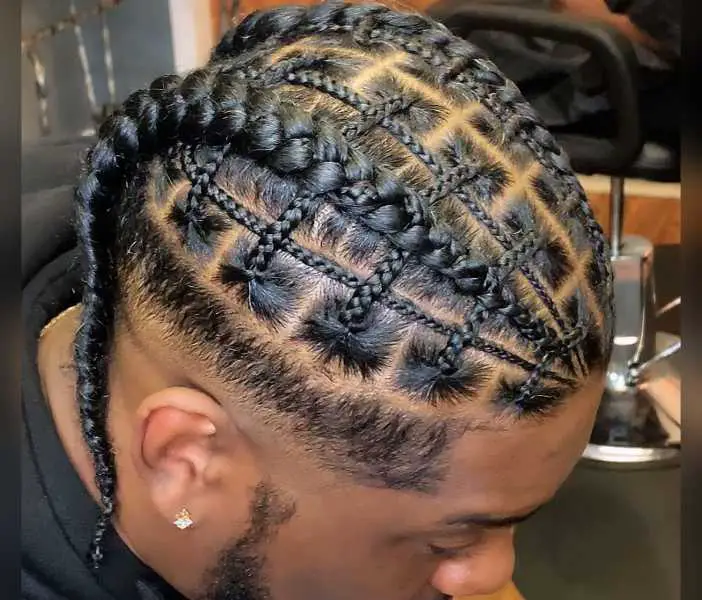 If you have thick hair strands, you can try out this style. This style is similar to the single braid style and is very classy and alluring. Simply have two braids plaited on each side of your head from front to back. You can also create an extra stylish effect by forming them into double-man buns. 
12. Triple Braids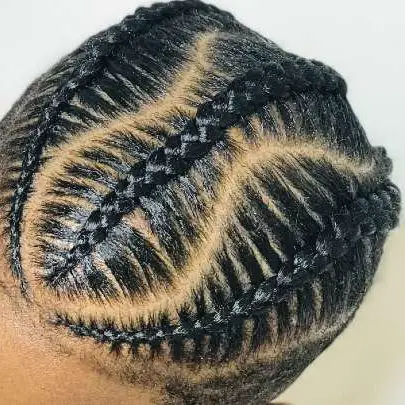 Another stylish braid style you can opt for to create an alluring look is the three braids style. You can make it short or long depending on your taste. This style is versatile and can be done creatively to create a unique style that stands out.
It involves the creation of one braid plait in the center and one on each side of the head too.
13. Four Braids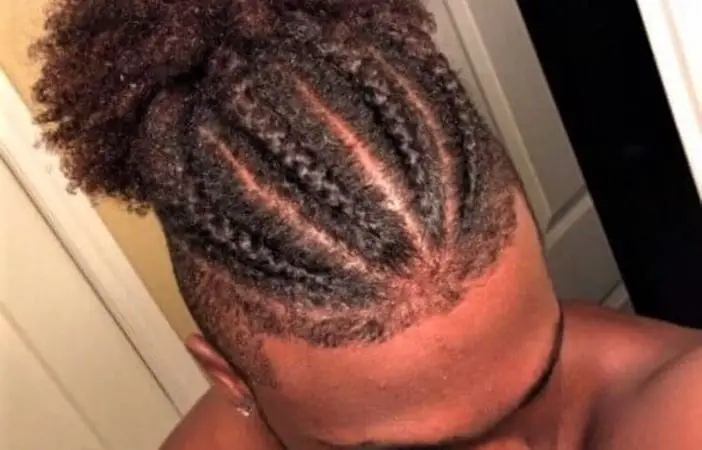 Opting for four braids style is good for you if you are looking for volume. The volume the style provides makes your style appear thicker, but It is more difficult to maintain. However, you can get creative with different trends, ranging from individual braids to fades and wavy lines. 
14. Side Braids
Rather than going with the regular front-to-back braid styles, you can swerve the direction of your plaits towards the side of your face. This style is ideal for guys who want thin, short braids. Getting it done with long and thick plaits will cause the hair to look bulky.
15. Top Braids
This type of braid is done only on the hair with little or no coverage on the sides and back. You can pair this braid style with fade or shaved sides, as this will help to emphasize the design on top of your hair. You can choose from getting single or double plaits, locs, or dreads that can be packed into a man bun. 
16. Tiny Braids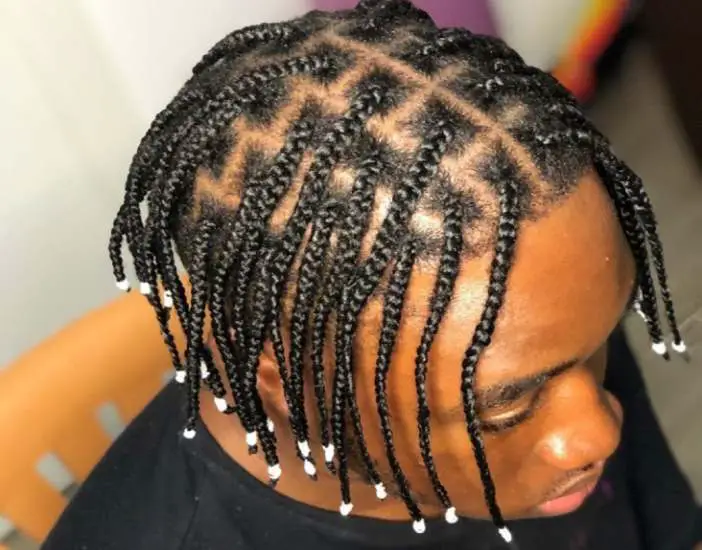 This tiny braid hairstyle is good for black men with short hair. Do this along with an undercut to emphasize the look of your hairstyle. 
17. Large Braids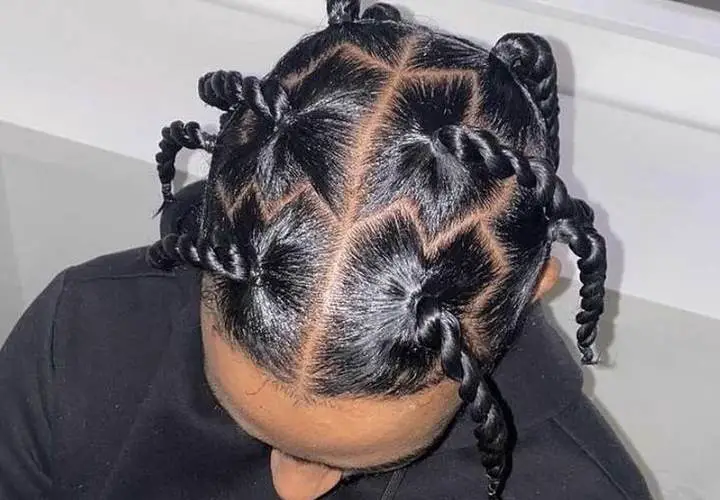 Large braids required anywhere between lard individual braids of about five to ten inches will give you an eye-catching look. Viking braids are a good example of large braids that you can try. Allow the braids to run down to your shoulder and back area to create the best visual effect. 
18. Feed-in Braids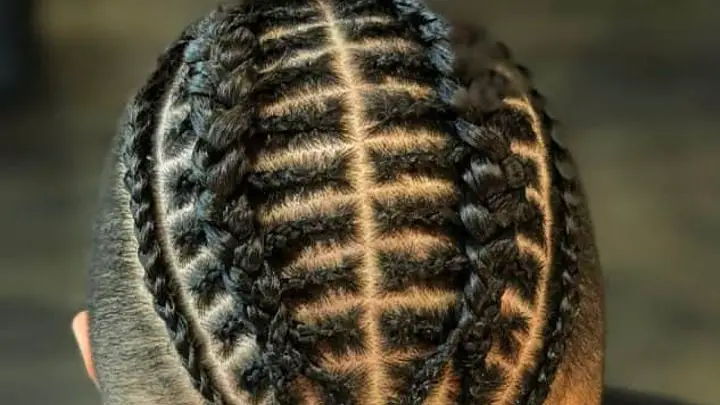 Feed-in braids are a protective hairstyle to try if you are scared of damaging your hair. It begins with a thin strand and then develops into thicker and longer strands. 
This is a good way to create a nice shape and texture for your hair while looking sophisticated, as the thin braids in front won't cover up or be bulky on your head. You can decide to go for fuller plaits or just a few numbers, depending on your mood or taste.
19. Braided Mohawk
You can also opt for a mohawk braid style that allows the hair to be pulled into a mohawk shape in the center of your scalp. This style is daring and is ideal for you if you want an edgy look. The best way to create this look is with well-shaved and clean sides.
20. Braided Ponytail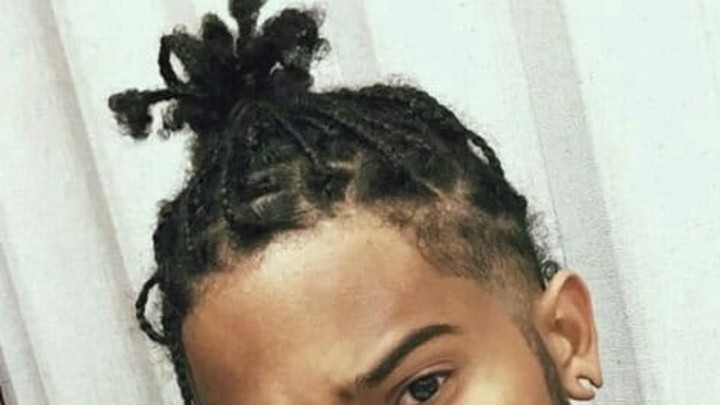 This braid style is manly and attractive. You can try this style if you don't want the regular straight-back hair or man bun. Pack up your braids into a single ponytail at the back of your head. 
You can make a three-braid hairstyle and pack it into a lengthy ponytail at the back to create a nice concept.
21. Crown Braid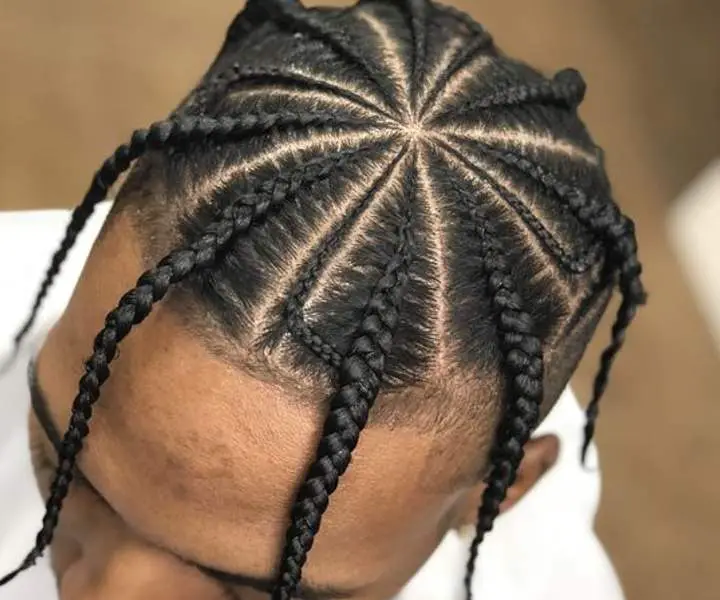 This type of braid for black men involves a long thick braid circling the head. You can also create two or more braids on either side of the head to create the crown effect. It also gives plenty of room for you to make more designs in the available space.
22. Spider Braids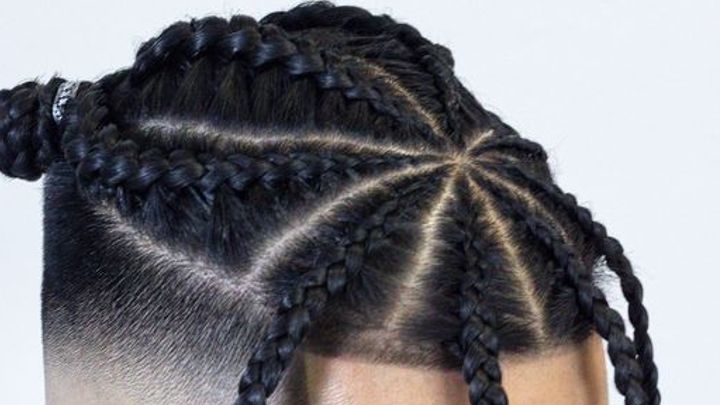 Spider braids are a type of box braid style that has the pattern of a spider. It has straight and diagonal lines and patterns that join it to create a spider-like design with the strands being individual braids.
23. Zig-zag Braids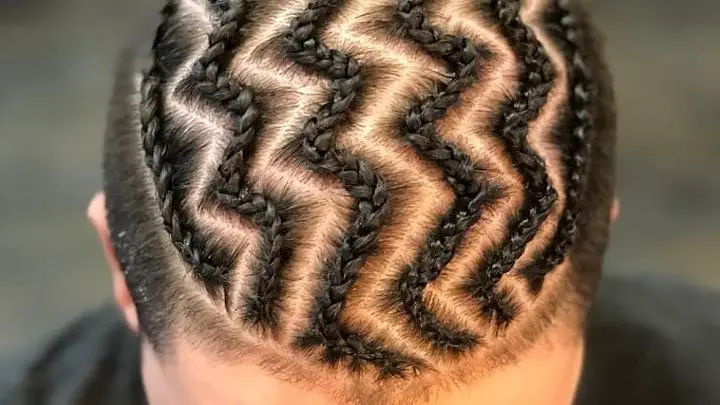 Getting zig-zag braids on your hair will help to diversify your look and add a level of fun to it. This style can be designed in several creative and fun ways. You can leave it hanging to a tighter braid or you can use it to create a fishbone style.
24. French Braids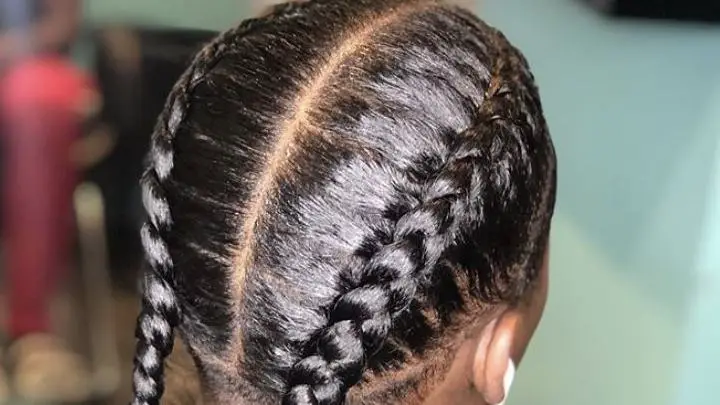 French braids are single long braids that can help to create a unique look. This style has been around for a long time and is even common among females as well. It is a nice hairstyle for black men who have straight hair.
25. Straight Hair Braids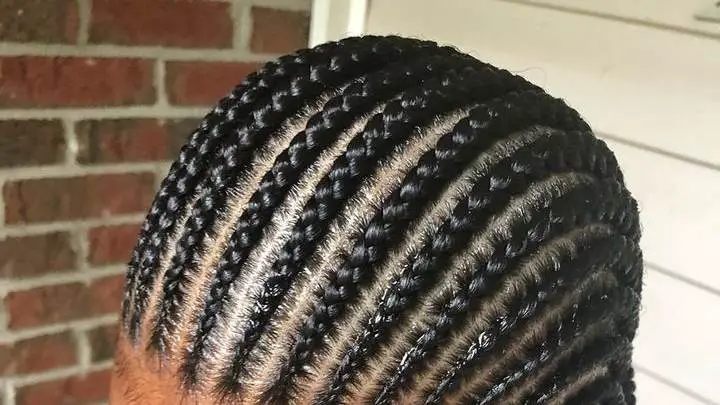 This type of braid is the traditional hairstyle that is evergreen. However, you need to have long hair strands to be able to braid or twist It into place. Opt for small, tightly plaited braids to get the right amount of thickness.
SEE: 15 New and Trendy Ways to Wear Box Braids for Men
Frequently Asked Questions
Can you get braids wet?
Yes, you can. Getting in the shower, pool, or even rain can get your braids wet. After getting your braids wet, ensure that you clean and dry them properly. 
Also, ensure that you take proper care of your hair after exposure to unclean water, as this will help to prevent fungal growth and hair damage. 
Can you braid 2 inches of hair?
Yes, you can. However, you will need the help of a professional braider for that. 
With 2 inches long hair, you can get the right cornrows, micro braids, and even a two-strand twist. 
How long do braids last on guys?
6 to 8 weeks. Braided hairstyles on guys last for about 6 to 8 weeks depending on how it is maintained. 
Try not to exceed that time frame, as doing so can cause the hair to get matted and damaged.
SEE: Fades for Black Men: 25 Ways to Stylishly Wear a Fade
Conclusion
The art of looking attractive for a black man involves their hairstyle, as that is one way to define your style. There are several braided hairstyles for black men you can try out.
Getting a good hairstyle that fits makes you stand out and gives you the fun, classy, or simple vibe, depending on which you decide to go for. Pick a hairstyle that suits you best and maintain it properly. 
Liked this guide? Read more hair articles on Africana Fashion to help you improve your appearance.