Short hairstyles have become trendy now more than ever. A good way to give your short hairstyle life is to color it. Getting a hairstyle with a great color makes the hair stand out attractively. If that is your aim, then you should be looking for hair color ideas for short hair. 
The style of your hair doesn't even matter, you can be on bob, low cut, or any other short hairstyles to rock these hair colors. Short hairs and colors are a great mix and can never go wrong when you pick the right color for your skin tone. 
This article provides 29 color ideas that you can pick from to recreate your short hair look on a classy level. 
SEE: Grow and Shine Your Hair With Top-Rated Hair Serum
1. Burgundy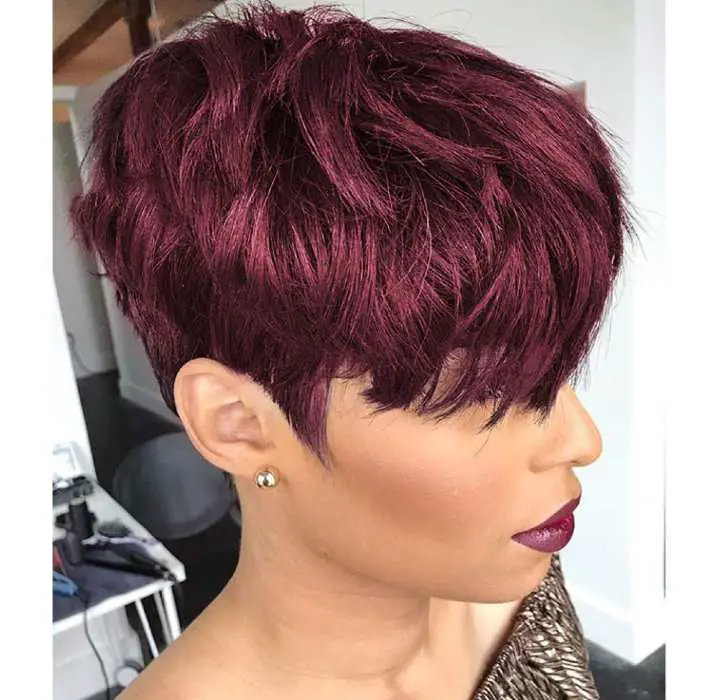 This hair color is a combination of dark red and purple. This is a smart hair color that suits dark skin complexions the best as it gives a bold look. Wear flawless makeup and you are good to go.
2. Red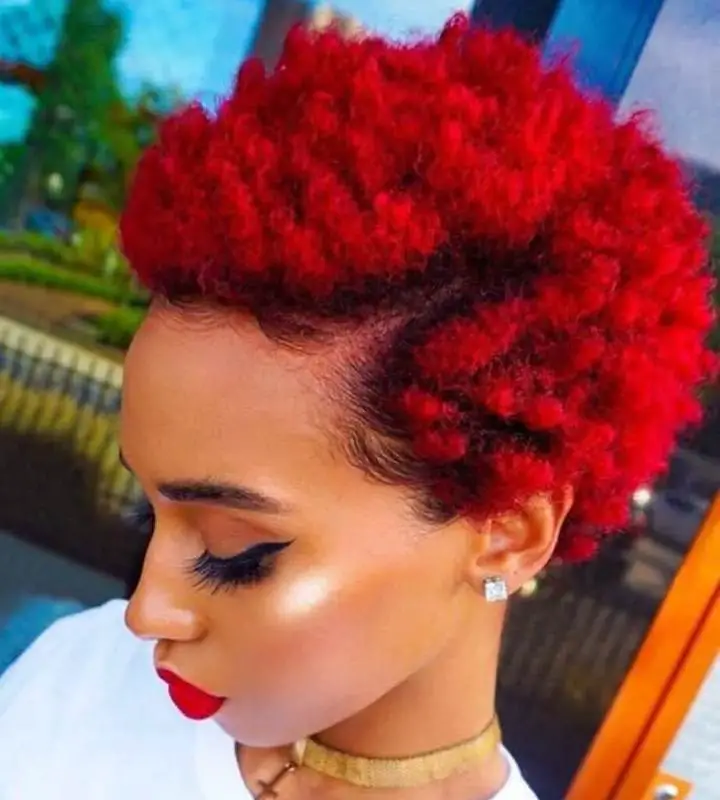 Are you looking for a color that is bright and attractive? Try a red color. You can never go wrong with a red color. Naturally, red is a color that pops and screams for attention. Rocking short red hair will help to spice up your look in an instant. 
You can check out the red color to see if it blends perfectly with your skin. There are also several hues of red that you can choose from.
3. Honey Blonde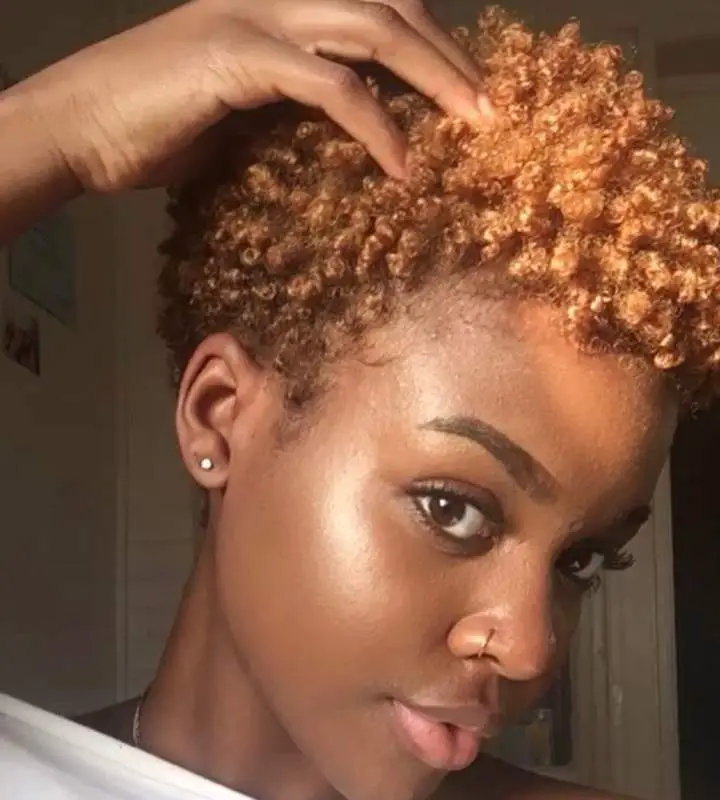 This hair color is quite popular among people of color, as it helps to pop up dark skin tones. Rocking a honey blonde color on short hair will help to give you an unforgettable look and hairstyle. 
4. Orange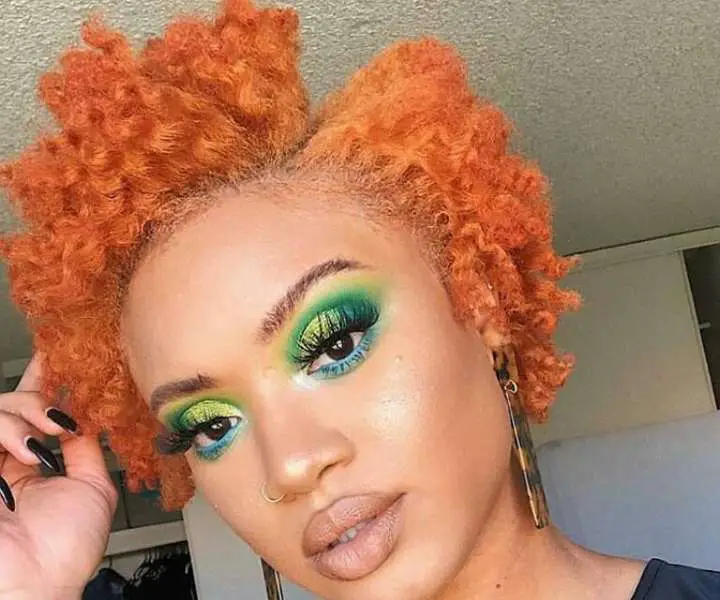 Orange is a color that looks good on dark skin tones as it helps to bring out the warmth of the skin color. Get your short hair colored by a professional colorist, or you can do a strand test to see how well the color will blend with your skin tone. 
5. Golden Blonde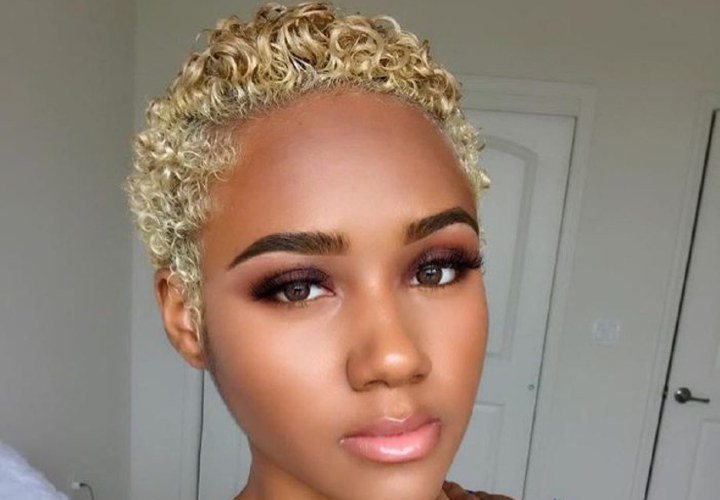 Ever seen golden blonde hair before? Then you already know how stunning it looks when done properly. Getting this color on your hair will give you a defined and attractive look.
6. Mauve Pink
One has to agree that mauve pink is one of the most flattering hair colors ever, especially for dark skin tones. This look is to die for when done on curly strands. This curly will give your skin and overall appearance the pop you desire. 
7. Ombre Blonde
This type of color is always to die for as they combine two or more colors in a pleasant blend. Ombre blonde could be black and blonde or brown and blonde. Either of these ombres of blonde colors is nice for black or brown skin tones. 
8. Light Blue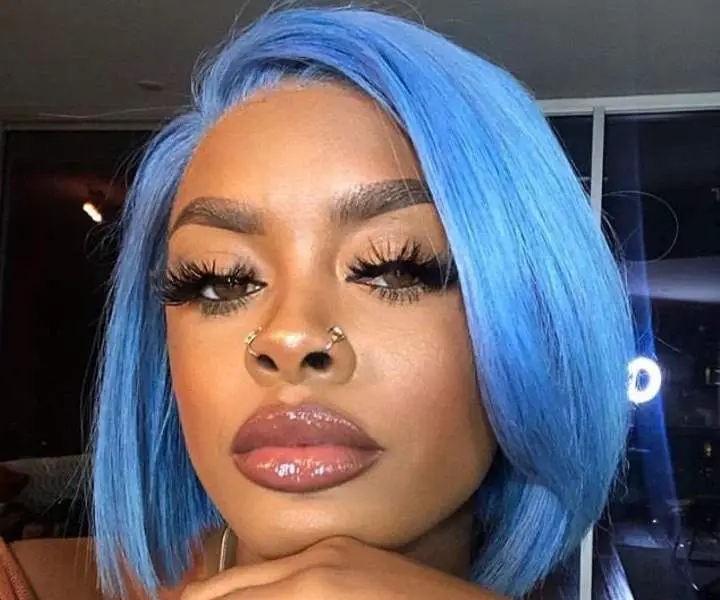 You can try this color if you want to get creative with your hair. You can also get an ombre of light blue hair flowing into a dark blue shade. Try this with a bob or even short locs.
9. Copper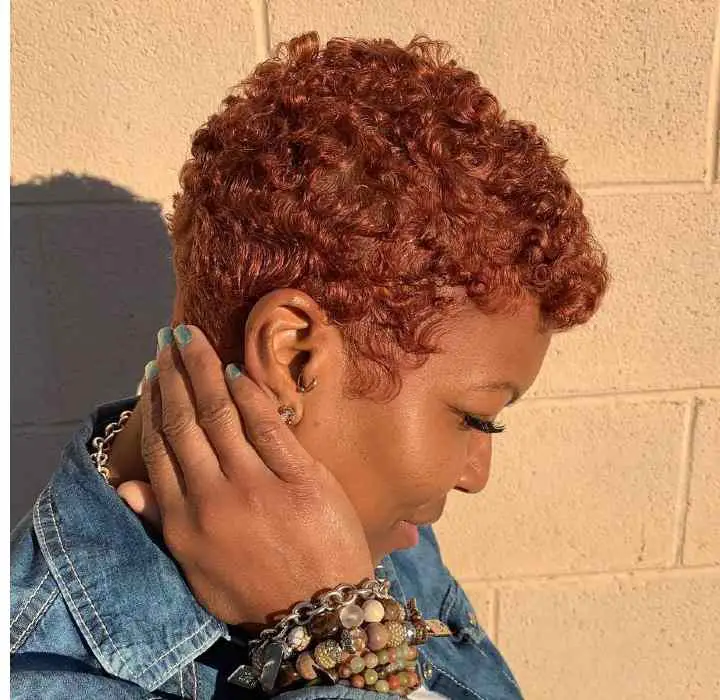 Here's another cool color to try on your hair if you are looking to achieve the perfect elegant look. You can use this color on medium skin color to get a delightful contrast. This color is orange-based and is perfect for brown skin tones.
This color will make your hair more visible, and bright. Go for this color and have heads turn as it gives your overall look a unique glow. 
10. Teal
Here's a greenish hair color that looks lovely on every skin tone. This deep green shade creates a powerful chill vibe for your look. If you are looking for something classy, yet simple, this is for you.
SEE: Women's Afro: 21 Hairstyles + Maintenance Tips
11. Red Wine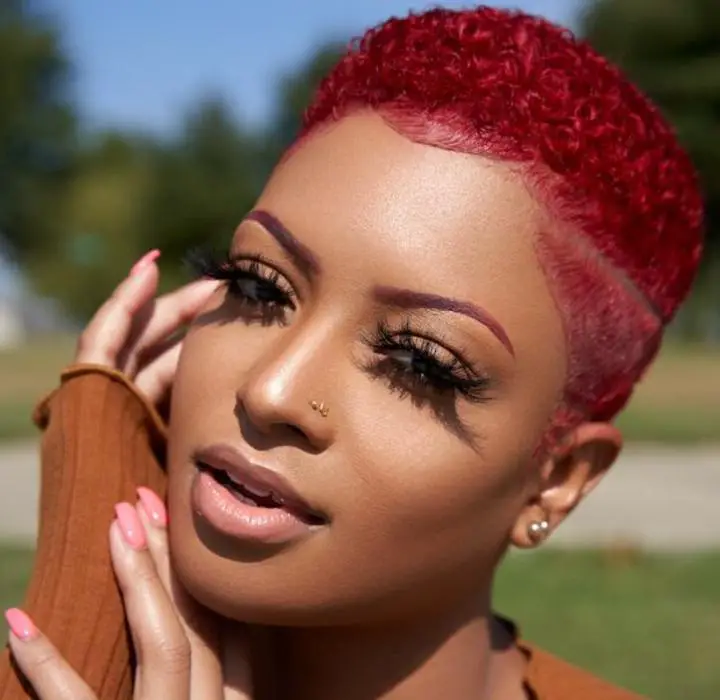 A deep red color is the one for you if you want the sultry and romantic vibe it brings. This helps the skin pop out boldly and gives your appearance an elegant look. You can try this color in your short hair to elevate your appearance.
12. Pink Ombre
You can try this ombre on your pixie cut and bob hairstyles. This color is stunning and will have heads turn for more views. Of all the hair color ideas, this might be the perfect one for you.
13. Orange Red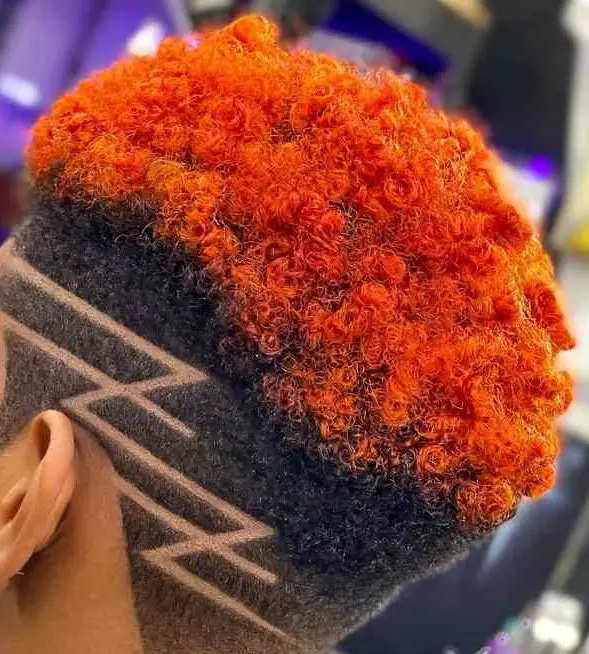 This color looks gorgeous on short hair, so why not? This color gives more of a tangerine hue and orange shade. You should definitely try this color.
14. Butter Blonde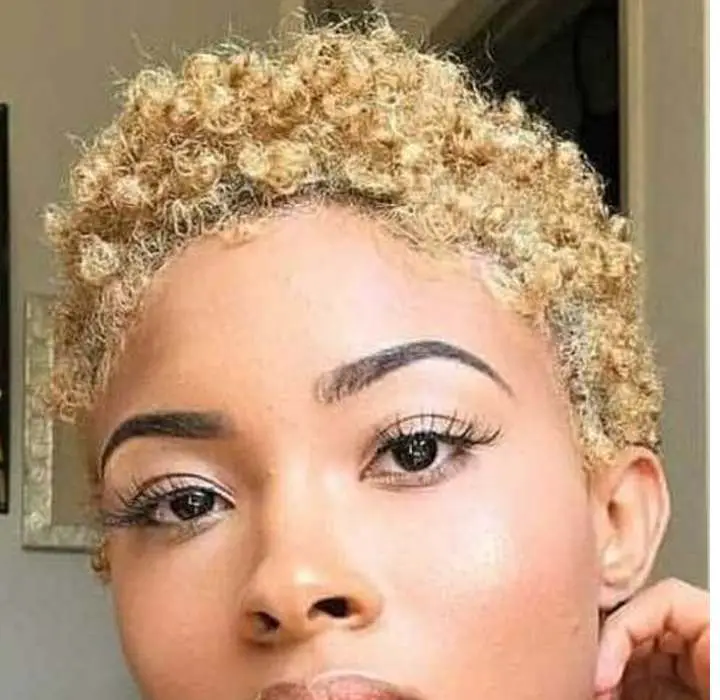 You thought blonde will be skipped? No, blondes are evergreen. Here's a shade of blonde that looks good on all skin tones, especially for you if you have dark skin. If you have always had a thing for blonde hair, search no more. This is the perfect color for you. 
SEE: See 26 New and Refreshing Tribal Braids Hairstyles You Should Try
15. Electric Blue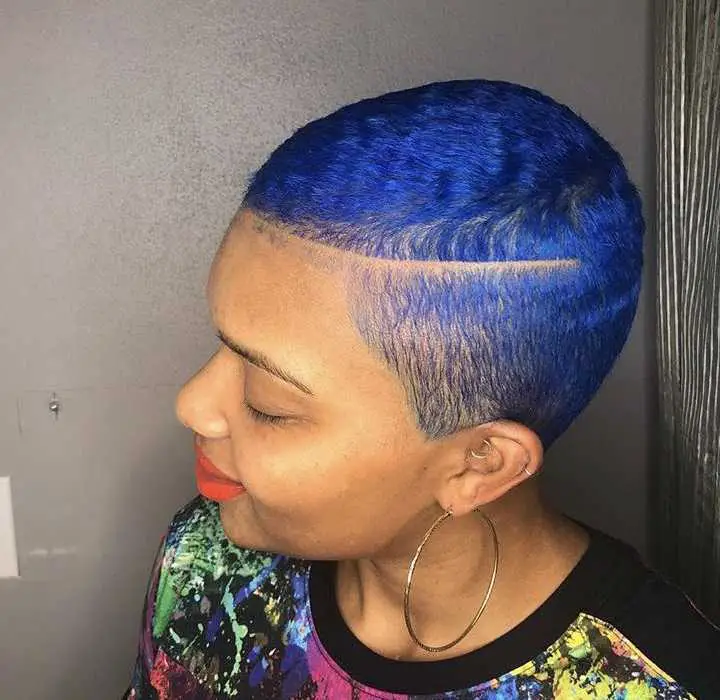 Short hair is the only way you can rock this hair color into elegance. I mean, take a look at that blue shade. Very sexy and vibrant, you should try this on your short hair if you have a dark and lovely skin tone.
16. Aqua Blue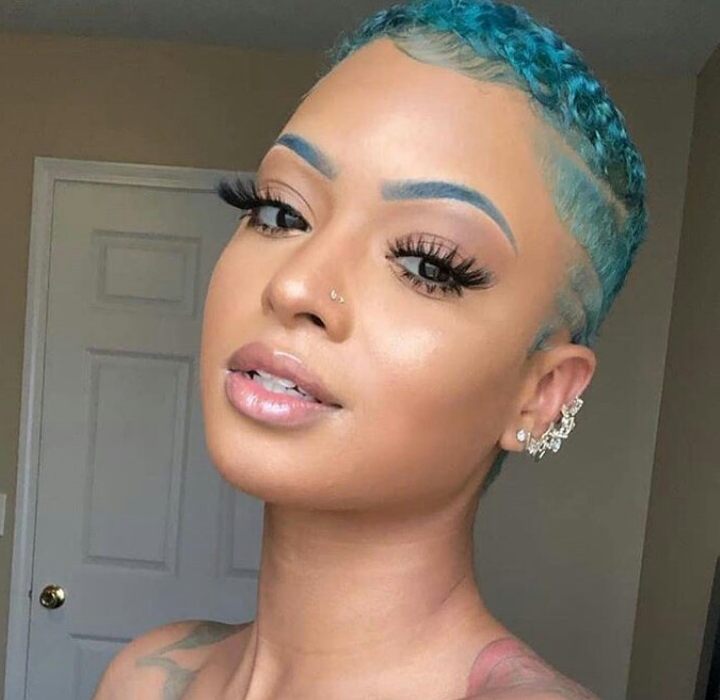 This blue shade will help to create a beautiful contrast on dark skin tones. Blue is one of the most lovely hues for women of color. It's perfect and this shade gives off a cool and chill appearance.
17. White Silver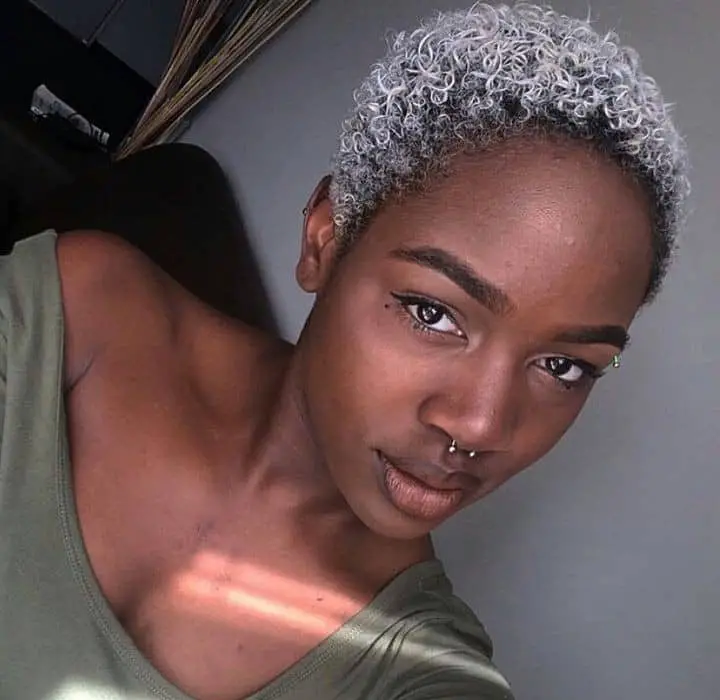 This is a throwback hair color shade that was trendy years back. If you want an edgy shade, you can go for white silver if you want to create a statement look.
18. Amazonite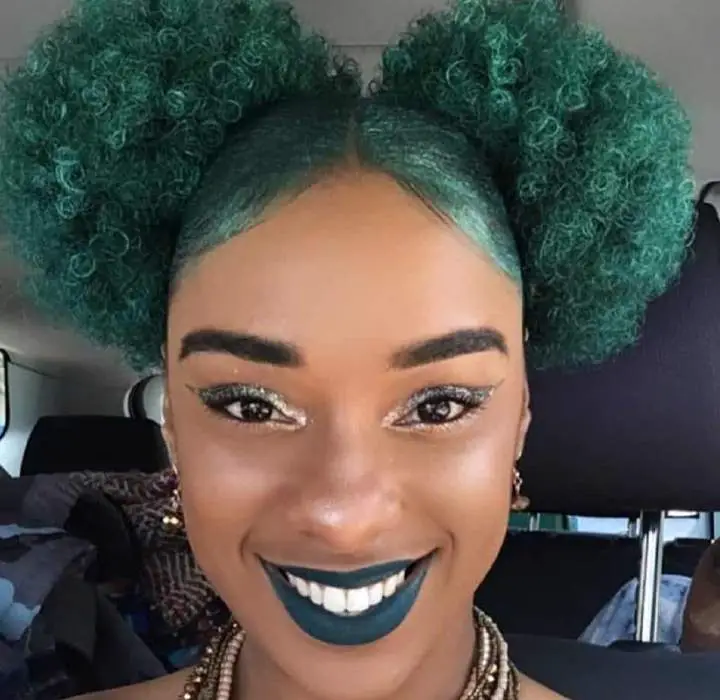 Amazonite is a gemstone that has both green and blue shades combined. Rocking this blue and green shade on your hair is a lovely blend for your short hair.
19. Purple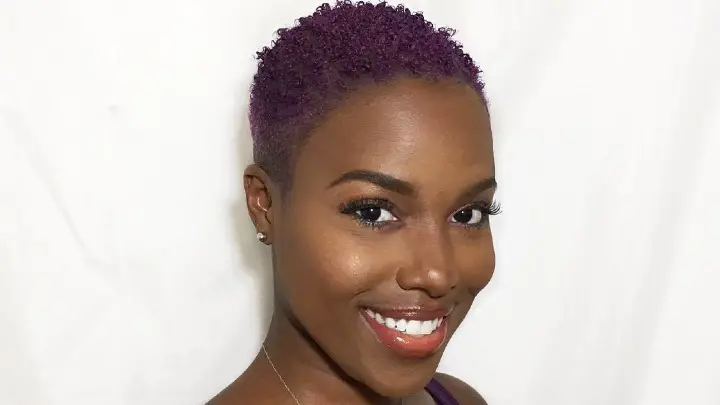 Purple is another color that works for all skin types. You can try it on your short hair as the color will fit your skin perfectly. It will look better on you if you have a lighter skin tone, giving you the perfect contrast for an elegant look.
20. Mermaid Blue Color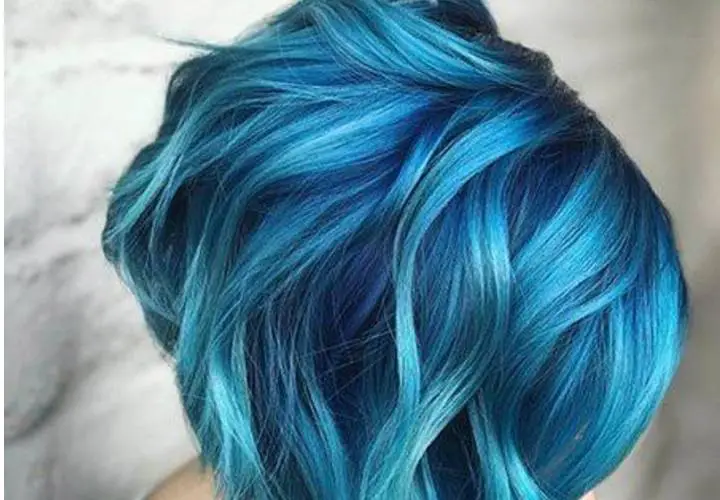 Here's one of the most loved color trends for fashionistas. It combines ash grey and blue hues to create a mermaid look. This color blends well with medium brown skin tones. To make the colors visible, you can use it on short bob hairstyles or even low cut. 
21. Platinum Blonde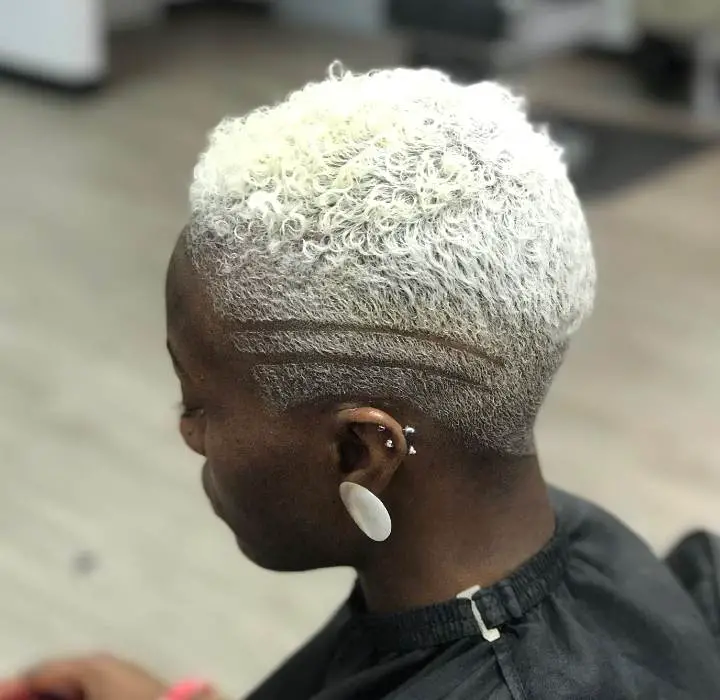 This is a trendy option for those with short and pixie hairstyles. You can also rock this on low cuts, as all blonde shades look good on low hair cuts. All skin tones can wear blond, but it looks gorgeous on dark skin tones.
22. Fuchsia Pink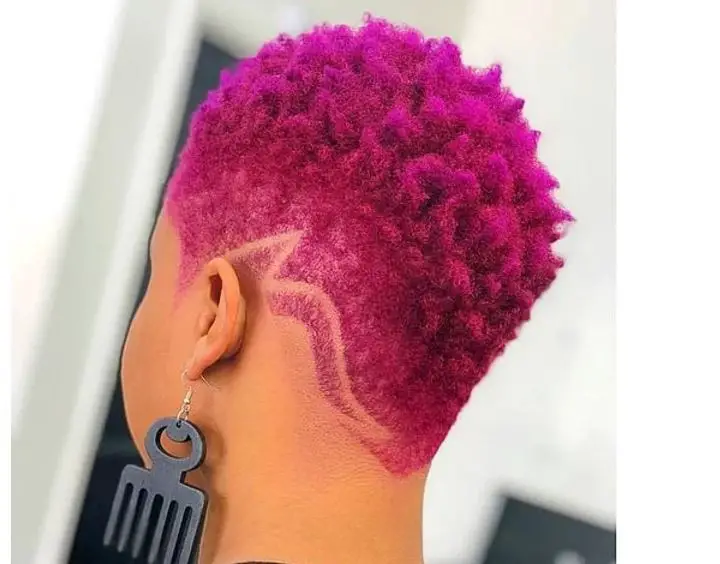 Fuchsia pink is another shade of pink to try on your short hair to get a stylish inspiring look and appearance.
23. Champagne Blonde Hair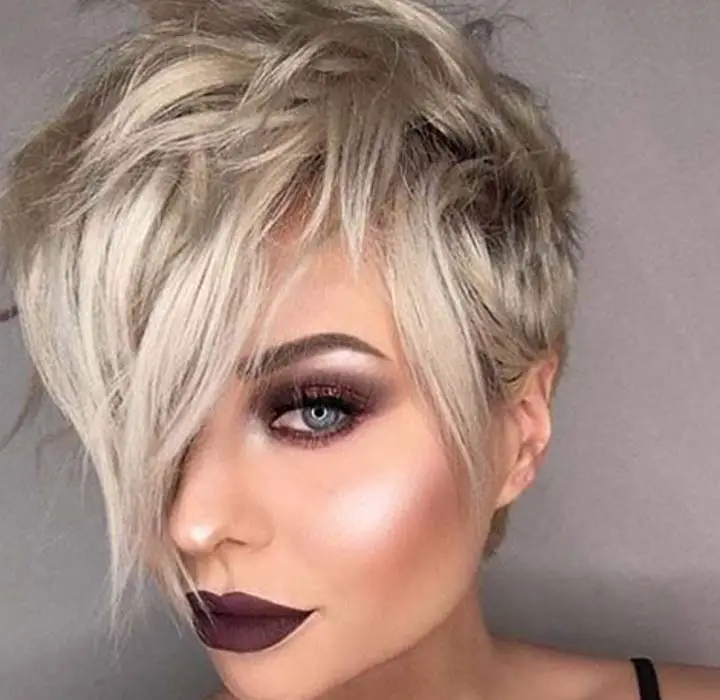 If you are the bold type and like to stand out, choose champagne blonde. Test the color first to see if it blends into your skin. It blends perfectly on dark skin tones, as it looks like a combination of beige and blonde shades.
24. Black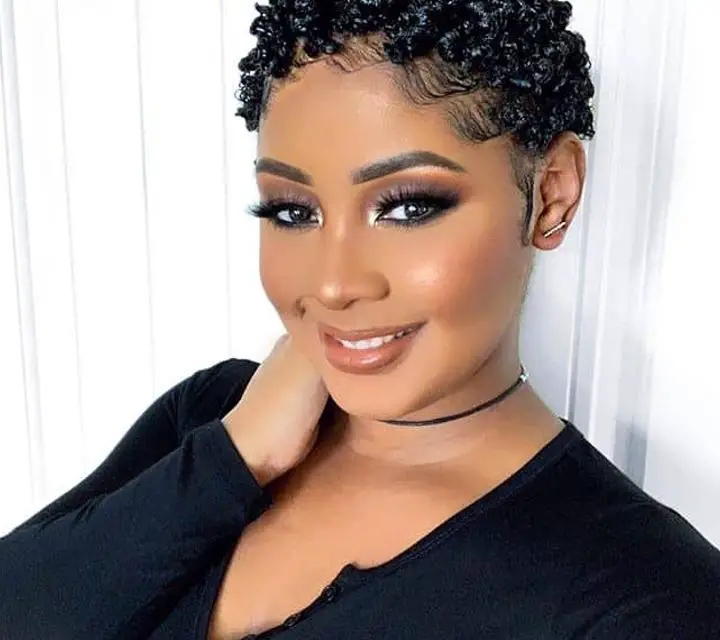 Whether long or short, bob or low cut, you can never go wrong wearing black hair. No matter your skin tone, black is your go-to color for a simple, yet classy look.
25. Pastel Pink
For short dark hair, you can try this color idea as it creates a nice casual yet unique style. However, only do this if you do not have a strict dress code, as it doesn't go well with some colors. Dress freely and enjoy the beautiful color of your hair.
26. Neon Green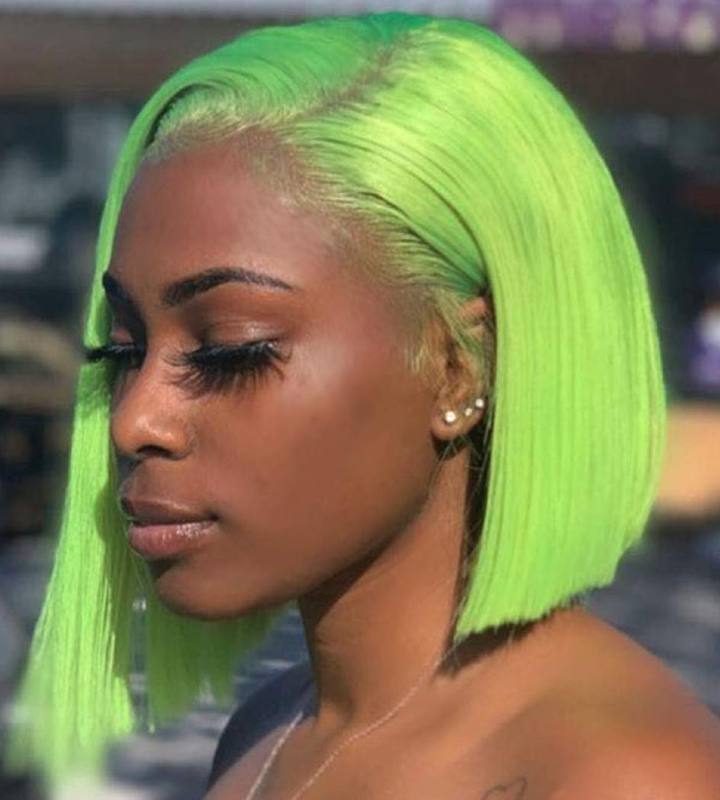 If you are truly looking for unique hair color ideas that are not common for your short hair, this is the perfect one for you. It blends well with dark to medium brown skin tones. Try this tint on your curls and enjoy falling in love with your appearance.
27. Stonewash Denim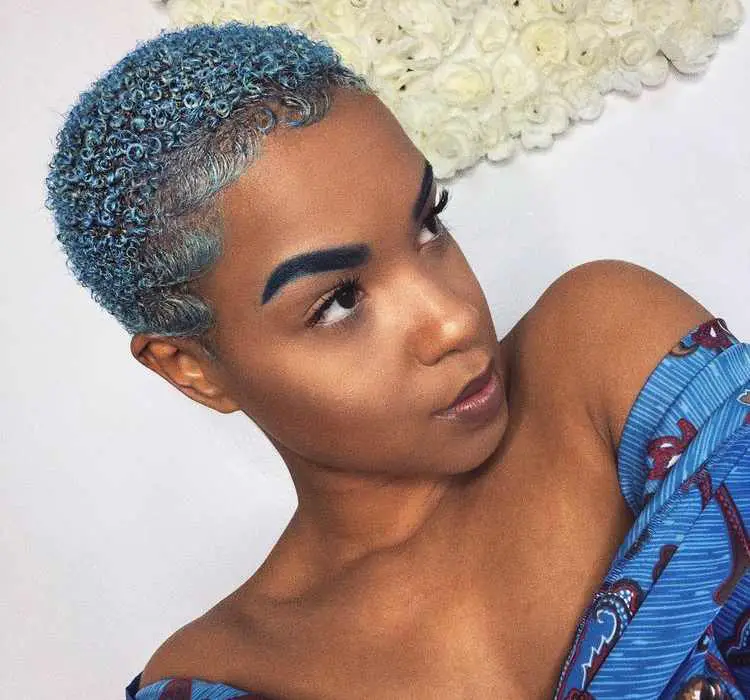 If you are a young lady looking for a change, you are welcome to try this color. It is unique in its way as not everyone would dare to dye their hair this color. Pair your look with warm gold jewelry to create a beautiful contrast.
28. Rainbow Color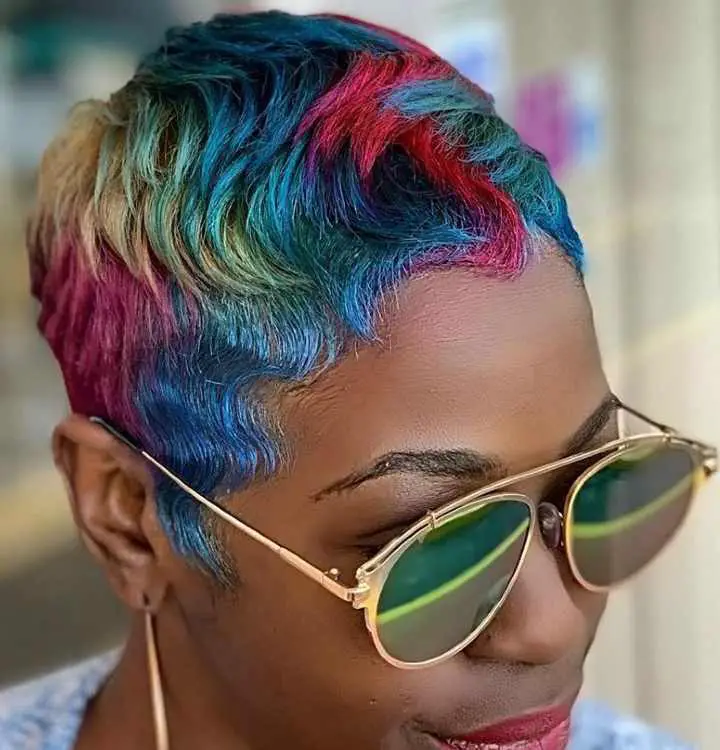 This is a combination of several bright colors to create an amazing mix. Try this color on your short hair to spice up your appearance.
29. Auburn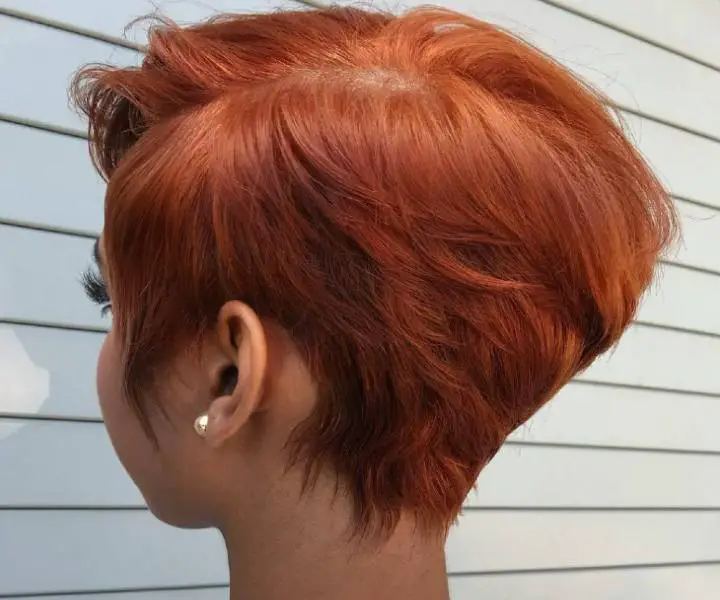 This red shade is a very classy winter color that looks beautiful on deep skin tones. Imagine this color on your hair with your brown eyes. The color will help to enhance the warm tones of your overall look. Opt for a rich red shade to enjoy a lovely shine.
Frequently Asked Questions
Can you color your hair at home?
Yes, you can. You can color your hair at home by getting an expert to do it for you or you can do it yourself. 
If you will be coloring your hair at home without the supervision of a professional, ensure that you research the proper method to use. That will help to prevent hair damage. 
Can color damage your hair?
Yes, it can. Hair dyes and colors can cause damage to the hair.  
Ensure that you go to a professional that can help you color your hair with techniques that will help to minimize possible damage. 
Conclusion
The best way to spice up your look is by going for fresh hair color ideas for your short hair. When choosing a color for your short hair, consider your skin tone first before the style of the hair. Look for colors that blend well into your skin tone and undertone. 
Once you have chosen your preferred hair color, you can then go to a professional to actualize your dream color. Also, consider going for semi-permanent dyes instead of permanent ones, so that changes can be made easily. 
Thanks for reading.
Was this guide helpful? Get more hairstyles ideas on Africana Fashion.