Fades for black men are go-to haircuts. They are simple, classy, and can give you an edge up. Fades are cool haircuts that line part of the head, making them look clean, simple, and minimal.
You can wear your fade in different styles, as long as the demarcation is obvious and intentional. Getting a trim or a line up and calling it a fade will not do.  
Therefore, if you are looking for the next inspiration for fades at your next barber's appointment, you can start with these fade haircuts for black men.
Fades for Black Men
1. Classic Fade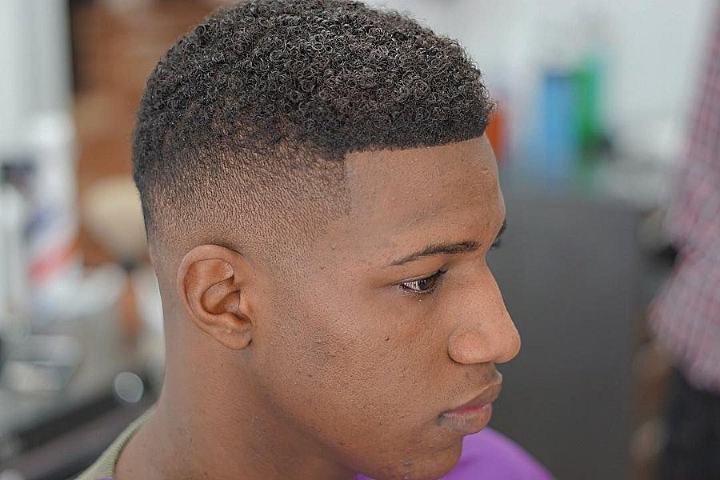 This is as simple as a fade can get. The classic fade calls back to the gentleman's style with its short buzz cut and a fade from the middle. This fade starts just from the top of the ear, getting thinner and sharper as it goes down.
The top makes it easy to grow other styles like curls or afro. This is the classic fade that transitions into other haircuts with ease.
2. Dreadlocks + Fade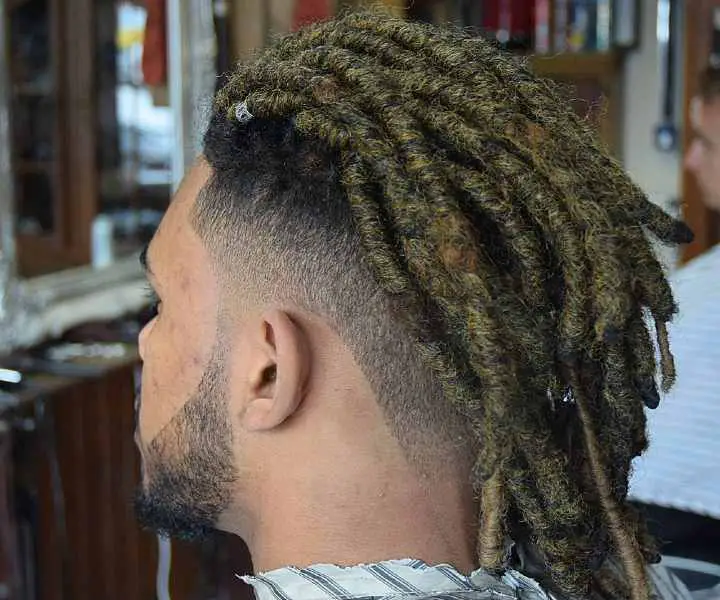 This haircut is quite popular among the fades for black men. The haircut pairs a high or low fade with dreads, making the dreads the center point for the style. You can raise your dread up to show the fade or pull it down to give your face a mature look.
3. High Fade
This fade starts before the rear and gets thinner and sharper as it goes down. The fade haircut is reaching and leaves little hair at the top. This haircut is stylish and boyish. It is also playful and has an urban twist to it.
4. Low Fade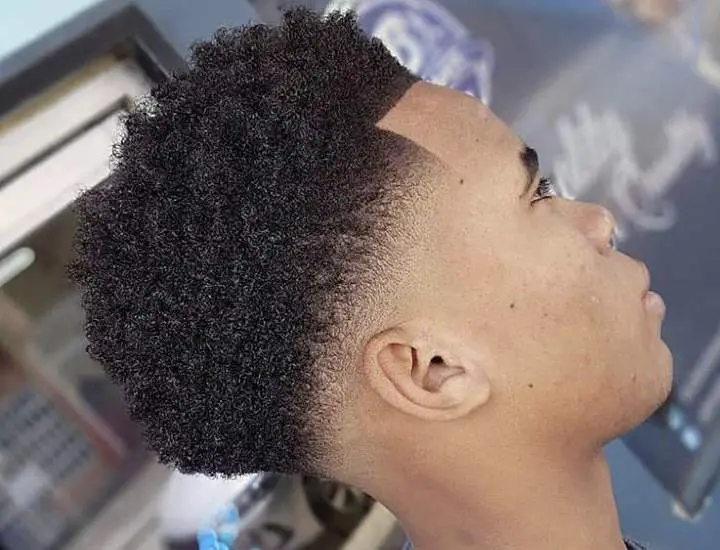 You can get this fade haircut for men if you do not want to touch the mop on your head but want a defined look. The fade halts your full hair just below your ear, trimming the rest down. This is one of the fades that is easily forgotten but the most popular. The irony right?
5. Box Braids + Fade
Urban rappers have taken this style out of the park. It's becoming the next best thing in urban styling. And you'll see famous celebrities and influencers rocking this haircut.
The style pairs simple box braids with high or low fades (mostly high). Furthermore, it makes the face look roguish. If you want a style that defines you, wear this style for a little man-up.
SEE: 15 New and Trendy Ways to Wear Box Braids for Men
6. Cornrows + Fade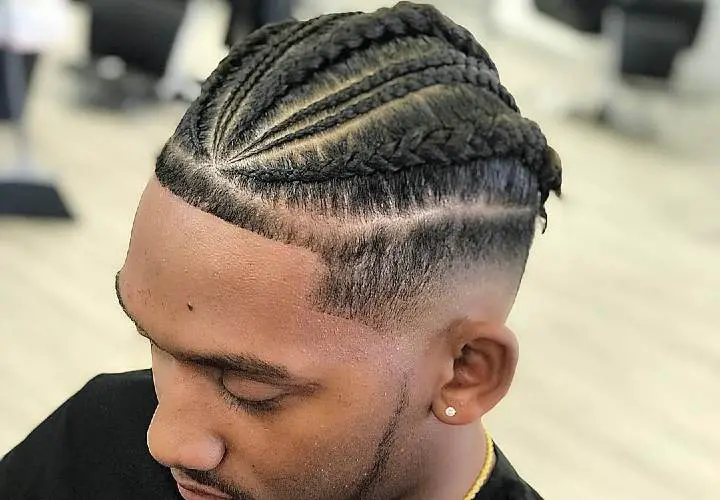 This is another side of the urban trend coin. Just like the box braids, hair is plait into cornrows, showing off the classic or high fade. This new trend brings pairs well when styling for urban streetwear.
7. Drop Fade
A drop fade is differentiated by its sharp lines just above your ears. It has a clean line demarcating the top hair and the lower shaved half. This makes it easy to spot the fade.
A drop fade is simple and stands out easily for its mature and gentlemanly look. In addition, you can either pair it with a full afro or go military with a buzz cut.
8. Fade + Line Up
This fade haircut for black men also uses a sharp line to give your face an edge up. The lineup could be a side hard part, or an angular curve or shape prominent on the head.
However, you will have to get this lineup defined every two weeks to keep it from blending with your fade. Nonetheless, you get a cool statement haircut with this style.
9.  Fades + Beards
This style makes use of your face to support or enhance your fades. This haircut pairs your fade with a nice clean beard – full or otherwise. The fade slims down from the top and lets the side slide to your beards, creating a connection.
This haircut defines the maturity of your face. After all, nothing like a beard to bring out the man.
SEE: Aftershave for Men: Best Selected Products to Buy
10. Tapered Fade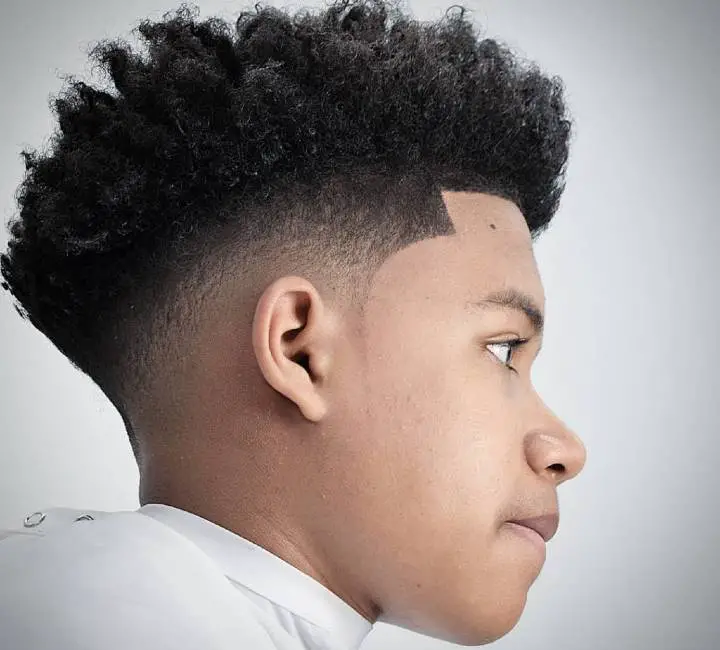 You're wondering why this gets mentioned in the same frame. Tapered haircuts and fades are similar, but ultimately, different. While a fade haircut leaves the sides and back completely bald, a tapered haircut leaves the back or sides shorter and the middle to top long.
The tapered cut inches lower as the sides move downward in the perimeter, but not completely loose hair.
So, what does the tapered fade look like? Tapered fade brings the inching hair completely to a bald stop. It goes from long to short and shorter until it stops as a complete short hair.
11. Afro + Fade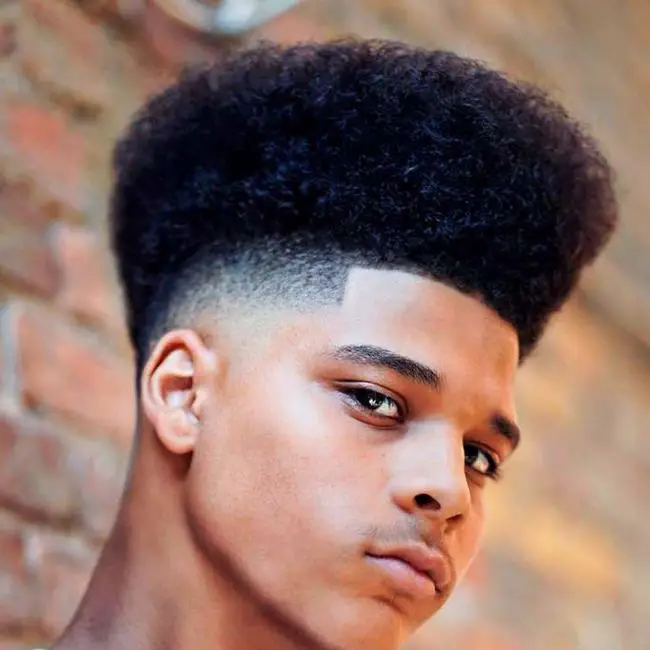 This particular fade cut defines your top afro. You can style this in a modern style for showing the different textures of your natural or product-added hair.
SEE: Haircut for Boys: 15 Trendy Styles to Define Boyish Looks
12. Waves + Fade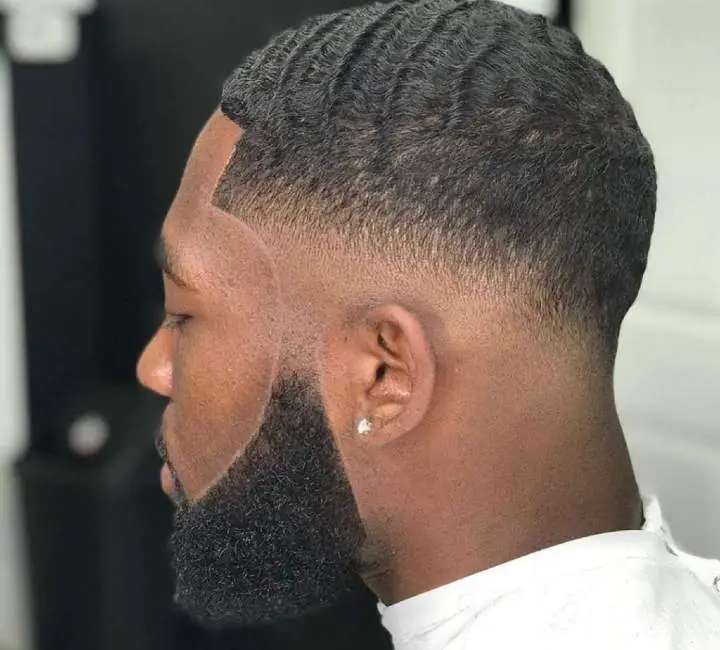 This haircut also uses a fade to highlight the waves on your head. You can trim the lower half of your hair to bald to highlight the smooth bumps on your top half. You can use diagonal waves or 360 waves with fades to make it pop if you want a sleek look.
13. Temp Fade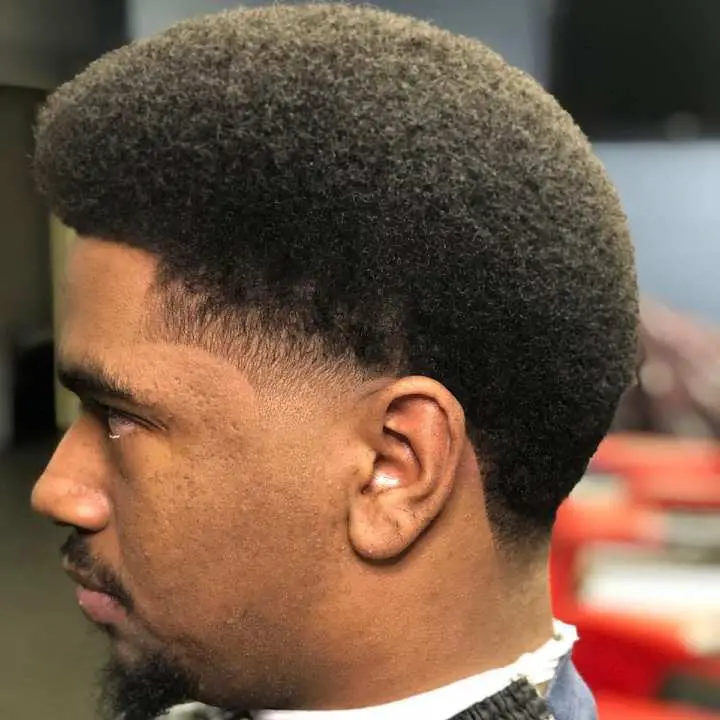 This simple fade is the most versatile and popular among men. The haircut requires minimal effort. It looks close to a low fade and helps to enhance either your afro, dreadlocks, or braids.
A temp fade does not stand out unless paired with a bigger hairstyle at the top. Therefore, to avoid looking boring, pair it with a great top.
14. Burst Fade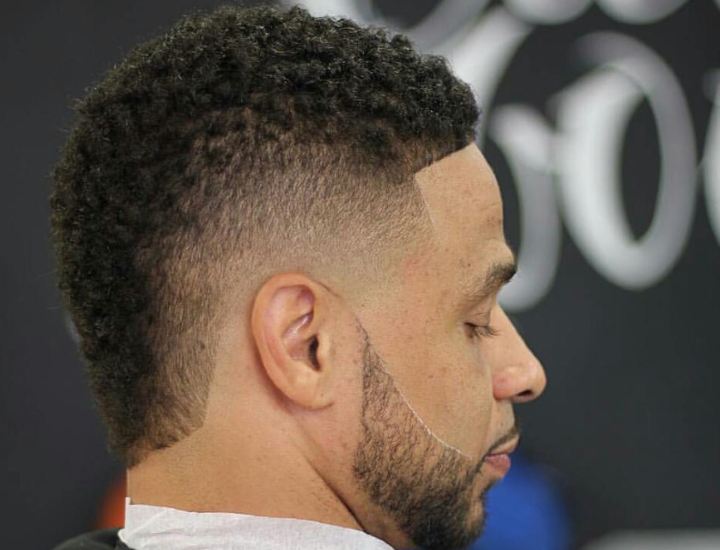 A burst fade looks like it's bursting from the ears out. The fade lines form a rounded curve at the sides. It is smooth and classy, and it fits any shape of the head. If you want a reverse fade, try a burst fade haircut.
15. Curly Mohawk + Fade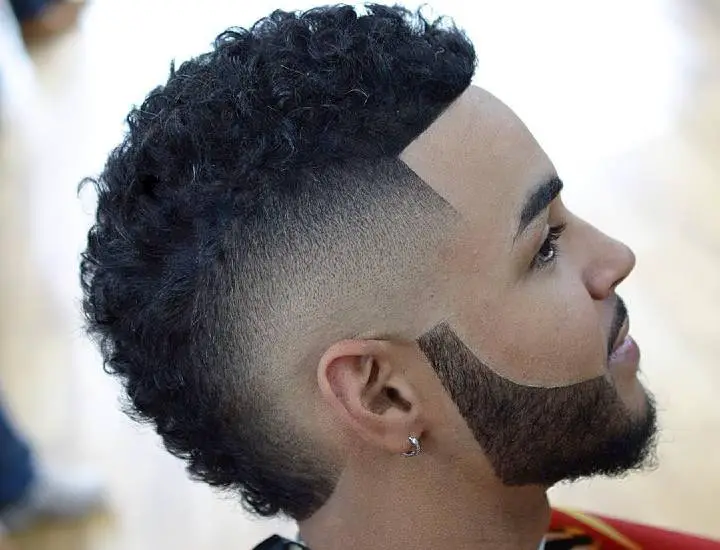 Pairing your Mohawk with a fade comes naturally if you want to highlight the centerpiece. The fade uses the Mohawk to shine bright as the skin is obvious. This haircut is edgy and balanced, giving you room for a neat cut.
16. High Top + Fade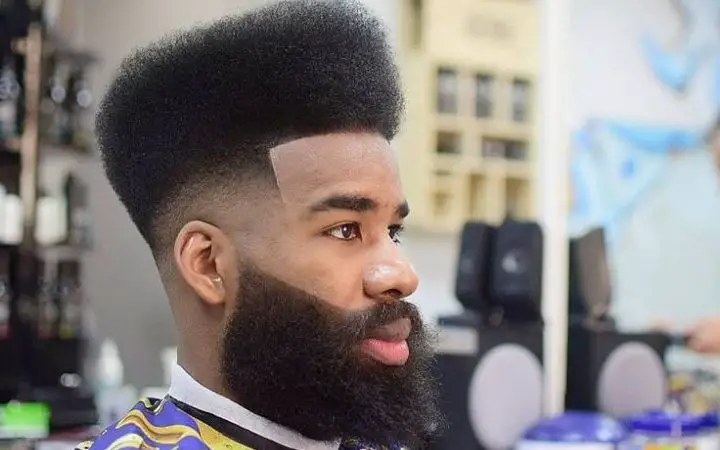 This is going retro with this look. A classy way to wear a fade is with a full high top. This look takes you back to the 80s but it has a modern look to it too. You can wear your high top inches high and keep it neat and popping with the low fades as an undercut.
17. Geometric Cut + Fade
Now, this is a style anyone who needs a little confidence and standing out can pull off. The style is demanding, putting your hair in geometric shapes and sizes, but it pays off. The fade also puts focus on the shape at the top, giving you a different and standout look.
18. Frohawk + Fade
This style also gets its popping look thanks to the skin the fade cut shows. Your afro in the middle gets clean and tidy. The gradation in textures cuts a standout.
19. Buzz Fade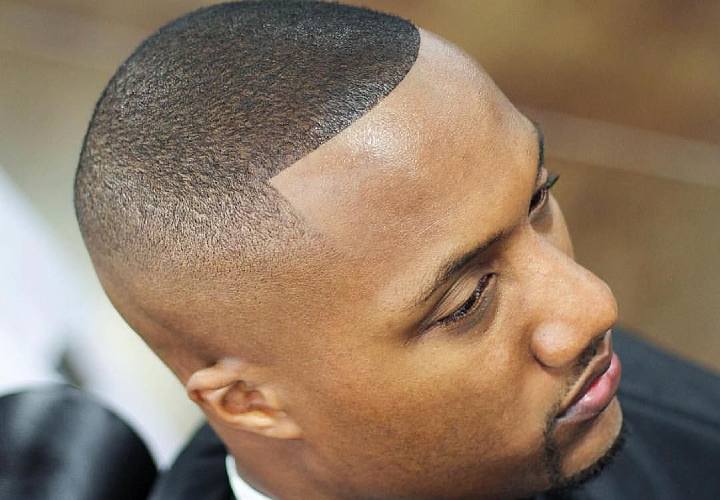 The buzz fade is a mix of a buzz cut and a simple fade. This haircut is suitable for all shapes and head styles. It has a bit of maturity to it and can age you up, but it does make you look elegant and simple.
20. Blonde Fade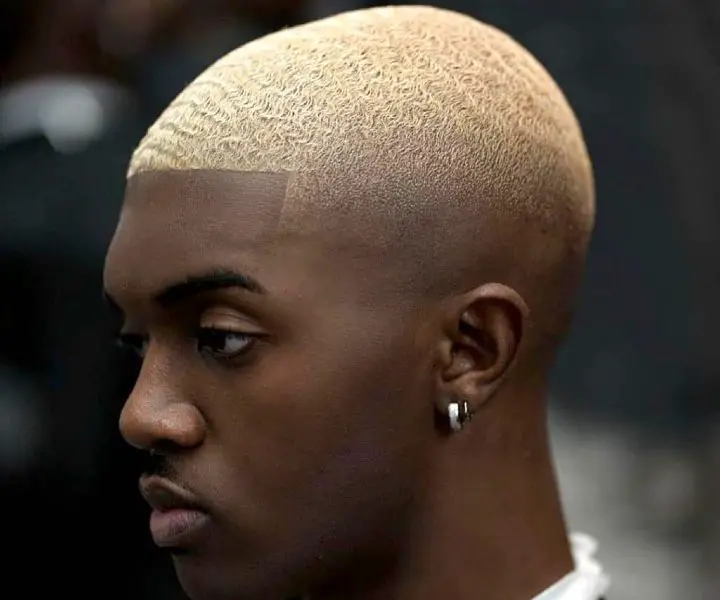 Dying your hair is always a trend that doesn't go away. However, a blonde hair dye is a classic that people think they can't pull off until they try it. The style is edgy, yet simple. In addition, you only need to pick the right color that matches your skin tone.
A blond Fade might not look like a good hairstyle but it pays off if you have full hair and a clean fade. Then as new hair begins to grow, the blond highlights look even better.
SEE: 16 Skin-Popping Hair Dye Color Ideas Ideal for Your Skin Tone
21. Kinky Afro + Fade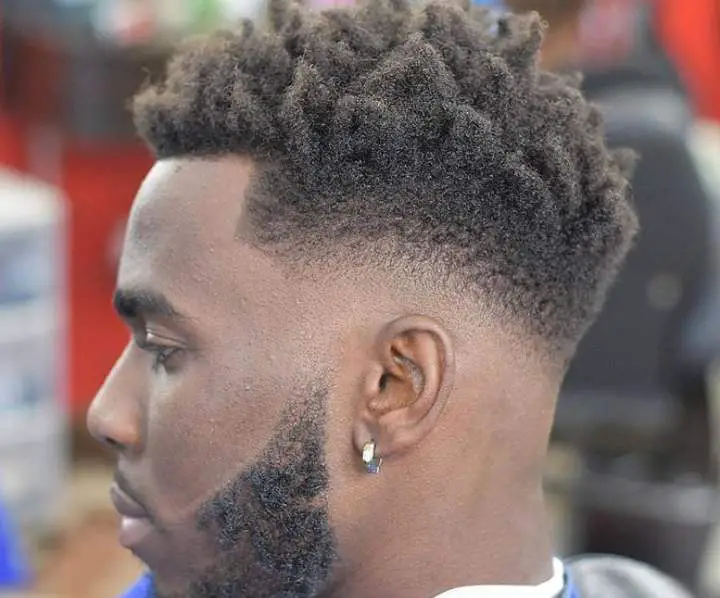 This kinky afro is your natural hair in kinks or little knots. The style often looks rough but it has a way of standing out with a clean face. It's about defining your natural curls, twisting it out, or not combing to make it loc naturally.
22. Short Dreadlocks + Fade
Short dreads are better paired with a fade as an undercut. The dreads fall easily on your head but still show the fade and clean skin below. The urban look also ages you down, giving you a boyish look that makes your prominent features toned but blended.
23. Separated Line Up + Fade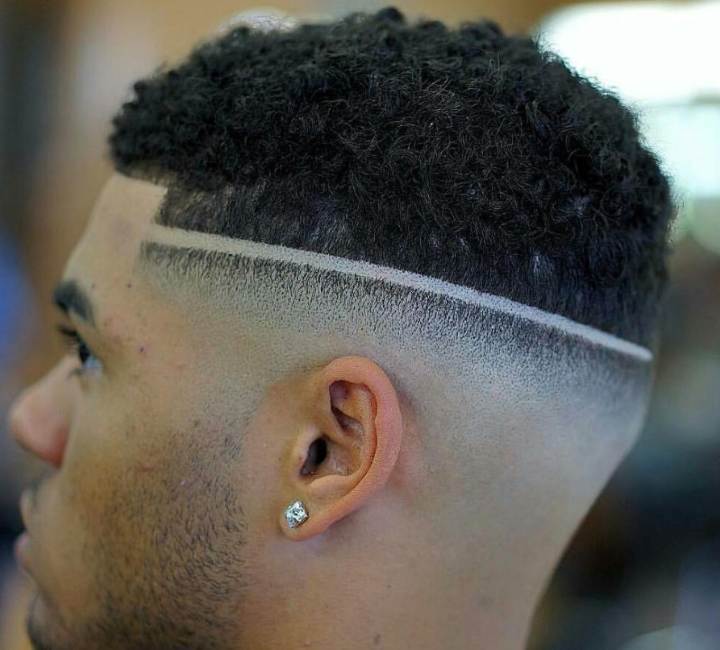 This line up is a clean part that separates your fade totally from the hair. It could be diagonal or at the sides. The style is unique and simple. Rather than a little cut in the side, the line up parts the fade and hair cleanly.
24. Low Top + Fade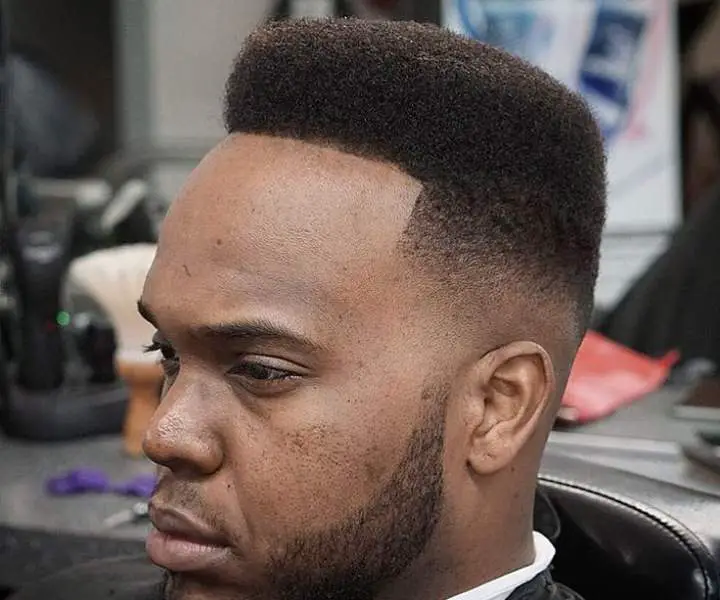 A low top with fade is straightforward. The top of the hair starts inches high then slowly moves to skin level at the middle or low level. This helps to improve the shape of round faces, giving them angular or sharp edges.
25. Skin Fade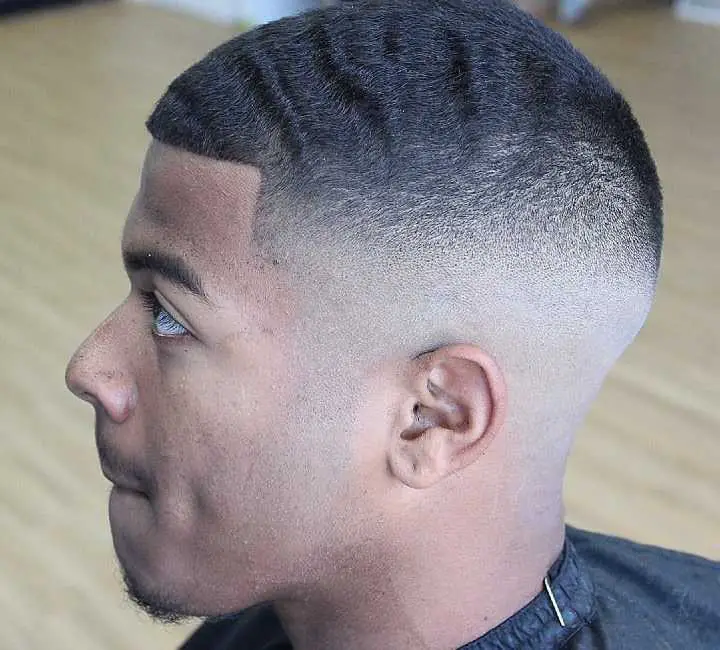 This is the classic way of describing fades because it exposes the skin. This is a deep trim that shows the scalp's skin, like a bald cut.
SEE: African Haircut: 13 African Hair Pride
Frequently Asked Questions
Can you change tapered cuts to fades?
Yes, you can. You can change tapers to fades and let fade grow as tapers. These two haircuts are similar, except one is clean and without hair, while the other leaves shorter hair. You can change your taper to fade by simply trimming the short hair. A barber will do this for you in no time.
Do fade haircuts last long?
Fades last long. You do not need to touch up your fade every week or other week. You can wear a fade for up to a month before going for a touch-up.
However, if you have fades with sharp line ups, you might need to get a frequent touch-up to keep the line visible.
Will fade cuts make you look older?
Depends on the cut. A fade haircut will age you up or down based on what is at the top. Cornrows, short dreads, or kinky afros will give you a boyish look. Meanwhile, buzz cuts, fades with beards, or a classic fade will make you look more mature and serious.
What you have on at the top is what determines if your fade makes you look older or not.
Conclusion
Fades for black men are a classic. You can style it anyhow you want. The versatile haircut makes the perfect bench to highlight the top of your hairstyle; therefore, pair it with a great or clean cut that would stand out.
Nonetheless, a fade is not a taper cut, but they are closely related. If you want to wear a fade, remember, you are showing one form of the skin or the other. Therefore, pick a style that suits you perfectly.
Thanks for reading.
Loved this article? Check Africana Fashion for more hair articles to improve your lifestyle goals.