Looking good isn't for females only, especially when it comes to hair. As a guardian to a male child, you are in charge of how they look. And if you want them to look dapper, you have to pay attention to haircuts for boys to pick the perfect style.
But it's no less important to feel comfortable than to look attractive. Haircuts are a way to make a boy look smart, trendy, sophisticated, or even cute. It's also a way for them to express themselves and improve confidence. Consequently, you need to go with what suits them.
If you are trying to up the game of the little man under your watch, you should try these trendy haircuts that enhance a boy's stylish and youthful look.
Trendy Haircut for Boys
The rules are out the window, as more boys have decided to make a statement and create their signature styles. You should take a look at these fresh, classy, and effortless boys' hairstyles!
1. Bob Braid+ Low Fade Haircut for Boys
This loose hairstyle + cut is trendy right now. Hair is plaited in neat box braids and faded on the sides. It gives an urban fresh look that improves the youthful features of a boy.
If you need a haircut that feels new and different, go with the neat braids that are trending upward. When it comes to haircuts for boys, the length improves the babyface. You can either go for shoulder-length or eye length. The style is highly recommended.
2. Spiky Top + Mid Fade Haircut for Boys
One of the best ways to ease into faded haircuts for boys is to keep the top of your hair a little longer than you normally do for your regular cut and gradually decrease the length as you go down. Use a hair gel or mousse to spike up the ends for a boyish, yet put-together style.
SEE: Short Natural Haircuts for Black Females: 16 Classics for You to Try
3. Messy Spikes + Low Fade Haircut for Boys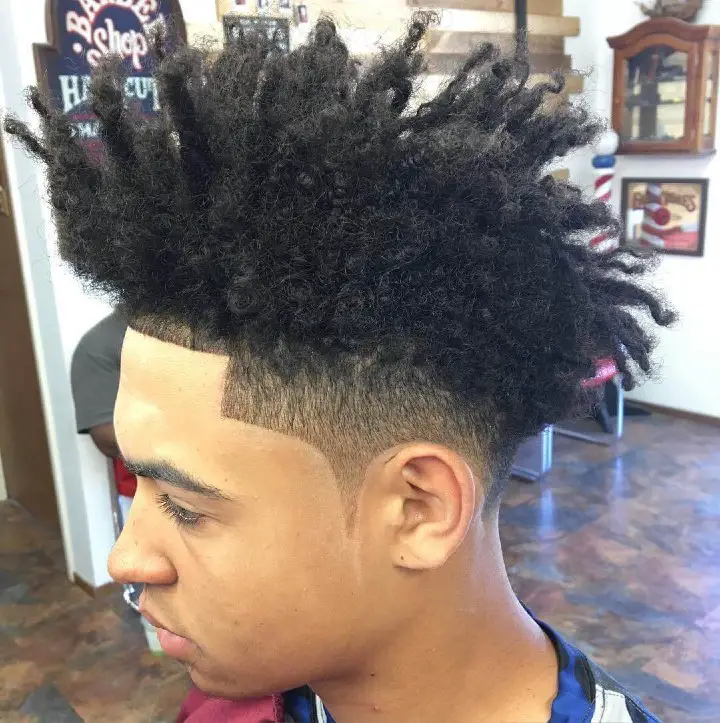 With faded styles, a boy's look doesn't have to be drastic, but it's always nice to show off some contrast. Fades work on all hair types, especially for those blessed with natural lift and volume at their roots.
However, the spiked effect can be enhanced with a small amount of product. Style any long hair up and define the ends for this cool stiff-looking yet soft-to-the-touch look.
4. Temple Fade Haircut for Boys
A nice modern style for natural hair is the temple fade with a line-up. This boy's cut is a great choice if you want to have short and manageable hair with a natural texture.
5. Taper Haircut for Boys
A classic taper cut involves thick hair on top gradually decreasing in length on the sides and the back of the head.
If you've ever combed a tapered hairstyle, you know the importance of keeping it maintained with a product and regular shampoos – otherwise, your tapered masterpiece will quickly go wild. This is one of the most requested hairstyles for boys due to its versatility.
6. Tapered Undercut + Added Height Haircut for Boys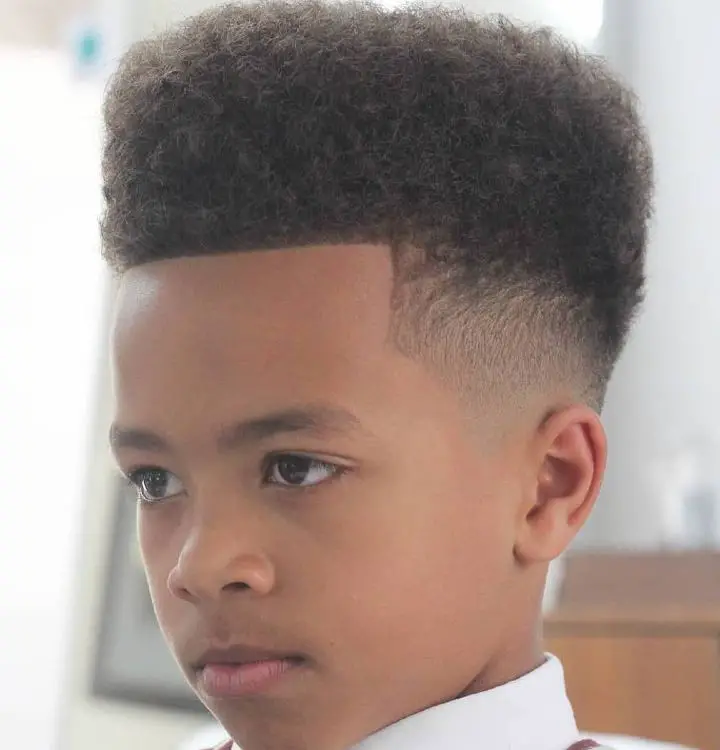 Volume and height play important roles in current hairstyles for boys. To give the roots that coveted lift, cut a faded undercut and style pomp. Use a round brush and a hairdryer to achieve those cute ocean-like waves that show off the faded edges and give a punk rock vibe.
7. Low Fades Haircut for Boys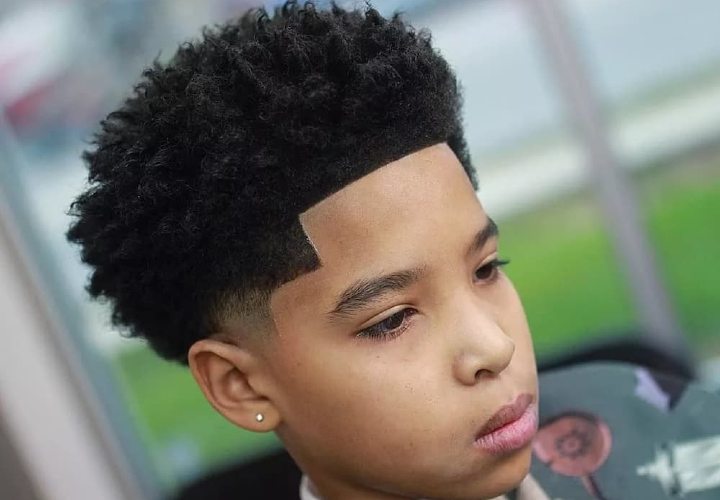 Low fade haircuts involve shaving just the lower half of the hair, while hair up top is trimmed and shaped, but kept longer.
You choose a classic taper fade haircut that is a bit longer than a regular fade, or go for a high fade haircut where practically the whole head is clipped down decreasingly except for a signature piece like a Mohawk.
If you wish to go for the long hair on top, tell the barber ahead of time. If your boy wants to look more casual, break the mold by getting a fade on the sides only and experimenting with bold styles up top.
8. Side Part Haircut for Boys
The side part haircut is similar to the undercut, with the major difference that only one side is cut extra short. This haircut is ideal for those who don't want to put a lot of time and effort looks. It's simple, smart, and boyish.
It is a rather casual haircut that works well with boys who have medium-length hair that can be swept over nonchalantly. The haircut can also be alternated between looks by sweeping the hair towards the side with the undercut, or towards the one with longer strands.
SEE: How Fast Does Hair Grow: Find Out How With These 13 Tips
9. Smart Boy Haircut for Boys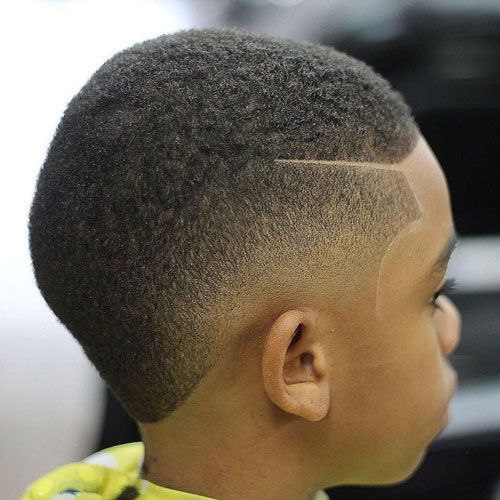 The smart style of this tailored haircut feels as fresh as it looks. That's because the hair will only have longer lengths on top, while the sides will have a blend of shorter cuts.
The smart boy cut is extremely versatile and can be styled with lightweight smoothing lotion for extra class, or left wild and free for a more casual appearance. It looks particularly good on boys with oval, triangular, or square face shapes.
10. Rat Tail Haircut for Boys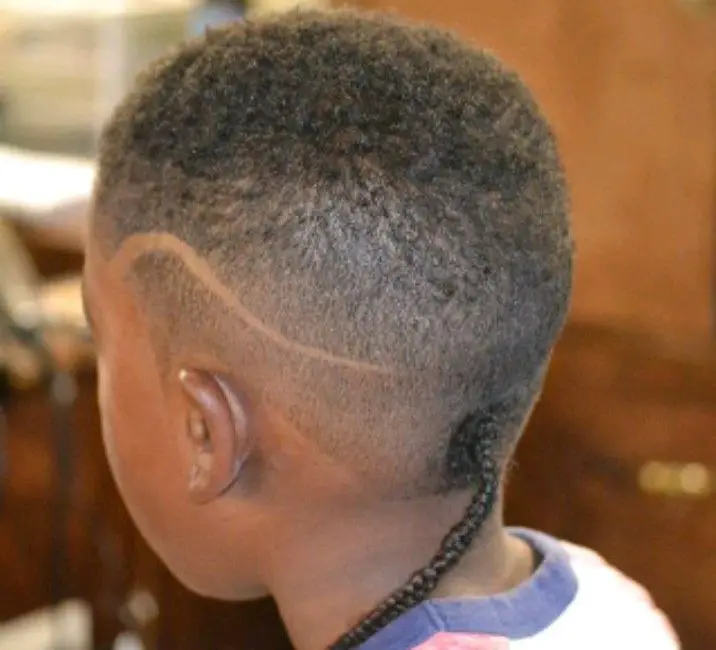 This trendy and upbeat haircut makes a boy's back head look unusual and cool. The style comes up with a simple buzz or fades cut at the front, then a single braid at the back.
The 80's inspired haircut also means a symbol of royalty, if you are going by Eddie Murphy's (playing Prince Akeem) reference in the classic 1988 comedy Coming to America.
11. Curly Top + Side Fade Haircut for Boys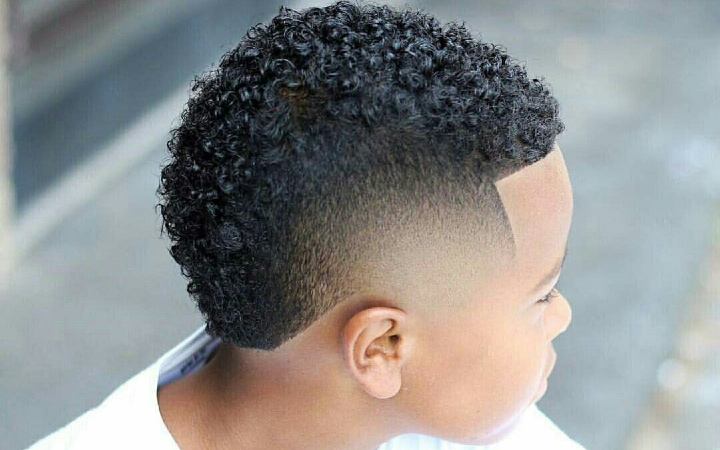 This is another sleek and simple style that brings out the curls of a boy's natural hair. The style combines curls and a fade together, making it look trendy.
This look suits boys with medium to full hair to complement the fade. The haircut works for any shape of head as long as the fade is trimmed to fit it.
SEE: 20 Trendy Haircuts for Men – Best Haircut Ideas to Make Them Look Good Again
12. Buzz Cut + High Fade Haircut for Boys
The buzzed head is in demand due to its low maintenance. Adding in a high fade will bring something new and different to this classic cut. It only needs a trim after a while or if you want crip lines for edges.
13. Blonde Frohawk Haircut for Boys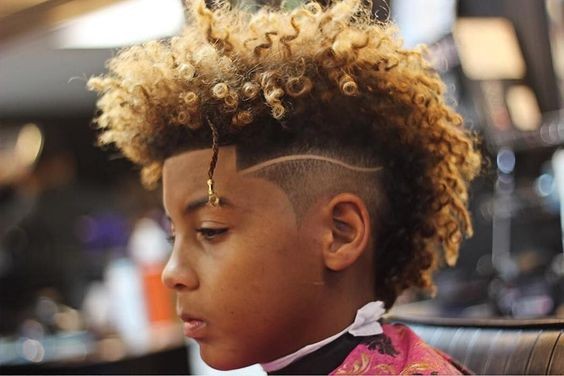 Nothing like a good color to complement the skin color of your child. The haircut has a cool and fierce vibe to it. Pair them with an undercut that brings dimension and visual interest into your look.
14. Long Tousled Top Short Sides Haircut for Boys
New hairstyles for boys often feature a sharp distinction between the top and the sides, and this look is a perfect example of contrasting lengths.
The hair on the back and sides is kept very short, while the longer pieces are styled with a maximum height and separation. A dry shampoo formulated for men will be a new best friend with this style.
15. Low Fade Haircut for Boys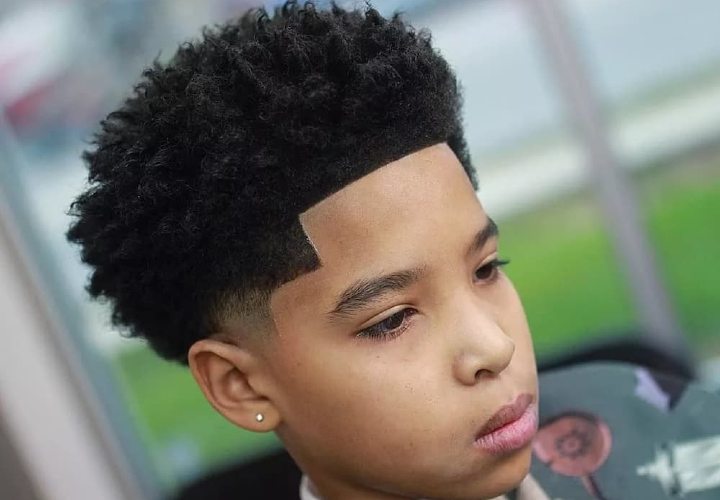 The low fade (where the haircut gets short low on the head) is a great option for boys who don't want fade haircuts but want to experiment and stand out. Coupled with messy texture on top, the low fade adds a nice edge to the cut without being too in-your-face.
SEE: 15 New and Trendy Ways to Wear Box Braids for Men
FAQs
How long can your haircut last?
The longevity of your haircut is dependent on numerous factors. Some of these factors are, how fast your hair grows, whether you love a clean shaved haircut or stylish rough etc. Really, no cap fits all, so you do what works for you.
Should you wash your hair after a haircut?
Yes, you can. If you love to wash your hair after a cut, there is nothing wrong with that; it doesn't change the style you have on. However, if you have products like gel, mousse, and other spray agents in your hair, you will wash them off and lose the style.
Can boys wear any haircut?
Yes, they can. As long as they shape the style to fit them. Also, it should not age them. The style has to fit the frame of the face. This is why it is important to pick a style that fits your frame.
Conclusion
When it comes to selecting haircuts for boys, there are no rules on what to do. Rather, you decide what look will best suit the little man, what style you can best maintain, and what your budget is.
Moreover, these styles are versatile and can blend into one another. Additionally, they are suitable for grownups too. So, you can recommend a style or two for the men.
As it is with the exemplified haircuts in this article, you can decide to mix styles for a special look.
Thanks for reading.
Africana fashion provides suitable hair care articles to help improve your hair growth journey.