Maintaining afro-textured hair could be hard work, quite expensive, and time-demanding. You'll understand these words better if you have either type 3 or type 4 hair. So, it's no wonder to see many black females titling to short natural haircuts.
If you're reading this, I believe you're either considering putting scissors to those tresses or you're currently growing out your hair. Moreover, the demand for short hair increases during the warmer months when all that hair-in-the-face is not so necessary.
Ahead, I'll be showing you timeless short natural haircuts for black females that you definitely should pick from. In advance, welcome to the club.
16 Classy Short Natural Haircuts for Black Females
Frankly speaking, short natural haircuts are the easiest hairstyles to wear. Unlike braiding hairstyles and wearing wigs, you do not have to spend minutes before the mirror styling this way and that. Also, a short haircut comes with fresh air and liberty.
Besides, with the wide range of available options, you can have a style that allows you to wear braids whenever you feel like it. And, you can always wear a wig whenever you want to.
Additionally, you can always switch things up with some color and curled tips. The options are inexhaustible.
1. Short Natural Curls
After cutting your hair, you do not have to lose your curls. On the list of short natural haircuts, this haircut is a naturally gorgeous and easy-to-wear hairstyle for black females. Women with the curly hair type will find this haircut amazing.
You do not need much with this haircut. The curls are achievable with styling products like gels, curl creams, and mousse. What I love about this hairstyle is the fact that you do not need to do a re-curling every day.
Just apply hair oil for shine and gel to the edges. And, if you feel up to it, you can hang some hair clips or rings on the curls to look more stylish than probably the day before. You can also compliment this haircut with a pair of big hoop earrings.
2. Natural Afro + Shaved Sides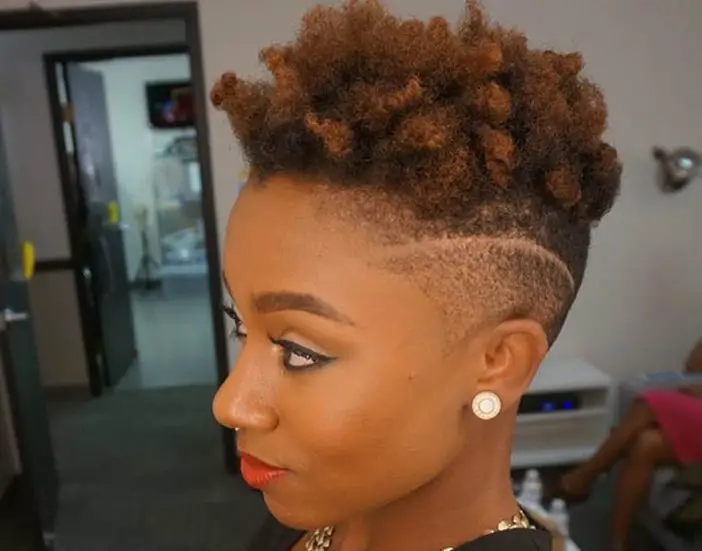 A natural cut with shaved sides is a striking and charming hairstyle that gives a flair of boldness. This haircut mediates between an afro haircut and shaved hair. The shaved sides can be low shaved with a taper or fade.
Moreover, it is a very flexible haircut. Along the shaved sides, your stylist can make one or two lines. Also, you could have the afro in any length and color you desire. You can also get experimental with patterns along the shaved sides.
As a low-maintenance haircut, all you need to do is wash and oil your hair regularly.
3. Pixie + Curls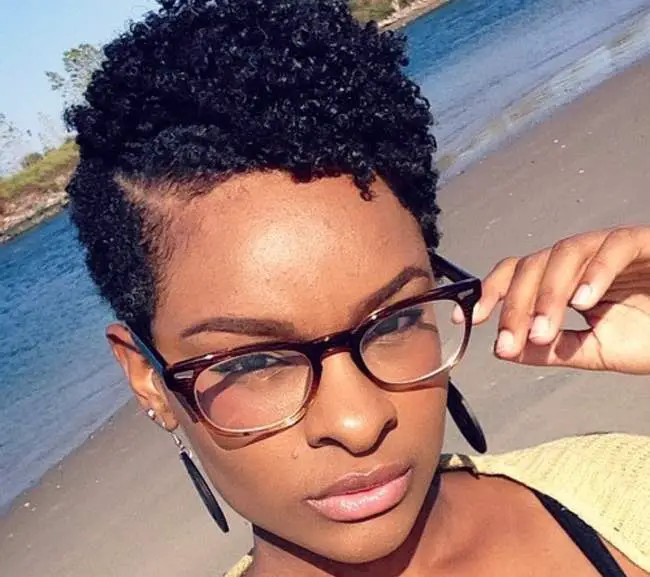 This haircut is a switch to how you'd regularly wear a pixie cut. Pixie with curls incorporates soft curls that are not too tight or too loose. The curls appeal with a soft touch, feeling like a baby's hair. And, you can have it in whatever length you want.
The highlights of this haircut are the curled sideburns. It is detailed enough for you not to accessorize. Moreover, it is a low-maintenance hairstyle. What you need to do is to wash regularly, use curl creams and oil; and you're good to go.
In addition, this hairstyle works well for your corporate job. You can also rock it to a glamorous event with the appropriate jewelry.
4. Natural Mohawk
From back in the day, mohawk haircuts have always signified non-conformity. So, you are most likely to see black females who are brave at heart and with a free spirit rock any of the variants of this class of short natural haircuts.
The boldness is flaunted by the clean shaved sides and the distinctly long hair that runs from the crown to the nape of the neck. And, the top of this look is the simple haircare it requires.
You can always just run a comb through and go on your way. Most importantly, ensure you wash your hair regularly and treat it to sufficient moisture.  
SEE: 16 Skin-Popping Hair Dye Color Ideas Ideal for Your Skin Tone
5. Fade Haircut
We all used to think fade haircut was for only men but nowadays, we have seen more women wear this haircut. Although it could look like a taper haircut, they are not the same. Let's call fade haircut a shorter taper.
This haircut incorporates your hair on the sides and at the back trimmed low and sometimes revealing skin.
One beautiful thing about a fade haircut is how it completes the look of other haircuts. For instance, mohawk and natural afro haircut; and with different degrees of graduation. Also, you can have a fade haircut in any length and some color too.
6. Tapered Haircut
Tapered cut can be called the twin of a fade. It is quite easy to misplace both of them. With a taper haircut, the hair in front is usually longer than the hair on the sides and at the back. The length difference is also as prominent as seen in a fade haircut.
Like a fade, you may add a taper to complement other haircuts. But, if you'll be wearing a full tapered haircut, it's fine. Feel free to experiment with your hair length, a parting on the side, and colors.
7. Mohawk + Fade
Who says you can't be extra with your mohawk? Faded mohawk may tend to look like an undercut but it is not. Think of it as an undercut that is further graduated to give a more stylish and edgy look.
Whether you choose to fade the back of your hair or just the sides, this alternative, less spiky mohawk remains classy. And, with the high demand for easy-to-wear hairdos, this unisex hairstyle is on the rage with daring African American women.
Additionally, if you'll be wearing the look for a while, you should regularly trim the sides and top hair. Also, try out getting colors on the tips to switch things up a little. This could be your own afro punk style.
8. Extra Short Mohawk
Would you rather go extra low with your haircut but stylishly? This is for you. Extra short mohawk comes with its extra tomboy panache. The hairstyle has your hair shaven at the back and round the sides into a taper fade.
But, to highlight the remaining hair, you can have your stylist make tight curls for some femininity. Moreover, whenever you want to, maybe for some special occasion, you can have braids like passion twists on the mohawk.
9. Teeny Weeny Afro
Teeny Weeny Afro, socially abbreviated as TWA, is one of the most common black female short natural haircuts. Literally, your hair is chopped big to two inches. And, it requires the lowest maintenance cost and effort.
For a classy look, you can style your TWA into very tiny curls with a styling gel. Besides the comfort TWA comes with, another lovable feature of the haircut is the youthfulness it comes with. It is most common to see this haircut on afro women with type 4C hair.
Just like for all short natural haircuts for black females, adequate maintenance demands that you wash and oil your hair regularly. Also, you should trim it often, for as long as you would be wearing the look.
SEE: How to Tame Your Hair With the Best Curly Hair Tips
10. Short Colored Tapered Haircut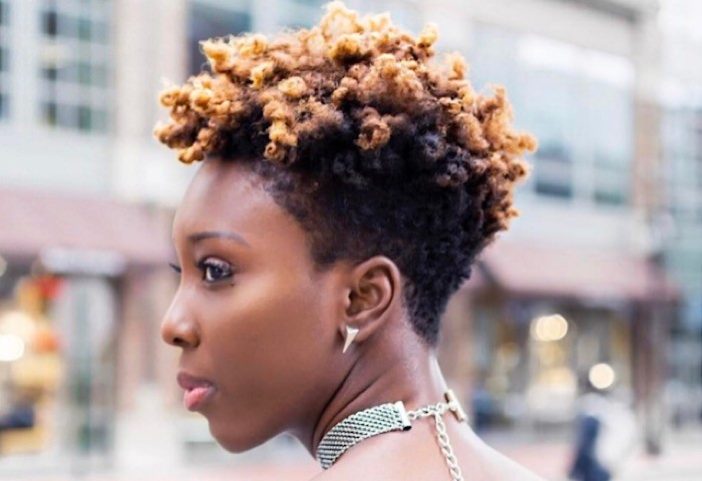 The graduation in the volume and length of your hair around your sideburns and neckline is all the details of this haircut. Your stylist can complement it with a razored line on one side for an edgy look.
Also, there is a wide range of colors and shades that you can add to your hair to nail the style. Short taper is a very flexible haircut. You can often have your hair braided into simple hairstyles if you want to save shampoo time.
Most importantly, you should reapply hair color when it seems to be fading. This way, you get a bang for your buck and get to enjoy this haircut to the fullest.
11. Short Natural Undercut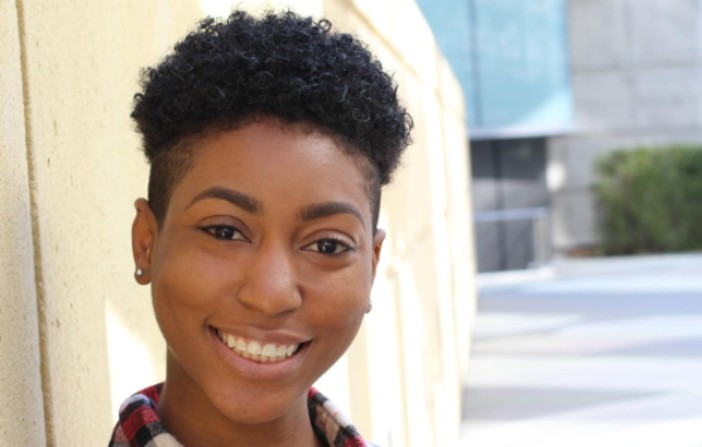 Short undercuts have a subtle and fierce way of making fashion statements. It's almost impossible to not notice a woman with a black or colored short undercut.
Nowadays, women liberally explore this haircut with different hair lengths and colors.
Additionally, it is not uncommon to see curly tips on this haircut. The hairs at the back and on the sides are shaved so that the hair on top appears to be sitting on your head.
You can have the hair on top styled however you like; either a pixie cut or tiny tight curls.
In addition, you may have a hidden or visible undercut; depending on the style you want to wear.
12. Buzz Cut
Buzz cuts are the simplest and easiest to achieve haircuts. However, it needs to be done meticulously. This is because a perfect buzz haircut should have equal hair length all over.
The sole aim is to bring your face shape and hairline forward with some fierceness.
A buzz cut can be considered an almost bald haircut. If you want to skip transitioning, this is a perfect haircut for you.
Meanwhile, you can add a side or semi-circle parting and some temporary color to your hair. This way, it's not all plain.
13. Brush Cut
Still on shaved hairstyles, here's brush cut for black females. The haircut is a variant of buzz cuts except that it takes off a little more hair. You'll largely find this haircut on women who are really brave and women who love to go natural.
And, if you're looking for a totally new look, you should try this out. Brush cut is very easy to maintain as there is no mane to comb or oil. You can just use a brush to dress your hair. Also, you'll find it very handy during the warm season.
In addition, you can get adventurous with a brush cut and add a color like blonde.
Read Also: Grow and Shine Your Hair With Top-Rated Hair Serum
14. Faux Hawk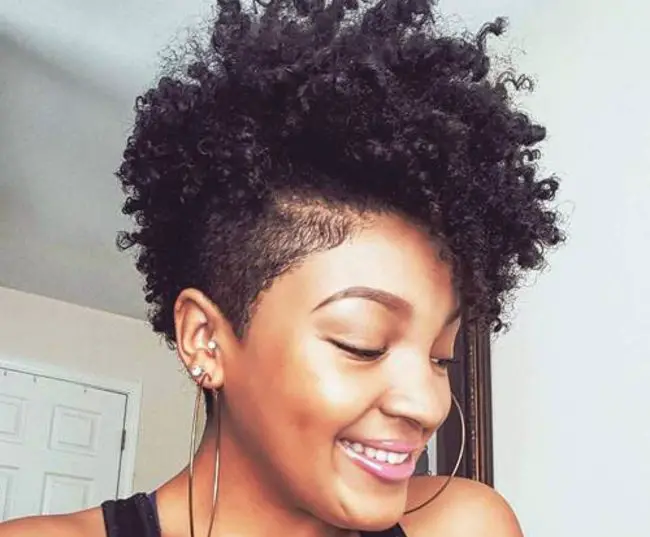 Faux hawk or fohawk as it is pronounced; is literally a false mohawk haircut. It is a simpler way to wear a mohawk, especially in a less edgy way. You can also call it a modern mohawk.
For this haircut, less hair is shaved on the sides, unlike the mohawk haircut that could take a clean shave.
In addition, it is also a flexible haircut that can be customized into quick hairstyles whenever you feel the need to look more feminine.
15. Faux Hawk + Fade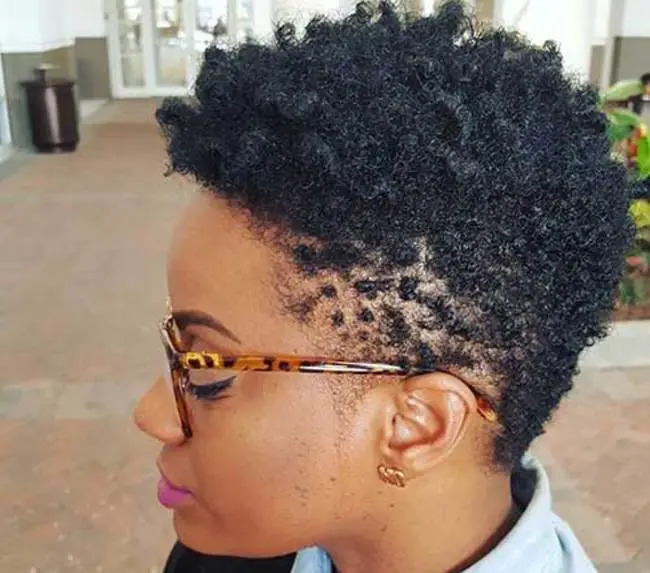 You can complement the faux hawk haircut with a fade to create some contrast with the hair graduation.
For the fade, you can have it tapered or down to your skin. Also, the length of the top hair can be long or short; according to your preferences.
Some women like to have a fade faux hawk when the faux hawk is growing out. If you're doing this to revamp your previous faux hawk, you can add some color to take things to the next level.
16. Waves
When your buzz cut is growing out and the curls appear distinct already, your stylist can flatten the curls into waves.
Another way to achieve waves is to wear a durag. You could have waves with an undercut or shaved sides for an extra cool look.
Blonde waves are the new rage for waves. They add a subtle edgy look with an air of confidence. You should give it a try.
Frequently Asked Questions
1. Does my face shape determine my haircut?
Yes, it does. Although every haircut is adorable and you want to try all of them, you should pick a style based on your face shape. This is because certain haircuts better complement certain face shapes.
For instance, if you have an oval face, a pixie undercut will better compliment your cheekbones and long face. On the other hand, a buzz cut or short afro better suits women with round faces.
2. Does my haircut speak about my personality?
Yes, it does. Beyond being a beauty signature, haircuts have a way of saying something about a person's personality and preferences. Although it may not be absolute, it still has some accuracy in it.
If you're opting for a short haircut, it indirectly speaks of your schedule which may not be able to accommodate spending time on hairstyling.
3. Why should I get a haircut?
A haircut is necessary if you'll maintain healthy hair growth and protect your strands from damage.
When you occasionally get a haircut, you protect your hair from the damage that can be due to weather changes and hair styling tools.
Conclusion
Haircuts are still very much in style if you ever doubt. And, trendy haircuts have been put together for you to choose from. Women with afro-textured hair can relate to how demanding caring for their natural hair can be.
So, if you want a break and to change your style; you can choose from any of the available short natural haircuts for black women. Each haircut is flexible. You can have one complement the other, your desired length, and play around with colors.
Dare to pull off one of these styles and enjoy the comfort that comes with it.
Thanks for reading.
Check Africana Fashion for relevant trendy hair articles that match your style and preferences.