Knotless braids have made quite the wave on the list of protective hairstyles. Just like with other hair braiding styles, it has seen modifications in textures, length, and adornment. Small knotless braids are good for people with fine hair or those looking to add volume with little extensions.
Small knotless braids are your regular braids' three-strand braids, except that they leave out the knots that sit at the root of regular braids. The absence of the knots relieves your scalp and hair of tension. To a large extent, it makes your hair less bulky. Also, you can enjoy painless braiding with knotless braids.
That being said, if you are looking to make small knotless braids but you have no idea what style to make, look no further than here. Keep scrolling to see a compiled list of beautiful hairstyles that suit your everyday lifestyle and preferences.
SEE: Hair Color Ideas for Short Hair: Get 29 Best Hair Colors Here
1. Small Knotless Braid With Beads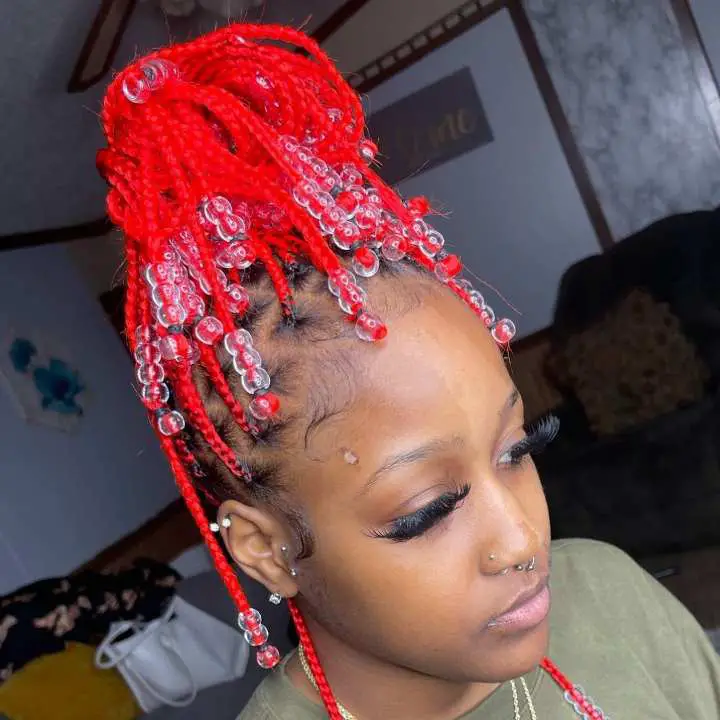 Some people would rather not have their braids plain. If you're one of such, adorning the ends of your hair with beads is a great way to add style to your small knotless braids. There are beads of all kinds and they are not selective of skin color.
You can have wooden or glass beads to accessorize your braids. In addition, for small knotless braids with beads, you can have any length you desire. Also, always consider the weather before you go for length. During summer, short braids with beads are your best bet.
2. Small Knotless Braid With Curly Ends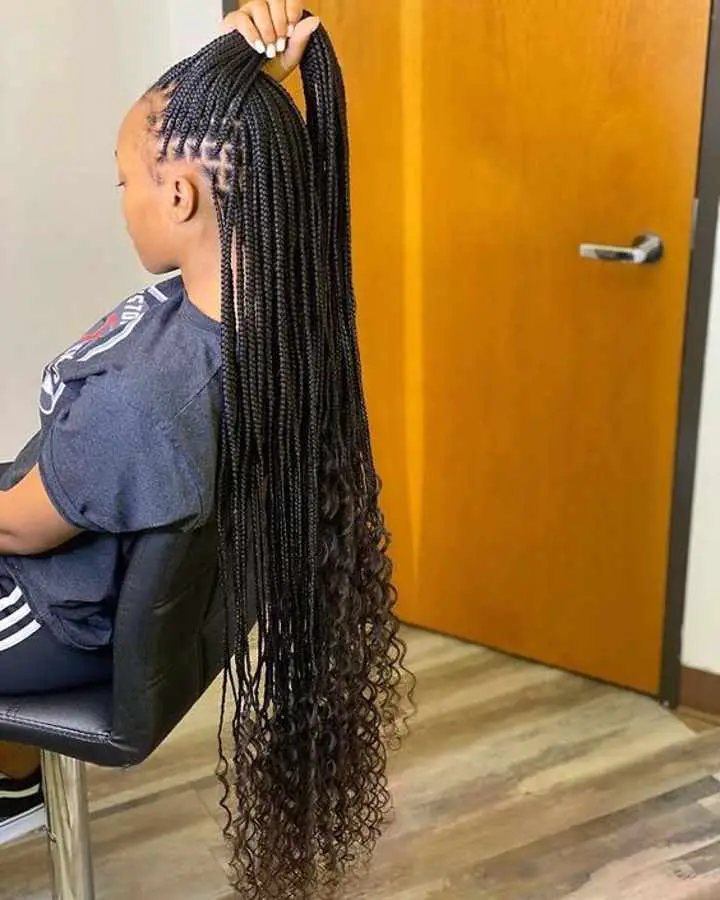 The ends of braids are sometimes overlooked like nothing can be done there. That's not true, if you don't want to go the way of beads, you can have your stylist curl the ends of your small knotless braids. Moreover, curls are a subtle way of adding volume to your braids.
However, if you have curly ends, you need to pay attention to those ends because they tend to get tangled with each other and may become frizzy.
3. Long Small Knotless Braids
Adding length to small knotless braids makes it more flexible to style. Long braids are very stylish and classy. However, they consume more extensions than short or medium-length braids would.
In addition, if you have very thin hair, long braids may not be advisable because the extra extensions could weigh down your natural hair. People with thicker hair textures can enjoy this hairstyle and the luxury of wearing their hair in different hairstyles.
4. Extra Long Small Knotless Braids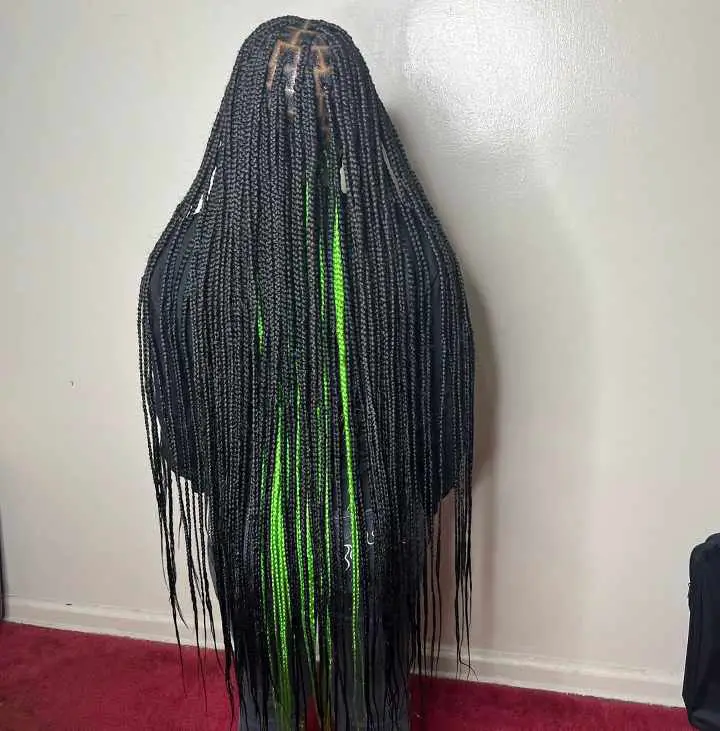 If you want to go extra on length, this style is for you. You should be ready to bear the extra cost of extra extensions. Also, people with very thin hair should not wear this hairstyle because of the bulk of extensions.
However, if your hair texture can bear the bulk of extensions, own it. Feel free to spice things up by adding a few strands of colored extensions. Go for bold colors like green, red, or even orange.
5. Brown Small Knotless Braids
Extensions come in a wide range of colors. While some people love to go for the bright and bold colors, some would rather go natural with colors like brown. Brown braids give a subtle look and give off a look of simplicity yet class.
In addition, this style is a perfect fit for the corporate world. The color doesn't go against any set-down dress code. You can choose to go for extra length or keep it short for less bulk.
SEE: Knotless Braid: All About the Trendy Hair + 18 Fresh Styles to Rock
6. Red Small Knotless Braids
You can go the extra mile with colored small braids. Red hot braids are just the spice you need for your look. If you love to make fashion statements, you can go with this hairdo.
Getting red braids doesn't necessarily mean you have to change your hair color. If your hair is already red, it's all good. A contrast of your natural hair color and red extensions is even better. Feel free to own your style.
You can either gather your braids into a bun and accessorize with big hoop earrings or let it all down.
7. Small Box Knotless Braids
Box braids never get old. If you get a stylist who can make neat box braids for you, good for you. Your stylist divides your hair into sections and braids each section separately. Small braids are naturally time-consuming. Working with box sections may take even more time.
Just like with your normal braids, you can have small box knotless braids in whatever length or color of extensions you desire.
8. Triangle Small Knotless Braid
Triangle small knotless braids are a variant of box knotless braids. Rather than having square sections, your stylist makes triangular sections and feeds in the braids with extensions.
Also, just like with box braids, you can have your knotless braids in any length and color you like.
9. Ombre Small Knotless Braids
Ombre never ceases to draw attention. The color gradation does the trick. Wonderfully, extensions manufacturers have made packs of ombre extensions available. Also, you can find stylists who know how to create gradation with colored extensions.
Why stick with one color when you can create something as beautiful as ombre knotless braids? Ombre is much better with long braids. The length gives room for better color blending.
SEE: New and Refreshing Tribal Braids Hairstyles You Should Try
10. Blonde Small Knotless Braids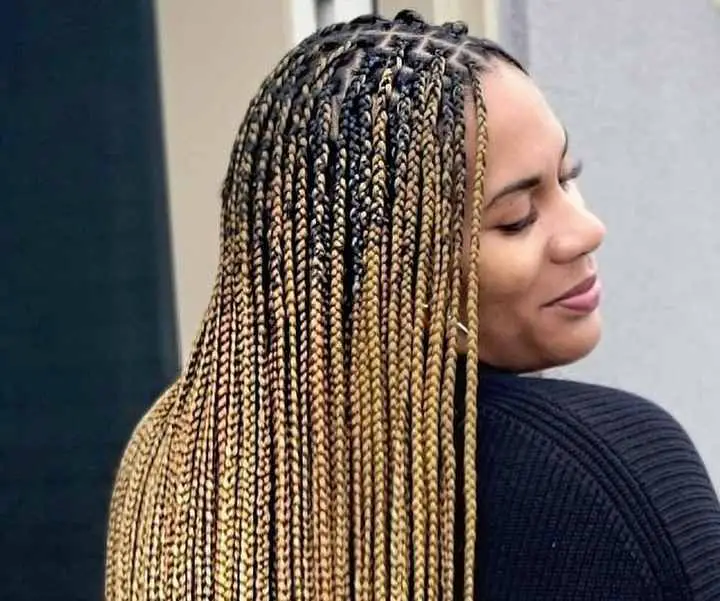 Blonde hair has a mix of wild and calm at the same time. Using blonde hair to make small knotless braids is a good choice if you want to get colored hair, but you are not ready to dare with the bold colors. This hairdo is great with whatever length of hair.
More so, it is more beautiful when your roots are black and the extensions alone give the color. But, if you can, use a uniform color on your pre-colored hair.
11. Small Knotless Braids in a Ponytail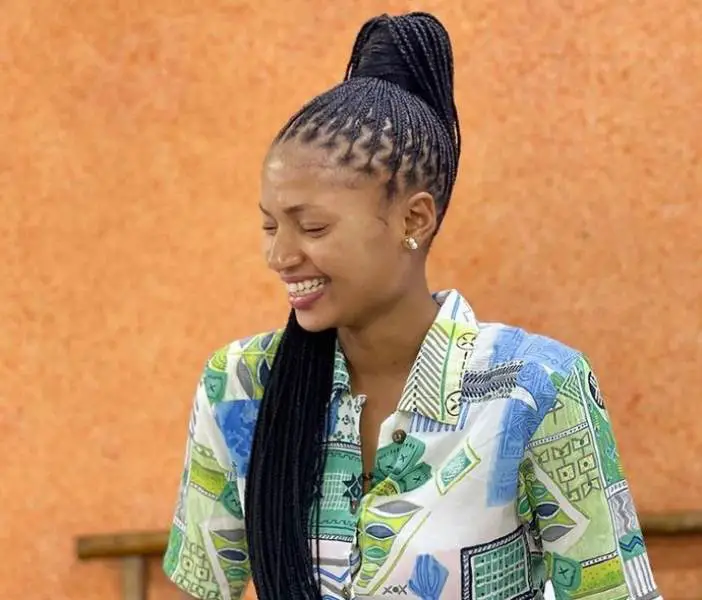 Ponytails have a way of accentuating your hairdo. Gathering your hair in a ponytail frees your face of braids that would naturally stray and cover your facial features. If you have those earrings you want to flaunt, the necklace, and of course your makeup, a ponytail gives you that platform.
Did I also mention that ponytails make you look more youthful? There, I said it.
SEE: Does Braiding Damage Hair? Find Out if Braids Are Bad for Your Hair
12. Small Knotless Braids in a Bun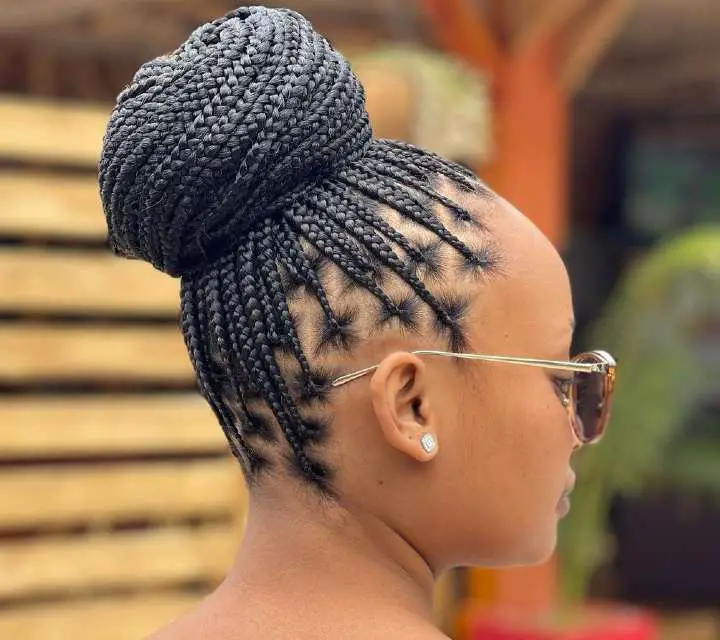 Rather than have your hair hang loose behind you, you can wrap the ponytail into a bun. And there are different ways to style your bun. Moreover, a bun is appropriate in an office environment. Similar to the ponytail, it clears braids off your face and allows you to flaunt your jewelry.
13. Small Bohemian Knotless Braids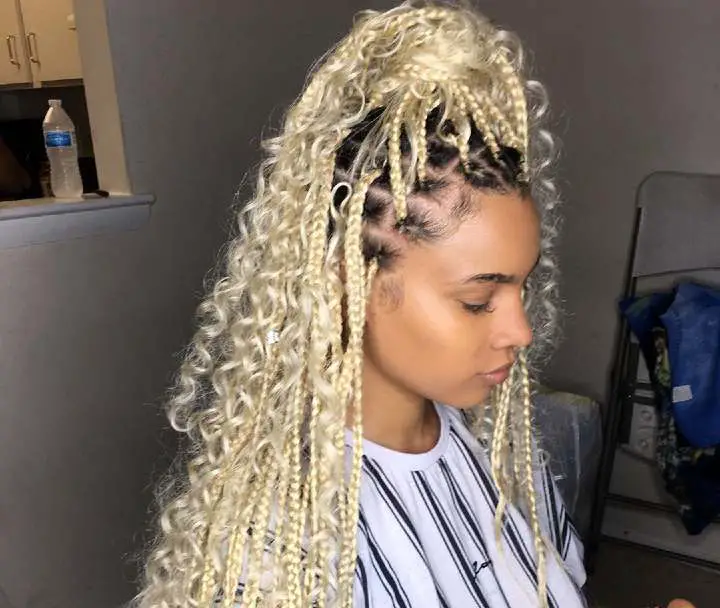 Small bohemian knotless braid is a style for the free-spirited woman. The way the curls hang loosely on the body of the braids radiates her free spirit and energy. This hairdo is actually for the bold and daring.
If this is you, you can switch things some more and use a colored attachment. However, your hair may get frizzy because of the curls that hang loose.
14. Small Knotless Braid + Center Part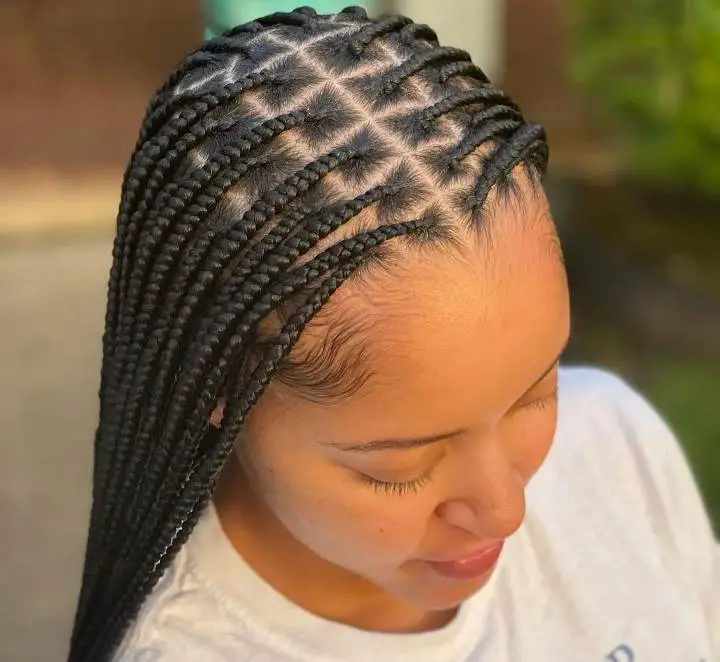 The styling options for small knotless braids are endless. Adding a center part is easier if your braids are in boxed sections. A parting in the center of your head draws attention to your face. More so, as the braids drop to the sides of your face, it makes your face appear more slender with a pointed chin.
This is also one of those options that make you look more youthful and elegant.
15. Small Knotless Braid + Side Part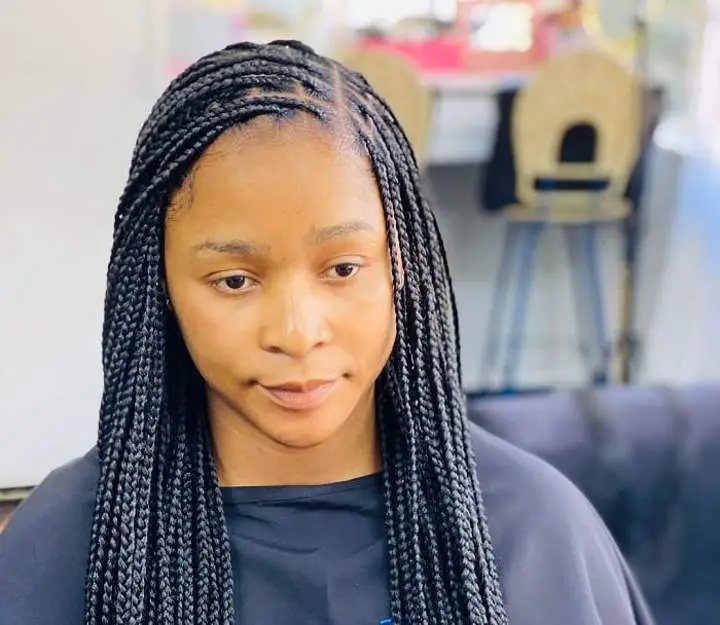 If you don't want your parting at the center, you can have your stylist put it on the side. If your box braids sections are well done, you can part it to the side yourself. This allows you to show off your well-chiseled chin and jaw.
The knots that knotless braids do not have to make the braids lie flat and sleekly to both sides of your face.
SEE: Best Hair Extensions to Change Up Your Style
FAQs
How long do small knotless braids last?
You can have small knotless braids on for up to 6 weeks with good maintenance and care. Some people have them on for about 8 weeks. Your hair texture and daily routine are some factors that determine how long your braids will last.
Can you have knotless braid on type 3 hair?
Yes, you can. If you have type 3 hair, you should be wearing protective hairstyles like knotless braids to keep your hair wrapped in extensions. Also, it cuts down on the frequent styling which can be too much pressure for your scalp.
Can you wash your knotless braids?
Yes, you can. It is safe to wash your braids at least two to three weeks after you got them. It keeps your scalp free of build-up and refreshed. However, getting knotless braids wet could make your hair frizzy because of your exposed roots. But if you use the right products, your hair will be safe.
SEE: Can You Wash Box Braids? See the Best Way to Care For Braids
Can knotless braid damage your hair?
Knotless braids are nothing close to hairstyles that will damage your hair or cause hair loss. The absence of the knots at the roots of your hair relieves your scalp of tension.
Moreover, it is a very protective hairstyle that lasts long and gives your natural hair a break from the pressure of frequent styling.
Conclusion
Small knotless braids have seen different modifications into strikingly beautiful hairstyles. Yes, you can relieve your scalp of tension and still look stunning. If you love to add length, you can add more extensions. And if you love to accessorize, adorn the ends of your hair with beads of all kinds.
The beauty of braiding with extensions is that there are no limits to colors. You can have one color or a blend of two colors if you love to go funky. More so, small knotless braids are very flexible. Feel free to own your style and fashion statements.
Thanks for reading.
Visit Africana Fashion to stay up to date with hairstyle trends and see what styles are good for your hair texture.