Answering the question "what is your hair type?" could be puzzling. Some people have answered it as either natural or relaxed. Others have answered based on how straight or curly their hair is. The Andre Walker hair typing system unraveled the puzzle and differentiated hair into four hair types.
This hair typing system is a relief to both stylists and clients. In a world where there are so many products, yet no one is one-size-fits-all. Knowing your hair type makes it easier to narrow down your search for products and have a target haircare routine.
That being said, your search for a guide to help you identify your special tresses among the many hair types is coming to an end. In this article, the different four hair types are described with a care routine guide to help you.
1. Type 1 Hair
Type 1 hair makes the first hair type on the hair typing system. Among all the hair types, it is easily identified by its straight, smooth, and flat pattern. It's a common hair type for Caucasian and Asian people.
Unlike other hair types, the type 1 family is characterized by sleek tresses that look more manageable compared to bouncy curls and coils.
The hair typing system further categorized this hair type into three subtypes because the degree of straightness in this group varies. They are:
Type 1A
Type 1A is the straightest of all the hair types
It is as straight and flat as a pin
Has no volume or weight
No curls pattern
Type 1A hair doesn't get frizzy
The thin nature makes it shed easily
Type 1A hair is silky and shiny, just like that
Care routine guide
Type 1A hair can be classified as a low-maintenance hair type among the other hair types. You practically don't have to do so much to keep it looking healthy and loveable. Curate a healthy wash pattern; you can wash your hair twice a week to keep your scalp clean and free of build-up.
Always use sulfate-free shampoos and conditioners, and rinse your hair with cold water. The best products for type 1A hair are lightweight products that won't weigh down your strands (they're easily weighed down).
In addition, when you want to get curls on your type 1A hair, use heat protectants or hair serums before you use heat tools. Moreover, use heat tools in a moderate setting to avoid getting your hair frizzy and damaged.
You can also incorporate a texturizing spray into your routine to add volume to your hair. Most importantly, type 1 hair is naturally not frizzy; do not sleep with wet hair and avoid getting it frizzy.
Type 1B
Type 1B hair appears straight but on a close look at the strands, you'll notice little waves
Has more volume when compared to type 1A
Prone to getting greasy with products build-up
Also, type 1B holds curls better than 1A
Unlike 1A, there are higher chances of getting frizzy and tangled hair
Care routine guide
Type 1B hair is also a low-maintenance hair type. Because type 1B hair can get oily on its own, you shouldn't wash it too frequently. Otherwise, you're handing grease an open invitation. Washing your hair with sulfate-free products once or twice a week will do.
Furthermore, just like with its preceding hair type, work with lightweight products. Keep your hair hydrated and nourished with hair masks. Moreover, hair masks make your curls more defined and give your tresses more body and movement.
If you want to use oils, use lightweight oils like jojoba oil or argan oil sparingly. The oils are best used during harsh weather conditions where your natural oils may not suffice to keep your hair healthy and shiny.
Type 1C
Type 1C has the thickest strands among the types of the type 1 hair
Although it has the characteristic straight texture of type 1 hair, on a closer look, the strands have more waves as it is very close to the type 2 family
Because of its thicker nature, your hair is more prone to frizz and dryness unlike the preceding subtypes
In addition, type 1C hair is susceptible to product build-up and greasiness
Care routine guide
Among all three subtypes, type 1C hair is high-maintenance. This is because of its volume and wavy nature. Also, it is prone to getting dry and frizzy. If not properly managed, this hair type can get damaged.
Just like with its preceding hair types, the best products for your hair are sulfate-free products. The best management for type 1C hair is to use lightweight products and wear protective hairstyles to combat frizz and split ends.
In addition, invest in nourishing hair masks. Use hair masks to hydrate your hair once a week. Because of the difference in cuticles structure, your regular cloth towel may not do an excellent job at drying your hair. Invest in a microfiber towel.
More so, heat tools are best avoided. However, if you're in a pinch or you need to use a heat tool for styling, use it in a cool setting to prevent hair damage.
SEE: Simple Ways On How to Determine Your Hair Type
2. Type 2 Hair
Type 2 hair is the second hair type on the hair typing system. It is known for its wavy texture and S-shaped pattern. The intensity of the S-shaped tresses varies among the three subtypes in this hair family. The pattern gives your hair cuticles a different shape and a less oily appearance.
Something to bear in mind with type 2 hair is that its texture is humidity-sensitive. You'll find that the pattern of your hair varies with weather changes. There are more curls during summer than during winter.
Type 2A
Fine, flat, and has the loosest waves
Type 2A hair is easily straightened as it is still very close to the type 1 family
The loose waves begin from the eye or ear level after straight roots
This hair type is very manageable. You can easily run a comb through and get smooth waves
Has frizzy tendencies
Care routine guide
The flat tresses are best managed with lightweight products. Go for hydrating products rather than thick, oily products. If you have naturally-textured 2A hair, you should stick with products formulated without chemicals (like DIY shampoos and conditioners).
For your shampoos and conditioners, keep sulfates and parabens away from your hair. You may find it hard to believe but type 2A hair fares well without oils just like type 1 hair but it's true. This is because of their flat nature which is easily weighed down with products.
However, if oils must be a part of your routine, opt for lightweight and hair-friendly oils like jojoba oil and coconut oil. Additionally, styling type 2A hair tends to consume elbow greasy, especially if you're trying to make the waves more prominent.
To give your waves more volume and body, use gels and mousses to add texture and make the waves more defined. Also, invest in sea salt sprays, they are a huge blessing to limp waves.
Type 2B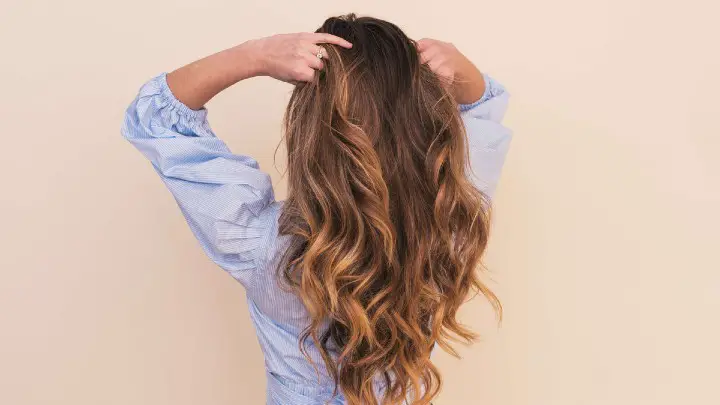 Type 2B hair has more waves which are thicker than 2A
The S-shaped pattern is more defined
Hair may have both thin and thick strands to give the overall thick texture
Has more volume and is coarse
More prone to frizz; therefore, more difficult to manage
Care routine guide
Type 2B hair has more defined waves and getting them straight, especially if you have naturally textured hair, requires more elbow grease. The best way to do this is to brush your hair when it is wet.
But if you must blow-dry and use a flat iron, use it in a cool setting. Also, apply hair serum as a heat protectant.
Have a good wash routine with moisturizing products. 2B hair quickly gets frizzy, if not well managed, and washing it too frequently will be giving frizz a hand. Washing your hair once or twice a week will do.
Furthermore, hydration plays a key role in the health and appearance of 2B hair. Make a weekly routine of using a hydrating mask on your hair. Apart from hydrating your hair, this mask also adds volume to your hair and makes the waves well-defined.
Rather than subjecting your hair to the damage of heat tools, shower your waves TLC with products like gels and mousses to enhance them. And if you must use oils, go for light oils and use them sparingly.
Type 2C
Tilt more towards afro-textured hair. 2C hair has more waves and curls
The waves of 2C hair start from the roots up to the ends of your hair
More voluminous and coarse than 2A and 2B
This hair type has a combination of loose and well-defined S-shaped tresses
Because it has more curls, it is highly prone to frizz and dryness
Care routine guide
Shop for hydrating products for your 2C haircare regimen. Among the type 2 hair subtypes, this subtype is the most prone to frizz. You shouldn't play with hydration which is the best way to combat frizz.
Additionally, every product on your routine should be lightweight and free of heavy chemicals that can damage your hair. If you have to use oils and cremes, use light ones. 2C hair is likely to have product build-up over time; therefore, alternate your regular shampoo with a clarifying shampoo.
Use shampoos once a week to keep your scalp and hair clean and moisturized. If you'll like to get your waves straightened out, be ready to put in elbow grease. However, it is best to keep off heat and enhance your curls with gels and mousses.
3. Type 3 Hair
Type 3 hair family is all curls and a battle of frizz. Afro-textured hair starts from type 3 hair. The curls are what make them beautiful and the awareness that your hair is prone to frizz reminds you that you should take good care of your hair. The majority of people with this hair type are black women.
This S-shaped curly hair has three subtypes with different textures.
Type 3A
3A hair has flat curls the size of a piece of a sidewalk chalk
Your hair may have a combination of loosed and well-defined S-shaped curls
The length of the curls vary with humidity
Type 3A hair has moderate volume and body
Care routine guide
As mentioned earlier, 3A hair could get very frizzy and difficult to manage. Every product in your routine must be targeted at hydrating and moisturizing your hair. Moreover, one of the common battles of type 3 hair is porosity. Your hair's porosity will largely determine the products you use on your hair.
Type 3A hair thrives in the presence of moisture. This moisture does not include washing your hair every day; once or twice a week would do. You should invest in hair masks to keep out humidity, condition your scalp and hair, enhance the elasticity of your curls and keep them shiny.
Additionally, this hair type is not naturally oily. It relies on external oils, which must be lightweight, to keep it moisturized and shiny. Also, use curl enhancing products to keep your curls moisturized and well-defined.
SEE: Hair Porosity: Types, Characteristics, and Right Treatments
Type 3B
The curls of 3B hair are tighter and about the circumference of a sharpie marker
Your hair may be a combination of curls, coils, and sometimes waves
The curls are coarse, dense, and not easily detangled
3B hair is also prone to frizz, dryness, and breakage. Therefore, you need to keep your hair constantly moisturized
Care routine guide
Type 3B hair has more volume than type 3A hair. It, therefore, tends to be greasier. You certainly shouldn't be washing this hair type more than once a week. But if it still feels greasy, you can co-wash on other days of the week.
A typical 3B haircare routine must include a deep conditioner in your routine to repair and condition your hair. The structure of the cuticles of 3B hair does not allow the even distribution of sebum. As a result, you'll need moisturizing oils like jojoba oil in your routine to repair the resulting cuticle damage.
In addition, use detangling brushes instead of combs to detangle knots that form during washing and also to evenly distribute product around your hair. Also, this hair is prone to dryness, so your styling products should include gels and cremes the keep your curls moisturized and bouncy.
Type 3C
3C hair has both curls and coils tightly packed
It's the densest and most coarse among the type 3 hair types
The curls of type 3C hair are about the circumference of a straw or pencil
Also, 3C hair is multi-textured and a combination of S-shaped curls and zigzagged curls
It is highly susceptible to frizz, dryness and breakage, so it requires the more moisture
Care routine guide
The 3C haircare routine requires an optimum show of TLC to your curls. The structure of the cuticles of this hair type makes it greasy and it easily accumulates product build-up. Moreover, you don't want to get things worse with sulfates and silicones.
Moisture is key for 3C hair, so you should invest in a leave-in conditioner and hair masks that contain humectants that will help attract moisture to your curls. This helps to keep frizz at bay and prevent hair damage. They also soften your curls and make them manageable.
Also, your hair tools are an important part of your routine. Replace combs and brushes that tug and pull at your hair with detangling brushes. This hair type needs oils like coconut oil and jojoba oil to replenish moisture and repair cuticle damage.
An important part of your routine is how you style your hair. Wear protective hairstyles like box braids, twists, and wigs to shield your hair from frequent styling and the heat from heat tools. If you would like to use gels, use lightweight products that will hold down your curls but not weigh them down.
SEE: Hair Porosity Test: Simple Ways to Identify Your Porosity Level
4. Type 4 Hair
Type 4 hair is kinky hair. It has more coils than curls which makes your hair shrink. As a result, your hair appears shorter until a few strands are raised. The coily nature of this hair type makes it hardest to manage among the four hair types.
However, with the right products and routines, you can have admirable and enviable coils.
Type 4A
Type 4A curls are dense and coarse
This hair type shrinks up to half of the original length
The coils are tightly shaped into 'S' patterns forming springs
Prone to dryness, breakage, and frizz
Care routine guide
You cannot separate moisture from afro-textured hair. Moisture keeps frizz and split ends at bay while it keeps your hair looking healthy and shiny. While you may want to wash your hair every day to keep it moisturized, that could be the reason why your hair is drier.
Therefore, you shouldn't wash 4A hair more than once a week with sulfate-free shampoos to keep your scalp and hair clean. Invest in conditioners, these products are effective moisturizers. Your regimen should have a regular conditioner, leave-in conditioner, and deep conditioner.
Additionally, incorporate oils into your routine to boost moisture and nourish your scalp and hair. Go for oils that are lightweight and packed with antioxidants which will improve the health and texture of your hair.
Also, invest in protein-based products but use them based on your hair's porosity. The best way to care for 4A hair is to embrace your coils and stay off heat tools, but when they become necessary, don't forget to use a heat protectant.
Type 4B
4B curls form zigzags instead of S-shaped coils
They are more densely packed as they shrink up to 70% of their original length (you have to straighten the hair to know how long it is)
Type 4B hair has a fluffy texture that ranges from fine to coarse
This subtype of type 4 hair is prone to frizz, you cannot do without moisturizing it
Care routine guide
Like I said before, moisture and afro-textured hair are inseparable. The same applies to 4B hair. While you cut down on washing your hair too frequently, get lightweight but moisturizing products like conditioners. Deep condition your hair every week to strengthen your strands.
Moisture makes them more resilient and tameable. Styling products like gels and cremes should contain humectants to keep your hair moisturized even while it is styled. The curls in this hair type are tighter, so you need to stretch them out sometimes to allow your products to go round.
Furthermore, detangle curls with the utmost care. It is best to work in small sections to avoid snagging at your hair and causing damage. Use lightweight oils to keep your hair looking good. Trimming your hair once in a while can be very good for your ends since you'll be removing the frizzy, split ends.
Type 4C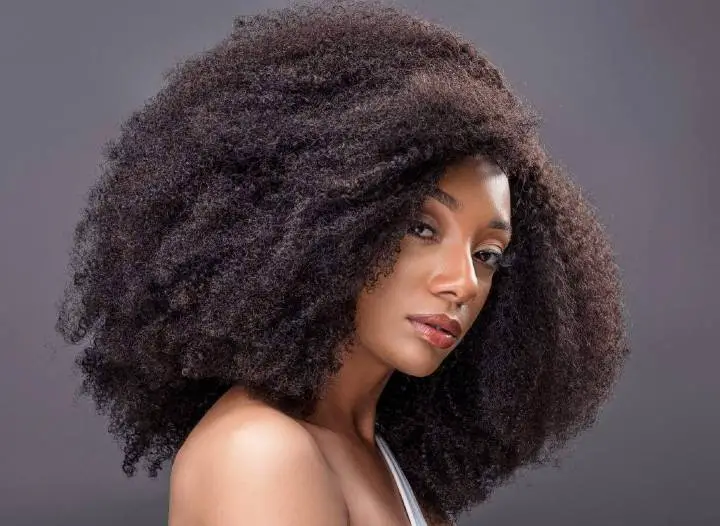 If you have a combination of 'S' and zigzagged curls on your head, you have type 4C hair
Frizz is a common battle of this hair type
Type 4C hair is the densest and most voluminous hair type
4C hair is multi-textured
It shrinks up to 75% of your natural hair length
Care routine guide
Moisturizing shampoo, moisturizing conditioner, hair masks, and oils should not be compromised in your 4C hair routine. You should also make a routine of detangling your hair. Wash days are a perfect time to carefully detangle your curls.
Type 4C hair can be quite impossible sometimes, especially when you have to style it. Incorporating hair butter and edge controls make it easier. When you choose to style your hair, opt for protective hairstyles like braids, Bantu knots, twists and even wearing wigs to help shrinkage.
In addition, 4C hair does not do well with cotton pillowcases. You can either replace your cotton pillowcase with silk or always have your hair wrapped in a silk headscarf before you go to bed.
This will prevent the friction that naturally occurs between your hair and the fabric while you sleep. The friction weakens your hair and eventually results in breakage.
SEE: How Often Should You Wash Your Hair – A Complete Guide
FAQs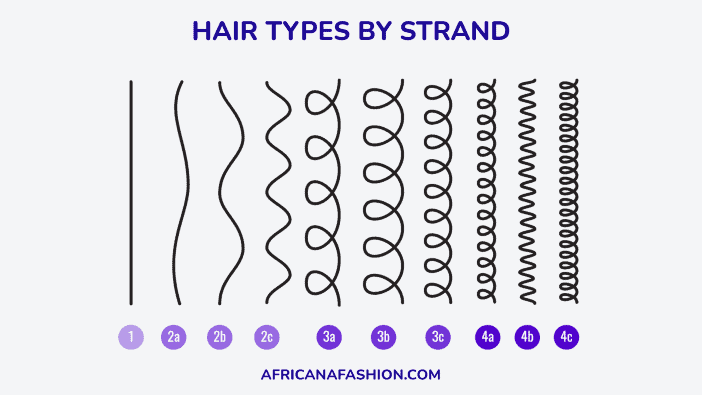 Do hair types determine hair porosity?
Your hair type is not a major factor that determines hair porosity. Hair porosity is determined based on the shape of your hair cuticles and how well it absorbs and retains moisture. Genetics and weather also influence hair porosity.
Can you change your hair type?
It is impossible to change your hair type, especially if you're looking to do so permanently. Genetics, age, and environmental changes are some factors that determine hair type. Hairstyling may change patterns and texture but not for so long.
What are the differences between type 3 and 4 hair types?
Type 3 hair has more curls than type 4 hair which is filled with coils. If your hair shrinks immediately after you run a comb through it, you have type 4 hair.
However, if your type 4 hair rather looks curly, observe the shape of the curls on the strands. S-shaped curls are characteristic of type 3 hair while zigzagged curls identify your hair as type 4.
Conclusion
Knowing your hair type is the first step on your journey of achieving your hair goals. Since you know the peculiarities of your hair, managing it will be easier, even with its downsides. Every hair type is manageable with the right products.
While no product is one-size-fits-all, you should at least get the right products for your hair type. The waves, the curls, and the coils all come with their good days and not-so-good days. Whatever your tresses throw at you, match it with TLC and have a good hair day regardless.
Thanks for reading.
Africana Fashion is the place to look for the best articles on anything hair.