Whether natural or relaxed hair, you often hair Afrocentric hair textures need to be put in protective hairstyles to maintain healthy hair. This, actually goes without saying.
Afro-textured hair has different external elements battling to pluck healthy hair from the roots. Therefore, keeping it safe is the best form of defense when it comes to your hair.
I mean, you have to think of dryness in winter, humid hair in the summer, and loss of nutrients every day when you sleep. The list of things to protect your hair from is endless. Nonetheless, you have enough protective hairstyles to keep you going all year.
If you are within the cornrow, wigs, and braid cycle, it's time to expand your hairstyle options with these protective hairstyles suitable for black natural or treated hair.
What Is Protective Hairstyle?
Protective hairstyles are hairstyles that keep your hair neatly tucked to prevent sun damage, excessive hair manipulation, and harsh weather changes. The styles range from simple to complex hairstyles that sometimes protect from the roots or midway.
You can use your natural or relaxed hair, or you will need the help of hair extensions or attachments to tuck your hair away. Depending on your choice, the styles vary too.
Furthermore, the hairstyles provide a cover when you do not want your hair in knots or matted while you figure out a commitment hairstyle to wear. However, the hairstyles can require commitment or not. This is why they are the go-to for women. The varying options are endless with protective hairstyles.
40 Protective Hairstyles
1. Classic Cornrows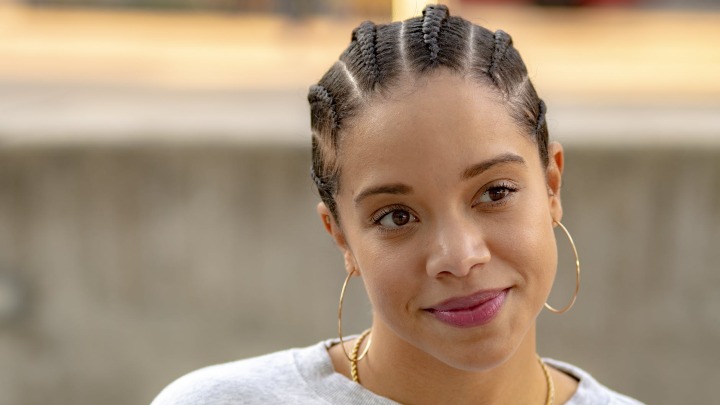 This is a classic protective style for anyone who loves simplicity. You can plait your cornrows in medium sizes to fit perfectly with the shape of your face. Moreover, the style is long-lasting. It gives you time to rest your hair after a long stressful hairdo.
2. Jumbo Box Braids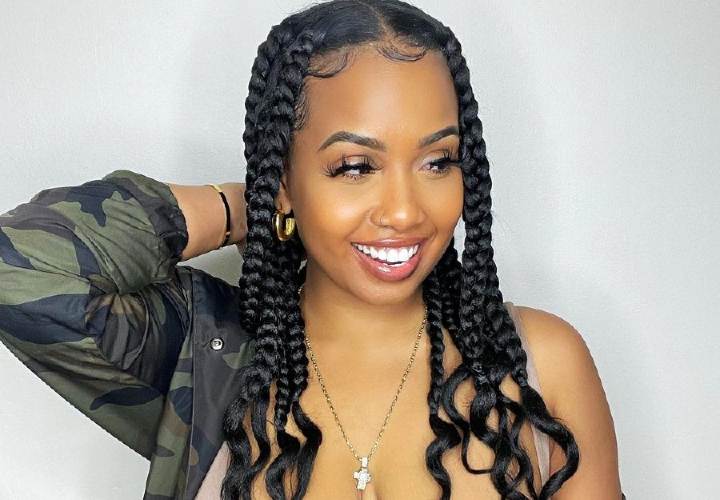 This style helps to keep your hair in neat boxes. It makes use of hair attachments to cover your coils or straightened hair. Plus, they are easy to plait and loosen. You can get them done in no time at all.
3. Natural Flat Twist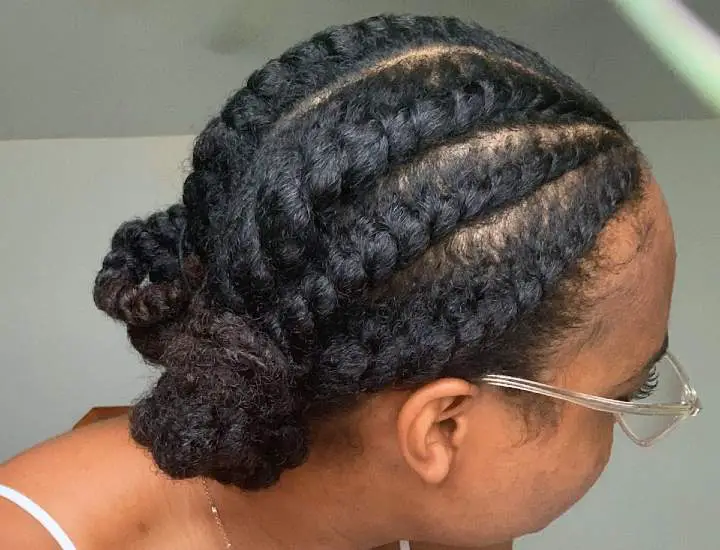 A flat twist is one of the most common protective styles you want to keep your hair, especially natural, in. the style is loose and gentle to your roots. Therefore, it prevents breakage from the roots. And with the twists, call hair is neatly tucked away.
4. Flat Twist Updo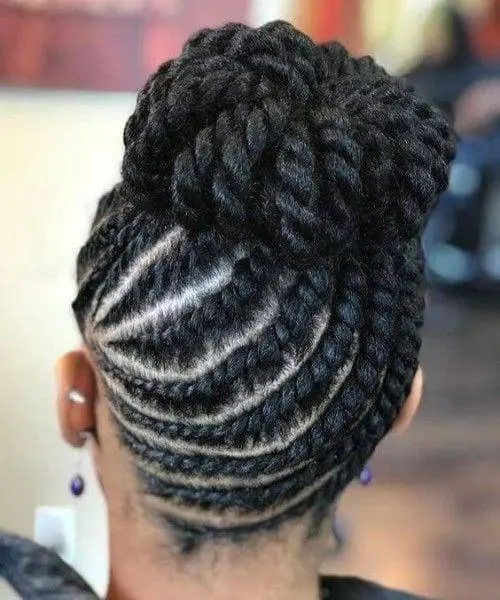 You can fall back on this when you do not want hair touching your nape. Styling your flat twist with an updo gives you the freedom to choose how you want the styling to be. It also slims your facial shape.
5. Natural Pineapple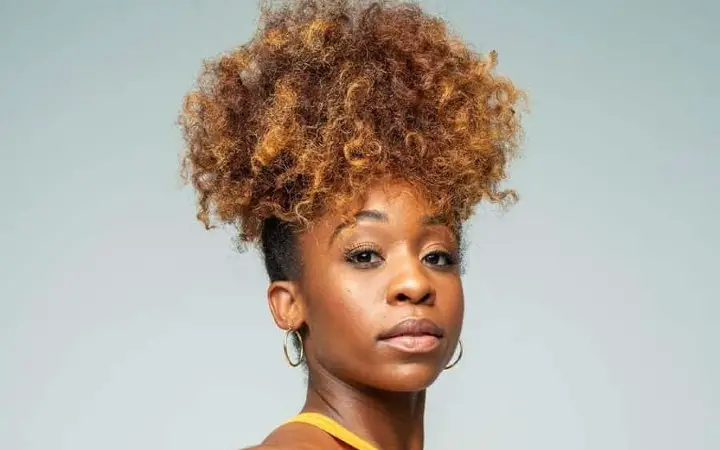 This is another updo you can do with your natural hair. All you need is a little slip hair product like a gel or serum, they pull your curls and twists out in a middle pile. Wear this style for a few days while you think of a more long-lasting hairstyle.
6. Tiny Senegalese Twist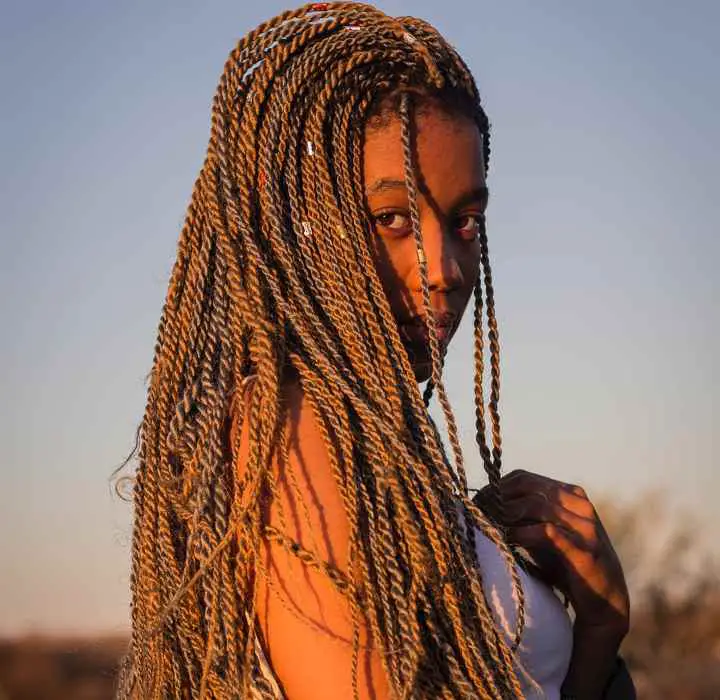 Senegalese twists are classic that wear your hair in a simple covering. This style is long-lasting because the twists pick tiny hair strands at a time. This style suits you perfectly if you want to protect your hair with little styling.
7. Box Twists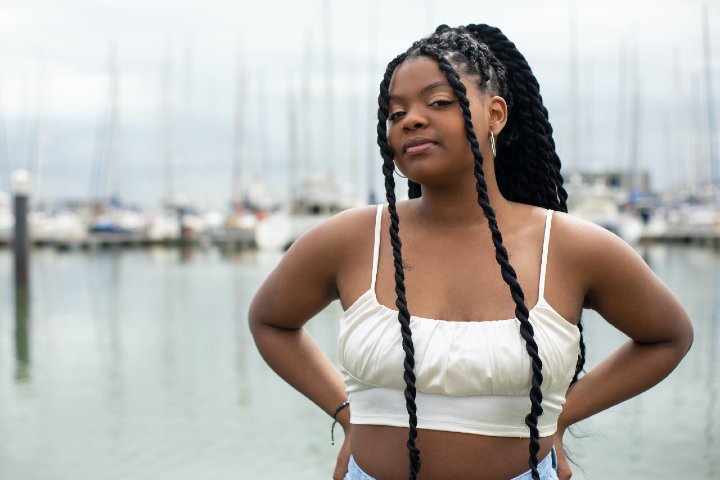 This twist uses the box braids style to put the hair in simple twists. It doesn't give the hair too much pressure. Furthermore, you can style it however way you want.
8. Chunky Cornrows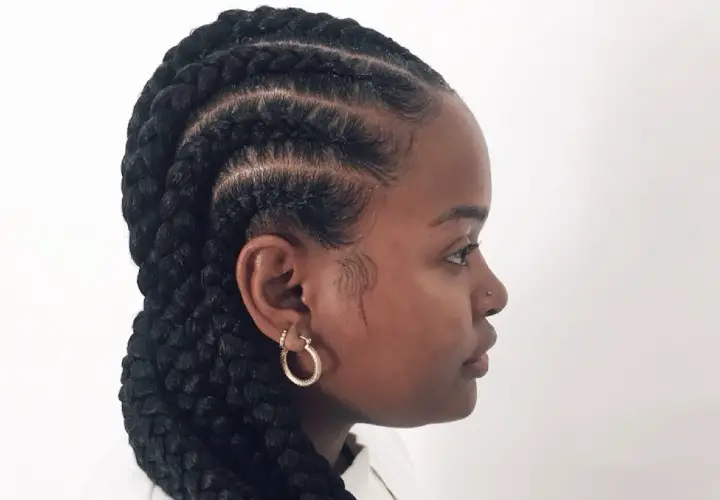 This style is the definition of comfort and edgy. The hairstyle breaks your hair into two or three parts and then weaves into cornrows. This helps to slip most of your roots while protecting the mid to ends of your hair. Moreover, the hairstyle has a playful or youthful look to it.
9. Knotless Braids
This style is unique for its take being painless and long-lasting. The feed-in technique is popular right now because it causes less hair breakage, even after wearing it for a long period. With minimal damage in mind, try this style if you want to protect your hair.
10. Knotless Braids With Beads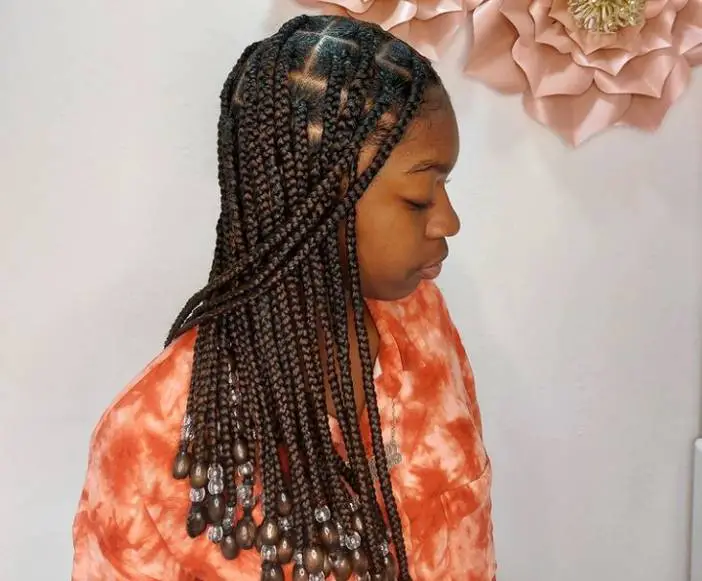 Try this tribal style if you want something fun. You can get colored beads to line your knotless braids up. This style fits tiny to medium knotless braids best.
SEE: Alluring Knotless Braids With Beads Hairstyles
11. High Ponytail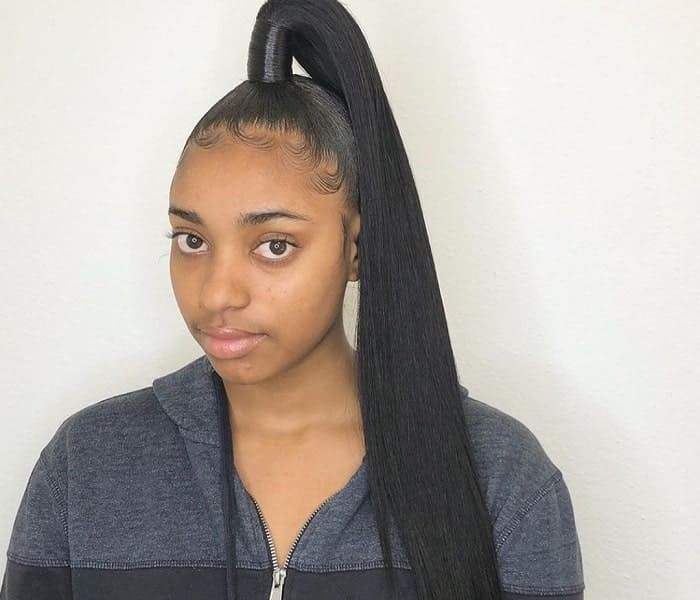 You would ask if this classifies as a protective hairstyle- well, it does. A high ponytail puts your mid and ends in covered hair. Meanwhile, your hair roots slip in place. This style protects your ends from splitting and from sun damage too.
12. Faux Locs
Faux locs are easier to maintain than real dreads. The style keeps your hair neatly tucked in. Furthermore, the hairstyle is committal. This means you are wearing it for the long haul. If you want a stylish look, customize the locs with beads.
13. Bantu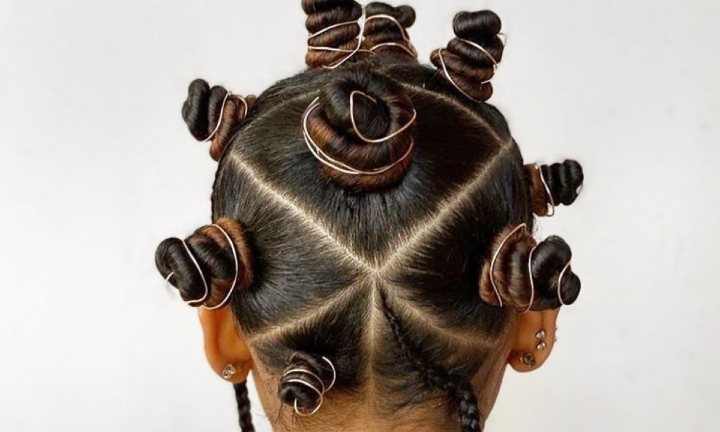 The famous Bantu is wrapping your braids – no matter the size – in round knots on your hair. Bantu knots help to hide your tresses from sun damage. Furthermore, it prevents you from manipulating your hair too much.
Moreover, Bantu when loosened creates wider and defined curls. You get a two-in-one treatment with style.
14. Cornrows and Faux Ends
As the style states, you have your hair in cornrows, then the ends in a faux pony. The pony could be curls or straight. Pick what speaks to you. This style is effortless and gives a simple to wear.
15. Braided Top Knot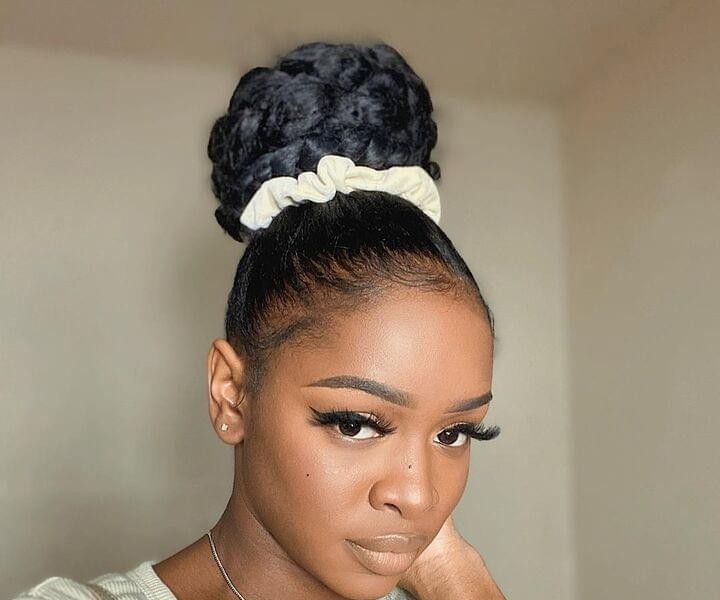 Pulling your single pony into a braid, then into a top knot resting in a high bun looks fascinating. The style isn't just magical in its simplicity, it also helps you keep your strands protected.
16. Goddess Braids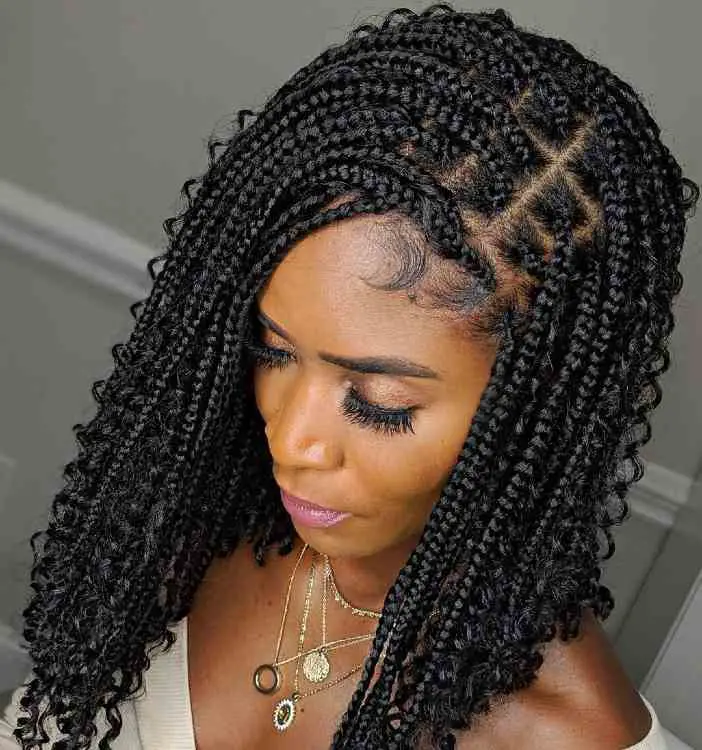 This stunning hairstyle pulls your hair in lovely waves and plaits. The hair is a statement style that pops whenever worn. Additionally, it looks more stylish and edgy with beads. So pair goddess braids with stylish beads.
17. Fulani Braids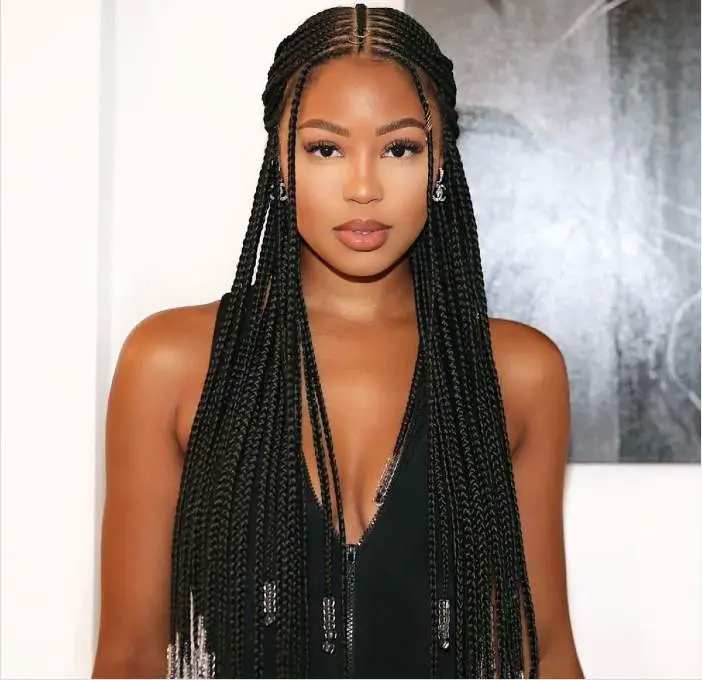 This tribal hairstyle looks down-to-earth and edgy. You can wear the style if you want something more popping than what you have.
18. Finger Wave Cornrows
This stylish hairstyle puts your hair in waves. You can wear them in tiny cornrows to last longer. Furthermore, accentuate the ends with beads or clips to make them stand out.
19. French Braids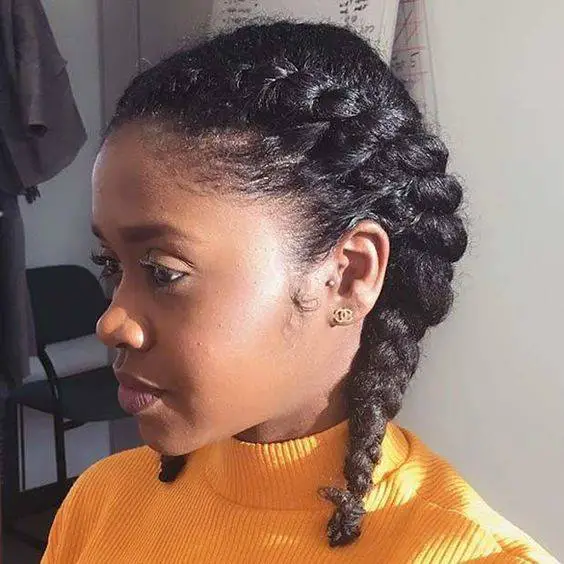 This is another protective hairstyle that is effortless to maintain. The style defines your hair easily. Plus, it makes you look feminine by softening your facial angles.
20. Short Faux Locs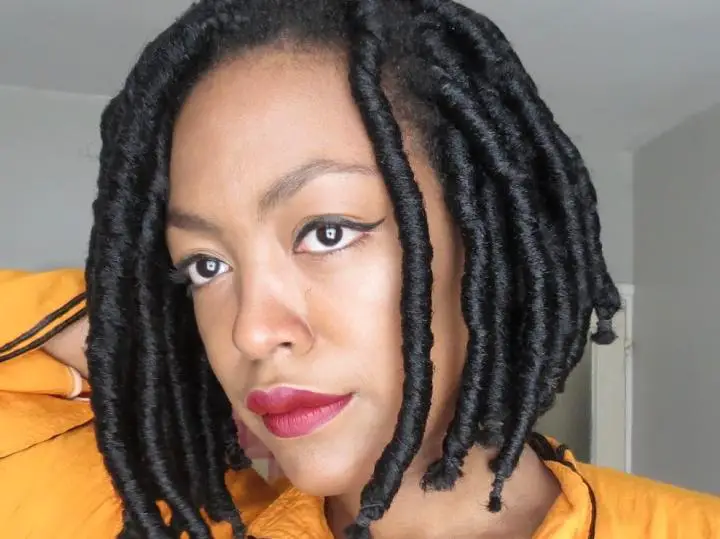 This faux locs help keep short natural hair in a restive state. You can style the locs in a bob to highlight your facial features. It is also a commitment hairstyle. It lasts you one to six months if maintained and cared for (includes washing).
21. Stitch Braids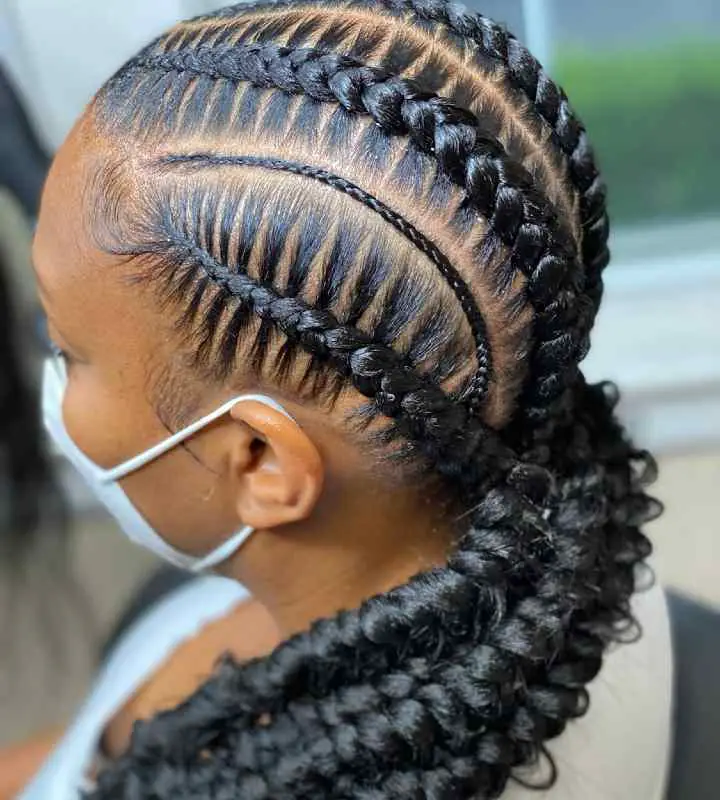 Stitch braids are sectioning your hair into horizontal lines and then pulling each section into a cornrow. It leaves defined horizontal lines beneath the cornrow, which looks stunning.
SEE: Beautiful Lemonade Braid Styles You Should Rock
22. Marley Twist With Color
This jumbo twist looks exceptional with colors. You can go for single tone, two-toned color, or multicolor option depending on how ultra-urban you want to look. In addition, this protective hairstyle is playful, aging you down with the right color.
23. Crown Braid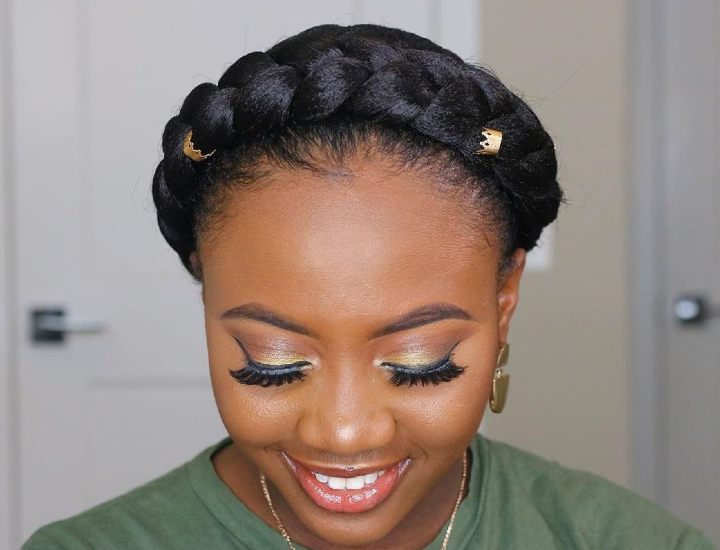 Pulling your attachment or extensions in a single round braid gives you a goddess or royal look because it looks like a crown. Well, it is a crown when styled with hairpins and clips. You can wear this simple hairstyle for one or two days before looking for hair with commitment.
24. Braided Pony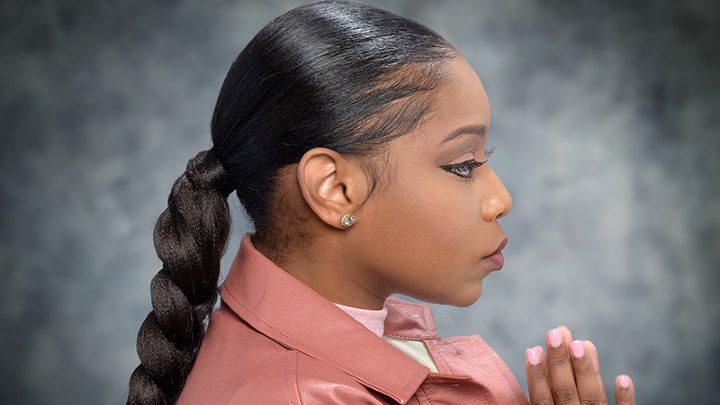 This protective hairstyle is fun and not stressful. All you have to do is braid the ends of your pony into one. You can also section into two or three and braid independently- the choice is yours.
SEE: Want to Relieve Tight Braids? These 9 Tricks Will Help You Out
25. Crochet Locs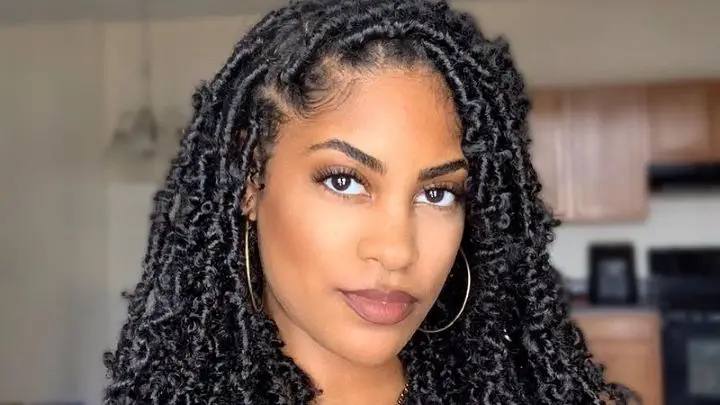 This hairstyle helps to keep your hair in simple locs. The hair uses the knit technique to keep your hair in place while the locs hide them totally.
26. Feed-in Braids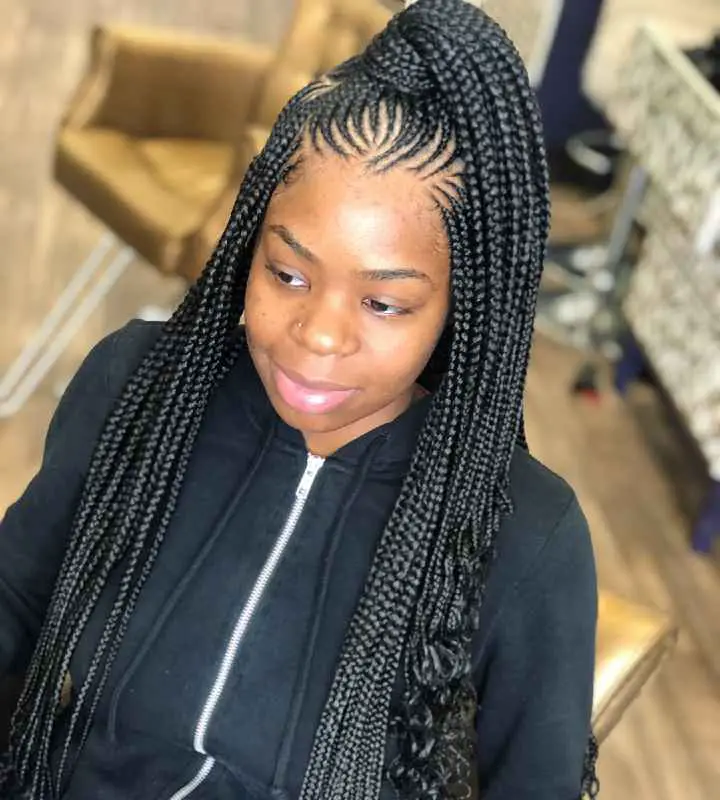 This style helps to protect not only your hair and roots but also your scalp. It prevents headaches and painful braid experiences. You can opt for feed-in braids if you want a committal protective style.
27. Bohemian Locs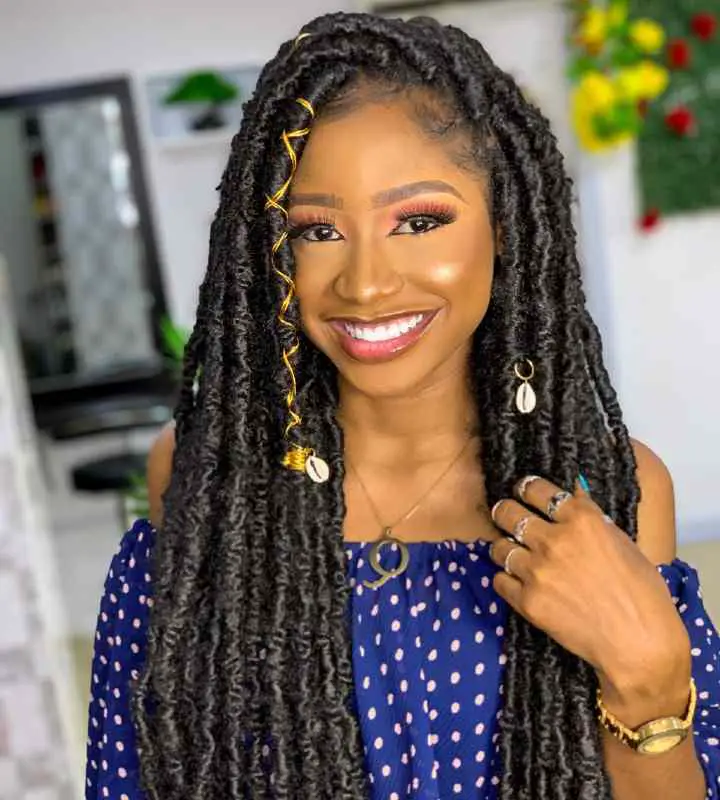 Also called goddess locs plays with your hair, putting it in waves or curls. It also leaves the ends open (unsealed) or loose. This style is meant to give your face a soft look and help protect your hair strands.
28. Short Bob Wig
A wig is one of the easiest to rock. All you have to do is put your hair in cornrows or twists, wear a cap then fix the wig properly. Meanwhile, a bob wig is stylish and effectively covers your real hair, hiding it from environmental damage.
29. Feed-in Braids With Color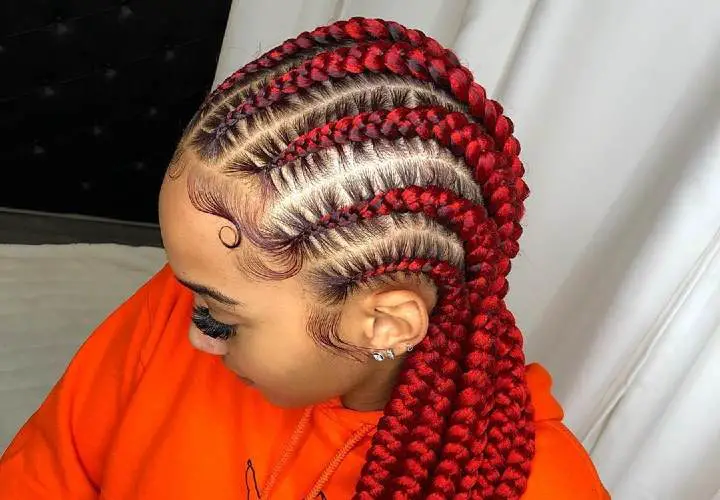 Opting for a colored extension or attachment rather than cool hair colors sets you on another level. It not only means you are daring, but it also means you are willing to carry the attention the hairstyle brings. The color is yours and how you style it too.
You can also choose to use the same color – for dyed hair – your strands currently carry.
30. Jumbo Knotless Braids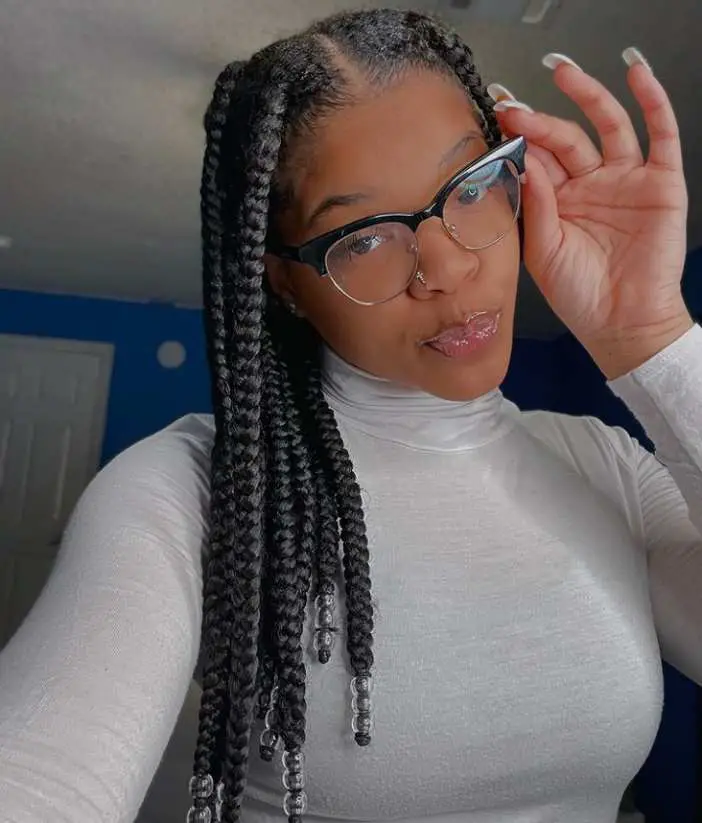 Jumbo knotless braids are easy to fix. You can be done in an hour or two. This style effectively wraps your hair between the faux hair without weighing you down. It also needs little manipulation and can be taken off with ease. It is the perfect beauty braid with class.
31. French Braid With Extensions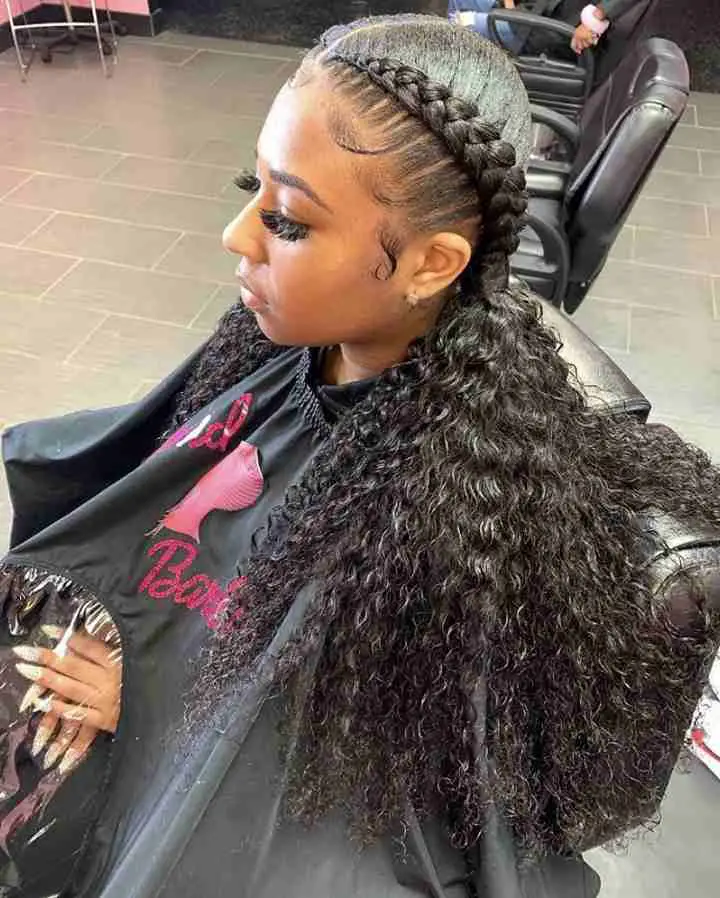 You can have a two-in-one feel with this hairstyle. It's simple and beautiful. The style pulls your hair into two beautiful french twists, then entends with weave extensions.
SEE: Best Hair Extensions to Change Up Your Style
32. Jumbo Senegalese Twists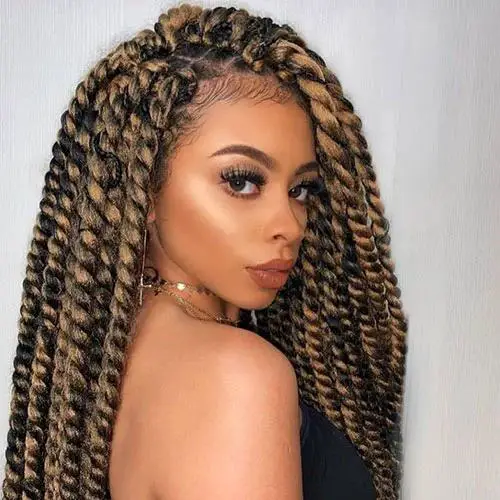 Like any other braided or attached hairstyle, the jumbo Senegalese twists are simple to carry. While you think they would drag your hair down, it does the opposite. It is light on you heard and tucks your natural hair in the simple twisted strands.
33. Red Locs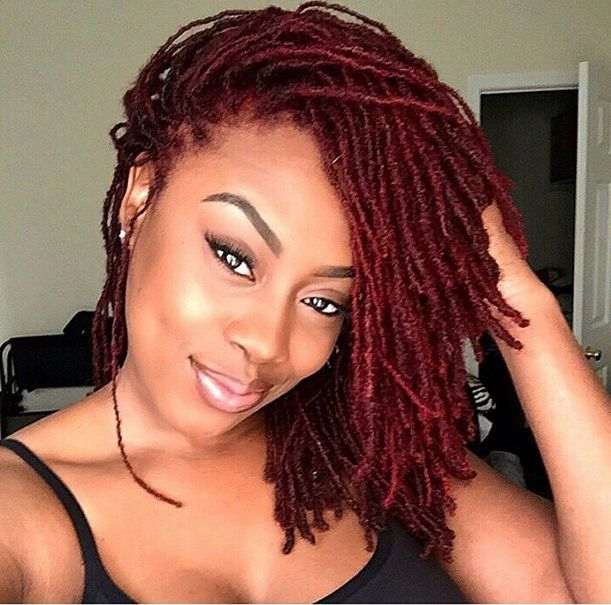 You can go bold with red locks if you want a more colorful way to protect your hair strands. You can choose long or short locs to rock, as long as you do justice to the color by getting one that matches your skin undertone.
34. Beaded Box Braids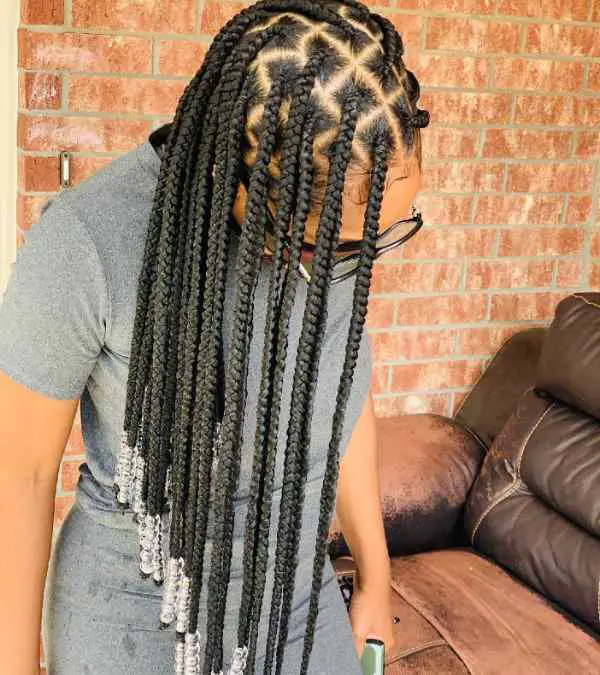 Not as immature as you think, box braids with beads do magic to your hair by elevating it from ordinary to something special.
35. Braided Bun
If you don't want hair falling off your back, put it in a bun. A braided bun is classy, keeping your hair and the ends of your attachments in a tuck.
36. Natural Halo Braids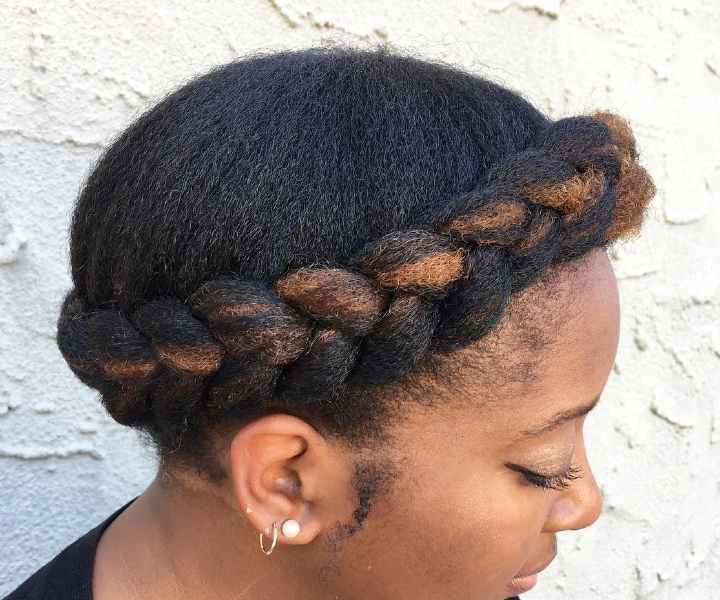 Ladies with natural and relaxed hair can rely on this if they want the crown or halo bun. This single weave pulls the middle and ends of your hair in a single weave and then circles it around your head.
37. Wavy Pony
Add a nice flowing hair extension to your hair, hiding your knot. This hairstyle protects mid-hair and ends from breaking. You can sew or clip the hair extension in.
38. Fishtail Braids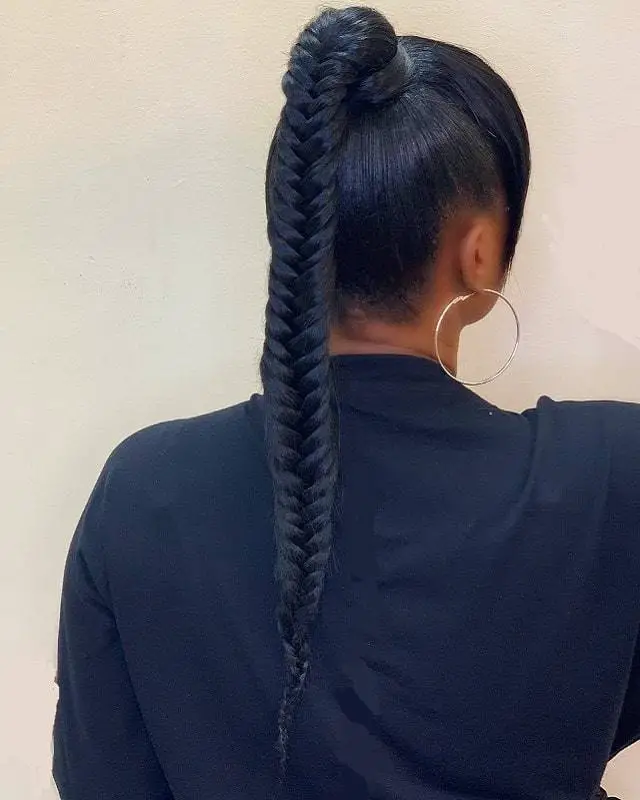 Fishtail braids are much more elaborate and stylish than any other braid. They are also tightly woven in, putting your hair on a firm hold. You can either wear them as single braids or as cornrows.
39. Chignon Flat Twists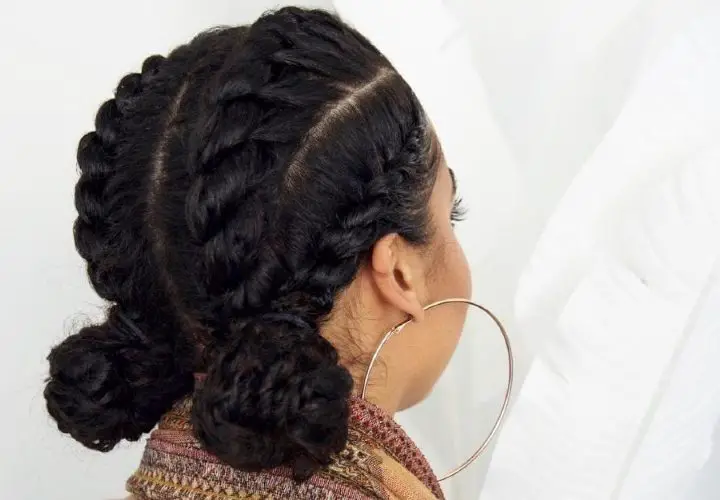 All you have to do is pull the ends of your flat twists into a low chignon.
40. Natural Chunky Twists
Designed to keep your hair in a lovely twist, this style helps to prevent the manipulation and tightening of your strands. You can also use it to get fuller, defined curls. Furthermore, it's easy to add products and condition your hair while wearing this hairstyle.
The loose chunky twist is a personal favorite when looking for a simple, non-commital protective hairstyle for a lazy day.
SEE: Does Braiding Damage Hair? Find Out if Braids Are Bad for Your Hair
Frequently Asked Questions
Should you wear protective styles all the time?
No, you shouldn't. While protective hairstyles are the ultimate answer to keeping your hair less manipulated and secured, you should not always wear one.
Keeping protective hairstyles for too long or changing from one protective hairstyle to the other could cause a damaging effect to your hair. Therefore, avoid wearing protective hairstyles all the time.
Will a protective hairstyle protect all kinds of hair?
Yes, it does. A protective hairstyle can protect all kinds of afro-textured hair, from relaxed hair to the thickest type 4 hair. All hair can wear protective hairstyles.
How long should you wear protective hairstyle?
Depends on the style. For instance, for simple buns, a day or two. However, for braids and locks, wear them for as long as 2 months. Dreadlocks last longer than braids do; therefore, you can wear them for up to 6 months or even more than a year.
How do you maintain protective hairstyles?
You can maintain your protective hairstyles by washing your roots for braids and dreadlocks and redoing the hairline to keep it need and tidy. Also, you wear silk head wraps or bonnets while you sleep to keep your hair from losing its natural oils or hair nutrients applied to it.
Conclusion
Protective hairstyles are needed to improve your hair game. Furthermore, they help to keep your hair from breaking, sun damage, and knots. Furthermore, they are pretty standout hairstyles.
What's more? You can wear the style for a long period. As long as you maintain it – along with your natural hair – you can get consistent hair goals.
So if you are up for a new hairdo but don't know what to pick from, start with one of these 40 protective hairstyles.
Thanks for reading.
You can get more hair articles and the latest trends right here on Africana Fashion.