Talk about braids, talk about flexibility. When knotless braids hit our feeds, we felt it. It came with the flexibility of hair braiding styles. Stylists used colored extensions of different types to install knotless braids. The newest trend for this hairdo is knotless braids with beads.
Let's talk about the braids first. They are low-maintenance hairstyles that can last up to 6 weeks with proper care and less manipulation. They allow your hair to grow for as long as you have them on. Here's the step-up, you can adorn the length of your braids with beads of all kinds and look chicer.
And, this is not limited to the length and texture of your braids. I'll be showing you a list of exquisite ways you can style your knotless braids with beads. There are no limits on this list; feel free to explore colors, hair lengths, and textures.    
Alluring Knotless Braids With Beads Hairstyles
1. Long Knotless Braids With Beads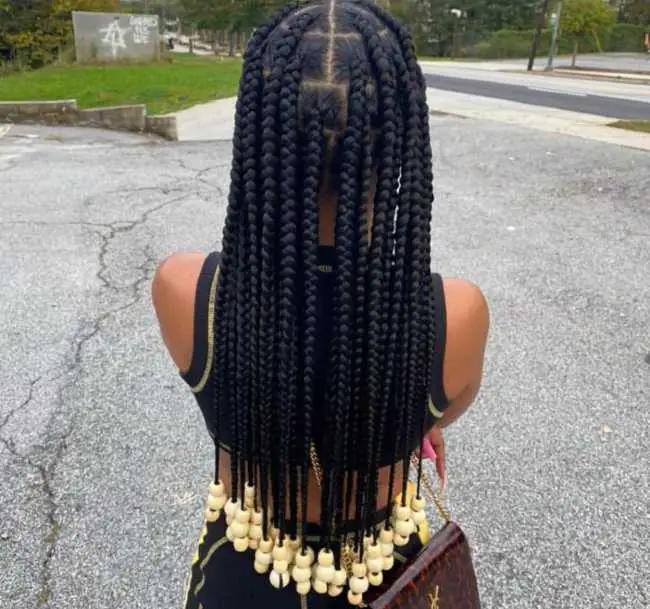 There are not enough words to describe how appealing long braids are. Long knotless braids are unique for their versatility with styling. You can have them all down for a glamorous look during summer or fall. Also, you can gather them up in a ponytail and allow the beads to come all together in one spot.
If you choose to sport clear glass or wooden beads, I assure you that you'll draw attention in any crowd. However, to get this hairdo, you must be ready to sit in the salon chair for quite a while, but it'll be worth your time.
2. Medium Knotless Braids With Beads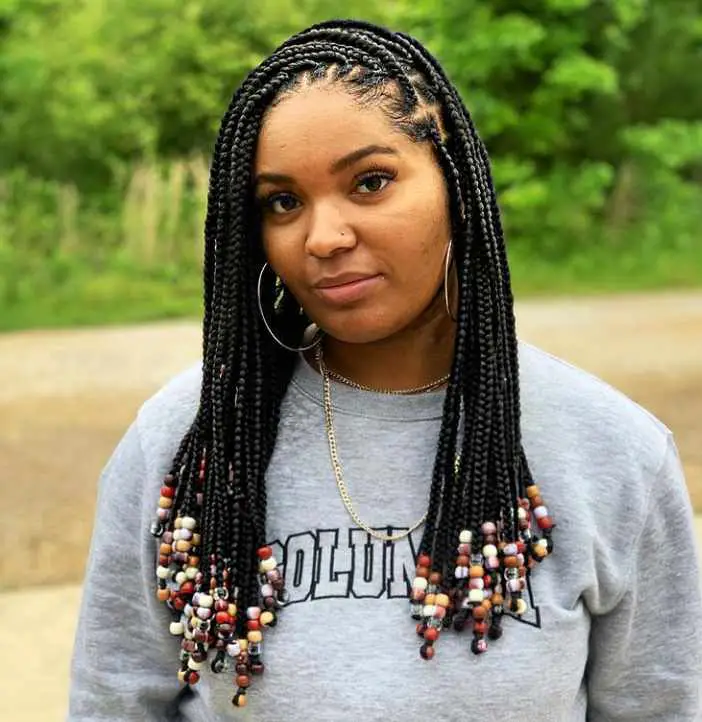 Medium knotless braids with beads are great for those who do not want short or long, jumbo or small. Everything about this hairstyle speaks about balance. You can enjoy the comfort of a lightweight hairstyle and still look naturally elegant.
With these braids, you have fewer strands than the small braids and extra length than short braids. Additionally, it also has a wide range of styling options as with long knotless braid.
4. Short Knotless Braids With Beads
If like me, you would rather escape length and have shoulder-length braids, this should be your stop. The beads are heavy enough, you can have short knotless braids that won't weigh down your hair and scalp.
You can have your stylist add more extensions for texture, so it comes out looking like a lob. It is a low-maintenance hairdo, and it doesn't saddle you with the duty of styling. You can always wear it down and enjoy it every season. Moreover, it is pocket-friendly as it requires fewer packs of extensions.
5. Jumbo Knotless Braids With Beads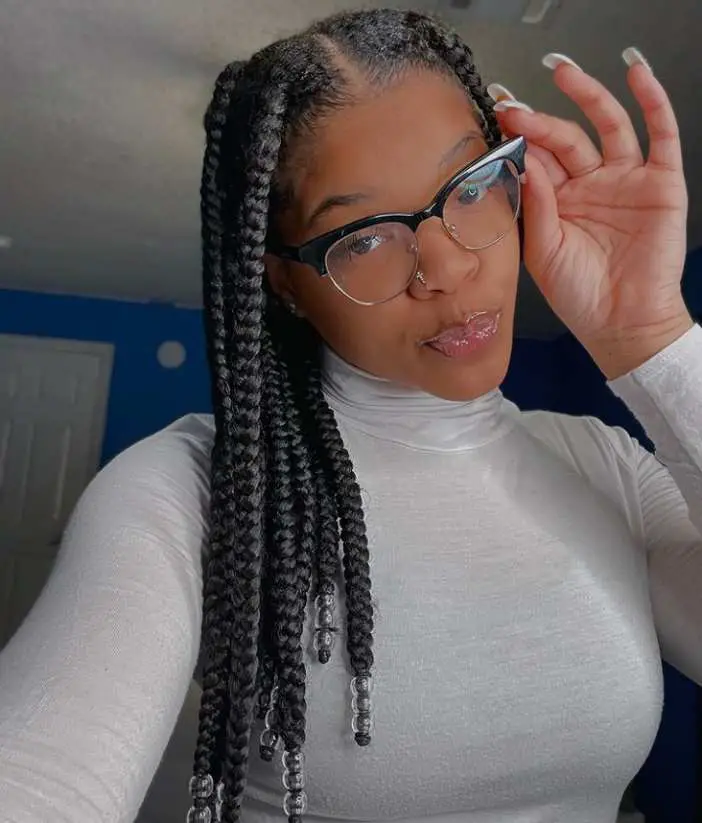 Fashion statement lovers will appreciate this hairstyle. I love that you can wear it almost anywhere despite its size. Some afro-textured hair women cannot endure the salon long hours because of their voluminous hair. So, I specially picked out this one for them.
The jumbo size of these knotless braids with beads is all the telling you need. Adorn the ends with beads of any kind and have everyone swooning. Also, you should explore bold colors for an edgy vibe.
6. Small Knotless Braids With Beads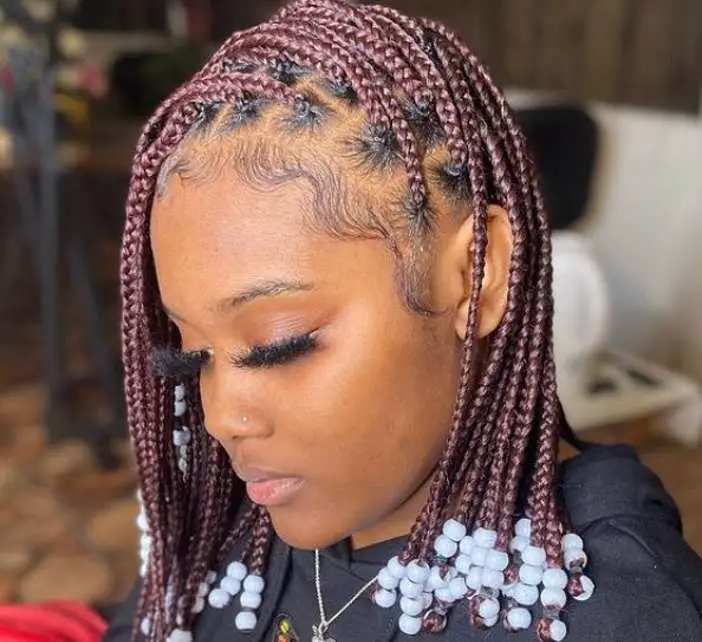 These knotless braids hairstyle has more sections and takes long hours to install but eventually, it'll be worth every second. Small knotless braids usually last very long because the size does not allow them to get rough quickly. 
Moreover, they put less tension on your scalp and are very protective of your hair. Small braids can add bulk to your look and are exotic all by themselves.
7. Red Knotless Braids With Beads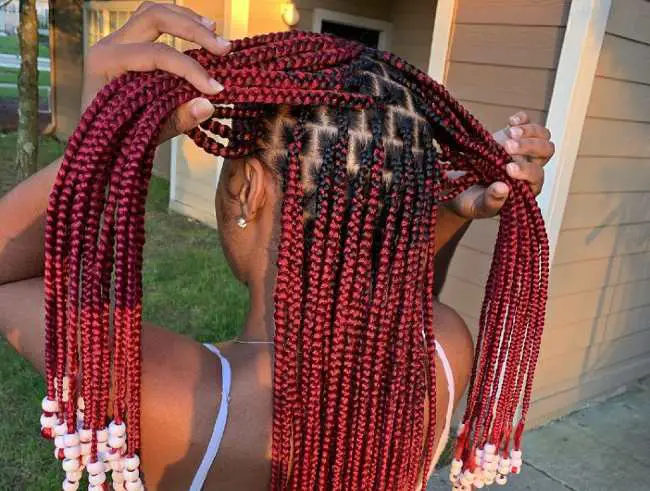 Colored hair, right? We are never getting enough with red. Whether it's nails, dresses, shoes, or bags, red is always exotic. All you need to do is pick a shade that complements your skin tone and you're good to go.
To get red knotless braids with beads, you don't need to bleach your hair. There are colored extensions that will do just fine. I'll suggest you use clear glass beads for a pronounced look. Accessorize your look with simple hoop earrings because your hair has said it all.
8. Brown Knotless Braids With Beads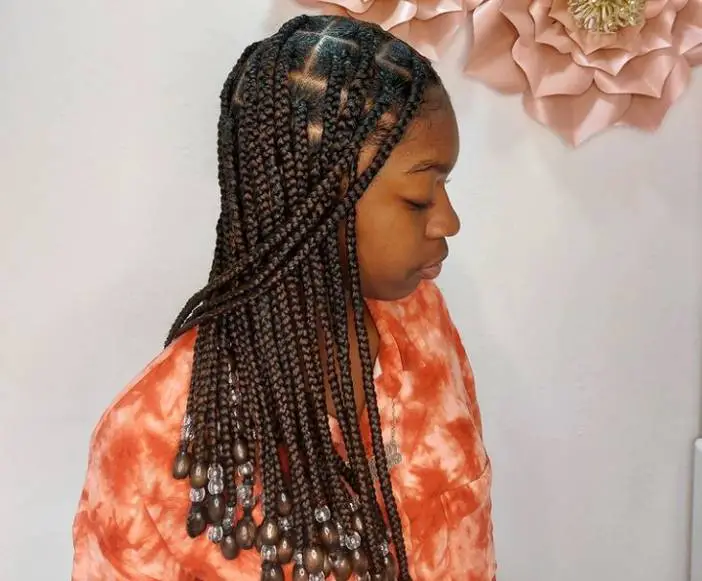 Own your style with your choice of colored hair. Instead of going loud with red, it could be a subtle exotic color like brown with beads along the length. Get brown-colored extensions and get knotless braids of any length and thickness.
What I love about brown is how it perfectly suits every skin tone. Besides, you can wear brown braids anywhere, for any occasion.
SEE: Why You Should Wash Your Hair With Sulfate-Free Shampoo
9. Box Knotless Braids With Beads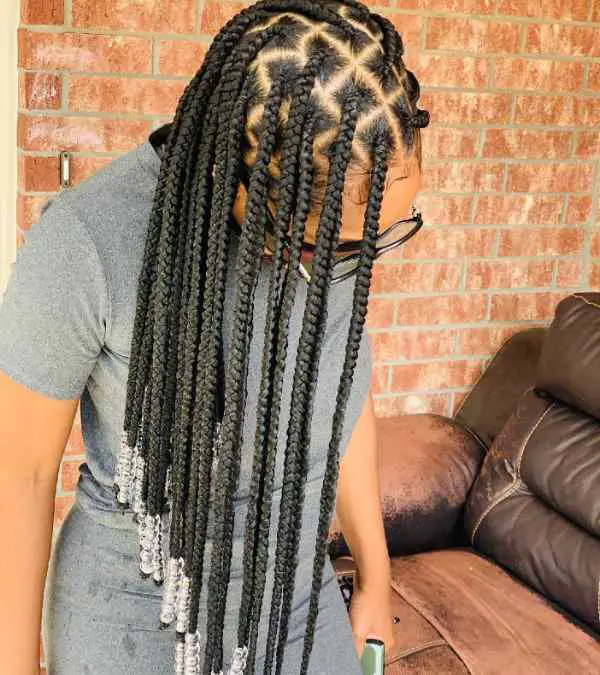 Box braids have become very universal such that you can have them with almost any hairstyle. Your stylist carefully sections your hair into squares before braiding them with extensions. Although the sectioning might take time, you'll love the outcome.
You can style your box knotless braids with beads in different ways. It could be a half up-do, side, or middle parting to flaunt your cheekbones and smooth jawline. Either way, you'll look elegant.
10. Knotless Feed-in Braids With Beads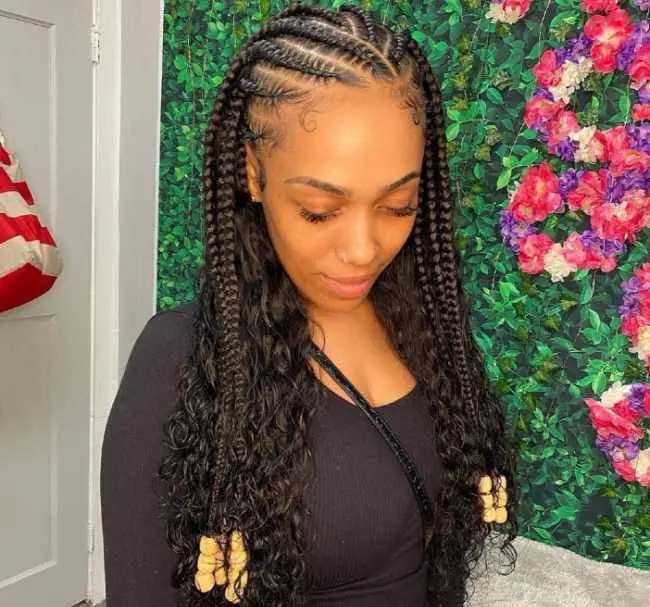 Feed-in knotless braids are quite different and showcase your love for creativity. Your stylist can braid your hair cornrows or a half ponytail with single knotless braids underneath. Then, you can adorn the length with beads and maybe add cuffs to the cornrows.
It is a great fix for the corporate job woman. Meanwhile, you can style the cornrows into a low bun and wear them to ceremonial events like a wedding.
11. Knotless Braids With Beads for Kids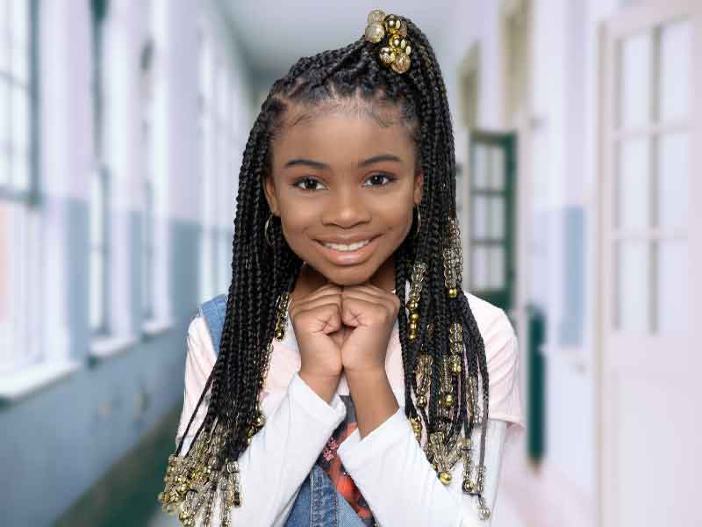 Kids can also wear knotless braids comfortably and cutely. Beads are not foreign with children's hairstyles, so, adorn the length of the braids with colorful beads. You can have them wear the braids down or gathered up into two ponytails.
Also, you can wrap the ponytails into buns for a back-to-school look. But, to do this, you may have to remove the beads which your kids may not consent to. Instead, style it into a half up-do with a bun or two.
12. Knotless Braid With Bead + Baby hairs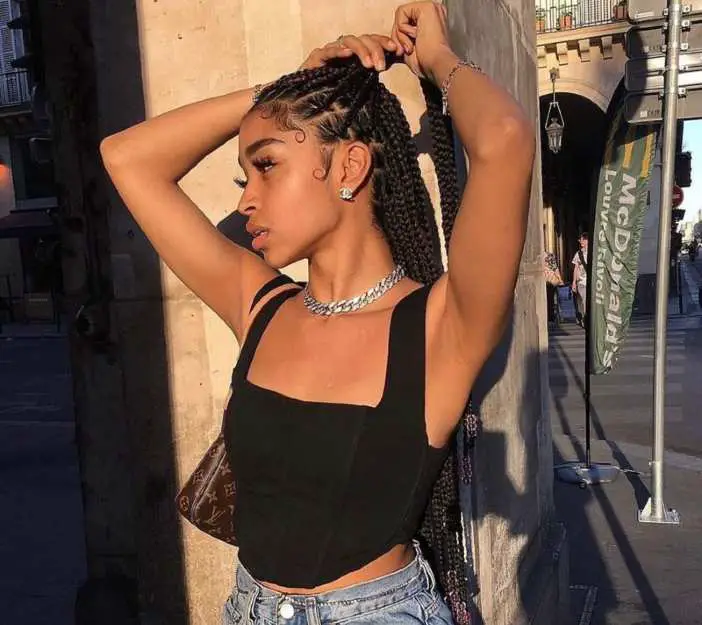 Take your beaded knotless braids to the next level and look chic with gelled baby hairs. Flaunt the style you have put into your edges and tuck the braids behind your ears. Additionally, you can add some juice to your look by allowing some braids to drop to the side of your face.
Feel free to get adventurous with colored extensions, length, and thickness. However, to maintain this look, you'll have to always gel your edges every morning or when you're going out.
13. Extra-Short Knotless Braids With Beads
If you are just growing out your hair, the last thing you want to do is to weigh the strands down with bulky hair. An extra short knotless braid with beads is just the perfect choice for your two-inches hair.
The length stops just around your chin and wears down in a classy way. The extra chop on length makes this hairdo perfect for summer. Adorn your ears and neck with simple jewelry and tuck the braids behind your ears for a laid-back look.
14. Extra-Long Knotless Braids With Beads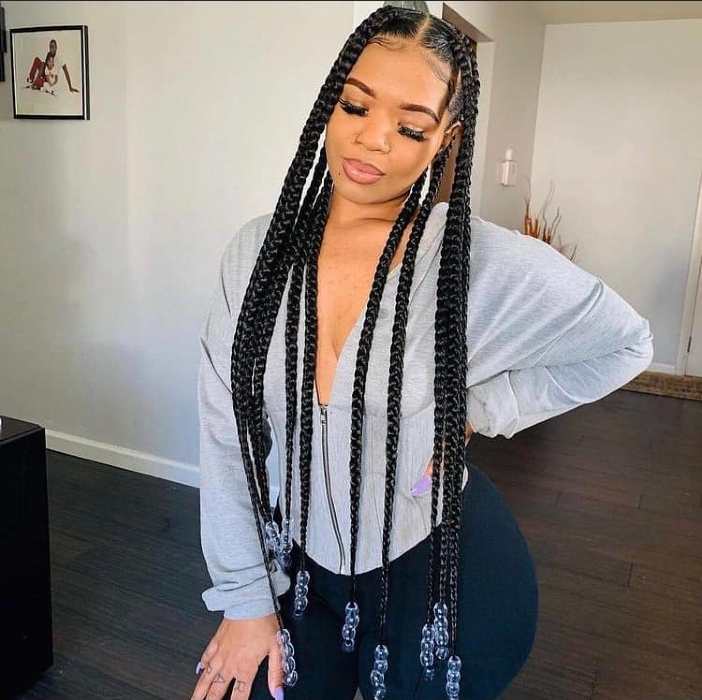 You can do a lot with extra length. The length can go as far as your bum or hip area. Allow your stylist to arrange the braids in a way that they accentuate your facial features and do not conceal your beautiful makeup.
Alongside the beads, adorn your look with big hoop earrings and maybe colored extensions. With this hairstyle, you'll surely turn heads. Also, because of the extra length, you might want to have jumbo sections instead.
SEE: Beautiful Lemonade Braids Hairstyles You Should Rock
15. Bold Knotless Braids With Beads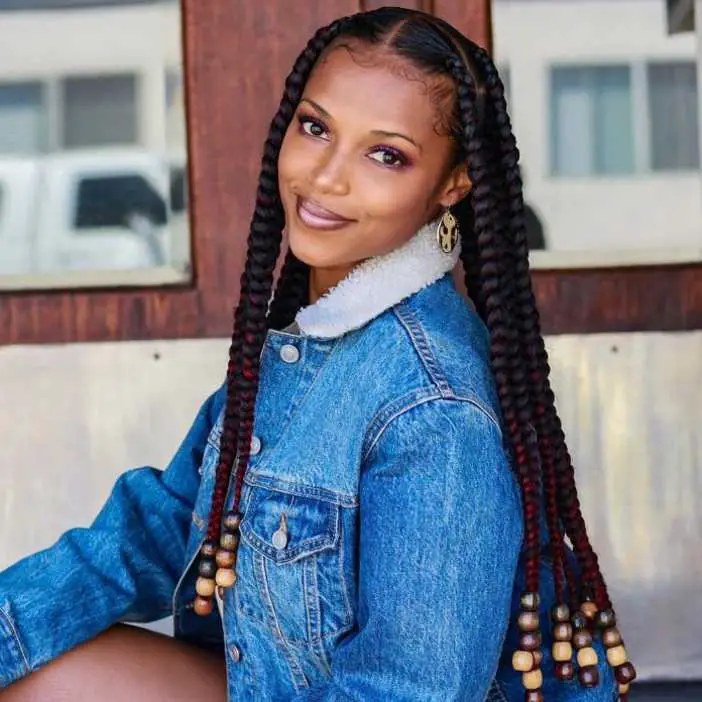 The boldness of these knotless braids is something to love. The braids are irresistible, no one will be able to take their eyes off your hair. The hairstyle looks like jumbo braids, but it could have smaller sections and maybe more texture.
This is a hairstyle for the bold, daring, and free-spirited woman. You'll often see this hairstyle with extra length and maybe colored extensions. The length is what consumes the bulk of the installation time and of course, it'll use more packs of extension.
16. Knotless Braid With Bead + Colored Ends
Colored hair comes in varieties. So, rather than going fully colored, extensions manufacturers have made half-colored hairs that we cannot resist. Check out this black and red mix. Adorn the length of your knotless braids with beads and you are good to go.
In addition, beaded knotless braids with colored ends suit everyone. It's a great choice if you are a colored hair first-timer. It allows you to enjoy your black hair and have a feel of color too.
17. Knotless Braid With Bead + Brushed edges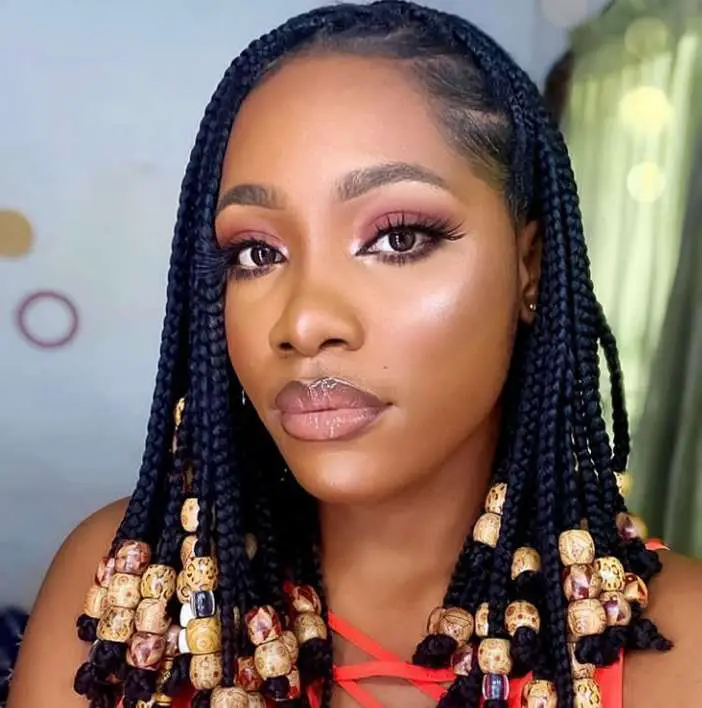 This hairstyle is subtly detailed yet simple. You can have your braids in whatever length you like and with color if you choose to. The accent to this hairstyle is the brushed and gelled sides. It gives you a more youthful look as it defines the sides of your face and projects your forehead.
Wear this hairdo stylishly by allowing some braids to fall to one side of your face. Also, for a laid-back look, you can tuck all the braids behind your ears.
18. Knotless Braid With Bead + Rainbow color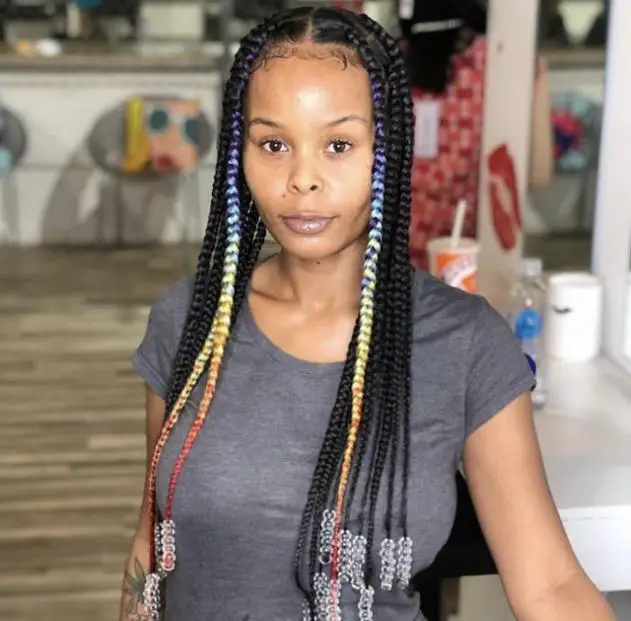 If you love to make fashion statements and turn heads your way, try this hairstyle. Knotless braids with a few rainbow-colored strands. Extensions come in a variety of colors. So, you need not bother about adding color to your hair.
Ask your stylist to put the colored strands in front to announce your presence. This is another hairstyle for the bold, daring, and adventurous woman.
SEE: New and Refreshing Tribal Braids Hairstyles You Should Try
Frequently Asked Questions
Can I wash my knotless braids with bead?
Yes, you can. You can wash your beaded braids just as your wash braids without beads. However, if you feel like they may fall off, you can take them off before washing them.
Wash your braids with a clarifying, sulfate-free shampoo and condition appropriately. Make sure you get the braids dried before you cover them.
How short is too short for knotless braids?
Two inches may be too short for knotless braids. You'll need to have grown your hair to about 4-5 inches before you get knotless braids. This is because your hair is pre-braided before extensions are added.
Can curly hair get knotless braids?
Yes, you can. To install knotless braids on curly hair, you may have to stretch your hair before braiding. Also, your hair will be divided into small sections and your stylist will apply a styling gel or cream to hold hairs in one place.
Most importantly, if you'll be stretching your hair, you should apply a heat protectant before stretching. This will protect your curls from damage.
Conclusion
A lot of black women are tilting the way of braids because they last longer than any other hairstyle and are low maintenance. Moreover, they keep your hair protected and relieve your scalp from the pressure of frequent hair styling.
We all believed and agreed that beads belonged to children until now. Beads have become accessories that are used by people of all ages, and they sure look good. Knotless braids with beads can be created with a wide range of hairdo options.
Finally, the only limit will be your mind. Wash your hair, stretch it if need be, and make a choice. Explore colored hair, the available lengths, and textures. I bet you'll try it again and maybe again.
Thanks for reading.
Check Africana Fashion for relevant beauty articles that inform you about hairstyle trends with a list of options.