Looking for the perfect gifts for your wife, friend, sister, or mom? You know, the woman who wants nothing?
This is a common problem. And no matter what time of year, it's always tricky to find the right gift for the woman who seems to have everything.
With that in mind, I've rounded up some of the best affordable gift ideas that can help you express your gratitude to your loved one and make her feel special. Let's get right into it.
Gifts for the Woman Who Wants Nothing
1. Comfy Slippers
If you're looking for great gifts for the woman who wants nothing, then consider the gift of comfort. Comfy slippers are a perfect gift for the holidays, birthdays, or "just because."
Not only will they keep her feet warm and comfortable, but they can also help protect her feet from blisters and skin irritation.
2. Scrapbook
A scrapbook is a very personal gift. You can create a lovely scrapbook of her childhood photos and present it to her on Women's Day. This will give her the best feeling in the world and she will also cherish it forever.
3. Scented Candles
Does she love candles? Get her some unique ones to make her room smell better and more comfortable. Scented candles come in many different shapes and sizes and different scents so there are plenty of options to choose from.
4. A House Plant
House plants do more than add beauty to your home; they also help purify the air and can even help reduce stress. They last longer than flowers and make great gifts for any occasion, including birthdays and Women's Day.
5. Bath Bombs
Bath bombs are perfect for someone who likes to take baths often; they will help her soak the day away after coming home from work. Bath bombs come in many different colors and scents, so there are plenty to choose from.
SEE: How to Use Bath Bombs for a Relaxing Spa-Like Therapy
6. Books
Some women love to read and they do it all the time. If your woman is in this category, then you could get her a classic she's always wanted to read. You can also get her a gift certificate to her favorite book store so she can pick out her books.
7. A Gift Certificate to a Restaurant
This is a great way to make her happy because there are very few people who dislike eating. Your woman can also decide to dine with her friends, choosing her favorite dish from the menu.
8. Silk Sleep Masks
One of the best gifts for a woman who wants nothing is a silk sleep mask. These soft, comfortable masks are a great way to block out light while getting some much-needed sleep time.
Silk sleep masks also offer benefits that other sleep masks can't. They're comfortable on the skin, they don't pull at strands of hair, and they also help prevent wrinkles around the eyes.
9. Music Playlist
They say music is the language of love. If you're looking for a unique gift to show that special woman in your life how much you care, then create a playlist of songs that you think she'll enjoy.
You can start by going through her music collection if she has one. You can also ask her friends and family members about her taste in music.
10. Oversized Tote Bag
 A roomy, oversized tote bag is one of the most versatile gifts you can give a woman who wants nothing. Women love big bags and they love when they can put their things in them. These bags come in a variety of colors, so be sure to choose one that will appeal to your woman.
SEE: Can You Wash A Duffel Bag?
11. Clothes
Clothes are always a good gift idea for women. However, this can be tricky, as every woman has her sense of fashion and a unique body shape. To ensure that you get the right size and style for her, try asking one of her friends for help, then make a decision based on their suggestions.
12. Fitness Tracker
If she's a fitness fanatic or just someone who loves to keep fit, a fitness tracker could be just the thing. A fitness tracker can monitor walking and running activity as well as calories burned, sleep patterns, and heart rate.
SEE: Find From Simple to Grand Evergreen Gift Ideas for Women
13. Customized Stationery
Customized stationery is a fun way to help your girlfriend, sister, mom or wife express their personality. With many different options available — including fonts, postcards, thank-you notes, and more — you can create a truly unique set.
14. Jewelry
Jewelry is an often-appreciated gift for women of all ages, but not all jewelry is created equal. Be sure to pick one that is high-quality and made of precious materials.
You can get her a ring that has her birthstone in it. You can also get her a necklace with an engraving on it. And if she's into trendy accessories, opt for pieces with gemstones or pearls that will add extra sparkle to any outfit.
15. Jewelry Box
A personalized jewelry box is one of the most thoughtful gifts for any woman who wants nothing. Be sure to pick one with many compartments, so she'll have plenty of room to store her favorite rings, necklaces, and bracelets.
16. Gift cards
Everyone loves gift cards, and this is one thing that you really can't go wrong with. Gift cards are great because they allow her to choose what she wants rather than making guesswork on her end. You can also find them at almost any store, gas station, or online retailer.
You can write how much you love and care for her in those cards and let her know how she has been a great influence in your life.
17. Phone Charging Station
A phone charging station is a perfect way to help her stay organized by keeping all those pesky cords in one place. This is also a great gift if she has many devices to charge every day.
18. Gift Basket
A gift basket is just a collection of different gifts packed together to create one bigger gift. You can make a gift basket yourself or purchase one at your local store, then give it to your special woman.
19. Hair Straightener Brush
This brush has been around for a while now and it's still one of the top gifts for women. It's great because it takes only minutes to use, as opposed to 20-30 minutes with a traditional hair straightener.
20. Perfume/Cologne
Get your lady the perfume or cologne she's been wanting. This is a great gift idea because it is something she can use daily.
Perfumes and colognes are also perfect because they're inexpensive luxury items. From vanilla-scented to citrusy fragrances, there's bound to be something that fits her preferences perfectly.
SEE: These Exclusive Perfumes for Women Can Help You Create Your Unique Scent
21. Fancy Wristwatch
This is a great gift idea because she will be reminded of you every time she looks at the time.
22. E-Cards
If you don't want to go with the old-fashioned way of writing cards, then make use of technology and create some e-cards. Women love cards as they can read them anytime they want and keep them saved for lifelong memories.
23. Wool Blankets
Wool blankets are better than cashmere ones, because cashmere pills after washing, while wool doesn't. They are also less expensive, and come in lots of nice colors, so you don't have to spend much.
24. Concert tickets
If you want to treat your lady to a romantic evening out, give her tickets to a concert by her favorite singer or band. If you do not know what she likes, try to find out from her friends or family.
Be sure to buy tickets early, because if it is a famous singer or band, the tickets may sell out quickly and become very expensive if resold.
25. A Journal for Self-Expression
A journal is one of the best gifts for a woman who wants nothing. She can use it to express thoughts, record goals, become more organized, or even sketch ideas.
And the best part is that there are so many different types of journals to choose from. You can find them in all sizes and colors and with different covers (some even have inspirational quotes).
26. Chocolates
A classic gift for any occasion. Be sure to buy quality chocolate and not white or milk chocolate, which is of lower quality.
27. Scarves
If you're looking for a gift for someone who likes to look stylish, then scarves are the way to go. You can find scarves in many different places such as department stores and boutiques, but if you want to save time, try shopping online.
Another great benefit of shopping online is that scarves are often cheaper online than they would be in stores. If you use coupons, you can save even more money on your purchase.
28. Aromatherapy Diffuser
Add a relaxing touch to her home with an essential oil diffuser. It's also an instant way to turn any room into a spa and create a calming ambiance.
SEE: Best Essential Oils For Your Aromatherapy Uses
29. A Gift Card to a Spa
A day of pampering at a luxury spa is another great gift idea for women of all ages. While it is certainly beneficial for her body, it also offers many mental and emotional benefits.
She can use the gift card to enjoy a relaxing massage, facial, manicure and pedicure, hair styling, and more, depending on what services the spa offers. She can also go with friends, making it an even more special experience to share with others.
30. Flowers
A bouquet is always welcome and has a sense of beauty in it.
31. Personalized Calendar
The best gift for a woman is a gift that shows you put a little thought into it. A personalized calendar is simple and practical and won't cost you a lot of money.
To start, go through your pictures and choose 12 of the best to feature throughout the calendar. You can also use images of her family, friends, or any other pictures you think will be special to her.
FAQs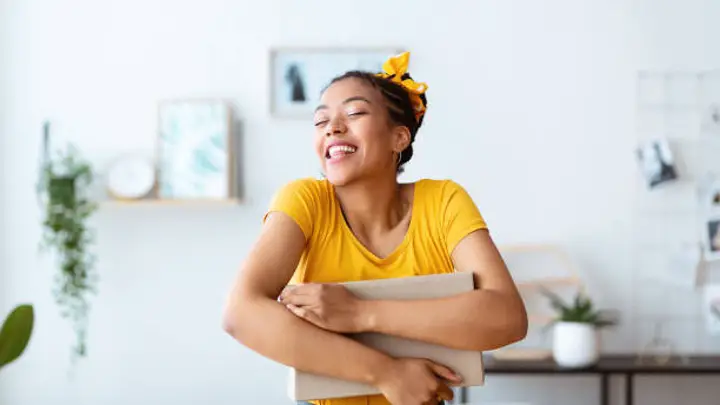 Do women like thoughtful gifts?
Yes, they do. However, you have to be careful not to overthink things too much. The most thoughtful gifts are those that show exactly how you feel about the person.
How do you get someone to stop giving you gifts?
If the person is in your close circle, you can politely tell them that you are trying to be more minimalistic. If it's a colleague or an occasional acquaintance, you can simply refuse and say that you don't accept gifts from people.
Should you buy your partner a gift?
Yes, you should. Buying your partner a gift can let them know how much they mean to you, as well as how important the relationship is to you.
However, it's important to recognize the stage of your relationship and buy an appropriate gift. The longer you've been dating someone, and the more invested you are in them as a person, the more appropriate it becomes for your gifts to become more expensive.
Conclusion
It's hard to find the perfect gift for a woman who says she wants nothing. But the trick is to find something she may not have thought about.
For the woman who loves to keep fit, a fitness tracker will help to monitor her health. For the woman who loves music, give her concert tickets to one of her favorite singers or band.
There are so many fun ideas, no matter her interests or lifestyle. Once you figure out what she likes most, then you're well on your way to finding the perfect gift.
Thanks for reading.
Visit Africana Fashion today for more gift ideas.