Though it has frequently been claimed that men's and women's Air Force 1s are made differently, is there a difference between the two? Or is this just an unfounded disparity created by naysayers?
This particular question has been on the minds of many sneakerheads for years. And the truth is that because of the unisex look and design, you won't be able to tell if it is a men's or women's shoe.
Find out if the men's and women's Air Force 1 differ by reading this article.
SEE: Why Are Air Force 1s So Popular?
What is the difference between men's and women's Air Force 1?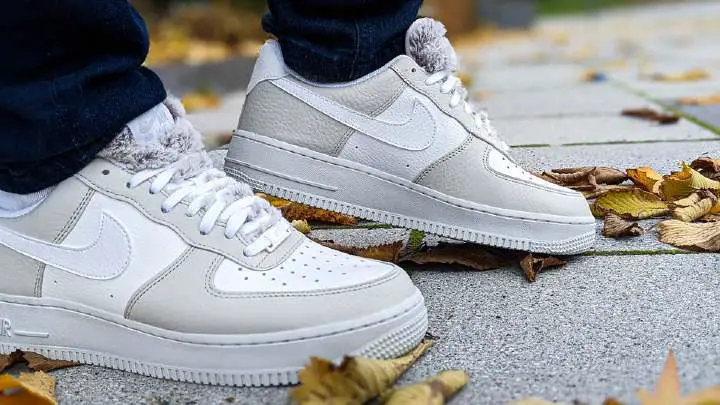 If you compare the two pairs of shoes, you won't be able to detect any differences.
However, if you look more closely, you will discover some variations that you will finally identify by digging a little deeper. The size, sole, and width of these identical shoes vary for men and women.
The main distinctions that you might have overlooked are listed below.
More toe-room in male shoes
The front of the men's shoe is a little bit wider than the front of the women's shoe because men's feet are wider at the front.
The women's Air Force 1 has a width ratio of almost 1:1 between the toe and heel when compared to the other pair of shoes. However, the men's Air Force 1 has a toe-to-heel ratio of 1.75:1, making it wider.
The difference in appearance
Nowadays, well-known shoe companies focus more on producing gender-neutral footwear. So, if you look at them, you won't notice any difference.
However, if you consider how colors go together, you may find that women's shoes occasionally make more use of pastel hues.
When choosing colors, Air Force 1 also uses the "pink for the lady" rule. If not, it will be difficult for someone to tell from its appearance whether it is a men's or women's Air Force 1.
Differences in shoe soles and feel
If kept on a flat surface, the middle of the female foot is slightly higher than the male foot.
As a result, the front and back of the women's Air Force 1 must support more weight. Because of this, the toe and heel portions are a little stiffer. For better support, there is thick padding in the middle.
While on the male foot, the weight is equally distributed throughout. Therefore, the interior sole of the men's Air Force 1 is more basic, and every area of the shoe is the same rigidity.
SEE: Do Nike Shoes Run Small Or Big Or True To Size?
Can men wear women's Air Force 1?
Yes, men can wear women's Air Force 1.
Although, if a man wears one, he may struggle with sizing and will more often choose a neutral color. Aside from this, men may wear women's Air Force 1.
Are women's Air Force 1 the same as men's?
Yes, they are.
The Air Force 1 is the same shoe; only the colorways and women's sizes and sole placement may differ.
Additionally, Nike recently modified a few of its designs on some more recent models of the AF1 for women.
SEE: Are Nike Shoes Made in China Fake?
Are Air Force 1 girl shoes?
No, they are not.
The Nike Air Force 1 is a unisex product. It means that any gender can wear these shoes and be completely comfortable.
FAQs
Is Air Force 1 unisex?
Yes, it is.
Nike has made these shoes unisex, which means that while the female anatomy will differ primarily due to sizing and possibly color, they are still widely worn by both genders.
SEE: Can You Wear Nike With Adidas All The Time?
Do guys wear Air Force 1?
Yes, they do.
Nike Air Force 1 is among the most popular sneakers of all time. Moreover, they are very popular among men because of their fashion statement and comfort. Furthermore, they are always suitable for creating a casual look.
Do women's Air Force 1 fit men?
Yes, it will fit men.
However, there may be small variations in the width of the toe box, but the distinction will be so minor that you won't notice. As previously stated, men's and women's Nike Air Force 1s fit the same.
SEE: Save $5 on Sneakers at Converse Store
Conclusion
The Air Force 1 is without a doubt one of the most revered sneakers of all time. Furthermore, the footwear is a unisex sneaker that both men and women can wear.
As a result, you will notice that there are minor differences that are mitigated only because of the feminine foot structure.
Some of the key differences are in size, width, and, in some cases, sole. These three factors, however, might not be an issue if you find the right size in one of the designs because they will all fit the same.
Thanks for reading.
If you have enjoyed reading this article, check out Africana Fashion for more.