If you've ever wondered how to put on high top shoes and found it difficult, this is the guide for you.
Since their introduction in the 1890s, high top sneakers have proven popular among both regular people and athletes.
The footwear became the hallmark shoe for anyone considered fashionable; it was the embodiment of classic cool. And because of this legendary reputation, high tops may be paired with practically every outfit.
As a result, this article offers detailed and easy-to-follow instructions for putting on and styling your high top shoes.
What are high top shoes?
A high top shoe is a footwear with a high collar that rests above the ankle. Typically, it is an athletic shoe commonly worn by basketballers. However, it is occasionally mistaken for the marginally shorter mid-top, which normally only rises to the ankle.
Since high tops typically relate to athletic shoes, they are often also referred to as above-ankle shoes, like some hiking boots.
SEE: What Is The Difference Between High Top And Low Top?
How to put on high top shoes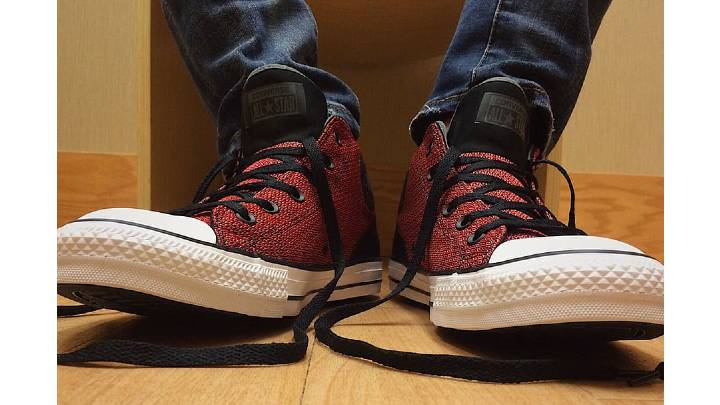 1. Widen the collar and tongue
The first and most important step in putting on a high top is to widen the collar. This is especially important for those with wide feet. In addition, it will allow your feet to enter the shoe easily.
2. Slip your foot into the shoe
Here is where you fully slip in your foot after widening your shoe collars. Make sure your toes are appropriately padded at the front and are not smooched.
3. Fasten the lace tightly
When your feet are finally inside the shoe and properly seated on its sole. Arrange your shoelace into its hole and tie it tightly.
How to style high tops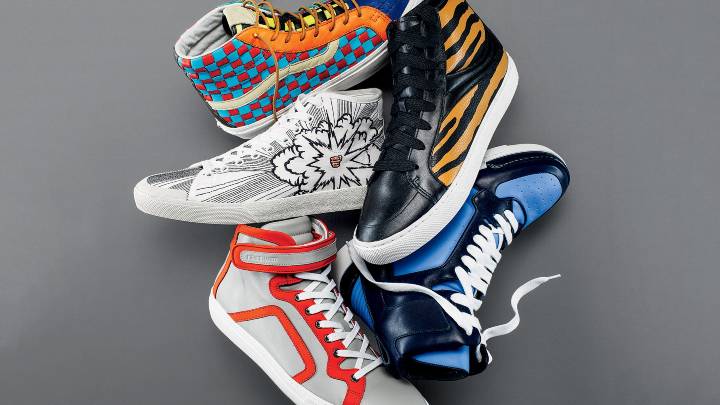 If you intend to wear high tops to a short meeting at the park or the community basketball court, here is a guide to help you style your high top.
1. Wear high tops with shorts
For males who might not feel at ease wearing shorts and sandals in the heat, this is a particularly good option. For ladies, wearing high tops with shorts is fashionable, and again, it draws attention to their attractive figures and legs.
2. Wear high tops with wide-leg pants
You can put on your high tops with a nice pair of wide-leg pants or jeans. This especially looks good on females as it gives them this cool feel and aura.
On the other hand, males are not advised to wear this as it often appears bulky and untidy rather than cool and fashionable.
Therefore, men ought to wear their high tops with a pair of relaxed straight or thin jeans, a cool T-shirt, and an open cardigan, preferably in the same shade as the high tops.
3. Crop pants without socks showing
Wear a nice pair of crop pants that purposely expose a small amount of ankle and draw attention to the shoe. This is a style you can achieve with a high top that has neutral colors like black or white.
4. Pair dresses with your high top
If you want to make a fashion statement, you can put on your high tops with beautiful dresses.
Think about wearing skirts or dresses as a lady alongside your high top sneakers. This fantastic female fashion choice will draw attention to your legs and give them a long, slim appearance.
Furthermore, if you opt to go with this, you need to be sure to knot your shoelaces. This will make you appear more stylish than a dweeb who is too lazy to tie their laces.
5. Wear with socks for a formal look
Contrary to popular assumption, high tops can be worn with more formal attire. High-end choices from numerous brands and designers are now available that go with a pair of jeans just as well as a tuxedo. Finding the ideal combination for your event is the secret.
How to pick the right high top shoes
1. Consider the brand
Before styling a high top, the most important thing to remember is to make sure you purchase from a reputable brand that will fit you properly.
Although it may seem insignificant; however, it is rather prevalent to get the size and fitting wrong, especially when buying things online.
2. Select the right texture
There are two types of high top textures, which are thin or thick. A pair of Converse sneakers is a good analogy for a thin high top, as it is constructed of a light material that, when tied at the top, fits tightly against the leg.
While a Nike Air Force 1 or Reebok Freestyle that is wider at the ankle and has additional bulk are examples of thicker versions.
As a result, when you need to put on your shoes, you need to consider if it is thin or thick that would fit best.
3. Pick an appropriate color
Think about what would look good with your style and what you already own that might go well with them.
High tops, like many other things, work best when kept simple. For both men and women, black is the best and safest choice, like a pair of Reebok Classic.
Keep in mind that black complements everything. White or another solid color, such as crimson, navy, or another, is the second-best option.
SEE: How to Save $5 on Sneakers at Converse Store
FAQs
Is high top CVO the same as Converse?
Yes, it is.
The high top CVO, which means Circular Vamp Oxford, is a type of design from the Converse brand which is quite popular. It has a circular vamp, and it covers the ankle.
Can you tuck pants and wear socks with high tops?
Yes, you can.
To avoid blisters, it is more convenient to use socks with high tops. Likewise, if your high top sneakers have a very cool heel to show off, you may tuck a good length of slim-cut or narrow jeans into them.
SEE: Do You Wear Crocs With Or Without Socks?
Are high tops better than low tops?
The decision between high top and low top shoes boils down to personal preference.
High top footwear may be the ideal option if your upcoming hobbies or profession require a bit of extra ankle support. On the other hand, if flexibility is important, a low top shoe is preferred.
Are high top shoes still in style?
Yes, they are.
High top sneakers are still very much in style, as they are ideal shoes to complete any appearance, regardless of your taste.
Additionally, an excellent pair of high tops will have you wearing your ensemble with confidence, whether it's romantic florals or a tough motor jacket.
Why are high top sneakers popular?
High top sneakers first appeared decades ago. They were well-known for their convenience and ability to lessen basketball players' risk of an ankle injury, and as a result, became popular.
Additionally, this footwear looks a great deal like the then-trending ankle boots, which drew a lot of attention.
Conclusion
For high tops to become outdated or unpopular will be nothing short of a miracle. This is due to the shoes' comfort and suitability for sports enthusiasts, particularly basketball players.
Because of the love that the shoes have accumulated and continue to, knowing how to put on high top shoes to look trendy and intriguing is a critical talent that should not be disregarded.
Thanks for reading.
If you have enjoyed reading this article, check out Africana Fashion for more.