StockX is an e-commerce company based in Detroit, Michigan that sells both used and new sneakers and streetwear. However, one curious question that is frequently asked about StockX is whether the shoes sold on the platform are real or fake.
So, you should read this article to better learn about StockX both as a buyer and seller.
Additionally, it will go into great detail about the authenticity of the shoe, how to spot fake shoes and help you understand how the company's processes work.
What is StockX?
StockX is an e-commerce platform where sellers and buyers can make anonymous offers on shoes, streetwear, electronics, and collectibles.
It is a live marketplace that enables buyers to bid and buy at real-time prices that reflect current demand.
Dan Gilbert, Josh Luber, Greg Schwartz, and Chris Kaufman founded the startup in 2015 and launched it in February 2016.
StockX established its first global headquarters in London and as of August 2019, the firm employees numbered more than 800 people.
Where do StockX shoes come from?
All StockX shoes come from its store in Detroit, Michigan, U.S.
Are StockX shoes real?
Yes, they are real. Selling items with increasing value was the concept behind StockX, which is likened to stock trading.
Therefore, all shoes and wears go through a rigorous examination and verification before they are listed.
How to know if StockX shoes are real
As a seller, StockX enables you to offer your designer streetwear and sneakers to a trustworthy buyer who won't con you.
StockX's role as a middleman protects you as a buyer from obtaining counterfeit or duplicate goods.
As a result, you should keep an eye out for these indicators when your order is delivered to ensure they are genuine.
1. StockX tags
Real StockX tags have undergone numerous changes over time. However, since many of them are no longer in use, there would be no need to discuss them all.
The latest tag in use by StockX is displayed in the image above. This version of the tag was recently produced in March 2022. Therefore, there aren't any fakes or replicas available right now.
As a result, you can be sure that these are genuine if your StockX tag resembles this. However, counterfeit manufacturers will likely start producing these tags soon, so take precautions.
2. UV light
If you have a UV light source, this step is optional but advised. Just shine the light on the StockX tag's back, where the QR code is located.
This stamp will be present on every recent batch of real StockX tags. After doing this, you should see two different types of invisible ink stamps.
The older stamp and the first possible stamp is an "X," which is the StockX logo. If a recent StockX tag doesn't have a stamp, be suspicious that it's a replica. The second possible stamp is a circular text that reads "ALWAYS VERIFIED AUTHENTIC."
3. Sticker tag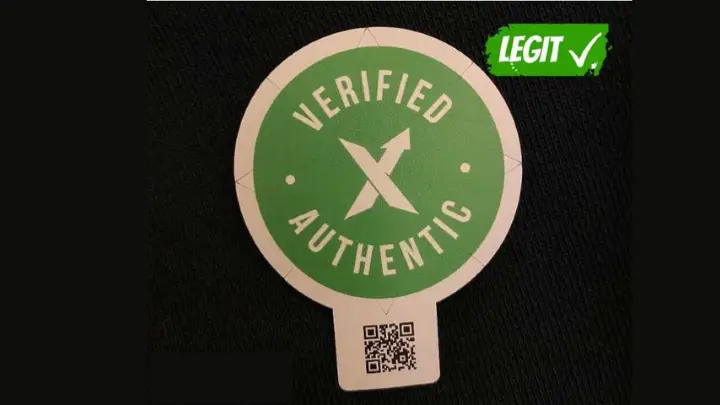 On rare occasions, StockX may send you a sticker tag instead of the actual plastic tag, based on the item.
You can be confident that it is real if you obtained a sticker instead of a plastic bag. These StockX tag stickers are neither a top priority for counterfeit producers nor are they produced in large quantities.
4. StockX tag positioning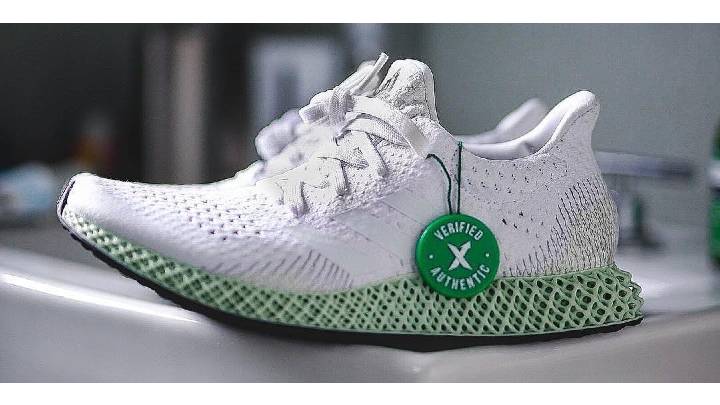 You should look out to see which pair of shoes the StockX tag is attached to (left or right shoe). Tags are clipped on the left shoe of every original StockX item leaving their warehouse.
The placement of the tag is a good indicator of authenticity, which would only be attached if the sneakers have been verified.
5. Cards
In contrast to earlier times, the company now rarely makes the black StockX card. Therefore, be wary if the seller or buyer uses this black card as proof of authenticity because it is highly unlikely that this card is still being produced.
However, in rare cases, you could get a card. And if you do, here is how to check the card properly:
The first is that Josh Luber's signature [former CEO] is no longer on this letter. Instead, it carries that of Scott Cutler [sample in the image above]
The StockX card comes in two shades: green and black, but fake manufacturers produce black cards and not the original green ones.
The fake StockX card is light green, while the real one is a dark green color.
Signature placement is another thing to beware of. The lower position of the signature where it overlaps with "CEO, StockX" can be seen on the genuine StockX card. On the fake card, the signature placement is much higher and only coincides with "Josh" rather than "CEO, StockX."
Compared to the replica card, the authentic StockX card has a lot more spacing.
SEE: Save $5 on Sneakers at Converse Store
6. StockX receipt
Be very wary of the buyer or seller's intentions if they are using an old receipt from a recent StockX transaction because the receipt may be fake. This is because the company's receipt design was modified in 2022.
Right now, the ratio of fake StockX receipts is almost 1:1. This is because it is just a printable piece of paper that is simple to duplicate.
Therefore, if you made the purchase in Nov 2022 and got the old receipt, it may have been forged.
I'll advise that you get in touch with StockX and ask them to verify that the order number refers to a genuine order transaction.
If you have access to both the email receipt and the StockX order confirmation, double-check that the product, purchase price, and order number are all consistent.
Is StockX legit?
The answer is YES. StockX is a 100% legitimate, secure, convenient, and reliable platform where you can buy and sell your fashionable items.
How to buy on StockX
You can begin purchasing on the StockX marketplace after you register for an account and add a payment option. StockX, as an e-commerce store, allows you to Bid and Buy at real-time prices that reflect current demand.
Here is how to go about it:
1. Bid or purchase
You get to bid at your desired price or buy immediately at the current lowest Ask.
2. Verification
Once you have made a bid or purchased, the seller will ship your item to the company for verification.
3. Delivery
Your item will be shipped to you once it has been verified.
How to sell on StockX
You are ready to sell on the StockX site once you have signed up and have an account.
The next thing to do is to set up your Hyperwallet portal to receive payouts on your sales, and have an item to sell.
1. List your item
Upload the products you want to sell and put in on Ask for the desired price or Sell Now at the current highest Bid.
2. Ship
Once you have listed your item, it would be shipped within two business days to the company for verification and authentication.
3. Obtain payment
After everything is confirmed original, you will get paid.
FAQs
Does StockX have a factory?
Yes, it does.
There is a drop-off area where you can take your shoes or send them for confirmation to avoid shipping costs and facilitate a quicker payout, all footwear and clothing will be accepted. To learn more about this, you can visit the company's website.
SEE: How To Sell Shoes On GOAT [A Step-By-Step Guide]
Is it better to buy on StockX or GOAT?
Although StockX may offer better prices, the inability to exchange unwanted items might not be worth it.
Overall, unless you're certain you won't need to make a return, it is best to use GOAT. Because they have lower fees and a simpler platform, StockX is preferred by many sellers.
How long does StockX take to deliver?
StockX deliver your item to you within 7 to 12 business days.
SEE: How Long Does StockX Take To Deliver Shoes To Buyers?
What happens if the StockX Seller doesn't ship?
StockX will take measures to pair you with some other seller at no extra cost.
If this doesn't work out, you'll get a refund of your purchase price after five days of confirmation.
Does StockX give a refund for missing items?
Yes, they do. But to get a refund you need to raise a claim. And to do this, you will have to get in touch with StockX within three days of realizing the loss.
However, from the time of the investigation until you get a refund could take up to 10 business days to complete.
Conclusion
Many sneakerheads have in the past always cried foul about being scammed when they purchased kicks from online platforms.
Many people have experienced this issue firsthand at some point in their lives, as it occurs far too frequently. StockX as an e-commerce platform helps to ensure that this issue is addressed as they are secure and legitimate and their goods and shoes are authentic.
Although StockX is known for its legitimacy. Nevertheless, as with any business, seller, or transaction, some details can fall through the cracks.
This is why you must become acquainted with the company to recognize when you have received counterfeit goods.
Thanks for reading.
If you enjoyed reading this article, check out Africana Fashion for more.