At what point did you realize that a dress shirt differs from a button-down shirt? 
For most people, it is a distinction that is only made when shopping for new clothing. Even then, the two shirt styles are often lumped together. A closer look reveals that there are some critical differences between them.
This guide explains what they are, how to style these shirts, and everything in between.
What is a dress shirt?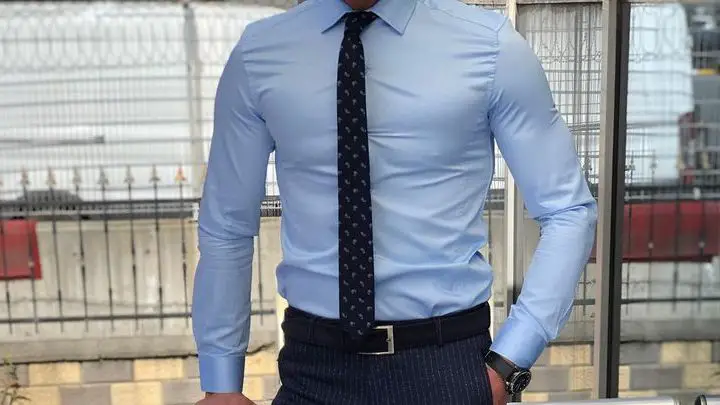 A dress shirt is a shirt that is worn with a suit or other formal attire.
It is made of cotton, wool, or synthetic materials such as polyester. Some dress shirts have a single breast pocket found on the left or right side, which is used to hold items such as a handkerchief or a pocket square. 
However, most don't have this pocket feature and are considered more formal and less distracting.
Dress shirts may also have button cuffs, which can be used to adjust the fit of the sleeves. They are typically white, but you can find them in other colors, such as blue, red, or yellow.
These shirts have been around for centuries, and their style has remained relatively unchanged.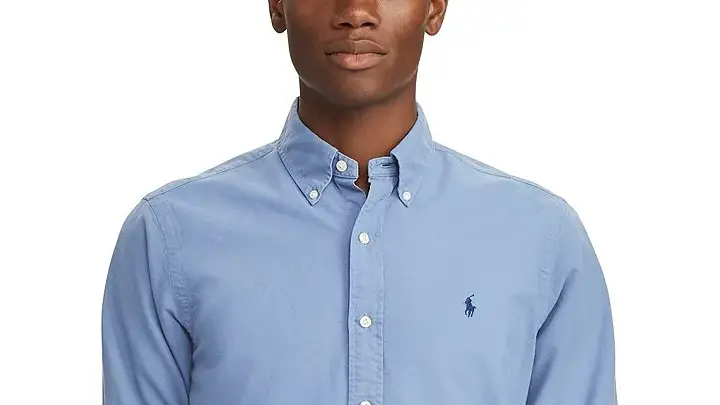 A button-down shirt is a shirt that has buttons running down the front of it. It also has one collar type which has points for buttons. 
These shirts are made from various fabrics, including cotton, linen, and even silk. And can be worn for both casual and formal occasions.
Button-down shirts have a unique collar design that makes them easy to wear with or without a tie. They are considered to be more formal than open-collar shirts.
SEE: Does Pre-shrunk Cotton Shrink?
Both are a type of shirt.
They each have a collar and sleeves.
Both have buttons down the front for closure.
They can both be worn as part of a formal or casual outfit – but dress shirts are mostly formal.
They can be made from various fabrics like cotton and linen.
Although there are many similarities between a dress shirt vs a button-down shirt, here are some differences you probably knew nothing about:
Collar shape
A dress shirt has four types of collars. This includes a spread collar, forward point collar, cutaway collar, club collar, and wing collar.
Each of them is suitable for strictly formal occasions. But the cutaway collars have rounded ends instead of the sharp tips common with the rest.
Conversely, a button-down shirt has a pointed collar, which is more casual. The points are close together, and there is a button at the tips of each point to hold it down.
Shirt length
A dress shirt is generally longer than a button-down shirt by up to 2.5 inches. This is because a dress shirt is meant to be tucked into pants, while a button-down shirt can be worn tucked in or out.
SEE: How to Style an Oversized Shirt
Cufflinks
As mentioned earlier, cufflinks are better off with dress shirts. The reason is that they add a level of sophistication and class to the outfit.
Conversely, cufflinks are not so popular with button-down shirts since the sleeves often come with buttons.
Tie
A dress shirt is meant to be worn with a tie, while a button-down shirt can be worn with or without a tie.
Fabric
A dress shirt is made of finer fabric than a button-down shirt. That is because a dress shirt is considered to be more formal.
Button-down shirts can be made of fine and coarse fabrics, depending on the style.
That's it about the differences between a dress shirt vs a button-down.
SEE: Keep Your Hands Moist With the Best Hand Cream
How to wear a dress shirt 
There are a few key things to keep in mind when wearing a dress shirt. 
First, make sure the shirt fits well. It should be snug around the shoulders and chest and not too loose or baggy. 
Second, pay attention to the collar. Make sure it lays flat against your neck and doesn't gap open. 
Third, the shirt should be tucked in, but not too tightly. There should be about an inch or two of fabric between the bottom of the shirt and your waistline. 
Then, choose a shirt that compliments your build. If you're a bit overweight, go for a fitted shirt. If you're on the thinner side, opt for a looser-fitting shirt. 
With these tips in mind, you'll be sure to look sharp in your dress shirt.
Button-down shirts are a wardrobe staple that you can wear in many ways. Whether you're looking to create a formal or relaxed look, there's an outfit combination for you.
Here are some tips on how to style them:
Pair your button-down shirt with jeans or shorts. You can leave the shirt untucked for an even more relaxed feel.
Else, tuck it into a skirt or pants and add a belt. It creates a polished look you can wear to work or a night out.
Layer your button-down shirt under a sweater or jacket for a preppy and put-together ensemble. This is a great option for cooler weather.
Accessorize your button-down shirt with jewelry or a scarf to add some personal style to your outfit. 
Get creative and experiment with different looks until you find something you love.
Can you wear a dress shirt with a normal suit?
Yes, you can.
Dress shirts go well with all suits, whether they're business or casual. You can also wear a dress shirt with a sport coat.
If you're going to wear a dress shirt with a suit, make sure the shirt is tucked in and the suit jacket is buttoned. You don't want to look like you're wearing a costume.
Can you wear a dress shirt with jeans?
Yes, you can.
But it is not considered to be proper attire in most social settings. If you want to wear a dress shirt with jeans, tuck the shirt in preferably. Wearing a belt with this look will also help to define your waist.
Choose dark wash jeans for a more dressed-up look or light wash jeans for a more casual vibe. Then add accessories, like a watch or bracelet, to complete the outfit.
A dress shirt is always the best choice for an interview.
It looks more professional and put-together than a button shirt. It sends the message that you're taking the interview seriously. 
Plus, a dress shirt can be easily dressed up or down to match the formality of the interviewer's office.
If you've ever found it hard to differentiate between a button-down shirt for men or women, here's your answer:
The button arrangement
That's the easiest way to tell. Men's shirts will have buttons on the right side, while women's will be on the left. It has been the case since the early 1900s when women began to wear men's shirts as a fashion statement. 
The style stuck, and now it's simply how to distinguish between the two types of shirts. There are, of course, exceptions to this rule. 
Some men's shirts will have buttons on the left side, but it's usually for a specific reason, like being left-handed or wanting to make a fashion statement. 
But generally speaking, the button arrangement is the best way to tell if a button-down shirt is for men or women.
The fit
Another way to tell is by the fit. Men's button-down shirts are typically looser and have more room in the chest and waist area. 
Women's button-downs are often more fitted, especially in recent years. Also, the collar can be a dead giveaway. Men's collars are usually wider and taller than women's collars.
SEE: Washing Whites With Colors Guide
Yes, you can. 
There are no rules that say ladies can't do this. To pull off this look, make sure the shirt is well-fitting, and in a neutral color like white, black, or grey.
You can also add a belt to cinch the waist and give the look more shape. 
Finish off the outfit with some sequinned city shorts and strappy heels, and you're good to go.
FAQs
Can you wear a button-down shirt unbuttoned?
Yes, you can.
It is popular for men to wear their shirts this way, especially in the summertime when it is hot outside. Some women also like to wear button-down shirts unbuttoned as well, although it is not as common. 
Do dress shirts have to be tucked in?
The answer is yes. It is more formal to tuck them in.
What do you call a dress shirt with a white collar?
A Winchester shirt. This type of shirt is often colored and has a pattern or check style.
Conclusion
A dress shirt and a button-down shirt can add a polished and professional look to an outfit. However, dress shirts are made with finer fabrics and have a tighter fit, making them more appropriate for formal events.
Button-down shirts, on the other hand, have a looser fit and are often made of cotton or flannel, making them better suited for casual or business casual occasions.
The choice between a dress shirt vs a button-down shirt should be based on the specific event and personal style preferences.
Thanks for reading.
Need more content like this one? See them here on Africana Fashion.