When you think of oversized shirts, you think of comfort. Well, they are more than comfort. They are statement pieces in your fashion style that are versatile and very useful. If you know how to style an oversized shirt, your spontaneous fashion has just gotten better by leaps.
Following fashion influencers' style pages, you would often find them rocking an oversized shirt once or twice of a few scrolls. There is nothing not to like about the shirt, after all.
However, not everyone knows how to style an oversized shirt. Sad, but true. If you are one of such people, you are in the right place. You get to know how to style oversized shirts and what to look out for when you pick a style.
Furthermore, you don't need to worry about not getting in on the trend. You can learn everything about styling an oversized as you scroll down.
How to style Oversized Shirt
Oversized shirts could be your partner's shirt or a size or two larger than your actual size. It's convenient, especially when you want to be overwhelmed with fabric but with enough room for air circulation.
Furthermore, the style fits in any fashion category you can think of. That is why it's a must for seasoned fashionistas to have an oversize shirt in their closet. Additionally, you will find most oversized shirts in white or black.
However, this does not stop you from wearing any color and styling it however you want.
SEE: How to Tie a Wrap Dress: 12 Flattering Styles You Should Wear
1. Style Oversized Plain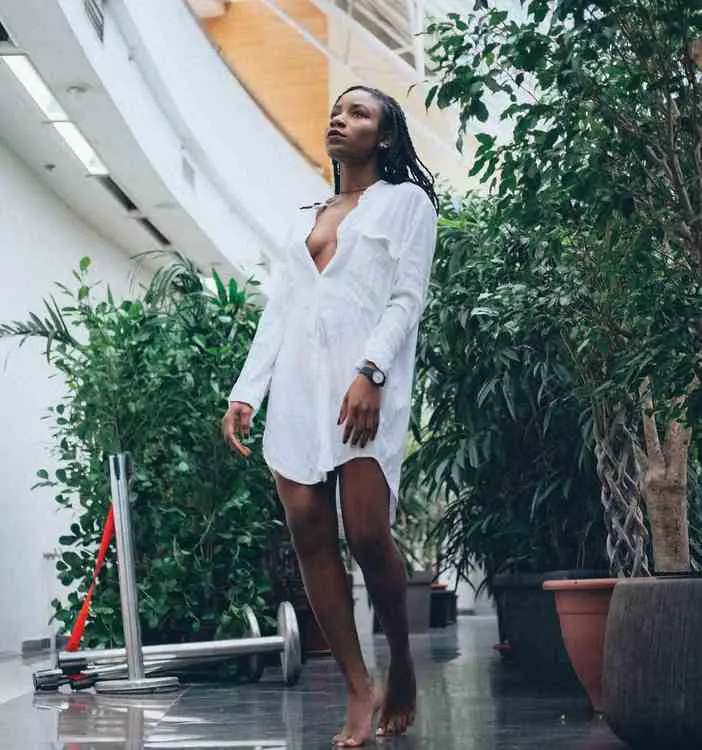 This is just as it sounds. You can wear your oversized shirt plain without any accessories or embellishments. This is the most casual you can get with an oversized shirt. What matters is what you pair with your shirt.
If you have hands on your partner's shirt, you can grab it for a little play date or just to lounge in your comfort space. Similarly, what matters when styling it plain is the shirt's fit.
If you are styling an oversized shirt plain, it should at least reach your mid-thighs. Furthermore, the shoulder cut should be broader than your shoulders. This way it gives the feeling of being overwhelmed by the shirt.
SEE: Relaxed Fit Vs Straight Fit – Differences, Similarities, And More
2. Oversized Shirt With a Belt
Sometimes you still want to look chic and shapely. This means you need to show your figure, and the only way to do that is by strapping a belt on your waist. It can be a slim or big belt.
Slim leather belts, woven belts, and Obi belts are great belt styles that go with an oversized shirt. This makes you look elegant and simple. The belt helps to accentuate your shape, adding a feminine touch to the outfit. You can wear this style to a casual lunch or a play date.
SEE: A Complete Guide To Wearing Polo Shirts And Sweatpants
3.  French Tuck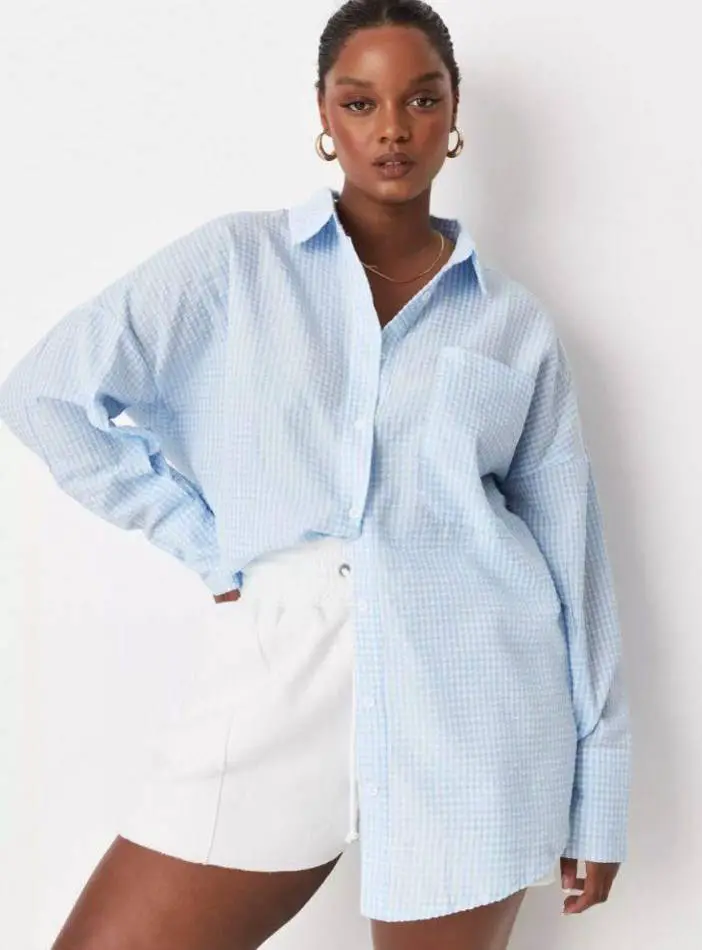 A playful or fun way to style your oversized shirt is to half tuck it in. This is called a french tuck. It involves unfastening two or three buttons at the bottom, then taking the front side and tucking it in.
It could be just on the side at the front or full front tucked in with the tail spreading its wings at the back.
This style doesn't require much effort. However, you have to tuck the shirt deliberately to show the excess fabric around your body. The style is casual and free. What matters when you wear this is your accessories and footwear.
4. Oversized Crop Shirt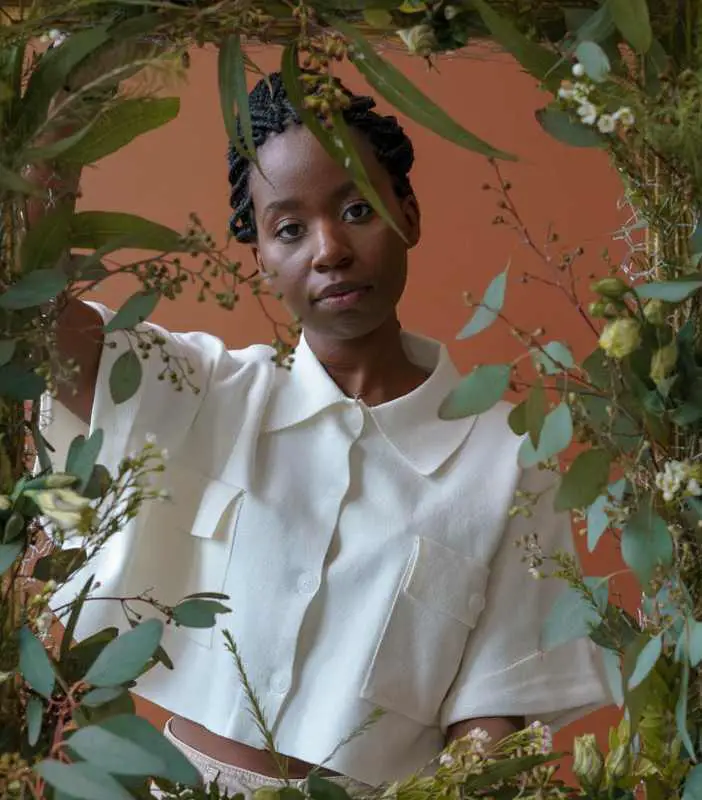 This is another youthful outfit, which plays with body proportions. Oversized cropped shirts are easy to style. You can wear matching wide-leg pants or palazzos to hide your body in comfortable fabrics. The shirts also give a little to the imagination with their midriff cut.
You can wear oversized cropped shirts for a casual or semi-formal occasion. The cut top also makes for breezy wear whenever you are in the mood for comfortable.
SEE: What Can You Wear Under A See-through Shirt?
5. Oversized Shirt With Legging
You can pair your oversized shirt with a legging, if you do not want to reveal your legs but still need to feel comfortable and casual. A legging feels like a second skin; therefore, you won't feel weighed with fabric. Nevertheless, your skin is covered properly.
This style also suits casual events or lounging in your personal space.
6. Oversized Shirts With Biker Shorts
Keeping it real and urban with biker shorts is another way to style an oversized shirt. As with leggings, you get to be comfortable with a biker short peeping through your oversized shirt.
The style easily blends with street and modern fashion. Additionally, it has a sleek look. You can change the style by wearing it plain or French tucking the shirt in your biker shorts.
Moreover, you have the freedom and comfort you want. It's an easy and breezy style.
7. Oversized Shirt With Waist Bag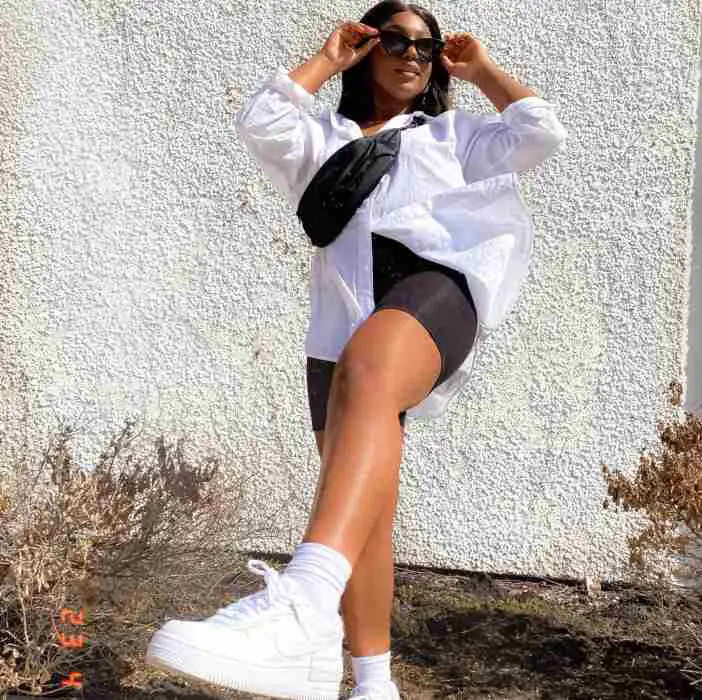 I love dressing in urban and retro styles. Moreover, waist bags or fanny packs are not the same styles as before. They have found their way to haute couture with big fashion brands reinventing the retro style.
A fanny pack or pouch can be worn as you do a belt, accentuating your figure under the oversized shirt. You can also wear it over your shoulder giving you a street/urban look. Paired with nice selected sneakers, you have a complete look of comfortable fashion.
8. Oversized Shirts With Heels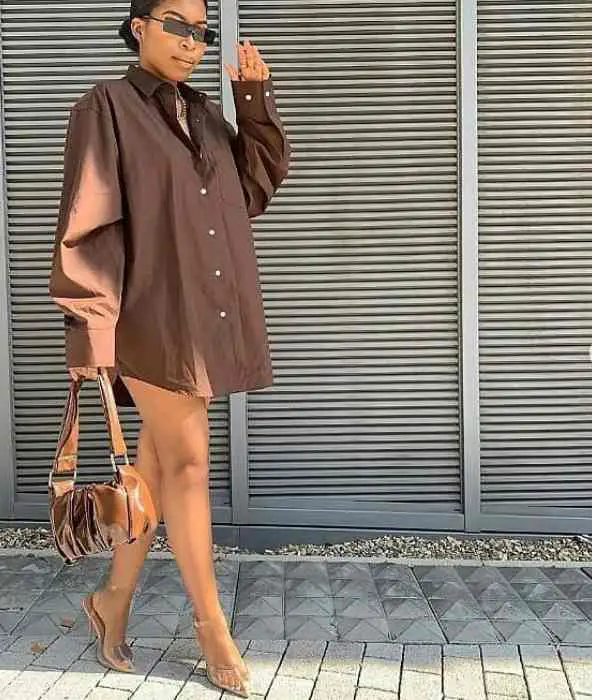 A good shoe can elevate your fashion from ordinary to stunning. I believe shoes are poignant when they are they are the statement pieces of your outfit. Therefore, styling an oversized shirt with heels elevates from ordinary to elegant.
The style is simple and chic. Your shoes not only define your legs but also show the contrasting length of your shirt against your frame. People love to see sleek legs and a shoe with an oversized shirt will give you miles of it.
SEE: 8 Essential Shoes You Must Own as a Woman
9. Oversized Shirts With Baggy Jeans
This is taking you back to the '90s. The retro style comes out old but it's a golden look. Furthermore, it's actually a statement styling with an oversized shirt. There is enough ambiguity mixed with a dash of fit of your body.
You can wear your shirt with one or two top buttons undone. Furthermore, it comes as casual and semi-formal depending on your accessories and footwear.
You can wear boyfriend jeans or wide-leg jeans if you don't have baggy. The concept is matching oversized shirts with oversized pants. This makes your overwhelmed waist the focus.
10. Oversized Shirt Under Blazers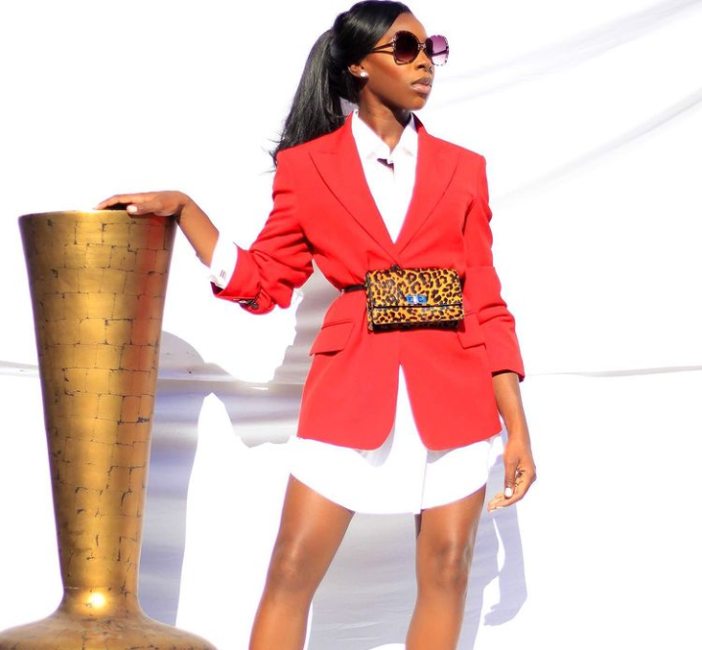 This is elegant if you want to add a bit of formal touch to your outfit. For women who like to look prim and proper, this is a style suited for you. You also have the option of buttoning up or letting the shirt loose under your blazer.
You can style it with a bright-colored blazer and statement accessories. Moreover, the chic style is created to give you a confidence boost. However, your footwear is most likely heels or pumps for an elegant style.
On the other hand, boots have a street urban style. Meanwhile, a sneaker gives your outfit a casual look.
11. Oversized Shirt as a Jacket
You can style your oversized shirt as a jacket. It can be on a dress, two-piece outfit, or a cropped tank top and jeans.
This style is youthful and playful. This is a quick way to stay underdressed but still fashionable. The casual style should be paired with soft sole shoes like sneakers, loafers, and the occasional slippers or sandals for a fun look.
12. Oversized Shirt With Shorts
You can pair your oversized shirt with shorts. The shorts can be fitted or free. However, a free short with enough body room fits it stylishly.
The style is simple and not over the top. Furthermore, it gives you a soft look. It is also versatile because it can look casual or formal when paired with accessories and casual shoes. Meanwhile, if you want to elevate the style, a nice heel or pumps would turn it into an elegant ensemble.
13. Mom Style
This is a down-to-earth style that most wouldn't think is fashionable. However, styling has trends and how you wear this style is dependent on your confidence in rocking the style.
Rather than look clumsy, you should make the mom style intentional. That means adding some statement pieces or keeping it simple with how you wear them.
14. Oversized with a Skirt
You can choose to tuck your oversized shirt in or keep it loose with a mini popping out somewhere. While you would look for fitted skirts to accentuate your lower body, you should try pairing your shirt with a free skirt.
It could be a pleated, full skirt, A-line, or maxi skirt. This gives you a uniform look with your style.
SEE: Create Your Unique Style With Tips on How to Be More Fashionable
Nuggets on How to Style Oversized Shirt
When styling your oversized shirt, you should keep these things in mind:
Your oversized shirts shoulder cut should be wider than your frame.
Pay attention to your shoes.It defines what the versatile shirt would come out as.
Always stick to basics when you want to style an oversized shirt, then you can upgrade the style.
Leave the top buttons of your shirt to show your collarbone and shoulders if you are buttoning up.
SEE: Find From Simple to Grand Evergreen Gift Ideas for Women
Frequently Asked Questions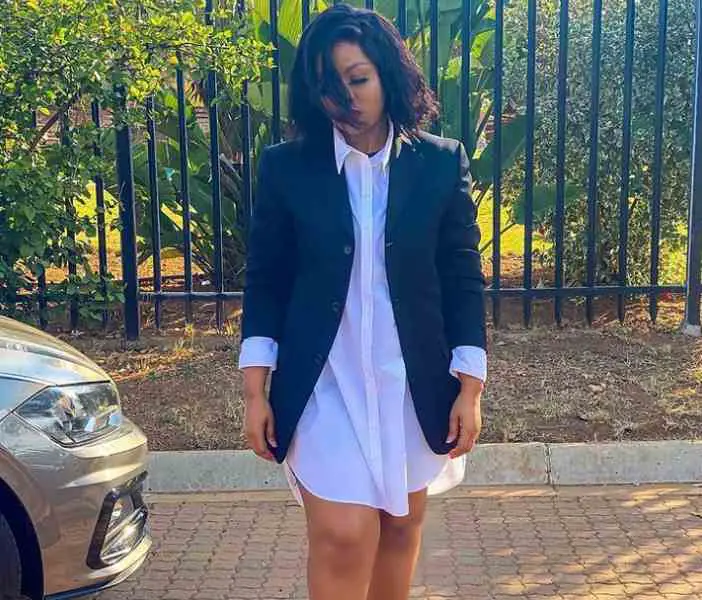 Can I wear oversized shirts in any color?
Yes, you can. You can wear your oversized shirt in any color you want. You can style your flannel-oversized shirt or print oversized shirt.
What matters is the fit on you. Therefore, whenever you pick your colored oversized shirt, make sure it slightly hangs on your body.
Do I have to wear male oversized shirts only?
No, you don't. You can pick a male shirt about your size or a female shirt a size or two bigger than yours. You can also buy custom oversized shirts in your perfect size.
When picking your oversized shirt what matters is how it falls around your body. This is why you need to pay attention the shoulder cuts where it is longer than yours. When the shirt drapes on your boy perfectly, it is your perfect oversized fit.
Where can I wear an oversized shirt?
You can wear your oversized shirt anywhere.
How you style an oversized shirt is determined by your supporting choices. For instance, tucking your oversized shirt in a fitting skirt and paired with heels makes it a perfect business-casual outfit.
On the other hand, changing to sneakers for the same outfit switches it up to a casual outfit.
Conclusion
One of the most important fashion statement pieces to have in your closet is an oversized shirt. The breezy cloth is meant to give you comfort and a chic-without-effort look. However, not everyone gets the styling inspiration to pull it off.
You can style your oversized shirts by putting deliberate accessories and add-ons. Furthermore, how you style your oversized shirt can change in style. This is why the shirt is versatile.
Moreover, styling your favorite piece of clothing the right way gives you a confidence boost you never knew you needed. So next time you pick up that oversized shirt, choose among these styling options to elevate your fashion.
Thanks for reading.
Africana Fashion provides suitable fashion articles to improve your styling experience.