Relaxed fit vs straight fit is a common debate amongst fashion lovers. While both styles are trendy and versatile, selecting the right one can be challenging.
To some, relaxed fit clothing is more comfortable than straight fit clothing because it appears to have a comfy look compared to the sharp lines of straight fit clothing.
By understanding the differences between these clothing styles, you can make an informed decision about which one suits your needs best. 
What is a relaxed fit?
A relaxed fit is a style of clothing that provides extra comfort, with less form-fitting material and a looser cut.
Relaxed fit pieces often feature wider leg openings, roomier armholes, and longer hemlines compared to more closely tailored items. 
This brings a perfect balance between your comfort throughout the day and your style.
The regular fit looks great in anything from jeans to dressy trousers. And they are a perfect option for work, running errands, or managing day-to-day activities.
What is a straight fit?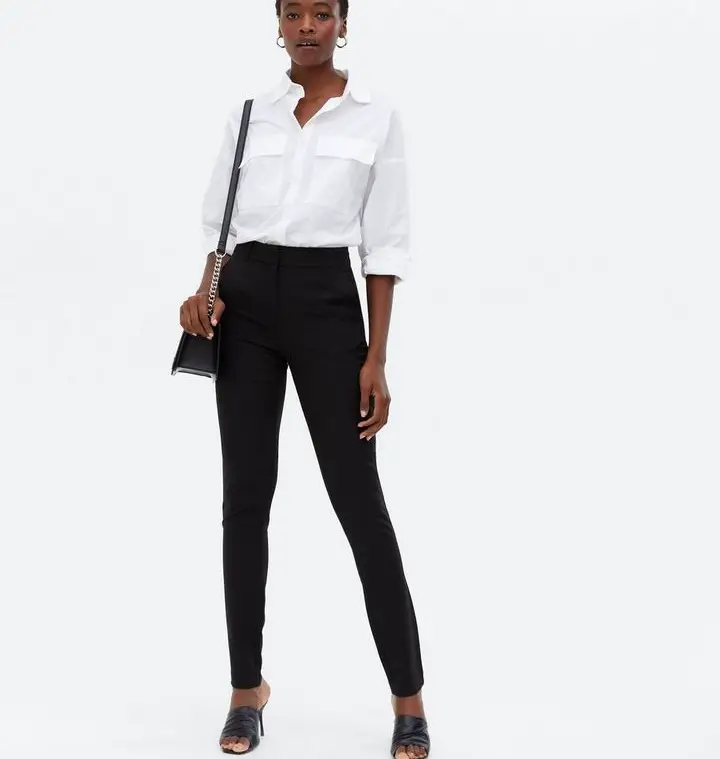 A straight fit is a classic silhouette featuring a regular rise, relaxed hip and thigh, and straight leg.
As the name suggests, it runs straight from the hip region to the leg region. And the waistband sits at the natural waist, making it an easy choice for everyday wear. 
Straight fits are popular among all age groups and they also provide a measure of comfort and style. Whether you're looking for a classic pair of jeans, chinos, or trousers, the straight fit is always an easy and timeless option.
Differences between relaxed fit vs straight fit pants
Generally, when people raise questions about relaxed fit vs straight fit, it's because these styles mostly refer to pants. Here, you'll see the difference between the two:
Shape and fit
Relaxed fit pants are more generous in the seat, thigh, and leg than straight fit pants, allowing a looser fit. On the other hand, straight fit pants are tighter-fitting throughout all parts of the pant.
Comfort level
Relaxed fit pants provide a much higher comfort level than straight fit pants, which are often quite restrictive.
Style
Relaxed fit pants can be worn casually or dressed up with a nice shirt and shoes, whereas straight fit pants tend to be more formal and professional.
Design
Relaxed fit pants have a much deeper front rise than straight fit pants, allowing them to sit lower on the hips. The legs of relaxed fit pants are also roomier, while the legs of straight fit pants have a much narrower cut.
Fabric
Straight fit pants often feature a heavier fabric that is not as stretchable as the lighter fabrics used for relaxed fit pants. This leads to a more rigid and structured look for straight fit pants.
Similarities between relaxed fit and straight fit pants
Both relaxed fit and straight fit pants have similar fits around the waist and hips.
They are both made from the same fabrics, such as cotton, linen, or khaki.
The length of both styles of pants is mostly full length, rather than cropped or capri length.
Relaxed fit vs straight fit pants can be found in a variety of colors, sizes, and prints for both genders.
The traditional style of both types of pants includes front pleats, belt loops, back pockets, and a zipper closure.
Both styles are suitable for a range of occasions, depending on the fabric and color chosen.
The rise (crotch length) of both styles is generally comparable in size.
While the overall fit is slightly different for each style, both offer a comfortable level of mobility.
Which is better, relaxed or straight fit pants?
The answer depends on personal preference and lifestyle.
If you are looking for a more comfortable fit, relaxed fit pants may be the best option, as they provide more room in the thighs and buttocks area. 
On the other hand, if you prefer a sleek silhouette then straight fit pants would be best.
Both styles can be fashionable depending on the look you are trying to achieve. So, try on different styles and brands to determine which is most comfortable for you. 
How to style a relaxed-fit
Relaxed fit clothes are becoming increasingly popular with the rise of athleisure trends. If you want to incorporate this style into your wardrobe, here are some tips and tricks that can help you create an effortless look.
Balance out loose items with fitted pieces
Avoid looking overly baggy by pairing a slim-fitting top with your relaxed fit jeans or vice-versa. This gives your outfit some structure and keeps it from looking sloppy.
Accessorize to give your look an edge
Add a belt, statement jewelry, chunky shoes, or a stylish hat to dress up your relaxed fit clothing. Simple accessories can make a huge difference in transforming your look.
Select colors and prints that complement each other
When choosing pieces for a relaxed fit outfit, opt for colors and prints that work well together.
If you're wearing two different shades of blue, choose ones with similar hues so they don't clash. Then accessorize with neutral pieces like black or white to finish the look.
By incorporating these tips, you can create stylish yet comfortable outfits with relaxed fit clothing.
Styling tips for a straight-fit
Choose a tailored fit
When selecting straight fit clothes, opt for items that are tailored and fitted to your body type. This will create structure and shape on the garment, ensuring it looks polished and put together.
Layer up
Experiment by pairing different layers of clothing such as a t-shirt underneath a dress, or a shirt with straight fit jeans, or chinos and a blazer over the top. This will create dimension to the look and help you stand out from the crowd.
Invest in accessories
Accessories are a great way to add extra color and texture to an outfit, so don't be afraid to experiment with bold prints and colors when picking out jewelry, scarves, or handbags.
Choose the right shoes
Your shoes can have a huge impact on the overall look of your outfit, so think carefully about the style, color, and texture of your footwear. Opt for statement heels or block-heel sandals to add an extra element of drama.
Add a belt
To define the waist and create more structure in your outfit, try adding a thin belt around the waistband of your straight fit trousers or dresses. This can also help to break up the monotony of an all-black look.
Think about proportions
Playing around with different lengths and fits of clothes can help to create more interest in your outfit. Opt for longer tops or shorter bottoms to bring balance to your look.
SEE: How to Style an Oversized Shirt
FAQs
What is a relaxed straight-fit?
A relaxed straight-fit is a blend of straight fit and relaxed fit. That is, it sits comfortably on the body while still maintaining a tailored look.
The silhouette usually features wider legs and a slightly slimmer waist, creating an effortless but polished aesthetic. The relaxed straight-fit can be found in trousers, jeans, skirts, dresses, and even shirts. It is an incredibly versatile look.
Is a relaxed fit bigger than oversized?
It depends on the brand and the item.
Generally speaking, a relaxed fit is a little loose than a regular fit but not as loose as oversized. Oversized usually have an intentionally larger silhouette than relaxed fit items. 
Is straight-fit jean the same as slim fit?
No, it is not.
Straight fit jeans provide a more relaxed fit than slim fit pants, which tend to hug your body in all the right places for a more tailored look. 
Slim fit pants are also often called tapered or skinny pants, and they can be very flattering on those with an athletic build or a slender frame.
Straight fit jeans, on the other hand, are cut straight down from the waist to the ankle and provide a looser, more relaxed fit that is great for those who don't feel comfortable in slim fit jeans.
SEE: Find From Simple to Grand Evergreen Gift Ideas for Women
Conclusion
The choice between relaxed fit vs straight fit clothes especially pants comes down to personal preference. As a recap, relaxed fits are more comfortable and provide more freedom of movement while straight fits create a sleeker look.
So, if comfort is important to you, then a relaxed fit will be the best choice. However, if you want to create a more bespoke look, then straight fits are the way to go.
Thanks for reading.
Need more guides like this? Find them here on Africana Fashion.