Have you ever wondered what color of heels will pair well with a white dress? If you answered yes, then this article is for you.
You'll agree with me when I say that every woman's wardrobe must include a white dress.
And this is because a white dress makes you radiate a different kind of ageless fashion. Moreover, all colors of shoes look fantastic with a white dress.
So, continue reading this article to find out more about the best heels color to wear with a white dress.
SEE: How Many Inches Do Heels Add To Your Height?
What color of heels go with a white dress?
1. Jelly high heels
Jelly shoes, also known as jellies, are a type of PVC-made footwear. These heels give a transparent look of different colors that will make your white dress pop and stand out.
2. Silver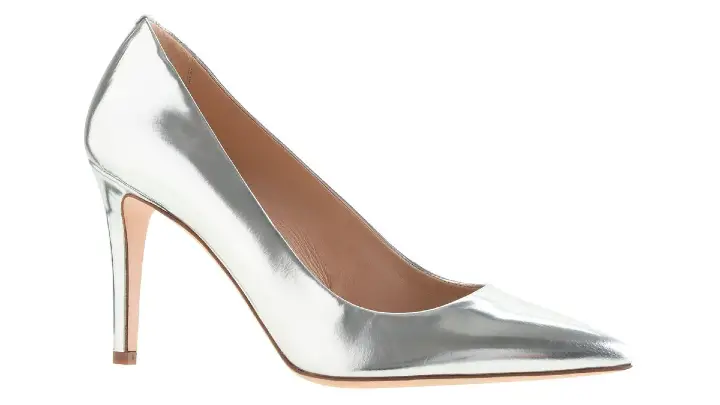 Silver shoes come in a variety of styles that go well with white dresses. These include shiny metallics, holographic tones, and shoes with silver glitter.
Wearing silver with white is a terrific aesthetic choice. However, a bright white with chilly undertones works best with it.
In addition, unless the silver has a warmer tone, you should not wear silver heels with off-white gowns.
3. Animal print heels
The first thing that springs to mind when recommending what to wear with animal print heels is a small white dress.
A nice, small white summer dress will make you look radiant and glowing. You could match up your look with a white, black, or matching animal print purse.
4. Gold
You'll concur that adding a touch of gold makes everything sparkle instantly. A pair of stylish golden heels with a white dress will surely turn heads your way.
Match your outfit with a pair of golden earrings. The gold tint gives you a very sexy and chic appearance that gives you the casual appearance of an A-list celebrity.
5. Nude heels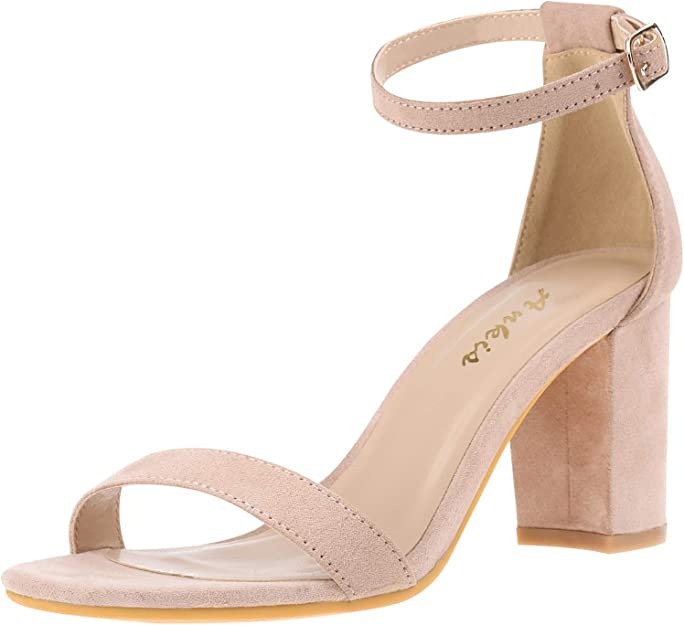 White dresses with nude shoes are a sophisticated approach to get a more modest style, which is the polar opposite of the contrast of a white dress and black shoes.
Nude shoes that complement your skin tone will make the dress stand out while making your legs appear longer.
The more basic the nude shade, the less the impact of the shoes on your overall appearance.
SEE: How to Walk in Heels As a Beginner
6. Strappy sandals
Another outfit you shouldn't pass up on is a white dress and strappy sandals. These sandals are available in any color you desire. Wear it with a short white dress for a casual get-together with friends.
7. Black heels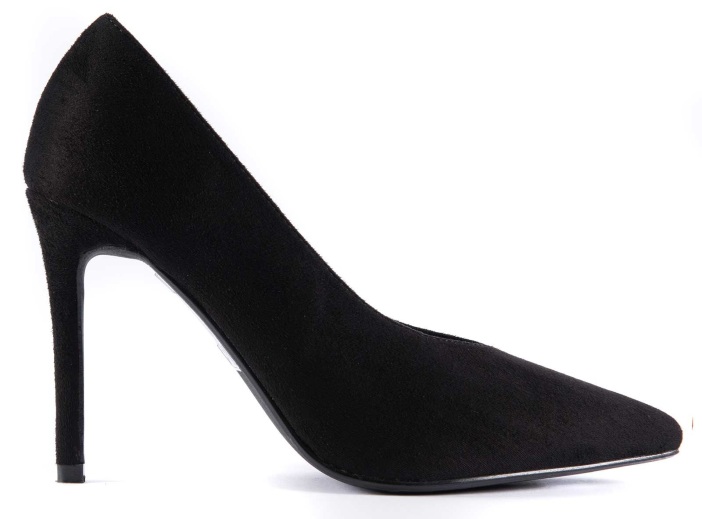 Black shoes will always look fantastic with any color of clothing, brilliant or off-white, and it is a favorite combination for many fashionistas.
It keeps things elegant and simple so that both the dress and the shoes may glitter without competing with one another.
To dress up an ensemble, you can choose a pair of pointed-toe pumps or a strappy stiletto.
8. Bronze heels
When deciding what color shoes to wear with a white dress, bronze heels are a good option, especially if you're wearing a warm-toned cream dress.
Metallic shoes are ideally suited for a more formal setting and look fantastic with white. Even the most basic white dress will look elegant with bronze heels.
Shoes made of bronze or copper look lovely when worn with both pure and creamy whites. It will stand out more against a bright white dress, but it also looks fantastic with off-whites.
SEE: Helpful Tips on How to Prevent Heel Blisters
9. Purple high heels
Even though this is not a ready-to-wear choice for a white dress, purple heels with a white dress are stunning.
The vibrancy of the purple combined with the crispness of the white gives you a youthful appearance that commands attention.
10. Rose gold
Solid gold and copper are combined to create the alloy known as rose gold. The two metals are merged to change the final product's karat and color.
This gives a killer look when paired with a white dress. If you ever dressed a white dress on gold shoes, you'll agree that a pair of rose gold shoes give the same feeling.
11. Brown
The color brown looks great with white. Brown is a terrific neutral-tone shoe to mix with your white dress for an office look; it also works well for informal outfits.
While tan or caramel boots will give your white dress attire an earthy impression, strappy brown sandals or clogs will exude a sunny boho mood.
SEE: Home Remedies and Treatment to Help Rid Heel Spur
12. White heels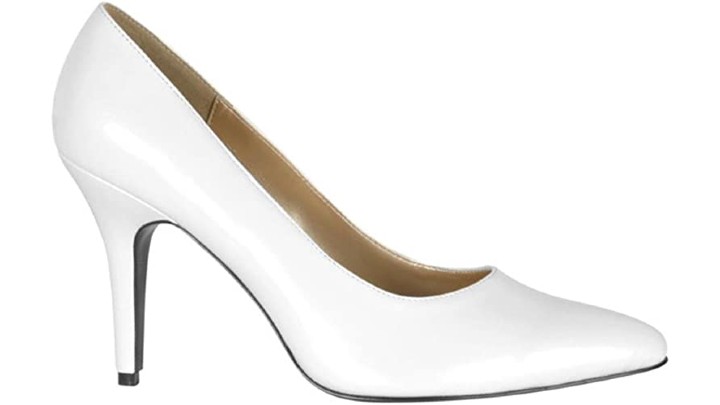 Contrary to popular belief white heels and a white dress are a good combination that many females match regularly.
However, if you do not take care, you might end up looking like a full-on bride, especially if the gown is a long one [which isn't necessarily a negative thing if that's what you want].
If this isn't what you're going for, you should try wearing your white heels more with a short white dress or with a white top paired with pants of a different color to create a great contrast.
SEE: Can You Wear Red Shoes To A Funeral?
13. Red shoes
White clothing and accessories look stunning with red shoes. Any shade of white will look beautiful with a real poppy red. This is one of the timeless looks many ladies love to bring up again and again.
14. Pink heels
The combination of pink shoes and a white dress adds a lovely touch to your appearance. You can choose from a variety of pink shoes, including metallic pink heels, blush heels, pale pink heels, and hot pink heels.
For a daring little white dress, light or hot pink heels will give you a grander appearance. To compliment your look, add a more understated purse, like white or silver, or match it to your pink shoes.
SEE: How to Fix Cracked Heels Permanently With These Simple Tips
15. Yellow heels
An outfit that works for both day and night features is the yellow heel with a white dress.
You can go to brunch in a white summer dress with a pair of yellow shoes. Cocktail hour is also the perfect time to wear a white dress and strappy yellow heels. Choose loudly colored heels like neon yellow.
If you're wearing a white pantsuit to work, a pair of yellow pumps will give a splash of color. A lovely yellow is a fantastic choice for brides looking to make a fashion statement on their big day.
Pair it with a white, black, or beige purse. You can also choose to coordinate with your shoes or just keep things simple. Another way to add color is with a pale pink or green handbag.
16. Green shoes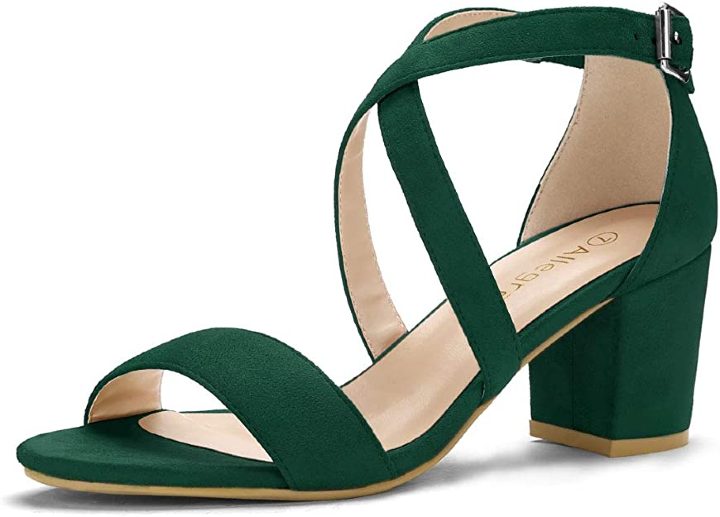 Green shoes are currently fashionable and look great with white clothing. Whether you're wearing chunky clogs, sandals, or chic stilettos, this color can up your dress game.
Any style of white or off-white clothing looks great with green shoes, which will also enhance your appearance. Consider a black or beige bag to keep things simple, or have fun with a hot pink, turquoise, or yellow bag.
SEE: Discover Painless Tips for Removing Heel Callus
17. Blue heels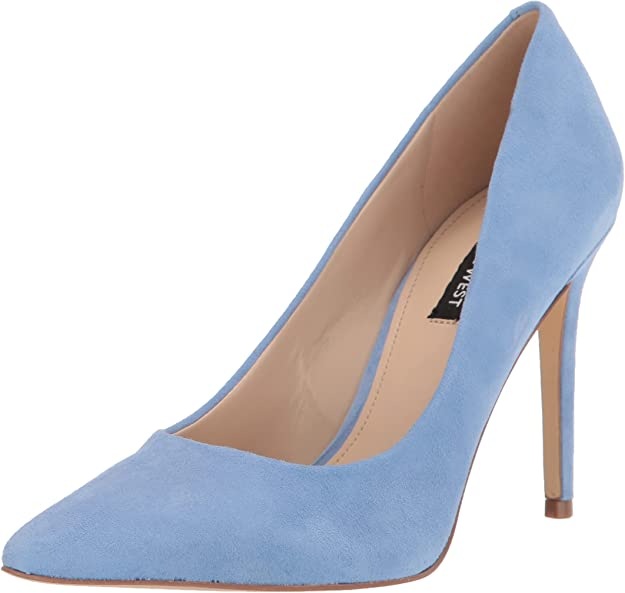 Bright whites with a chilly undertone go best with intense shades of blue like cobalt, turquoise, or shades of closely similar purple.
For a fancy white dress attire, a blue satin pump with jewel accents is right. Choose a pair of baby blue or blue denim shoes to simplify your outfit!
18. Orange shoes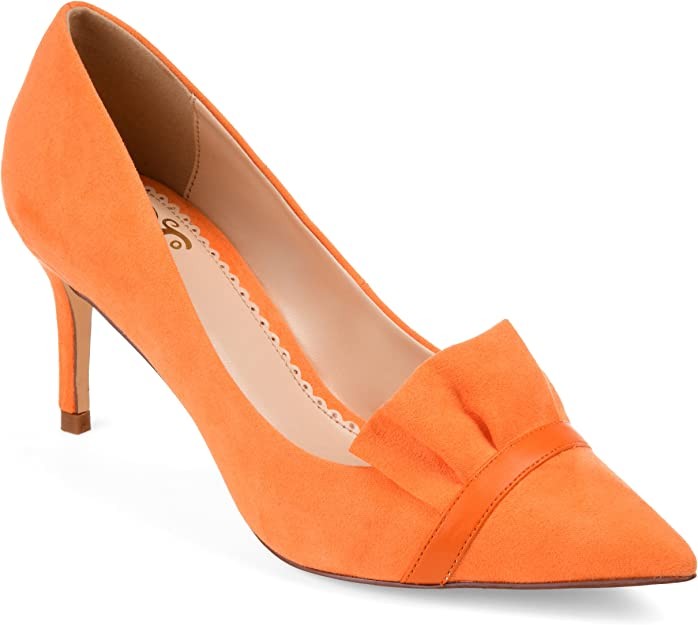 For extra contrast, white, especially pure white gowns, look great with bright orange and coral-colored shoes. In the summer, more informal dresses go well with orange heels and open-toed footwear.
But wearing a pair of orange ankle boots or pumps during the winter can also liven up a white dress.
SEE: Easy Remedies and Treatment to Help You Relieve Heel Pain
FAQs
What color jewelry goes with a white dress?
White dresses go well with gold accessories since they are slightly contrasting and assist to warm up the look.
Your white dress can seem even more magnificent by adding a set of gold earrings, a gold striking necklace, or gold embellished shoes.
Is white better paired with gold or silver?
Compared to silver, white and gold are more robust and long-lasting.
What are the white clothes rules?
The white clothes rule came about as a result of women's publications propagating the "no white after Labor Day" rule in the 1950s.
As a result, between Memorial Day and Labor Day, wearing all-white denotes that you belong to the elite group of fashion enthusiasts.
SEE: Get A Chance To Win A Pair Of Vans Worth $85
Conclusion
A skill that some women lack is the ability to pair colored heels with a nice white dress.
But thanks to the incredible heel colors listed in this article, the mystery behind that has been revealed. You can now complement your white dress however you wish with these colors.
Nonetheless, you can go over this list again if you need more time to process which color of heels looks best with a white dress.
Thanks for reading.
If you enjoyed reading this article, check out Africana Fashion for more.