Have you ever considered wearing red shoes to a funeral? If you answered yes, you should read this article.
Whether you're looking through your closet or making an online purchase, finding the perfect footwear for a funeral ceremony can be difficult sometimes.
That's because how you present yourself at a funeral is one way to show respect for the occasion. Your clothing and shoe choices should express sympathy and mourning for the bereaved family. Therefore, it is not a good idea to wear red shoes.
As a result, you must be careful when selecting the type and color of shoes you wear to a funeral. So, here is a short article that explains why you can't wear a red outfit to a funeral and more.
Can you wear red shoes to a funeral?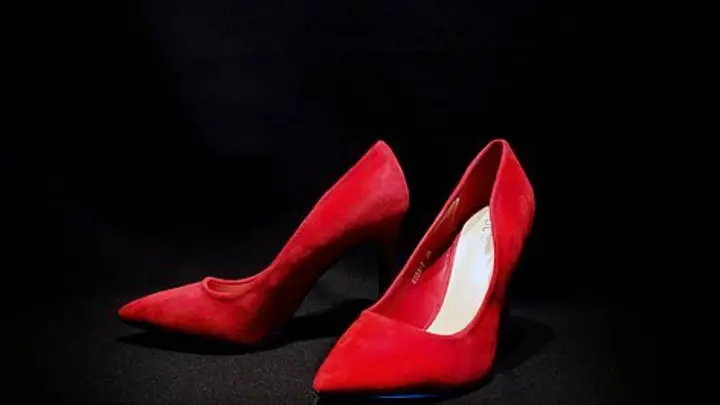 No, you cannot.
In general, non-black shoes like dark blue or gray are acceptable; anything else is unwelcome. This is to avoid detracting attention from the person being honored.
SEE: Red Shoes Meaning And Symbolism
Why should you not wear red shoes to a funeral?
Red is often associated with joy, love, and vitality in Western cultures and other world traditions.
Moreover, red is the color of happiness and celebration, as such wearing anything red – at all – to a funeral would be negatively perceived. It would be seen as discourteous and clash with the funeral's solemn atmosphere.
Why is it disrespectful to wear red shoes to a funeral?
The color red is bold, stands out, can be bothersome, and has a festive rather than solemn appearance.
Therefore, wearing red shoes or anything red at all has frequently been seen as disrespectful.
SEE: How to Stop Shoes From Rubbing the Back of Your Feet
What colors of shoes can you wear to a funeral?
For every gender, the rules are the same. A black, deep dark brown, navy, or burgundy dress shoe works best for funerals.
The above colors will also complement the vast bulk of your clothing, making them more dynamic.
Can you wear red and black shoes to a funeral?
Yes, you can.
However, the red should be darker and not as bright, with a black undertone. Anything else is out of the question.
Can you wear red pumps to a funeral?
No, you cannot.
You must dress respectfully and wear dark-colored shoes and neutral or dull clothing.
SEE: Here Is How You Can Fit Your Shoes
Can you wear shoes with a touch of red to a funeral?
No, you should not.
It is customary to wear dark-colored footwear, such as black or brown, to a memorial service. You must avoid choosing more vibrant ones.
Can you wear red sneakers to a funeral?
No, you cannot.
As stated, dark and demure footwear is more customary, so avoid wearing red sneakers to a funeral.
Moreover, red symbolizes passion, and you'll stand out too much and draw unwanted attention.
SEE: Essential Shoes Every Man Must Own
FAQs
What color of shoes should you not wear to a funeral?
Unless explicitly asked by the departed or their family, stay away from bold colors like red, pink, orange, and yellow.
What sort of shoes should you wear to a funeral?
To best complement, the technicality of the attire, wear formal shoes. Avoid wearing flip-flops and running shoes.
What is disrespectful to wear at a funeral aside from a red shoe?
Never wear skip-the-boat shoes, sneakers, tennis shoes, and flip-flops to a funeral. These are very disrespectful and paint you in a bad light.
Conclusion
If you are to attend a funeral, do not, for any reason at all, wear red shoes or attire.
Although in recent times, funeral and memorial dress codes are becoming more individualized. However, if not given specific instructions or unless wearing a particular outfit is a part of your culture's or religion's funeral tradition, do not bother to wear them.
Instead, think about the message your footwear choice is conveying. Moreover, it is best to avoid wearing red on the day of a funeral because it does not represent any grief-related emotions.
Thanks for reading.
If you enjoyed reading this article, check out Africana Fashion for more.