Over the years, the tapered leg style has become an iconic clothing trend, and if you were to ask fashion lovers about its meaning, you would get varying answers.
In some cases, it can convey a sense of sophistication and fashion-forwardness. Meanwhile, in others, it can represent comfort and casualness. 
Whether your style is modern or classic, tapered leg pieces have a place in your wardrobe. This guide explains the term "tapered legs" and everything you should know about it.
What is the meaning of tapered leg?
"Tapered leg" is a term used to describe the shape of a leg which gradually narrows from the hip or waist to the ankle.
Tapered leg also translates to a style of clothing that creates an instant slimming look and elongates the silhouette when paired with other garments.
Apparels with tapered legs are versatile and easy to style with various types of footwear, such as heels and boots, for a more dramatic look. They are an essential addition to any wardrobe. 
What does a tapered leg pant look like?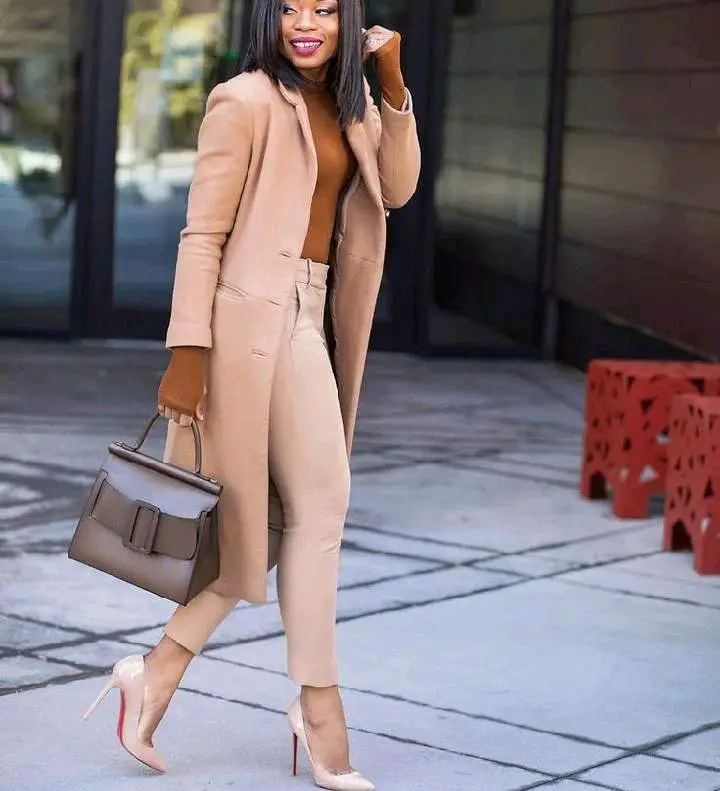 A tapered leg cloth has a slim, fitted silhouette that tapers gradually from the knee down to the ankle.
Some jeans, trousers, skirts, and dresses come in this style, but it's most often associated with jeans and pants that show off the legs. Tapered legs are slightly slimmer than the usual straight-leg jeans or trousers. They also tend to hug the wearer's legs more closely.
The slim fit of the tapered leg gives these garments a modern and sophisticated look that can easily be dressed up or down depending on the occasion.
They also come in a variety of colors and materials, so it's easy to find something that goes with any outfit.
For example, from your wardrobe, you can pull out a stylish black leather jacket and pair it with your blue tapered jeans or tan chinos for a casual daytime look. You can also ditch the jacket for a lightweight blouse on a hot summer day.
No matter what you choose, tapered leg cloths are sure to make a statement.
What size is tapered?
Taper size range from 2 to 20 inches.
When tapering your jean, for example, they should be snug but not tight and should fit comfortably around your waist and hips.
A good rule of thumb is to choose a taper size that is one inch smaller than your actual waist measurement.
For men, there are several types of tapers available such as slim, straight, and relaxed. For women, tapered legs typically have more of an hourglass figure with a narrower waist, fuller thighs, and slim legs.
Is tapered leg the same as tapered fit?
No, they are not the same.
Tapered leg pants are cut with a slightly narrower opening at the bottom of the legs than regular straight-leg jeans. This gives them a tailored look while still allowing them to wear a variety of shoe styles.
On the other hand, tapered fit is a bit more tailored, with a slimmer and skinny fit from knee to ankle. It creates a modern look and is ideal for those who want to show off their shape or are looking for a contemporary take on denim.
Some pants also combine a tapered fit and a tapered leg for an even more slimming look. So you're never short of options with what to wear.
What is the difference between straight leg and tapered leg?
The cut
Straight leg pants are generally a classic fit with the same width from the waist to the bottom of the leg. Meanwhile, tapered jeans have a narrower fit down the entire length of the leg. Tapered pants also hug your legs more tightly, making them ideal for a more modern look.
Comfort
Straight jeans provide more comfort and mobility, while tapered pants can be constricting if they are too tight. It is important to ensure that you find the right fit when shopping for tapered pants.
Style
Straight leg pants are timeless and give off a classic look, making them ideal for everyday wear. Tapered pants can be used to create more contemporary looks, as they provide a slimmer silhouette.
You should also know that tapered leg pants are not suitable for every occasion, especially white-tie and black-tie formal ones. The reason is that they are generally considered casual or smart casual wear.
FAQs
Is tapered leg skinny?
Not entirely.
They are in between slim and skinny. The reason is that they start as a slim fit right above the knee. But taper down to a slightly narrower leg opening for an overall slim and stylish look.
This makes tapered legs flattering on almost any body type. Also, they provide a bit more room in the thigh area than traditional skinny jeans while maintaining a sleek silhouette. 
Who should wear tapered fit?
Tapered fit jeans are best suited for men and women with leaner body types and those with narrow ankles.
The fit is great for any style and occasion, as it offers an updated look with a contemporary silhouette. So if you have more of a slender body shape and want to try something new, give tapered fit a go.
Is tapered leg still in style?
Yes, it is.
Tapered legs are a classic look that has been popular since the 1960s and are still one of the most adaptable fashion designs. You can style them with blazers, dress shirts, sneakers, and neckties for an evening out or a business-casual event.
Conclusion
The meaning of tapered leg is a style of clothing with legs that taper inward from the thigh to the ankle. They are more flattering than straight-leg styles and can be dressed up or down for an occasion.
Tapered leg fits are ultra-versatile. And they can create a streamlined silhouette that makes them a timeless classic in any wardrobe.
Thanks for reading.
Need more style-conscious guides. Find them here on Africana Fashion.