Are you one of those people who love the feeling of working out in a cozy outfit? Then you may want to know if sweatpants are good workout gear.
It turns out that the answer is yes.
But there are other things you have to know before you start working out in your sweatpants. I'll discuss them in good detail in this guide. You'll find this interesting and helpful.
What are sweatpants?
Sweatpants are loose-fitting pants that are comfortable and athletic. They are often made of soft high-quality cotton or a synthetic fabric such as polyester. 
These pants are perfect for cold weather and are designed to be thicker and warmer. This helps them retain heat better, encouraging sweating.
In addition, most sweatpants have an elastic waistband to keep them in place, with a slim cut and cuffs around the ankle that makes its shape funnel down.
This allows for a more comfortable fit and a better range of motion. Sweatpants also come with pockets to keep your hands warm or to store small items.
Can you work out in sweatpants?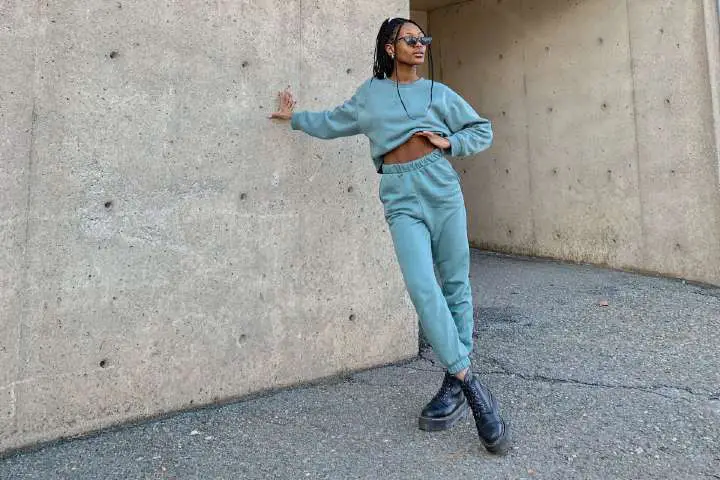 Yes, you can.
Many people do, but it also boils down to what you prefer.
Some people feel more comfortable in traditional workout gear like shorts or leggings, while others prefer the relaxed look of sweatpants. 
SEE: What to Wear in 60-Degree Weather
Why is it good to work out in sweatpants?
Burn calories
Working out in sweatpants helps you burn more calories compared to you wearing other types of clothing.
That's because the fabric of sweatpants is such that it doesn't allow your body to cool down easily, making you sweat more and thereby helping you to lose weight.
Stay comfortable
Another good reason to work out in sweatpants is that they are extremely comfortable. They allow you to move around freely without feeling constricted, and this can help you get the most out of your workout.
Avoid injuries
Wearing sweatpants while working out also helps to avoid injuries. That is because the fabric is much more forgiving and doesn't chafe or irritate the skin like some other types of clothing can.
Keeps you warm
In cold weather, it is important to keep your muscles warm and protect your skin from the elements. Wearing sweatpants during a workout can help you to do this, as they will trap the heat close to your body and keep you from getting too cold.
SEE: Keep Your Hands Moist With the Best Hand Cream
Wicks away moisture
Sweatpants are also great at wicking away moisture, which means that you will stay dry and comfortable even when you are sweating.
That is because the fabric is designed to draw moisture away from the body, keeping you feeling fresh and comfortable.
​To look stylish
Let's not forget that working out in sweatpants can make you look good and stylish. After all, they are trendy and can give you that extra boost of confidence. 
Is it better to work out in sweatpants or a hoodie?
First, let's define what hoodies and sweatpants are:
Hoodie: A hoodie is a sweatshirt with a hood.
Sweatpants: They are a type of casual pants made from cotton or synthetic fabric, designed to be comfortable to wear during exercise or leisure activity.
So, the main difference between sweatpants and hoodies lies in their design.
Design: Sweatpants have a more fitted design, while hoodies are more loose-fitting. This means that sweatpants will hug your lower body more closely, while hoodies will provide a more relaxed look for your upper body.
Coverage: Hoodies have a hood, while sweatpants do not. This means that hoodies can provide more warmth and coverage for the upper part of the body than sweatpants.
Material: Sweatpants are typically made from slightly heavier fabric than hoodies, making them more comfortable to wear during exercise or when it is cold outside.
So which wins? Both. Hoodies pair well with sweatpants for workouts.
SEE: What You Should Know About Working Out In A Hoodie
FAQs
Are sweatpants good for running?
Yes, they are.
Sweatshirts are cold-weather running fabrics that aid outdoor activities like running.
Some people prefer to wear them on short runs than longer ones, especially during warm weather because they trap heat.
Can you wear sweatpants to the gym?
Yes, you can.
Sweatpants are everyday gym wear. They allow you to perform a full range of legwork.
What should you wear to the gym?
Sweatpants, hoodies, yoga pants, gym shorts, and track pants are all gym wears.
They help you feel comfortable and allow you to stretch out as much as you need to.
SEE: Is It Fashionable To Wear Hoodie Over Hat?
Conclusion
Sweatpants are great workout garments because they are comfortable, breathable, and allow a full range of motion. However, they are not ideal for every situation.
If you are working out in a hot environment or doing an activity that requires a lot of movement, you may want to consider another type of clothing.
Thanks for reading.
Looking for more? Find other helpful guides here on Africana Fashion.