Jojoba oil (pronounced hoe-hoe-buh) has found so many uses in the world of beauty and skin wellness. Dr. Alan Durkin says, "it's a lighter-feeling oil but deeply hydrating, and full of nutrients, vitamins, and minerals that are integral to the health of your skin".
This plant-based oil has found a lot of skincare benefits and uses. Dermatologists and beauty care products manufacturers encourage the use of jojoba oil for skin. Moreover, it is said that this oil is suitable for every skin type.
This article answers your questions about if you should use jojoba oil as part of your skincare routine. Read on to see how jojoba works for your skin type and its concerns.
What Is Jojoba Oil?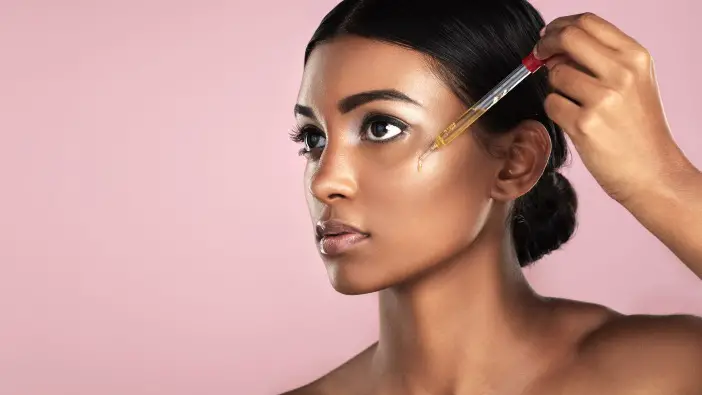 Jojoba oil is a carrier oil that is extracted from the jojoba plant that naturally grows perennially in North America. The extract from the seeds is not an oil, it is an ester wax with a liquid consistency.
On the list of healthy plant-based oils, this oil is one of the few that are very versatile. Jojoba oil mimics the skin's natural oil, sebum, and acts as a defense barrier when used.
This oil contains essential vitamins like vitamin B & E, alongside minerals that are necessary for your overall skin health. With so many uses, beauty care products manufacturers have not hesitated to incorporate this ingredient in the make-up of creams, lotions, oils, and even bathe soaps.
Is Jojoba Oil Good for Oily Skin?
Jojoba oil is an oily skin tamer. A pesky problem with oily skin is the overproduction of sebum in areas like the T-zone. Jojoba oil balances that phenomenon through its sebum mimicry. Your skin basks in the extra oils and doesn't produce more than necessary.
In addition, your skin pores do not get clogged as a result of excess oil and grime. Although it has a waxy consistency, it is not greasy. It gets absorbed quickly and penetrates deep into the skin and begins to carry out its skincare functions. 
Sometimes, in our bid to get rid of excess oil on the skin, we strip our skin of all its oils. Consequently, the skin overcompensates for this and secretes more oil than is necessary and leads to skin breakouts. Jojoba oil as part of your skincare regimen will restore the oils and salvage the overcompensation.
Also, this oil provides your skin with moisture and hydration which is a natural duty of sebum.
Is Jojoba Oil Good for Acne-Prone Skin?
One thing you won't find in the skincare regimen of a person with acne-prone skin is a comedogenic oil. Jojoba oil is non-comedogenic, thus, it is the best option for acne skin. Its sebum mimicry prevents clogged pores that can lead to blackheads.
And, these blackheads are the beginning of acne. Jojoba oil has reputable anti-inflammatory, soothing and healing properties. Regular application of this plant-based oil helps your skin maintain balance and prevent skin breakouts.
Moreover, it helps heal acne and fade away scars from a previous acne breakout. The anti-bacterial properties of jojoba oil prevent the buildup of the bacteria that is responsible for acne.
Acne-prone skin is a unique one and it may be associated with oily or dry skin. Either way, jojoba oil moisturizes the skin and keeps acne at bay.
SEE: Experts Say This Is the Best Skincare Routine for Acne
Is Jojoba Oil Good for Dry Skin?
Jojoba oil relieves your skin of dryness and the flakiness it comes with. It is an active skin moisturizer and hydrator. With the sebum mimicry, your body thinks it has enough oils and it remains moisturized.
Additionally, it acts as a sealant and locks in moisture leaving you with healthy, supple skin. This benefit owes it to the anti-inflammatory and emollient properties of jojoba oil.
Dry skin is often associated with the underproduction of sebum. Regular use of jojoba oil can make up for this underproduction. You can use jojoba oil alone as a dry skin moisturizer or use it to lace your regular moisturizer.
Additionally, jojoba oil softens your skin and smoothens out fine lines and wrinkles. To cure cosmetic concerns like chapped lips and stretch marks, jojoba oil is a great home remedy.
Is Jojoba Oil Good for Sensitive Skin?
Jojoba oil is soothing and gentle for sensitive skin types. This versatile carrier oil is not allergenic, so, your easily irritated skin can bask in this benefit.
The wax seals the surface of your skin and blocks out the hazards of free radicals and irritations of any sort at all.
Sensitive skin type is usually irritated by active ingredients. Lace your body lotions, creams, and serums that contain active ingredients with jojoba oil to calm down inflammation that can result in eczema. Also, its anti-inflammatory properties help to reduce redness and fosters quick wound healing.
So, whether you have dry sensitive or acne sensitive skin, you will find jojoba oil calming and non-irritating.
Is Jojoba Oil Good for Combination Skin?
The make-believe trick jojoba oil has on your skin is handy for people with combination skin. This skin type tries to strike a balance between the dry and oily areas of the face. Jojoba oil is a moisturizer that satisfies the needs of the two skin types that are present.
So, it dissolves sebum and regulates oil production in areas like the T-zone. Still, it is lightweight and breathable for the dry areas of your skin that can do with enough moisture.
In addition, jojoba oil contains antioxidants that protect your combination skin from clogged pores and fine lines. Also, it regulates your skin and boosts skin elasticity.   
Is Jojoba Oil Good for Skin Lightening?
Yes, it is. Essential vitamins like vitamin E that constitute jojoba oil have great antioxidation properties. Hence, the oil helps to eliminate any damage caused by free radicals. Moreover, it evens skin discolorations that arise from skin conditions such as hyperpigmentation.
Here's how it works. Jojoba oil mimics the skin's sebum and puts the skin in a condition where it assumes it has enough oils. It fades scars, evens the skin tone, and adds a natural glow to the skin.
Brighter skin comes with adequate skin moisture content. This carrier oil contains omega-6 fatty acids that make it act as a humectant and improves the skin's natural barrier. You can use the oil with essential oils like lavender, tea tree, and lemon oils for skin lightening.
To use jojoba oil at home for skin lightening, use a few drops to massage your face and neck post-bathe. You need not worry about have an unnecessarily shiny face because it absorbs into your skin fast.
Furthermore, you can make simple skin-lightening home remedies by mixing jojoba oil with other natural substances. Licorice extract, honey, lemon, and aloe vera are natural skin moisturizers and lighteners. A skincare routine with these ingredients will give you clear, vibrant, and naturally glowing skin.  
SEE: Ways To Correctly Use Skin-Lightening Products
Is Jojoba Oil Good for Sunburn?
Jojoba oil contains vitamin E, an antioxidant that keeps inflammation at bay and enhances skin rejuvenation. This makes it a perfect relief oil for sunburns. After long hours in the sun, a massage with jojoba oil can repair and moisturize the damage and irritations you may have gotten.
Prolonged exposure to sun rays can dehydrate the skin expose it to harm. Vitamin E absorbs the harmful UVB light, restores moisture, and eliminates free radicals. Moreover, it is a common ingredient in sunscreens.
While you may want to use a moisturizer, it'd be better you turn to natural skin oil. Jojoba oil penetrates deep into the skin and repairs tissue damages that may have risen from sun exposure. Consequently, it hinders the skin peeling that is an aftermath of sunburns.
Is Jojoba Oil Good for Baby Skin?
Organic jojoba oil is gentle and safe for a baby's skin, especially during massage and treatment of eczema. Also, it delicately takes care of diaper rash and leaves no skin reactions.
The essential vitamins and fatty acids present in the oil moisturizes and hydrates their skin. As a result, their skin remains smooth and supple.
However, you need to be careful when using jojoba oil on your baby. It shouldn't get into their eyes neither should it be ingested. A baby's skin is still very prone to irritations, acne, and dryness. This oil is hypoallergenic, and it is the best and safest oil you can use for them.
Other Benefits of Jojoba Oil on the Skin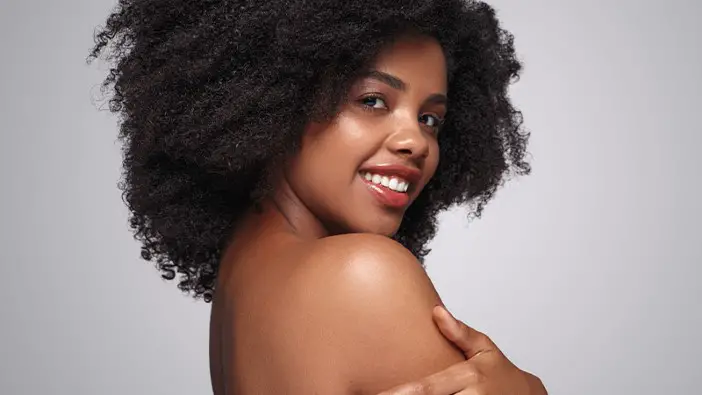 Makeup and facial cleanser
Using jojoba oil as makeup and facial cleanser works with the oil attracts oil principle. It lifts makeup, excess oil, and grime off your face without stripping it of its natural oils. Use jojoba oil with a cotton ball to wipe your face and then clean the oil with a warm, wet washcloth. 
Anti-aging
As you age, your collagen levels decrease. As a result, fine lines and wrinkles begin to set it. Jojoba oil furnishes your skin with antioxidants that stimulate the synthesis of collagen and elastin. Also, the antioxidants eliminate oxidative stress that contributes to aging, leaving you with supple skin.
Wound healing
Jojoba oil speeds up the wound healing process by using vitamin E to enhance skin cells' binding after an injury. It forms a protective covering that fosters speedy cells repair. Also, jojoba oil is an effective home remedy for cracked heels and chapped lips.
Cuticle repair
Jojoba oil has antibacterial and antifungal properties that help to treat and protect against nail infections. If you have dry cuticles, apply jojoba oil and rub it into the cuticles. The skin around it will soften and become new again.
Side Effects of Jojoba Oil on the Skin
This natural oil has no claim of skin irritations against it. Jojoba oil is universally friendly and safe. The only exception is that, with persons and on the first contact, there may be a slight skin rash. And, such cases are very rare.
SEE: Best Lavender Essential Oil to Boost Your Skin Health
FAQs
Will jojoba oil clog my pores?
No, it will not. Jojoba oil is a non-comedogenic oil. Thus, it will not clog your pores and lead to skin breakouts. Because of this, it is highly recommended for oily and acne-prone skin types.
Can I leave jojoba oil on my skin overnight?
Yes, you can. You can add jojoba oil to your evening skincare routine and leave it overnight. It quickly absorbs into the skin and does not clog pores.
While you sleep, the skin naturally enters a repair mode. So, leaving jojoba oil on your skin overnight will foster skin aging reversal.
Should I refrigerate jojoba oil?
No, you should not. Jojoba oil has quite a long shelf life of about five years. That is to say, if it is kept sealed and stored well, it'll last that long and not go bad.
Unlike other oils, its waxy consistency and odorless nature keep it from going rancid. It is okay to store it in a dark glass bottle and away from light.
Bottomline
Natural oils are gradually becoming key players in the world of beauty and skincare. Jojoba oil is very versatile and is appreciated by every skin type. The fact that it has a molecular structure that resembles that of the skin's natural oil suffices as authentication of its benefits.
There are rare cases of allergies to jojoba oil. However, skins can be different with persons and at different points in time. So, you might want to do a patch test before you add jojoba oil to your skincare routine. 
You can use jojoba oil by itself or with essential oils. Moreover, skin experts encourage that you use skincare products that contain jojoba oil as one of the main ingredients. The side effect can be quickly nullified, and you can call jojoba oil a gift from nature to all.
Thanks for reading.
Check Africana Fashion for relevant beauty articles that cater to your skin and its needs.