When you are done with grooming, trimming, or downright shaving off your beard or facial hair, the next thing you reach for is an aftershave. It's the natural order, even though some don't really know what aftershaves do.
The substance is an integral part of facial care for men. True, some can do without it for personal or health reasons. However, those who don't know why they need it, need to figure what an aftershave does before making a really informed choice.
It's natural for some to avoid aftershaves. After all, who would forget the iconic Macaulay Culkin yelling after applying an aftershave scene in Home Alone? The scene will forever be a classic.
However, aftershave is not just about that. It's partly that, and more.
It's become an integral part of facial care for men because it's tied to an important routine- shaving. What an aftershave does is tied to your shaving routine, which is why it is important to know everything about it.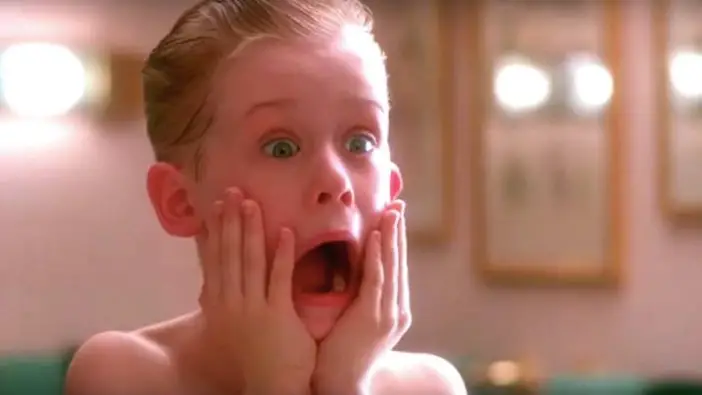 What Is an Aftershave?
As soon as a boy hits puberty, beginning his transition to a full-grown man, he starts preparing himself for a daily or every other day ritual, shaving. This practice is taught from father to son. The son grows and finds this routine is part of what describes his personality.
He can decide to grow and groom his beard. He can also decide to keep it as stubble or a morning shadow or go full-shaven face. With all these, he would need one important tool; that is an aftershave.
Before I put aftershave in a box, I would like to highlight that the shaving process is not always smooth. Sometimes you shave off more than facial hair. You might end up getting cuts and bruises as you shave.
Not only that, but you could also transfer bacteria from one spot to the other as you shave. This happens all the while you remove your facial hair.
This is where aftershaves come in.
An aftershave is simply a liquid, gel, spray, or cream used to soothe and disinfect the skin after shaving. For most formulas, you would find a menthol or alcohol component that makes it sting (why Culkin screamed after the aftershave came in contact with his skin).
Aftershaves provide a solution to shaving gone bad. When you get nicks and shards of peeled skin, you can soothe the area and disinfect it to kill bacteria.
This, in simple terms, defines what aftershave is.
Read Also: 12 Best Beard Trimmers Black Men Need to Improve Their Grooming Game
What Does Aftershave Do?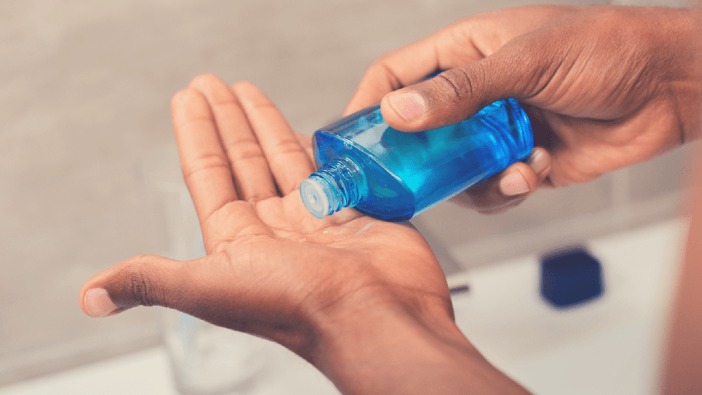 1. Protects the skin from bacteria
Aftershaves contain astringents that could be alcohol-based or natural astringents like witch hazel. These astringents work as a sanitizer that cleans the opened and exposed skin pores. With this, bacteria are cleared from the pores.
Also, they protect the skin from possible infections on the skin that could cause bumps or skin irritation. However, due to its astringent properties, it might sting when applied.
2. Soothes irritation
Your exposed skin is going to naturally feel irritant after shaving. Aftershaves soothe the irritation. The epidermis (outer layer of the skin) feels vulnerable after every shave. Furthermore, the vulnerable part could be painful to touch and would need to be calmed.
Aftershaves have ingredients that would soothe and calm the skin as it becomes freshly exposed. Then you won't have to feel sensitive to touch.
3. Hydrates the skin
Shaving actually dries up the skin and could strip it of oils and moisture. Aftershaves hydrate and moisturize the skin. Some aftershaves are high-level moisturizers that protect the skin's pores and keep them plump.
Additionally, the moisture helps to keep the skin firm and from feeling patchy. That's why aftershaves come in different formulas that keep the skin moisturized. You can find deep moisturizing aftershaves in cream and lotion formulas.
4. Provides the skin with a nice scent
Although the scent in aftershaves is not as high as a cologne, they do contain scents that refresh the skin. Most aftershaves have pleasant smells that keep the beard and skin area smelling nice and fresh.
It can work as aromatherapy to your nose and mask the smell of shaving creams.
5. It reduces burns, redness, and bumps
The antiseptic and antibacterial properties of an aftershave make it easy to soothe burns, redness, and bumps. The abrasive blades of a shaving stick or shaver could be harmful to the skin. Aftershaves calm the redness from the abrasive contact.
Furthermore, it helps to stop bumps rising from the hurt skin surface. This, consequently, leaves you with smooth and soft skin.
6. Heals cuts and wounds
An aftershave's antiseptic components also make it easy to treat cuts and wounds caused by the blades of shaving sticks or shavers.
It's natural to get cuts from shaving, especially during your early stages of shaving or if you have thick and coarse hair. However, with an aftershave, you can heal and treat your cuts.
Moreover, an aftershave uses its oils to protect the skin's outer layer. You can prevent bacteria and toxins from going deeper into the skin, not causing more damage to the skin.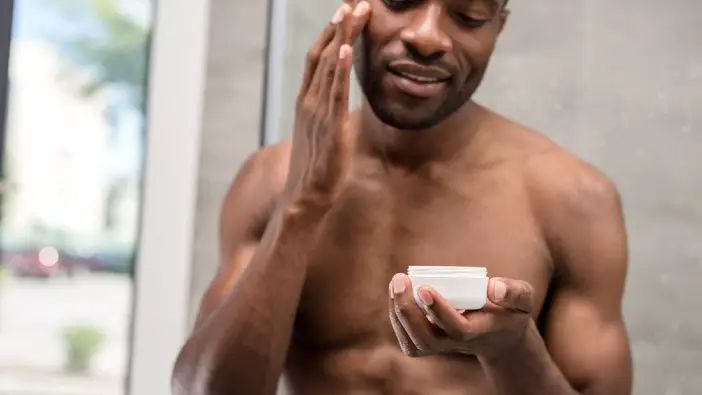 How to Apply Aftershave
An aftershave comes after shaving your facial hair. And you can use it correctly by following the guideline below:
After shaving gently and carefully, clean any shaving cream, lotion, or gel left.
Then you pat your face and neck with a towel to dry.
Pour out a small amount of aftershave on your hands, rub it together.
Apply the aftershave to your face and neck area, patting your sensitive and pulse areas.
Massage the aftershave on your skin, paying gentle attention to the raw and open cuts.
Follow up with your moisturizer.
Pro tip: Do not rub the aftershave, rather pat and massage. Rubbing could be abrasive on the vulnerable skin and cause the cuts to open wider.
See Also: 7 Tips to Help Your Perfect Beard Grooming
Pros of Using Aftershave
Aftershave has the following pros:
It provides skincare solutions. An aftershave has properties that moisturizes, soothes, and keeps your skin smooth when you use it.
It also serves as a cleanser to disinfect the skin.
Aftershave has antibacterial and antiseptic properties that treat the skin.
It is affordable and essential in the shaving routine.
It protects the skin by serving as a cover on the sensitive layer.
An aftershave provides aromatherapy with its soothing fragrance.
Cons of Using Aftershave
The cons or faults that could arise when you use an aftershave include the following:
People with sensitive skin might feel a deep sting when aftershave is applied to the skin.
The skin might react to the scent or fragrance of the aftershave.
The alcohol astringent may have a drying effect on the skin.
Aftershaves with less than appealing ingredients are more than natural healthy aftershaves. Pay attention to labels and ingredients before buying an aftershave.
How to Choose the Right Aftershave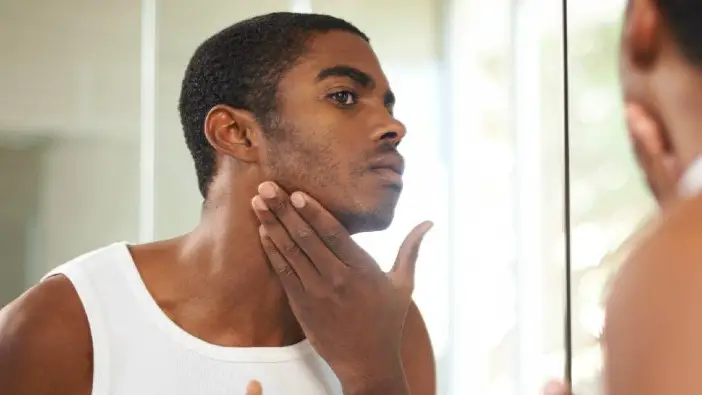 1. Skin Type
Your skin type matters when you get your aftershave. If you want to get the full effect of aftershave, you have to listen to your skin's needs.
For instance, dry skin should use aftershaves like Rockey Mountain Barber Aftershave Balm for Men. It has ingredients like shea butter, coconut oil, and mango butter to moisturize and keep the skin smooth.
On the other hand, oily skins should use THAYER'S Gentlemen's Collection Aftershave Balm. With an ingredient like witch hazel, it tightens the skin's pores.
Combination and normal skin types can use Cremo Cooling Formula Post Shave Balm. This balm helps to keep the skin smooth. Meanwhile, sensitive skins can use NIVEA Men Sensitive Skin & Stubble Balm. It is rich in chamomile and almond oil to soothe irritated skin.
2. Type of Aftershave
There are different types and forms of aftershaves. For instance, aftershaves come in liquid, sprays, gel, balms, and cream forms.
However, none of these forms are better than the other. You can use any type of aftershave based on your skin's needs and type. For instance, oily skin is most likely to purchase gel, lotions, or sprays because they have mattifying effects.
3. Ingredients
Ingredients and components play a vital role in choosing your aftershave. Whatever aftershave you do decide to buy should have astringents in it.
Alcohol was mostly used for early aftershave formulas. Now it's mostly alternatives or mild alcohol like isopropyl alcohol or ethyl alcohol. A more natural astringent like witch hazel is most common in modern aftershaves.
You would also find moisturizing ingredients like shea butter, coconut oil, jojoba oil, aloe vera, and glycerin. Then soothing components like vitamin E, chamomile, and oatmeal can also be found in aftershaves.
Essential oils are natural scent and aroma components you would also find in an aftershave. Lavender oil, green tea, cedarwood, are deep and cool fragrances that can be added to aftershaves.
See Also: Aftershave for Men: Best Selected Products to Buy
Frequently Asked Questions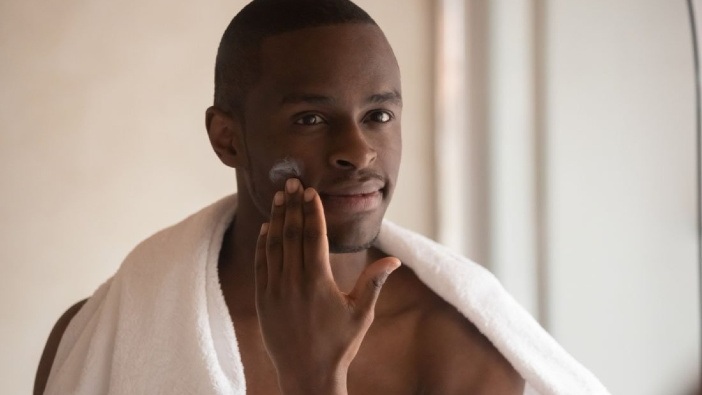 Is an aftershave necessary?
No, it isn't. You don't need to use aftershave.
However, it would be smart to use aftershave. Aftershaves are meant to soothe your skin and care for it post-shaving. Also, it is a helpful product for those with acne, sensitive, or irritated skin.
The product keeps the skin protected from bacteria and toxins with its antibacterial and antiseptic properties.
How long does an aftershave last?
Up to 3 hours. You would have an aftershave with its scent lasting up to 3 hours.
You can get aftershaves with a stronger scent if you want a long-lasting one.
Additionally, aftershaves are likely to last longer on oily skins than dry skins. This is because dry skins absorb the fragrance of aftershave faster, while oily skin absorbs slower.
Are an aftershave and cologne the same?
No, they are not. Aftershaves and colognes are different scent products.
Aftershaves are post-shaving products used to soothe, treat, and disinfect your skin. Whereas, cologne is purely a scented product used to make you smell good.
Furthermore, the concentration of scents is different between the two. Cologne has a stronger scent than an aftershave.
Does aftershave stop acne?
No, it doesn't.
Alcohol-based aftershaves, for instance, tend to dry the skin which also dries up the natural oil (sebum) from the face. But this could lead to more sebum being produced, causing more acne to pop up.
Nevertheless, aftershaves are meant to keep the skin hydrated enough to not cause more acne. You can maintain your current face's dry state, but aftershaves cannot stop acne.
Conclusion
If you are one of those to skip aftershaves after shaving, I'll assume it's because you don't know what aftershaves do. Aftershaves do more than keeping the skin cool and calm post-shaving.
It helps to disinfect the skin, treat cuts and wounds, calm and prevent burns and bumps, and make you smell fresh and nice.
You can use an aftershave even if you do not shave or you have a beard. It's meant to keep your skin protected. But using the right one for your skin type would get you that protection.
If you use it properly, you won't get to experience what Kevin McCallister went through in Home Alone. Using aftershave is a refreshing and much better experience than that.
Thanks for Reading.
You can get helpful beauty and wellness articles to boost your lifestyle on Africana Fashion.