Thinking of improving your dark skin? Well, the first thing to start with is an exfoliator for your dark skin.
Exfoliating your skin is an important step in any skincare routine. Just as cleansers, toners, and moisturizers are important steps in keeping your skin clear, smooth, soft, and grime-free, you need an exfoliator in between to create a smooth effect.
Exfoliators are necessary for cleansing and keeping the skin fresh, dirt and grime, and oil-free. Without the practice of exfoliation, you would notice your skin becoming dull, heavy, and sticky due to all the buildup.
This is why you need the best exfoliator for dark skin. Exfoliation is great for all skin types. However, dark skins are mostly combination or oily skins, which means lots of oil and buildup in the skin. And the only way to clear that is to use the best exfoliating products to remove the grime.
Best Exfoliators for Dark Skin
You need an exfoliator in your skincare routine for many reasons. It's one of the basic skincare products you must have. Even when you want to go with minimal skincare routines, you need an exfoliator to help clear your skin pores.
This is why I have put up a list of the best exfoliators that would benefit dark skins. These products are chosen based on user feedback and ratings.
1. Best Body Exfoliator
A body scrub is essential for removing dead skin cells and making the skin radiant. Neutrogena's Clear Body Scrub is oil-free and mixed with salicylic acid for acne and breakouts. It is an exfoliator for dark skin tones that deep cleanses the skin, making it smooth and clear. The acne-fighting formula is great for oily and combination skin.
Also, it does not contain plastic microbeads. Instead, it has salicylic acid to act as an active ingredient against acne. The product is non-comedogenic and leaves no residue after use. The result of using this product is clear and smooth skin.
2. Best Sugar Scrub Exfoliator
Sugar scrubs are excellent for cleanly removing dead skin cells. This scrub by Brooklyn Botany is excellent for moisturizing and exfoliating the body. It is gentle to the skin. Also, it can be used for facial, lip, body, and foot scrub to remove debris and oil. Besides this, it clears the skin giving it a healthier and natural glow.
The brown sugar scrub is mild, therefore, good for sensitive skins and combination skins. As a facial scrub, it will remove blackheads, pimples, and bumps. With the scrub, you would be getting perfect skin that radiantly glows.
3. Best Chemical Exfoliator
Paula's Choice Skin Perfecting Exfoliant is a chemical exfoliator that is mild to the skin. It helps to clear out blackheads, large pores, and fine lines. It is a non-abrasive exfoliant with 2% of beta hydroxy acid (BHA) used to clear your skin tone, redness, and also wrinkles. If you want to improve your skin texture, then the exfoliant is right for you.
The formula has hydrating and brightening components that help to keep clear skin and keep it moisturized. The formula is great for sensitive skins. Also, it contains no parabens, fragrances, or fluff.
4. Best Facial Scrub Exfoliator
As Amazon's best choice, St. Ives Blackhead Clearing Face Scrub is an exfoliator that contains ingredients like green tea and bamboo powder. It is also packed with 1% salicylic acid for acne medication. The ingredients are 100% natural. With no dangerous ingredients, the scrub provides a moderate exfoliation to clean your pores.
5. Best Gentle Scrub Exfoliator
Bare Botanic's Body Scrub Gentle Exfoliator with coconut vanilla that is all-natural and skin cleansing. The scrub relieves the skin of dry and itchy feeling. It has ingredients like sea salt to gently scrub the skin of oils and dead skin cells. Other natural ingredients like avocado oil, jojoba oil, aloe vera oil help target the innermost layer of the skin, moisturizing from within.
Asides from this, it doesn't leave a greasy feeling, rather it makes the skin smooth and radiant. It is all-natural with no fragrance, dyes, or preservatives. The scrub is fit for all basic parts of the body that needs exfoliating.
6. Best Budget Exfoliator
For an inexpensive price, Dove's Exfoliating Body Polish is perfect for smoothing and brightening the skin. With ingredients like rice milk and middle-sized exfoliating particles, the polish is easy on the skin.
It provides instant softness to reveal a new and radiant skin layered. The natural floral fragrance makes it soothing and comforting to use.
7. Best Facial Peel Exfoliator
Fortified with glycolic acid, lactic acid, and pyruvic fruit acid, Voibella Beauty's Chemical Peel for the face is an exfoliator for dark skin that treats dark spots and acne scars.
The exfoliator kit and mask product provide long-term benefits. It also has AHAs to remove excess oil and dead skin cells, revealing newer and younger skin.
8. Best Anti-Aging Exfoliator
With ingredients like infused collagen and stem cells, M3 Natural's Charcoal Scrub will clean the skin and help increase collagen production and skin cell turnover. It fits a body and facial scrub and helps to restore the natural glow of the skin.
It's a great anti-aging skincare product that delivers results by clearing fine lines, wrinkles, stretch marks, dark spots, varicose veins, and more.
Balancing pH levels is important, and the charcoal scrub does that while moisturizing the skin and minimizing the pores. Your skin will maintain the silky smoothness of its younger days.
9. Best Brush Exfoliator
An exfoliating brush is great for dusting off dead skin cells with or without water. Dylonic's body brush is great for all parts of the body including bikini lines, legs, and armpits. It also deals with ingrown hair and razor bumps after shaving.
The brush uses its teeth to gently massage the body and clear of debris and dead skin cells making your skin silky smooth.
The brush has an ergonomic grip that is easy to hold and fits perfectly in any hand. If you don't want to use chemicals or prefer dry exfoliation, then the brush is your perfect tool.
10. Best Hand Sponge Exfoliator
Evridwear exfoliating dual texture bath gloves helps to scrub off dead skin cell leaving the skin fresh and clean. You can lather up with a good African black soap to get the exfoliating properties in and give your skin a smooth look.
The hand gloves are one-size-fits-all and help to peel acne, rashes, and eczema. The glove improves the skin with repeated use and helps to clean dry skin.
Also, the gloves help to activate blood circulation and healthy skin. It is a stretchy hand material created for both men and women.
Best Exfoliators for Dark Skin FAQs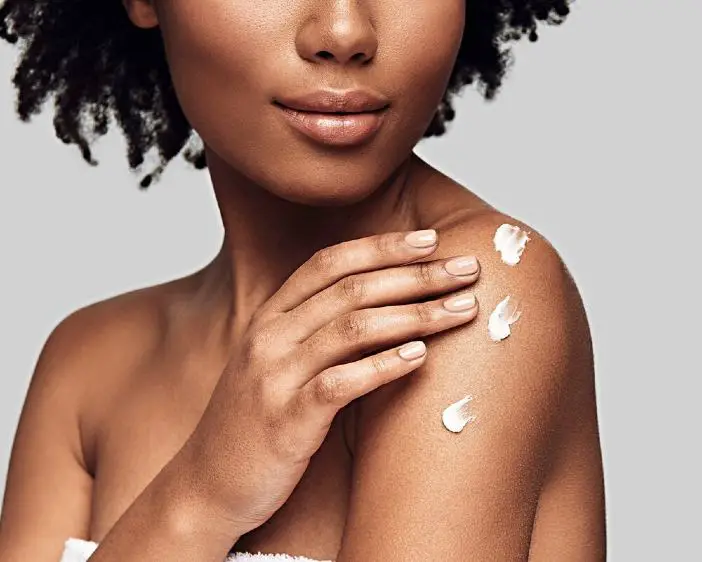 Why do I need an exfoliator for my dark skin?
As I said, you need an exfoliator as part of your skincare routine for several reasons. The first is to remove dead skin cells from the outer layer of the skin.
The skin changes its cells now and then, some are washed or shed off, but sometimes the dead cells stick to the pores with the aid of sebum, thereby clogging the pores.
When you exfoliate, you are unclogging your pores and removing the dead cells that are stuck there. This helps free your pores. Also, exfoliators are used to remove excess sebum from the skin. When your skin produces excess sebum, and they mix with dead cells, they create blackheads, whiteheads, and acne. You can lightly treat these skin conditions by exfoliating.
Another reason to use exfoliators is to soften your skin texture. With the dead skin buildup removed from the skin, new skin is visible. And new skin is smooth to touch. Also, with an exfoliator, you can help with hyperpigmentation and dark spots. Exfoliating helps lighten the skin when new skin shows up.
And you can't not want to exfoliate when it makes the penetration of products possible. When you exfoliate, what you are basically doing is unclogging your pores of dead skin cells, oil, and grime that would block products from penetrating and treating or protecting your skin. Exfoliating makes it possible for products to penetrate your skin.
And exfoliating makes your skin light and radiant. The skin's cell turnover is increased, which means your skin is going through its normal cell cycle. This also leads to radiant new skin.
SEE: Uneven Skin Tone: See All the Information You Need Here
What type of exfoliator should I use?
Exfoliators broadly fall under two categories which are physical or mechanical exfoliators and chemical exfoliators.
When you want to get the best exfoliators for dark skin, what you are getting would fall under one of these two.
Physical or mechanical exfoliants use friction to remove dead skin cells. This includes sponges, brushes, and products with visible particles rubbed against the skin to remove dead skin cells. The process uses abrasive elements that force the dead skin cells off your body.
Chemical exfoliants, on the other hand, use chemicals like acids or enzymes to loosen the cells or dissolve the 'glue' that binds the dead cells with other cells. Known acids used to exfoliate skins are alpha hydroxyl acids (AHAs) and beta hydroxyl acids (BHAs).
You can use any type of exfoliant you want. It is based on your preference. However, sensitive skins might get irritated when they use a physical exfoliant.
SEE: How to Use African Black Soap to Clarify and Brighten Your Skin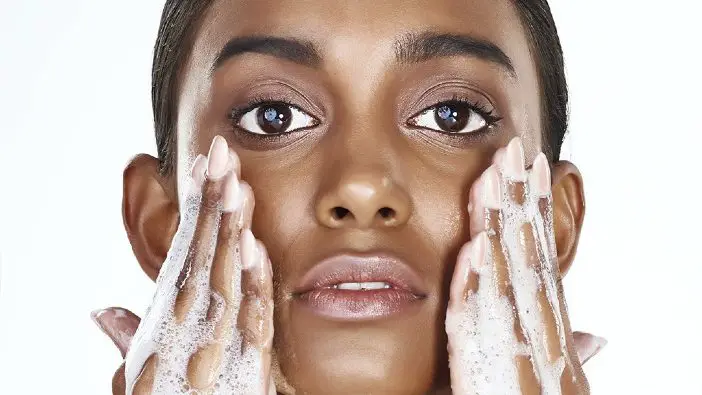 Do I use an exfoliator or an African black soap?
This is based on your preference.
African black soap is an exfoliator. The soap works to remove dead skin cells and clear your skin.
The soap has ingredients like ash from roasted plantain skins, cocoa pods, and palm kernels to gently exfoliate the skin. You can use black soap to cleanse your skin. The traditional soap is just another type of exfoliator you need.
When you want to choose the best exfoliator for your dark skin, you should use both an exfoliator and an African black soap. However, should not be at the same time, except it is a brush or sponge. But, soap is still soap, so using the two to complement your skin is the best answer.
Does skin type matter when I exfoliate?
Yes, it does. Skin type will determine what type of exfoliation method or exfoliant you use.
For instance, sensitive skins are to avoid using physical exfoliators. The skin could be irritated further. Using a chemical exfoliator is best for such skins. Meanwhile, normal skin types can use any type of exfoliating tool. Both physical and chemical exfoliators are safe to use.
Dry skins are close to sensitive skins, therefore, they should also avoid physical or mechanical exfoliants. Glycolic acid will help remove dead skin cells and moisturize the skin. On the other hand, oily skins need physical exfoliators to remove thick dead skin cells and sebum.
And combination skin can also use both types of exfoliators. However, they shouldn't be used at the same time. Also, a moisturizer should be used immediately if the skin feels too dry.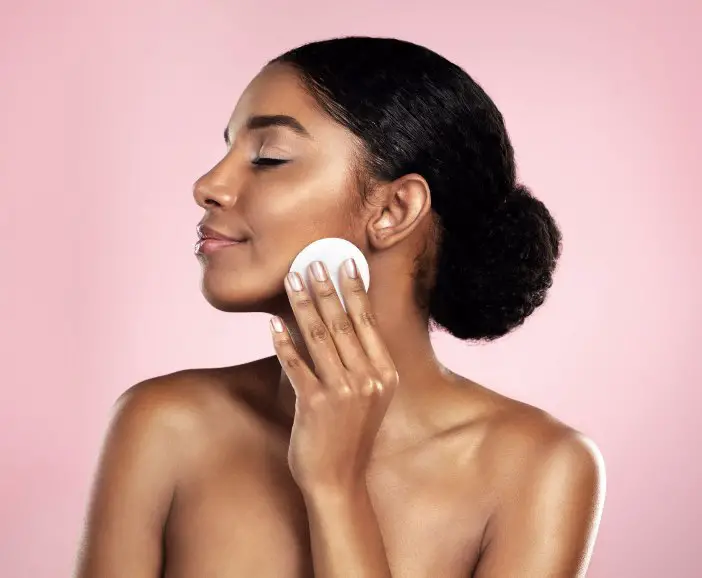 What should I do before exfoliating?
When preparing to exfoliate your skin, there isn't much to do to cleanse your skin of dead skin cells.
Usually, you have to do a light brush of your skin. Then you wet your skin. If you are exfoliating only your face, use a cleanser first. And then you can prepare to exfoliate.
This, however, is dependent on you using the physical exfoliator. When it comes to chemical exfoliators as explained before, it is using chemicals and acids to cleanse the skin. You are mostly cleansing your face with a chemical exfoliator. The preparation is easy too. All you have to do is cleanse your face with a cleanser. Then you follow up with your chemical exfoliator.
What should I do after exfoliating?
After exfoliating and drying your skin, you have to add your treatment products.
A face toner comes next in your skincare routine. This helps to clean whatever is left of the dead skin cells. And then, you add a moisturizer to protect your skin and hydrate it. Also, you need to lock every nutrient you have gained.
And finally, use sunscreen to protect your skin from the UV rays of the sun. You can only add sunscreen afterward for your morning skincare routine. Do not use sunscreen at night.
What are simple exfoliating tips I should know?
To get the best out of your exfoliator, this is a simple guide that'll help your exfoliating routine easily.
Exfoliate from the bottom then up, paying close attention to your feet.
Rub in the exfoliator in circular motions to scrub away the dead skin cells and debris.
Do it gently if using a physical exfoliator. The exfoliator will remove dead skin cells with little pressure.
Don't over-exfoliate. Keep your exfoliation routine between one to three times a week, depending on how oily your skin gets.
Avoid exfoliating on a wound or sunburned area. Let your skin heal before using an exfoliator.  
Stop exfoliating when you notice redness or irritation on the skin.
Conclusion
Exfoliating is an exhilarating process for your skin. When you use an exfoliator for your dark skin, it helps to increase cell turnover and removes dead skin cells and debris. Also, you get smooth clear bright skin. With products like Voibella Beauty's Chemical Peel for dry skin and Neutrogena's Clear Body Scrub for oily skins, your skin is bound to come out shiny.
However, you should stop the products when you experience skin changes or irritation. Exfoliation is essential in any skincare routine you practice, so it should not be taken lightly. I mean, you get to free up your pores to let treatment products better your skin. What can beat that?
Africana fashion provides relevant skincare articles to inform you on how to restore your skin's natural glow and beauty.