African black soap is useful to skin health. However, the all-natural soap could cause side effects. But, you can use the soap properly and safely to get glowing healthy skin.
The cleansing soap is made of concentrated natural ingredients that exfoliate the skin and moisturizes it. These natural ingredients have ample vitamins and deep cleansing effects on the skin.
African black soaps are meant for all skin types. But they could be too concentrated for some skin types, for instance, sensitive skins. This is why safety measures need to be exercised when you use soap.
You can learn more about African black soap from a previous post.
How to Safely Use African Black Soap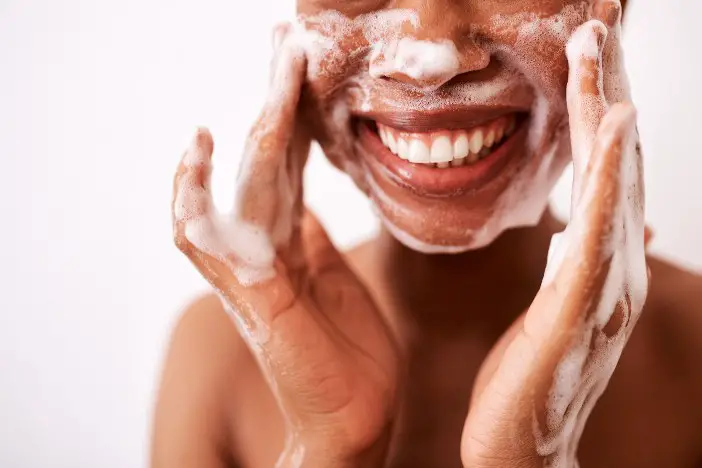 Authentic African black soaps can be used in various ways. It does not function as a bath wash soap only. You can use it as a cleansing mask and as a shampoo for your hair.
1. How to Use African Black Soap as Body Wash
You can use African black soap as you do your regular bathing soap. African black soaps come in raw, bar, and lotion form. The following tips will guide you in using the soap as a body wash.
If you are using the raw form, you would need to cut or shred the soap block into little pieces first. Then seal the rest in a ziplock bag or plastic container.
African black soap lathers easily. A little piece is enough for every use.
To prevent irritation, lather the soap between your palms. Then rub the lather on your body.
You can use exfoliating brush or washcloth to spread the lather evenly around your body.
For your face, use lather alone. Rub in a circular motion for two minutes.
Then rinse off with water.
Apply a moisturizer to your skin to avoid it drying out
If any is left after use, store the little piece of black soap in a ziplock bag for the next use.
You can use the soap 2-3 times a week for starters till your body is adjusted to it. Oily skin can use it 4 times a week because the body needs frequent cleansing.
2. How to use African Black Soap as Facial Cleanser
You can use all forms of African black soap as a facial cleanser. You would need to mix it with oils like jojoba oil, argan oil, or essential oils for the thick soap. Better still, you can buy black soap facial cleansers like Sheamoisture Facial Wash and Scrub.
If you are making the facial wash, soak a shredded portion of black soap in water. Let the soap dissolve.
Mix the solution until foamy.
Add a drop of your extra clarifying ingredients like coconut oil, lavender oil, peppermint oil, or tea tree oil.  
Mix the solution and turn it in a bottle with a flip cap.
When you want to use the African black soap facial cleanser, you can use your fingers or a cotton pad.
Pour a small amount of cleanser on your palms, rub them together till lather forms.
Then rub in a circular motion on your face.
Rinse off the cleanser after a while.
You should use the cleanser once or twice a week. Always use face toner afterward to remove residues and prep your skin for other products.
3. How to Use African Black Soap as Facial Mask
African black soaps can be used as facial masks. A face mask would help acne-prone skin remove sebum and blemish from the face. You can use a product like Nubian African Black Soap Mud Mask to deeply exfoliate and rejuvenate your skin. The mask would also help your skin complexion.
Follow the following simple steps to clear your skin.
Apply a thin layer on your clean skin. Avoid your eye area when you apply.
Leave the mask on for few minutes or as recommended in the packaging.
Remove the mask with a damp washcloth or cool water.
You can do this routine weekly to get your clear and blemish skin.
4. How to Use African Black Soap as Shampoo
African black soaps can be used as a shampoo to cleanse your scalp and heal it. Also, it can be used to treat dandruff because of its antifungal properties. You can make the shampoo or buy black soap shampoo like Shealife African Black Soap Shampoo to get the grime off.
To make an African black soap shampoo, use the following steps.
Grate your soap into a jar. Smaller pieces dissolve faster.
Add high-temperature water. The hotter the water, the easier it is for the soap to dissolve faster.
Let the solution sit for a few hours to mix. While it sits, stir the solution occasionally to get the soap to melt.
Add your favorite nourishing oil to the solution. You have to keep your hair moisturized.
Turn the solution into a bottle with a pointed tip or any old shampoo bottle you have lying around.
When you want to use the shampoo;
Shake the shampoo to avoid settling particles.
Wet your hair with water.
Apply shampoo to roots. Evenly spread with your fingers, massaging lightly to get the grime out.
The soap might not lather as much as regular shampoos. So you might need to wash 2-3 times for every use.
Rinse off with cool water.
Condition your hair to hydrate it.
Use the shampoo as you would any other normal one once a week or on wash days.
Tips on How to Safely Use African Black Soap
I have pinpointed the ways you can use African Black soap. However, you should have some handy safety tips at the back of your mind when using the soap.
Always patch test to see if you have any reactions to the soap. Apply a little amount on an inconspicuous part of your body, like your underarm. Wait for 72 hours. If you do not see any reaction, then it is safe to use.
Use the soap every other day. The soap is concentrated with cleansing ingredients that could dry out your skin if used too frequently.
Moisturize after every use.
Store the soap in a dry container or ziplock to keep air out. Air weakens the soap.
When you notice reactions like redness, itching skin, stop using the soap or reduce the potency with soothing essential oils like peppermint oil.
Always use the soap in pieces. The lump would melt faster when in contact with water.
Frequently Asked Questions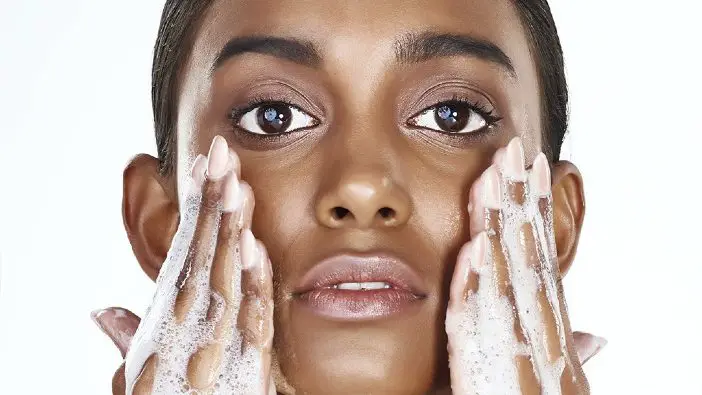 Is African black soap organic?
Yes, it is. African black soap is made from natural ingredients like shea butter, cocoa pod, palm kernel, plantain skin, and palm oil.
These ingredients are roasted together, and the ashes are mixed with water, then taken through a process of saponification, where the ingredients turn solid or liquid.
African black soaps can be fortified with essential oils, but there are no additives or preservatives. Also, it does not contain lye and sulfate. Therefore, when you buy an African black soap, read the description to make sure it is 100% natural.
Can all skin types use African black soap?
Yes, they can. African black soap is great for all skin types.
However, it is best suited for oily or acne-prone skin. The black soap is a deep cleansing exfoliator that clears out the pores of sebum and bacteria.
Sensitive and dry skin can use African black soaps, but they are advised to use a light formula or reduce frequency. The soap has a drying effect that could irritate or dry out the skin if used excessively.
Can African black soap lighten your skin?
No, it can't. However, African black soaps have skin brightening properties. It helps to clear hyperpigmentation and evens out your complexion.
The soap exfoliates dead skin cells, giving way to new, smooth, and healthy cells. As you use the soap, the spots and colored areas begin to fade gradually due to the brightening effect.
Also, turmeric, which is known for its brightening properties, is added to black soap to increase the lightening effect on the skin. This is why it looks like it lightens the skin. What it actually does is bring out your true complexion.
Can African black soap clear acne?
Yes, it can. African black soaps have antibacterial, antifungal, and anti-inflammatory properties that help the skin stay healthy and nourished.
When you use African black soap, your acne will reduce over time till it fades. The healing properties of the soap will help clear out the scars or dark spots left by acne.
Also, you can treat your acne with African black soap based on the degree of your acne. The soap can treat simple to moderate acne. Severe acne treatments need the assistance of a dermatologist.
Can African black soap expire?
Yes, it does. African black soaps do eventually expire. However, you would have probably used it up before then.
There is no certain expiration date for African black soap. You can keep it for years and still go back to it looking the same. Except for whitish mold-looking particles that sit on the surface of the soap when it has been exposed, there is nothing wrong with it.
But you should probably not use the soap if it has been kept for too long in an open area where air got to it. Air can harden the black soap and make it harder to use.
Can I use African black soap for my face every day?
No, you can't. African black soap is concentrated and may dry out your face.
The best frequency is 2-3 times a week, less if your skin gets irritated easily. Oily or acne-prone skins can get away with using the soap every day because their skins need it. But this routine should stop when the skin begins to dry up.
A serum or moisturizer is an important skincare product to use after the soap. They hydrate and moisturize the skin, keeping the pH level balanced.
Why is my hair dry after using African black soap?
You are probably not using enough oils or hydrating products after shampooing your hair.
African black soap deep cleanses and strips oils from your hair. If you are experiencing hair dryness after, add moisturizing oils like jojoba oil, coconut oil, or argan oil to increase the moisturizing effect of the shampoo.
Also, you can use moisturizing and hydrating conditioners and styling products to keep your hair nourished.
Takeaway
African black soap has many benefits to the skin. You have to know how to safely use the soap to get the perfect skin you want. The soap can be used not only for the body. But also as a cleanser, a mask, and shampoo.
When using the soap, practice the safety tips to protect your skin and get the optimal benefits. The soap is concentrated, which means the frequency with which you use it depends on your skin.
African black soaps are helpful skincare products that require precision and intention when you want to use them. If you don't, you might react to it.
This is why you have to keep in mind what type of skin you have and what you want to get from the soap. Paying attention to these details would make it easier on your journey to a glowing healthy complexion.
Africana Fashion provides relevant beauty articles to help achieve your skincare goals.