When it comes to caring for the skin, maintaining a strict skincare routine and also using products that would protect and keep the skin glowing are important.
For dark skins, there are many things to consider when it comes to skin hygiene.
Not only is it about getting good soaps for black skin, but you also have to get good moisturizers, cleansers, serums, and others to boost your skin health and glow.
Soaps play a more important role than keeping the skin clean and grime-free. They also help to hydrate the skin and keep it moisturized.
And the skin type you have whether dry, oily, combination or normal will influence the soap you use.
So what do you look for in soap?
When it comes to choosing soap for dark skin, you have to consider many things. We have already spotted skin type.
You also have to consider your skin disorders and how you react to ingredients in soap. Black skin is very delicate. Contrary to what people think, it cannot hide flaws.
Black skins do get sunburns, blackheads, whiteheads, and the most common of all, hyperpigmentation.
Due to excess melanin production, some parts of the body get darker than others, creating an uneven tone that can be seen by all.
Soaps for Black Skin
Soaps play an important role in keeping our skin looking radiant and shining. When you are looking for a good soap for black skin, you need to like every other skin color think about your sensitivities, skin textures, and hyperpigmentation.
These listed soaps are great and work effectively focusing on these factors you want to treat.
1. Best Body Wash – Dove Body Wash
This is a bestseller on Amazon in gels and liquid wash. It comes in varying styles for all types of skin types. It is great for sensitive skin as it is hypoallergenic and sulfate-free.
The body wash soap also washes away bacteria for those who are acne and breakout-prone.
It is PH-balanced and mild to the skin with a renewing touch for combination and natural skin types.
The body wash is also the #1 recommended by dermatologists. You are guaranteed its efficacy and care to the skin.
And you don't have to worry about the environment because the bottles are guaranteed 100% recycled. This soap is the best because it has a possible variant for all skin types and conditions.
2. Best Black Soap – Organic African Black Soap
This is another staple best. Organic African Black Soap is an unscented soap that provides deep cleansing to the skin.
It is great for treating acne and spots on the face and skin. It is a great healing soap for different types of skin conditions and disorders.
You are also getting a good soap made with organic and natural ingredients that are not harsh to the skin, making them great for all skin types too.
Black soap will also help to make your skin radiant and glowing by fading away all the impurities of the skin.
3. Best Soap for Sensitive Skin – Basis Sensitive Skin Bar Soap
Having sensitive skin means you will be selective If what goes on in your body.
With Basis sensitive skin soap your skin will be soothed with ingredients like aloe vera and chamomile.
You don't have to worry about chemicals because it is fragrance and parabens-free.
Sensitive skins will benefit from this soap because of its rich ingredients that include purified water, glycerine for hydration, almond oil, and beeswax.
After use, your skin will be feeling calm, clean, and soothing.
4. Best Soap for Oily Skin – Keika Naturals Charcoal Black Soap
If you have oily skin, then you should try this charcoal soap by Keika.
The soap is packed with the best ingredients to help keep the skin clean and bacteria-free. It also helps to prevent acne, eczema, and psoriasis from invading the skin.
The soap is good for both males and females with oily skin. 
The bar soap is handmade and doesn't contain harsh ingredients or artificial fragrances. Only the best natural ingredients like essential oils and keika charcoal.
5. Best Moisturizing Soap – Aveeno Skin Relief Body Wash for Dry Skin
This fluid provides a gentle cleanse and relief to the skin. It also helps the skin stay moisturized and glowing. It is best for dry and sensitive skins.
The formula is rich in oat, which helps to keep the skin nourished and hydrated.
Aveeno's skin relief is best for aging skins and can be used daily without the worry of allergens.
The wash is dye-free, soap-free, and allergy-tested to provide the soothing and relaxing treatment it promises.
6. Best Soap With Kojic Acid – Pure Kojic Acid Skin Brightening Soap
If you want your skin glowing, this is the soap for you.
Kojic acid helps with lightening the skin. It is great for treating hyperpigmentation and melasma. You can get your even skin tone back with moisturizing soap.
The soap also moisturizes and gives the skin a rich texture with ingredients like hyaluronic acid and coconut oil.
Pure kojic acid brightening soap is a highly concentrated and advanced formula that boosts its efficacy.
It works by penetrating deep into the skin tissues and clears the impurities in the skin. It also nourishes the skin from the deeper level (dermal tissue) to keep the skin hydrated and moisturized.
You can enjoy the benefits of the soap if you are a combination or normal skin type.
7. Best Spot Clearing Soap – Palmer's Skin Success Anti-Spot Complexion Soap Bar
You can start with this soap if your goal is to get rid of the spots on your face.
The soap is best for Acne-prone faces. It has ingredients like vitamin C that brightens the skin's complexion and soy that helps to clear spots and discoloration.
The soap is also great because it is parabens and sulfate-free. It also doesn't contain dyes or phthalates that could be harmful to the organs of the body.
When you use the soap, it creates a gentle cleanse helping your body stay radiant and luminous.
8. Best Organic Soap – Organic Turmeric Soap By Aspen Kay Naturals
At $9, Aspen Kay Naturals gives you the best natural feel for sensitive and all types of skin.
Heavily induced with turmeric, the bar soap is gentle to the skin. It also clears dead skin cells.
The organic soap also has natural ingredients like sustainable palm oil, shea butter, organic virgin oil, sunflower oil, and many others.
It moisturizes and keeps the skin smooth and clear. If you want to go organic with your skincare products, it is the best you can start with when it comes to picking the right soap.
We are picking it as the best option for organic soap because it is good for all skin types for all ages, including babies.
SEE: Does Bar Soap Go Bad Or Expire?
Soaps for Black Skin FAQs
Why does black skin need its own soap?
No, it doesn't. This is an age-long question that confuses most people, especially people outside the black and brown skin hue.
When choosing soap, what matters is the skin type and not the color of the skin.
Sure, some soaps are called black soaps and specifically marketed to black consumers but they are not meant only for black and brown skins.
The reason black soaps are called that is because of their coloration. Not that it is meant for black skins.
Black soaps have many benefits that include fading scars, balancing sebum production, toning complexion, and many more. It can be used by blacks and non-black.
So no soap is specifically made for black skins. Soaps rely mostly on the skin type.
Several soaps are specifically made to address a certain issue of the skin, for instance, hyperpigmentation.
In this case, most users will be colored people on the brown and dark side who experience dark spots or patches because of the overproduction of melanin in their skin.
When it comes to choosing the right soap, it comes down to knowing your skin type and the product that would treat a specific condition you wish to clear.
What are the skin types for dark skin?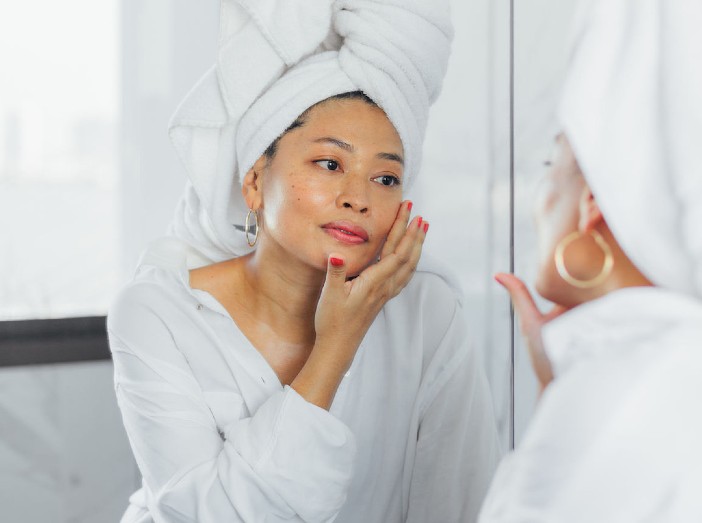 There are varying skin types you have to know about when it comes to choosing a skincare product. The skin is classified into five categories which include dry, oily, combination, normal, and sensitive.
Dry skin type
Dry skin types are not rare but it is rarer to find someone born with dry skin. What causes dry skin is the lifestyle a person is living.
So if you experience dry skin, it is mostly due to one or two things you are not doing right to your skin.
Dry skin is categorized by invisible pores, patches, dull color, abrasive skin texture that is not elastic, and many visible lines. There are external factors that also cause dry skin.
The first cause of dry skin is the UV rays of the sun. Another is not drinking enough water to keep the skin hydrated. The body needs at least eight glasses of water to stay hydrated in a day.
A known culprit of dry skin but mostly ignored is hot showers. Hot showers are known to dehydrate the skin faster.
Oily skin type
Oily skins are mostly common for the face. It is rare to see a full body with oily skin. The skin type is characterized by over secretion of natural oils, sebum, which keeps the skin moisturized.
Also, the pores are enlarged, the skin's complexion is thick and shining, and there is always a breakout on the face due to the excess sebum.
Oily skin is not always oily. The environment plays a part in keeping the skin dry or oily.
Oily skin can be dry when the humidity is cold, but during high temperatures, the sebum will increase because it trying to keep the skin hydrated.
The important thing to note with oily skin is that it does not need help to stay moisturized.
Combination skin type
Combination skin types are a mix of dry and oily skin. It could also be a mix of more. Combination skin type is characterized by oily T-zone (forehead, nose, and chin) area, while the checks are dry and flaky.
Combination skin types have been thoroughly discussed previously including their characteristics and what type of products are best for them.
Normal skin type
Normal skin types are perfectly in the middle. They are not too dry or too oily. The skin type is characterized by few to no imperfections; the sensitivity level is very low, with barely visible pores and a glowing complexion.
Even though it is the most balanced skin type, it is vague and can vary from person to person. This is because it is not dry or oily.
Also, environmental factors will determine the camouflage it would take, depending on the attributes it possesses.
Sensitive skin types
These skin types need to be careful with everything that touches their skin. They are categorized by itching, burning up, and redness.
They are quick to react or be triggered by chemicals in products. If you have sensitive skin you have to stay away from products or their formulas that could make your skin break out or react heavily.
Once you know your skin type, it is easy to know what type of soap you need for your black skin.
What are the common black skin disorders?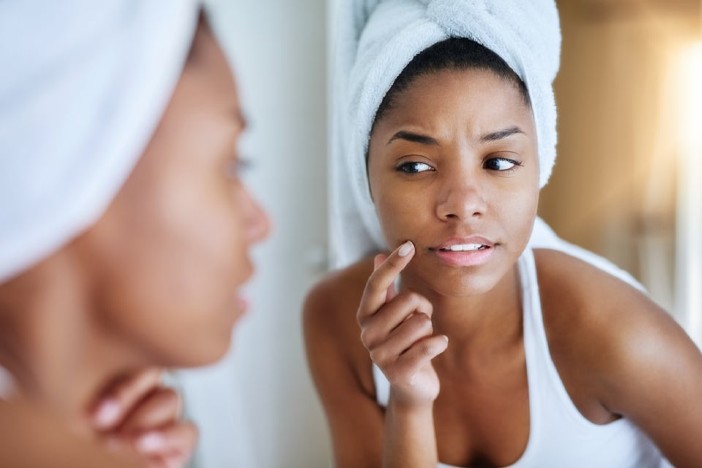 Another determining factor for what type of soap for black skin you need to choose is the skin condition you are facing.
The most common skin disorders for brown skin are hyperpigmentation, acne, melasma, and eczema.
Hyperpigmentation is when the skin produces excess melanin after it has been inflamed.
Hyperpigmentation causes a dark spot or patch on the skin and can be embarrassing and a blow to self-esteem.
That is why there are lightening soaps with kojic and hydroquinone acids to help clear the spot.
Acne is common in everyone. About 80% of people in North America have suffered from acne at one time or the other.
It starts from puberty and doesn't necessarily leave on its own without causing the first problem mentioned – hyperpigmentation.
Melasma is more common in women than men. It is when there are brown patches on the face. It is caused by hormonal changes, especially during pregnancy.
The patches usually appear symmetrically on the face in the forehead, nose, chin, and cheeks area.
How to choose the right soaps for black skin?
When it comes to choosing the right soap, you have to think of the benefits and what you need to achieve.
Now that you know what skin type and condition you have, you will have to find soaps for black skins that cater to them.
For instance, oily skins should search for soaps with hyaluronic acid and non-comedogenic properties in them.
You need to keep your skin hydrated if you have oily skin and non-comedogenic products will not clog your pores and lead to breakouts.
Dry skins are recommended to buy soaps with moisturizing effects that would keep the skin smooth.
They should also go for soaps with lots of oils like jojoba, olive oil, shea butter, and aloe vera. They can also go for soaps with hyaluronic acid to cleanse their skin and help attract moisture to the skin.
Sensitive skin types should look for ingredients that are mild to the skin like glycerin to keep the skin hydrated and moisturized.
They should also look for natural and organic soaps to help their skin, rather than use harsh chemicals or ingredients with parabens or fragrance. Sensitive skin types can choose handmade soaps because of their natural properties.
What are the things I should avoid in soaps for black skin?
Several things in soap that could harm black skins are called harmful ingredients. As mentioned earlier, people with sensitive skins should avoid soaps with parabens.
This is a chemical used in preserving soap. All skin types should stay away from parabens.
This is because once parabens penetrate the skin, they hide underneath it for a very long period. This could cause harm to the skin in the long run.
The common parabens to watch out for are methylparaben, butylparaben, and propylparaben.
Sensitive skin types should generally watch out for soaps with heavy fragrances because they might contain irritants or allergens.
Also, chemicals like phthalates found in fragrances have been linked to lung, kidney, and liver damage.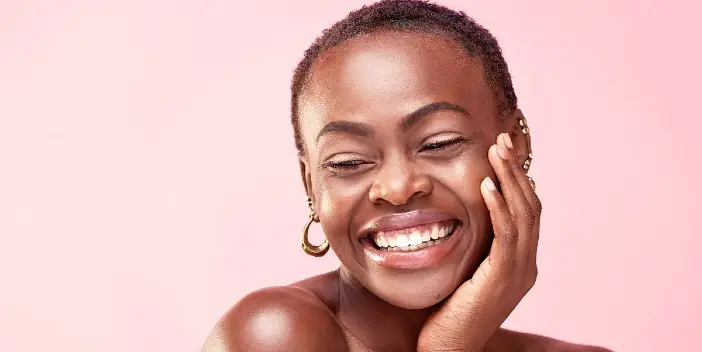 Takeaway
When it comes to taking care of the skin, good skincare products include the soap you use. Picking soaps for black skin is not a herculean task.
All you have to note is what type of skin you have and what possible skin condition or disorder you also have. When you do, it would be easy picking the right soaps.
Also, you have to know that there is no exclusivity when it comes to soaps for black skins.
Some soaps may be named black soap but it doesn't mean they don't work for other skin complexions; what matters when choosing soap is what skin type you are.
Africana Fashion gives you relatable articles and reviews of beauty and cosmetic products to help guide you to the perfect and healthy skin you desire.