You may be wondering what makes curvy jeans different from your other pants. The simple answer is in the construction.
These jeans are built differently and for a particular hip-to-waist measurement. 
They can hug your curves in all the right places and are a favorite among women who love to look good and feel great about their appearance.
Need to know more about curvy jeans? Read on to find out other interesting details.
What are curvy jeans?
Curvy jeans are a type of denim specifically designed to flatter the figures of women with curves.
They have a higher rise than regular jeans and feature contoured waistbands and strategic seaming that helps to give the illusion of a smaller waistline.
Curvy jeans often have wider leg openings to balance out the hips and thighs.
They are made from stretchier fabrics to ensure a comfortable and flattering fit. And you'll find them in different styles, including bootcut, wide-leg, and straight-leg.
What do curvy jeans look like?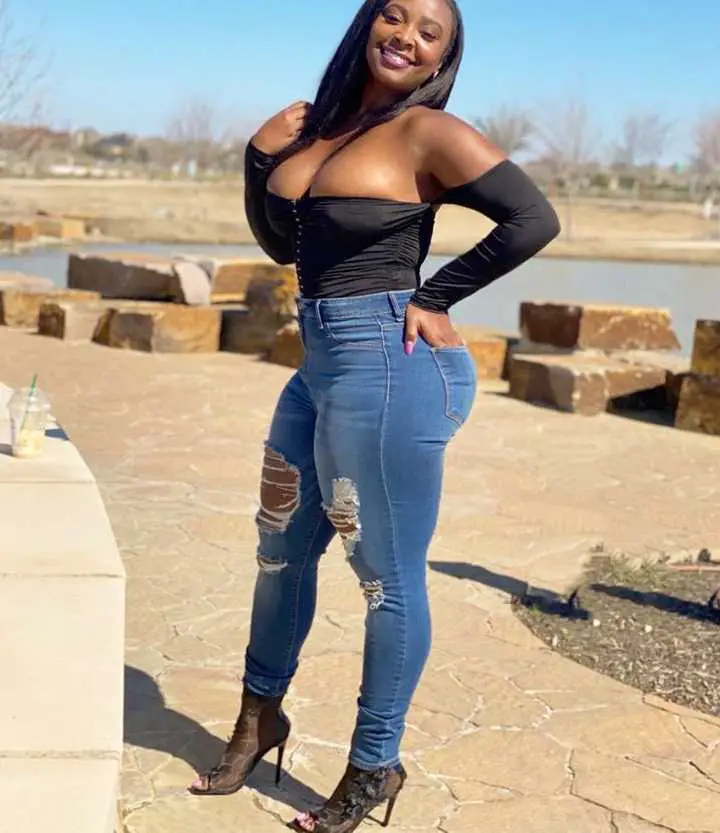 Unlike regular jeans, curvy pants look like they're made to hug your hips, rear, and thighs. 
They don't gape at the waist like regular jeans might. And they often have a higher back rise to accommodate a curvier behind.
They make your butt look good. Like, can't-keep-your-hands-off-it good.
SEE: How To Wash Jeans Without Shrinking 
Is it good to wear curvy jeans?
Yes, it is.
These jeans are a great way to show off your body type. They accentuate your curves and make you look great. If you have the right fit, they can be very flattering and stylish. 
Why do people wear curvy jeans?
Curvy jeans have been around for a while, and here are some of the reasons why they are a wardrobe staple:
They lend an hourglass shape to your body
Pear-shaped women often find that curvy jeans give them a much-needed waistline while still accommodating their hips and thighs.
The best part is that this look can be achieved without having to resort to Spanx or other constrictive undergarments.
They make your butts look amazing
There's no denying that a well-fitting pair of curvy pants will do wonders for your backside. The key is to find a style that hugs your curves in all the right places without being too tight.
They flatter your figure
Curvy jeans are designed to flatter your natural curves, which is why they're such a popular choice among women of all shapes and sizes.
Whether you're petite or plus-size, you can be sure that these jeans will accentuate your best assets.
They're comfortable
One of the best things about these jeans is that they're quite comfortable to wear.
Unlike skinny jeans, which can feel like they're cutting off your circulation, curvy styles offer a relaxed and comfortable fit that won't leave you feeling restricted.
They're versatile
Curvy pants are very easy to wear and style. For a casual look, pair them with a tee and sneakers, or dress them up with a blouse and heels. Either way, you'll look well-packaged.
They're affordable
These jeans are surprisingly affordable, especially when compared to other denim styles.
You can get a pair for less than $35. This means you can stock up on multiple pairs without breaking the bank.
Whether you're looking for a new go-to pair of jeans or simply want to try something different, curvy styles are worth considering. 
SEE: Find From Simple To Grand Evergreen Gift Ideas For Women
How do you know if you need curvy jeans?
A clear sign that you need curvy jeans is when your hip vs waist measurement is 13″. 
If you're unsure of your measurements, take a quick measurement of your natural waist (the smallest part of your torso, typically 1-2″ above your belly button). And your hips (the fullest part of your lower half, typically 7-8″ below your natural waist).
A good example of a 13″ measurement is when your hips and waist measure 41″ to 28″, respectively. 
If your hip measurement is more than 10″ greater than your waist, that's another good indicator that you need these jeans.
Also, get curvy jeans if you have a prominent tummy, a small waist, with fuller hips and thighs.
Can you size down in curvy jeans?
Yes, you can.
To do this, look for a pair of curvy jeans that have a little bit of extra room in the hips and thighs. Choose a size that is one or two sizes smaller than what you normally wear. 
If you are between sizes, opt for the smaller size. Also, make sure the jeans fit snugly around your waist. If they are too loose, they will not flatter your curves. 
If you cannot find a pair of curvy pants in your size, try wearing a belt to cinch in the waist to give the illusion of a smaller waist.
FAQs
What does curvy fit mean?
Curvy fit means any clothing designed to accentuate a woman's natural curves.
This can be dresses that cinch at the waist, skirts with ruching, or draping detail. And jeans designed to hug the hips and accentuate the backside. 
Are curvy jeans fashionable?
Yes, they are.
Many women feel more confident and stylish in a pair of jeans that hug their curves. Wearing the right top with your curvy pants can also create a slimming effect.
Are curvy jeans still in style?
Yes, they are. 
These jeans can give you a figure-flattering look and are perfect for many body types. You can find them online and in physical stores around you.
What age group are curvy jeans meant for?
It's not certain.
Many people believe that curvy pants are meant for women who have fuller figures and more curves. Therefore, it could be for any woman who fits into the body dimension, no matter the size.
SEE: Pants That Are Tight Around The Ankle Guide
Conclusion
Curvy jeans are more fitted around the hips and thighs and have a slightly flared leg opening. They are for curvy women who prefer more fitted pants or desire to accentuate their curves.
Their high waistline and construction are what stand them apart from other pants.
So, if you're looking for a pair of jeans that will show off your curves in the best possible light, then you should consider investing in a pair. 
Thanks for reading.
Found this helpful? Read more fashion guides on Africana Fashion.