Hair textures differ with people. Type 3C hair, characterized by its S-shaped bouncy curls, is one of the most prevalent hair types among black women. Afro-textured natural hair curls are not easily detangled.
The knowledge of what category your hair falls into will help you care better for your hair and know what products should or shouldn't be used on your hair.
There are so many top-rated hair care products you want to grab in the stores. Your haircare is very important and it is more effective when hair care products are appropriately used based on your hair type.
If you have type 3C hair, you possess a great beauty that gets luscious with adequate care. Maybe you don't know why your hair feels coily and is difficult to work through, you are about to find out what you need to know about your hair peculiarities.
What is Type 3C Hair?
Type 3C hair is a very curly subcategory of type 3 hair, tagged with their corkscrew-shaped tight curls that could be the size of a straw or pencil.
This voluminous tight curls hair was created when it was very obvious that there was a missing type between the type 3B and type 4A. Because they border between the 3B and 4A hair type, some of them have loser 3B curls and some have tighter 4A coils.
The voluminous and curly nature does not necessarily mean high porosity hair. Despite the density and curls elasticity, 3C hair tends to have the finest texture.
Features of 3C Hair
If you have discovered that you have type 3C hair, it is very important that you get acquainted with its features. This knowledge puts you on friendlier terms with your hair and a journey of lovable hair experience.
The nature of the curls
The S-shaped curls are thickly packed together, as a result, it has a large hair volume. The curlier your 3C hair gets, the drier it tends to be.
The texture
These curls do not have a regular texture. 3C hair texture ranges from fine to coarse, some might be corkscrew and some zigzag. Being closely between two hair types, it is very possible to have more than one curl pattern on your hair.
Prone to frizz
3C hair is high in density and has a structural shape that prevents the even distribution of natural oils from the scalp. Obstruction from ringlets also prevents sebum from going down the lengths. This makes your hair prone to frizz and changes in weather and climate and greatly exposed to dryness and damage.
3C Hair Type Care Routine Guide
3C hair curl pattern makes it very sensitive to moisture. Your 3C hair beauty greatly depends on how much the curls are moisturized and nourished. Curls must constantly remain moisturized to prevent frizz and split ends.
The 3C hair care routine should be done regularly to maintain the curls, hair shine, and hair integrity.
1. Moisturize with water
Water is universal and best for hair moisturizing. Daily spritz your hair with water to keep it less dry and protected from hair breakage.
2. Use a moisturizing shampoo and conditioner
3C hair should be washed regularly using a moisturizing shampoo and conditioner to remove oils and grease. A very good moisturizing shampoo and conditioner will not strip curls of nourishment.
3. Deep conditioning
On a scale of thirst, 3C hair can be called parched hair because of its tendency to quickly get dry. So, after using your regular conditioner make sure you are applying a quality hair treatment cream that moisturizes your curls.
4. Moisturize with a curl cream
On your next visit to the store, do well to pick a very good styling cream that moisturizes your curls and protects bounce and shape. Leave-in conditioners revive curls without water and keep the bounce in control for 2 days and more after wash.
5. Treat with hair oil
Quality hair oils are hydration boosters that add shine to your hair.
Using hair oil on 3C hair is very important when you are detangling your hair. Whenever you want to detangle your curls it is advisable to add oil to your curls. 
6. Detangle Regularly
3C curls do not need to be kept tangled for long. The longer the curls remain tangled, the greater the frizz and eventual damage. When detangling your curls, make sure to do so with good hair oils and brushes.
7. Always use a very good comb or brush
Comb or brush choice is very important. 3C hair does not need a comb or brush that will tug at the curls and ruin them or pull them out. A great brush option for your 3C hair is a wet brush or a detangling brush or a wide-tooth comb which helps to keep curls in shape.
8. Preserve your curls at night
Curls are best preserved that night with anti-frizz creams. Anti-frizz creams protect curls from the friction that is created between our hair and bed covers as we make regular head movements while sleeping.
And try not to sleep with loose hair, instead, tie them into a ponytail and wrap them with a scarf or satin bonnet.
9. Wear protective hairstyles
As part of your 3C hair care routine, you should make sure to wear protective hairstyles like box braids, two-strand twists, crochet braids, natural flat twists, faux afro puff, ponytails, and similar hair braiding styles.
Avoid hair styling that exposes your curls to heat-based tools because heat damages hair curl patterns.
3C Hair Care Products
While you have shampoos and conditioners as part of your hair care regimen you cannot totally rely on them to keep your 3C hair constantly moisturized.
It's also important to note that it's not about finding the best products for your curls. What's more important is that it is the best product for your hair texture and hair porosity.
If you have high hair porosity, get 3C hair care products that are rich in protein, and if you have low hair porosity, protein free-products are best for you.
1. Shampoo
Generally, you shouldn't wash your hair with just any type of shampoo. Before you go to the grocery store for that bottle of shampoo you should know your hair porosity. Hair porosity differs with hair and time, as a result, not just any shampoo is suitable for your hair.
Your choice of shampoo must contain moisturizing agents and must be sulfate-free.
SheaMoisture Shampoo might just be an option for you. SheaMoisture products are known to be made from natural ingredients and organic shea butter that help to keep your curls hydrated, moisturized, and detangled thereby retaining their bounce.
2. Conditioners
Whether it's a regular conditioner or a leave-in conditioner, it must be moisturizing. Use regular conditioners after shampooing your hair. A suggestion for a regular conditioner is SheaMoisture Conditioner.
Leave-in conditioners contain moisture-attracting agents called humectants. They help to keep hair revived and more flexible.
3C hair is well nourished with hair care products that contain jojoba oil, coconut oil, and avocado oil.
Personally, I'll recommend you go for Aunt Jackie's Quench Moisture Intensive Leave-In Hair Conditioner to condition your 3C hair.
3. Curl Styling Creams
The right styling products can make the difference between dry, frizzy curls and soft, bouncy ringlets. Your choice of Curl styling cream should be based on your curl pattern and ultimately, it must be moisturizing.
DevaCurl SuperCream Coconut Curl Styler delivers frizz-free curls at every use. It contains just the right ingredients like coconut oil that helps to maintain shine, cornstarch that eliminates frizz, and jojoba protein to make your curls bounce.
4. Hair Moisturizing Mask
Hair masks are very good for deep conditioning. They moisturize hair and repair split ends. 3C hair needs products that are fortified with nourishing oils and hydrating ingredients.
DevaCurl Melt Into Moisture Moisturizing Mask can be used for deep conditioning. This formula contains matcha butter, sweet almond oil, and beetroot extract which leave your curls looking shiny and silky soft. This conditioning mask deeps hair into moisture without weighing your curls down.
5. Detangling Brushes
Unless needed, try to take your hands off your curls. If you want to detangle curls, get good detangling brushes.
Denman Detangling Brushes has been nicknamed, the fairy godmother of detangling. These brushes come in various sizes and shapes, all tailored to protect your hair. The classic style has wide rows of effective bristles that eliminate knots and detangle curls effectively.
Denman detangling brushes can be used on wet or dry hair but they are more effective when used on wet hair.
6. Hair Oils
These hair oils work beyond the surface of your hair. They go down to the scalp and cuticles, repairing and keeping them moisturized.
Oils like coconut oil, jojoba oil, and sunflower seed oil are lightweight oils. These oils smoothen ragged hair cuticles without leaving them greasy.
7. Styling Gel
Styling gels help to keep your edges down and having your hair gelled up in a bun is a protective hairstyle.
Eco Style Gel holds down your edges without being hard, adding shine to your hair.
3C Hair Type FAQs
1. What is the difference between 3C and 4A hair?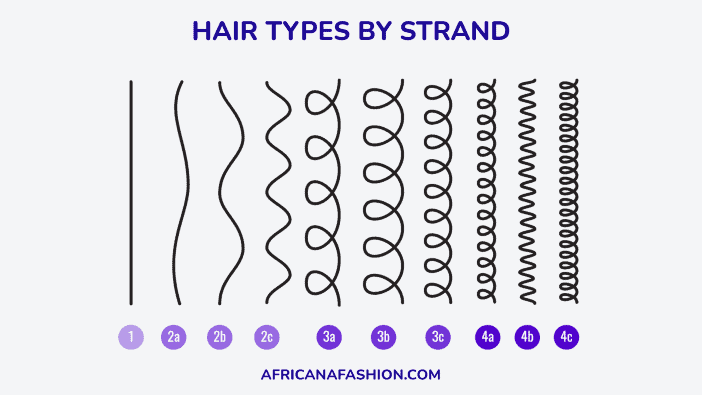 3C hair strands have larger curls than 4A hair. 3C hair curls are tightly and densely packed, but otherwise soft to touch. Type 4A hair is kinky and tightly coiled by definition. They are marked by their wiry and coarse texture.
2. Does 3C hair grow?
Yes, 3C hair grows. Like every other hair, a good hair care routine fosters growth. Sustaining hair length could be quite tough because of frizz, breakage, and split ends. But, it can be managed by adopting a healthy hair care routine and using appropriate hair care products.
3. What porosity is 3C hair?
Hair porosity is the ability of your hair to retain moisture. 3C hair cannot be termed low porosity or high porosity hair because porosity is relative to individuals, environmental and genetic changes over time.
4. How often should I wash my 3C hair?
3c hair should be washed with shampoo once a week and washed with a conditioner mid-week if needed. If after shampooing, your hair feels greasy during the week, you can use a cleansing cream.
5. Can 3C hair get locs?
Yes, 3C hair can get locs. Curly hair is considered the best type of hair for growing dreads. Because of the frizzy curls, people with curly hair do not need much wax or cream to get their dreads to hold.
Conclusion
3C hair is a great type of hair though quite a task to maintain. When you know the right hair care products and use them alongside carrying out the hair care routine, handling the curls becomes easier.
3C hair needs to stay constantly moisturized and frequently detangled. You can pour some love on your hair by giving it this attention. When you do so, you'll realize how beautiful 3C hair can be.
3C hair does not love heat or manipulative hairstyles. Make sure to do the protective hairstyles that flaunt your hair beauty.
Africana Fashion provides you with hair care articles to meet your hair needs.