For fashion enthusiasts, the argument; "Ankara Vs Kitenge" is not new to them.
This is a question that probably comes up frequently for people who are not familiar with the differences. 
What is the difference between an Ankara dress and a kitenge cloth? 
Kitenge and Ankara textiles are the most popular clothing fabrics in the African Diaspora. 
Both Ankara and Kitenge are hand-loomed, resist dyes, have a back pattern and are similar. 
However, there are specific differences between these two fabrics that you should be aware of.
In this article, we will find out some specifics about the similarities and differences between Ankara clothing and kitenge fabric.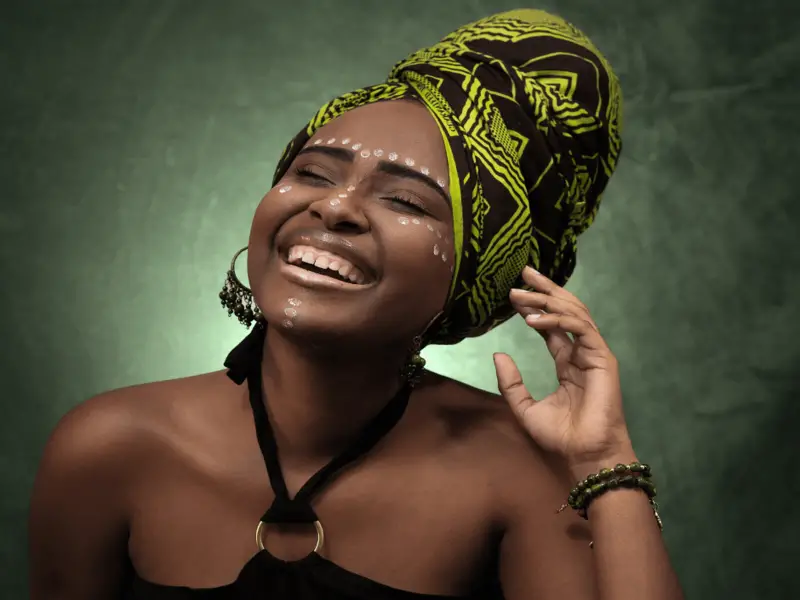 Introduction To The Kitenge And Ankara Fabric 
While Ankara and Kitenge have their differences, they also share certain similarities.
They are both used by world-class fashion designers to create stunning clothing pieces inspired by sub-Saharan Africa.
Kitenge and Ankara textiles belong to the same family of fabrics prepared by the same dyeing and printing techniques. 
The print designs on these textiles are derived from nature as micro-mosaic, tessellation, linear, cruciform, etc.
This makes them outstanding and very special spontaneously.
Kitenge and Ankara are two of the most vibrant African fabrics, both characterized by bold designs. 
What Is Ankara Fabric?
The African Ankara fabric is a material that surprisingly didn't originate in Africa.
It originated in Indonesia in 1846 but was widely adopted by Africans.
Afterwards, this fabric began to spread all over the world and has become a fashion statement.
Ankara is a form of fabric that is often used to produce traditional clothing. 
Ankara or Angora refers to a group of fabrics made from wool and cotton, which are intertwined to produce a twill fabric.
The material has become common in west African countries like Kenya, Uganda and Tanzania, among others. 
This beautiful vibrant cloth was created from a traditionally African dyeing process found in many different countries across Africa. 
Besides Nigeria (where Ankara was born), it's used for cloth that can be worn and adorned in Mali, Ghana, Ghana, Cameroon, Gabon, Togo, Benin and Burkina Faso.
What is Kitenge?
Kitenge cloth is a classic print cotton fabric of East Africa which became popular with Western markets recently. 
It is a significant textile of the East African coast from Kenya to Mozambique. 
Kitenge is a fabric worn in Central and Southern Africa, especially in Uganda, Nigeria, Congo, Angola, Zambia and Namibia. 
Initially produced in Kitengeola, Mombasa in Kenya; now, it is also made in Uganda and Tanzania. 
Kitenge is popular with women for clothing items such as wraps and blouses and can be found on men's shirts because it drapes well and is moderately stiff, thus more formal.
Ankara vs Kitenge: Differences Between Them 
Kitenge and Ankara are both African traditional clothing that has become popular around the world in recent times. 
They are similar because they are a kind of fabric that can be used to make several different attires or garments. 
Despite this similarity, there are some fundamental differences between the two fabrics that should be known before making a proper decision between the two.
Typically, Ankara is produced in full length/body covering materials which tend to be heavier than Kitenge fabrics. 
It also tends to be much cheaper than Kitenge fabrics.
There is no difference in how you wear them; both materials look good on casual and semi-formal occasions.
Some of the main differences are;
1. Kitenge is cotton and is bright; Ankara comes in many colours and blended fabrics.
2. Kitenge is a piece of patterned fabric. Ankara has textured patterns
3. Kitenge is thicker than Ankara and not as stretchy.
Ankara Vs Kitenge: Similarities Between Both 
Kitenge and Ankara are abundant, with the two clothing sharing a host of attributes.
They both denote a common origin, a shared historical mission and are currently being worn by individuals from the same ethnic group. 
There are a lot of similarities between the two, especially when it comes to the colour variations.
Even though some dissimilarities may indicate a change in fashion preferences, these differences decline.
They deviate widely from the core similarities, which still form a large percentage of both fabric's properties, making them almost identical.
Some of the similarities are;
1. Both have African origins
2. They are crafted from recycled silk
3. Ankara and Kitenge have traditionally been associated with artisans, fashion designers and artists in Africa.
4. Both fabrics create boldness and a sense of ethnic identity
5. Both Ankara and Kitenge are timeless classics
6. They were used to make the traditional attires     
7. Anarkali dress, suits, skirts and blouses are the prime example for both Ankara and Kitenge fabric     
8. Both goods are typically used for ceremonial purposes such as weddings, graduations, funerals, etc. as they look beautiful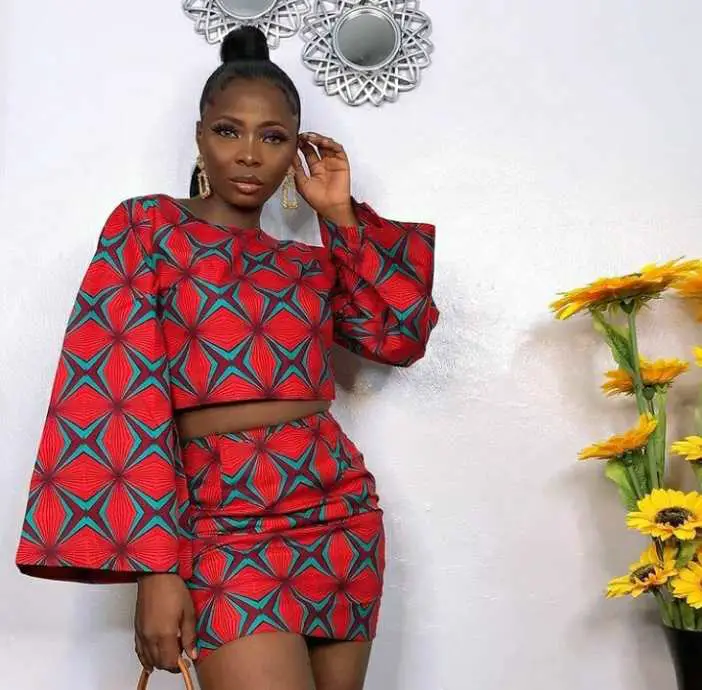 FAQs About Ankara Vs Kitenge
What are other fabrics that are of Nigerian origin, apart from Ankara?
Apart from Ankara, other African fabrics are sometimes obtained from wildlife.
They are especially from the skin of antelopes and camels. 
These are known as "bush fabrics." 
An example of a bush fabric is Ndebele, which looks somewhat like wool due to its short, hair-like fibres. 
Another example is Ikat, an Indonesian fabric with colorful patterns. 
Both Ndebele and Ikat are produced using a handkerchief-weaving technique that leaves the fibers of the cloth exposed.
It is a textile tradition that originated in Africa and has only recently been reintroduced in South Africa. 
Sri Lanka also produces bush fabrics called Kasturi.
They are traditionally used by their indigenous people for fishing nets and other products made from cotton.
Another very popular fabric is the kaftan.
Can I make a swimwear line out of Ankara fabric?
No! Ankara fabric is not meant for swimwear/swimsuits. 
It is explicitly made for dresses, skirts, shirts, pants and even blazers. 
Ankara fabric is not stretchable at all and will never fit the body shape properly as swimwear.
Ankara Vs Kitenge; which is better?
Kitenge and Ankara are fashion fabrics made from cotton. 
It is always hard to decide between kitenge vs Ankara as both are beautiful and elegant. 
Kitenge is one of the most well-known African fabrics and has become more and more popular among celebrities. 
Ankara, on the other hand, has been on the fashion world stage for a lot longer.
How can I style my kitenge and Ankara?
When it comes to styling, kitenge and Ankara are pretty simple. 
They often feature repeated patterns in colors like black, dark brown, dark red, and navy. 
The designs are simple and perfect for mixing and matching. 
You can wear your kitenge with virtually any color or midsection belt.
Also, the easiest way to style a kitenge shirt is to wear it over some lovely trousers or jeans.
Some of the ways to style these fabrics are;
1. Wear them loose
2. Add a casual belt
3. Add a bunch of accessories
4. Mix them with whites
5. Wear them as separates
6. Don't be afraid to mix prints
What are the unique qualities of Kitenge and Ankara?
When you think of African prints, you instantly think of the colorful patterns exchanged from tribe to tribe. 
The textiles from these tribes are predominately cotton and are called kitenge in East Africa and Ankara in West Africa. 
Both fabric types have found a worldwide audience due to the vibrant colors and unique designs. 
Shoppers love them for having a vintage feel, and fabrics are used for several fashion purposes.
Conclusion 
Kitenge and Ankara clothes are two African clothing fabrics that represent the latest fashion rage.
Kitenge and Ankara are truly wonderfully textiles to work with. 
Both Kitenge and Ankara fashion look amazing once dressed up. 
The fabric is so versatile in style and color. 
You can dress it up or down for any occasion too! 
With the right colors and details, one can still attract attention from their fashion sense and love of style.
For more fashion articles, guidelines, tips and tricks, Africana fashion has you covered.