Is it bad luck to wear black to a wedding? Not necessarily. In the traditional sense, some people consider black an ominous color for weddings.
If you're a wedding guest or perhaps you're preparing for your big day and need to know if it's okay to wear black, this guide is for you.
First, you'll have to agree that black is synonymous with grief and mourning. And some people believe it absorbs positive energy, which can be detrimental to the newlyweds.
As you read on you'll learn more about wearing black to a wedding occasion. This guide will also show you when it's best to do so and how to style it.
SEE: Find From Simple to Grand Evergreen Gift Ideas for Women
Is it bad luck to wear black on your wedding day?
Not necessarily. Some people believe that black is a color of mourning and bad luck for an occasion as joyful as a wedding. However, others believe that black is a chic, elegant color that can be very flattering for a bride.
As a bride, the choice is yours to make. If you feel more comfortable wearing black on your big day, that's totally fine.
But you also have to respect your tradition, depending on where you'll be holding your event. Moreover, wearing white already signifies purity; you can as well just stick to that narrative.
Is it bad luck to wear black to a wedding as a guest?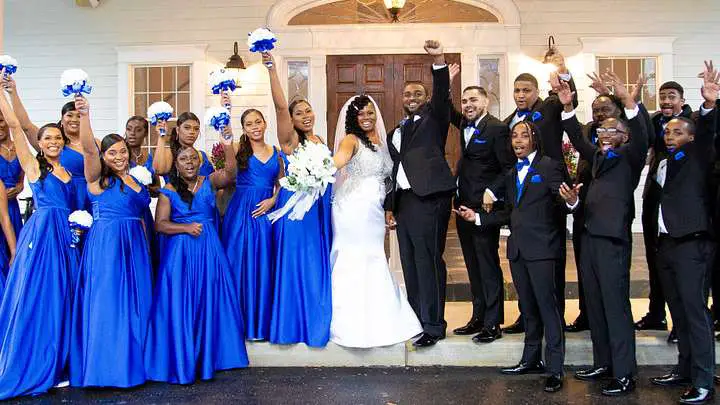 Yes, it's often perceived that way. Again, it's seen as an unusual color to wear to a happy occasion like a wedding.
If you plan on attending a wedding, it's best to avoid wearing black and stick to more traditional wedding colors like green, red, or pastels.
If you must wear black, try to offset the look with some bright accessories or jewelry.
Can bridesmaids wear black to a wedding?
The answer is yes.
But it really depends on the overall tone and theme of the wedding. If the bride is going for a more traditional formal look, black may not be the best choice for her bridesmaids.
However, if the bride is looking for a modern and stylish look, then black can be a good option for her bridesmaids, alongside some red flowers. It all comes down to what the bride prefers and what will fit best with the overall theme of the wedding.
What happens if you wear black to a wedding?
There are a few things to consider if you're thinking about wearing black to a wedding.
First, it's important to understand the dress code of the wedding. If the invitation specifies "black tie," then you should not wear overall black to the event.
However, if the dress code is simply "formal" or "semi-formal," then you can likely get away with wearing a black dress or suit. Of course, it's always best to consult with the bride or groom before making your final decision.
Another thing to keep in mind is the time of year the wedding is taking place. Wearing black at a summer wedding might not be the best idea, as it could get quite hot and humid. However, black is a perfectly acceptable choice for a winter wedding.
If you decide to go with this color, be sure you are respectful of the dress code and the season.
SEE: Wedding Guest Gifts Ideas 
How should you dress for a wedding?
It is always best to dress formally for a wedding, especially if the ceremony is held in a church. For men, this usually means wearing a suit and tie; for women, a dress or skirt and blouse.
Again, you should check with the bride and groom beforehand to see what they would prefer their guests to wear.
If the wedding is more of a casual setting, or if the couple has requested that their guests dress in a more relaxed style, then it is probably best to stick to smart-casual attire.
How do you wear a little black dress to a wedding?
You may want to consider wearing a simple black dress with a cardigan or jacket over it. For a more formal wedding, consider wearing a long black dress or skirt.
With that said, a little black dress can be appropriate for a wedding if done correctly. When selecting a little black dress to wear as a wedding guest, consider the following:
The level of formality of the wedding: A black dress can be appropriate for both a formal and casual wedding, but make sure to select a style more appropriate to the overall tone of the event.
The time of day the wedding is taking place: A black dress is generally more appropriate for an evening wedding than a daytime wedding.
Your personal style: Be true to yourself and select a black dress you feel comfortable and confident in.
You can also pair it with a piece of statement jewelry and a fascinator but be careful not to steal the limelight from the bride. After all, the most important thing is that you enjoy the wedding.
What should a female guest wear to a wedding?
There is no one-size-fits-all answer to this question, as the appropriate dress code for a wedding guest can vary depending on the time of year, the location of the wedding, and the formality of the event.
However, as a general rule, it's always best to dress slightly more formally than you think might be necessary.
For a daytime wedding, a good option for a woman is a sun dress or a skirt and blouse fit. If the wedding is to be held in the evening, then a nice cocktail dress or even a little black dress would be more appropriate.
If the wedding is ultra-formal, then you should consider wearing a long evening gown. Whatever you do, be sure your outfit is tasteful and appropriate for the occasion.
You also want to make sure you're comfortable, as you'll likely be spending a lot of time on your feet. And, finally, don't forget to pack a pair of comfortable shoes to change into if your heels start to hurt.
SEE: Create Your Unique Style With Tips on How to Be More Fashionable
FAQs
What colors are good luck for a wedding?
Red, green, and yellow are some of the top colors. You can style them with complementary accessories.
What other colors should you not wear to a wedding?
All white, overly shiny dress, and bright loud hues of red, or ivory. These colors can be distracting and may take the attention off the newlyweds.
Can you wear black to an English wedding?
Yes, you can. It's generally acceptable in non-religious and non-cultural weddings.
Can you wear floral to a wedding?
Yes, you can. Floral outfits with their pattern are an all-season wedding outfit. As a guest, you can style this piece effortlessly and rock it to any wedding theme.
SEE: Best Makeup Kit in All Sizes You Could Possibly Want
Conclusion
It is generally considered bad luck to wear black to a wedding, as black is traditionally associated with death and mourning.
However, there are no hard and fast rules when it comes to weddings, so if you feel comfortable and stylish in black, go for it.
Just be ready to get funny looks or side eyes from some people.
Thanks for reading.
Want to see more exciting guides? Visit Africana Fashion for more.