If you wear Crocs frequently, you would have probably wondered if they're slip-resistant. This is a good thought; slip-resistant shoes help keep you safe when walking on wet or greasy floors.
And it is critical to ensure that your shoes are slip resistant for your safety. If you own a few pairs of Crocs, checking to see if they are non-slip is a must.
Therefore, please read this article, as it explains everything about Crocs and they being slip-resistant.
SEE: What Kind Of Material Are Crocs Made Of?
What makes a shoe slip-resistant?
Slip-resistant shoes differ from other types of shoes because they have rubber soles and tread patterns that help them grip wet or greasy floors.
They are shoes made to decrease trips, slips, and unintentional falls. Their outsoles have rubberized treads that help you maintain your footing while walking on slick, wet surfaces.
People who work in industries like restaurants, construction, healthcare, and others would benefit greatly from wearing these shoes. The shoes are obviously essential for someone walking in damp conditions.
Non-slip shoes differ from other kinds of shoes in several ways starting from the shoe sole's pattern, materials, and design.
Are Crocs slip-resistant?
Yes, they are slip-resistant.
However, not all Crocs are slip resistant and suitable for every floor condition. 
SEE: Are Vans Shoes Slip-Resistant And Safe To Wear?
Why are Crocs slip-resistant?
Crocs are considered slip-resistant when they have nonslip tread soles. This sole is found on models designed for medical, restaurant, and catering functions.
Are all Crocs shoes slip-resistant?
As stated earlier, not all Crocs are slip-resistant.
Certain types, however, have been modeled to be slip-resistant due to where they are most prevalently worn and used.
SEE: Reasons Why Crocs Are So Popular
7 types of Crocs shoes that are slip resistant
Crocs have created a line of slip-resistant footwear with its patented "Crocs Lock" slip-resistant tread.
The three target audiences for this line are healthcare professionals, service industry workers, and chefs, but all users, including everyday casual wearers, can wear the shoes.
1. Crocs Bistro
The Crocs Bistro is a slip-resistant outsole with an open heel and closed toe. It is specially made for people working in the food service, hospitality, and medical fields.
To better protect the foot from spills in the kitchen, it has an enclosed toe design and a thicker metatarsal area. For a snug fit, a Croslite fabric heel strap is used in its construction.
2. Crocs Bistro Pro
The Crocs Bistro Pro is identical to the regular Bistro, except for an extendable strap and gentler insoles made from excellent LiteRide foam footbeds on the interior.
3. Crocs On-the-Clock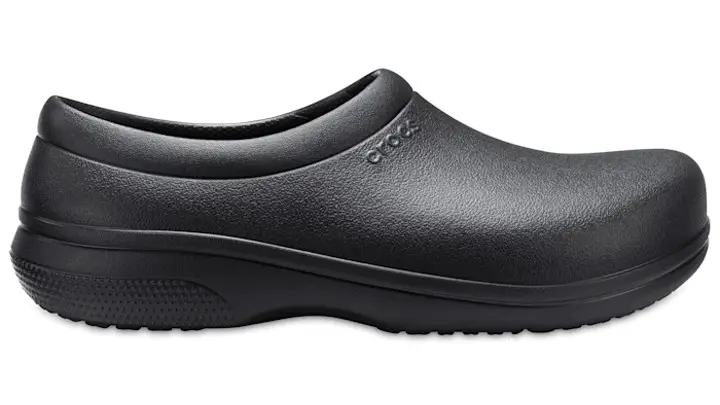 Here is yet another slip-resistant Crocs product designed for people who work in professional settings. Its enclosed heel and toe, lack of a strap, and improved arch support increase its comfort for the wearer.
4. Crocs On-the-Clock LiteRide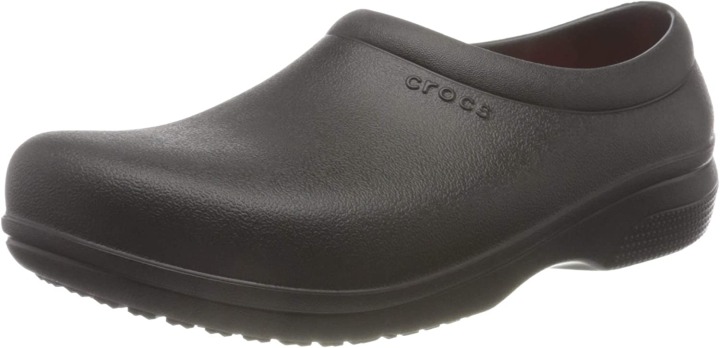 The same as described above, however, with added comfort insoles. These next-generation LiteRide foam insoles are removable and washable. They are extremely soft, lightweight, and resourceful.
5. Crocs Neria Pro
This type is a slip-resistant confined toe, encircled heel work clog for women appropriate for both informal and formal settings. It is intended for use in an office setting and provides adequate arch support.
6. Crocs Neria Pro Literide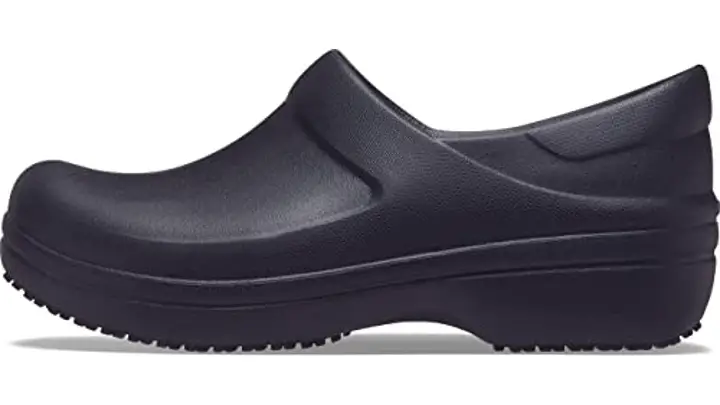 The Literide Pro is identical to the Pro except for adding plush insoles that make wearing shoes even more comfortable.
7. Crocs Mercy Work
The Crocs mercy work is a slip-resistant shoe for women with a higher heel and a confined toe that is ideal for working environments.
SEE: Do You Wear Crocs With Or Without Socks?
Can you make Crocs slip-resistant?
Yes, you can make your Crocs slip-resistant if you want. This way, you get to wear the nonslip on wet and murky floors.
How do you make Crocs slip-resistant?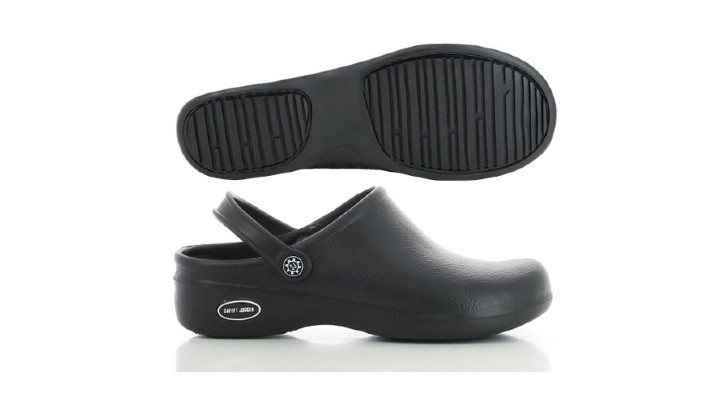 There are a few things you can do to make your Crocs a bit a slip-resistant:
Scratch shoe bottom: Take your Crocs outside and scratch the bottoms on rocky or hard surfaces. This will give the shoes the extra traction that frequently results from a gradual break-in by adding additional tiny grooves and scuffs to the outer shoes.
Use shoe goo: If you want to add a layer of sticky residue to the outside soles of your Crocs to increase traction when you walk, think about using "shoe goo." Therefore, to increase the grip on the bottom of your Crocs, you can apply a thin layer of the goo.
Add ice straps: You should add ice straps to the bottom of your Crocs if you plan to wear them on icy surfaces during the winter to create a more secure grip in other for them to be slip-resistant. Ice grips are incredibly simple to use on shoes; just slide them on and secure them with the stringy straps.
Use abrasive: To break in and add more scuffs to your Crocs, use sandpaper on the bottoms of the shoes. Doing this will allow shoes with small grooves to have better traction when walking. Additionally, it is best to use coarse sandpaper with a high grit.
SEE: Save $5 on Sneakers at Converse Store
FAQs
Are fuzzy Crocs slip-resistant?
No, they are not. Although they have excellent traction, they are not completely nonslip.
Are Crocs supposed to slip?
No, they should not slip.
Instead, they should conform to your foot securely while walking, with little or no slip. Sadly, many Crocs can slip as they are not all slip-resistant.
Are Classic Crocs slip-resistant?
Yes, they are. Classics are slip-resistant but not completely non-slip.
Conclusion
If you know you are buying your Crocs for work-related purposes, it is always best to buy ones that are slip-resistant and completely non-slip. This way, you are protected from falls in the future.
Conducting a little research before buying a new Crocs also helps you figure out ones that won't slide when you walk.
The shoe should not ride up and down, and your heel should rest firmly. Additionally, the sides, top, and shoe's arch must snugly fit your feet. If the Crocs meets these criteria, then you have a slip-resistant shoe you can wear on any floor type.
Thanks for reading.
If you enjoyed reading this article, check out Africana Fashion for more.