Nicely angled eyebrows, lovely smoky eyes, blended and smooth face, and one of the best lipsticks for dark skin. This is my go-to fix for the perfect makeup.
Everything has to match. And lipsticks, I realized, are what make the makeup 'party loud' or natural-looking, especially if you are dark skin tone like me.
This should be easy to achieve, right?
I have come to realize that as a woman of color, it's not so easy to make good makeup choices. First, because there was an underrepresentation of makeup products. And now, there is a battle to get the right color for my dark skin tone.
There is a misconception that one shade fits all when it comes to dark skin. And I have identified with makeup products like foundations and concealers that this is not the case.
Not all shades of color go with dark skin tones, or rather all dark skin tones. A bold red might go with a medium tone, while a blood-red goes with a darker tone.
You realize these makeup shades are what make or break your makeup. All you have to do is choose wisely. This is why I would be highlighting the best lipstick for dark skin tones.
Best Lipsticks for Dark Skin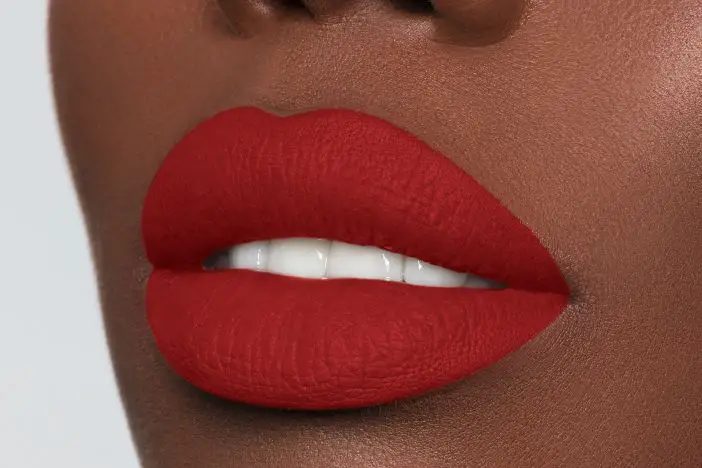 If you love lipsticks as I do, you know choosing the right shade of color is not so easy. Some might think you are overreacting when you have two reds in different shades but can't seem to pick one.
Well, it matters because not all shades are the same, and even if dark skin is the best canvas for colors, it has to be the right shade. This is why I am rounding up the best lipsticks for dark skin tones.
The list is based on reviews and customer ratings. So, you are getting the people's choice of colors for what works.
1. Best Soft Color Lipstick for Dark Skin
Revlon Super Lustrous Lipstick On the Mauve is the perfect sheer lipstick color for a lovely natural look. The lipstick is light on the lips with a perfect combination of high-impact color ad moisturizing formula.
The lipstick is formulated with vitamin E and avocado oil to keep the lips moisturized, creamy, and comfortable. Also, it was designed using microfine pigments that are sheer but with deep impact.
You can wear it with little to no makeup to complete a pouty makeup look, filling your lips with the alluring natural shade.
2. Best Deep Purple Lipstick for Dark Skin
Every dark skin tone needs a purple in their lives. L'Oreal Paris x Balmain Lipstick in Liberation is one of the best lipsticks for dark skin tones because it offers a rich and deep color in purple. Who wouldn't love a rich royal color like this?
The lipstick is also hydrating and provides a long-lasting matte lipstick. You can wear it for any dramatic occasion to make a statement.
Furthermore, the lipstick is non-drying after wear, keeping your lips shiny and perfect. You have the perfect intense color you need for any day and any occasion. It truly creates a liberating experience.
3. Best Creamy Lipstick for Dark Skin
Laura Mercier Lip Parfait Creamy Colorbalm in Cherry-on-Top is a multifunctional formula that provides a creamy finish and vitamins to keep the lips healthy.
The glossy lipstick is great for any occasion. Also, it has a smooth buttery feel to the lips. Furthermore, it fills the lips, keeping it even. Your lips won't feel dry for as long as you have the lipstick on.
If you are going for an ultra-soft youthful look, then this color is right up your alley. You can create an alluring makeup look with this bright color. And get the best 3D luminous effect to help your lip look voluminous.
4. Best Deep Nude Lipstick for Dark Skin
Pat Magrath Labs MatteTrance Lipstick in Flesh3 No. 445 is a lovely deep nude color you need to have on you at all times. The rich natural color is designed to suit the dark lips and pigment it, looking natural.
It's one of the best lipsticks for dark skin because the color is earthy and deep-toned. Also, it makes the skin look richer. You can wear it on sunny days and cool calm days.
I prefer cool calm days in the fall because the color blends well with fall colors.
5. Best Creamy Pastel Lipstick for Dark Skin
Nothing screams loud like NYX Macaron Pastel Lippies in Orange Blossom. The highly pigmented lipstick offers a creamy finish, keeping the lips moisturized and supple.
If you are looking for a fun color to experiment with, then this is your choice. The orange color is fun for a sunny day or a cool statement on a clean backdrop.
Also, orange peach is just a complementing color on dark skin, especially those with warm undertones.
6. Best Metallic Lipstick for Dark Skin
L'Oreal Paris Color Riche Lipcolor in Bronze Coin is a metallic matte lipstick for dark skin. The nourishing lipstick is also enriched with vitamin E, argan oil, and omega 3, which helps to soften the lips.
Also, the hydrating lipstick is one of the lipsticks for dark skin tones that delivers long-lasting intense color. The soft metallic bronze is lovely on the lips, falling between nude and orange.
You can wear the lipstick for a natural everyday look to a stunning dramatic look without being too dramatic. How you choose to wear it is your choice, but you will always be assured of its long-lasting stay on the lips.
7. Best Deep Brown Lipstick for Dark Skin
Yes, brown falls under the best lipstick colors for dark skin tones too. And Maybelline Sensational Lipcolor in Barely Brown offers a crispy color from pure pigmentation.
The glossy lipstick feels nourishing to the lips with ingredients like honey nectar to keep it hydrated. You can wear it on medium to deep dark skin tones.
It is perfect for any dark skin, as it complements the skin color, creating a nice monotone look. The deep chocolate lipstick is also fresh and fills the lips, creating even lips.
You can pair the lipstick with a lip liner to define it more and fill the angles and edges of the lips.
8. Best Perfect Matte Lipstick for Dark Skin
If you need highly pigmented lipstick with strong and long-lasting coverage, then Inglot Lipstick Matte Color 445 is your best choice.
The lipstick is designed to make your lips matte without drying out. This makes it perfect for all skin types.
Also, the burnt nude is the perfect deep nude shade color ideal for any occasion. It has a natural feel to it and doesn't stand out too much. However, if you want dramatic, you can pair it with lovely smoky eyes.
You can also alternate to glossy lipstick by using the transparent lip gloss trick. You only have to apply the gloss on the matte lipstick then you have shiny lips, ready for some fun.
9. Best Light Peach Lipstick for Dark Skin
Peachy Keen Color by Sugar Cosmetics Nothing Else Matter Collection is a favorite. Though a limited edition, the lipstick has worked its way up as being a lovely plush and comfortable wear.
Also, it is the perfect long-lasting lipstick you need because it is water-resistant and skin-perfecting. The formula fills your lips and creates an even silky texture on the surface.
Asides from this, you would be getting a chemical and paraben-free product that wouldn't harm your lips' skin. You can wear the light peachy pink color any time of the day.
10. Best Sultry Lipstick for Dark Skin
MAC Retro Matte Liquid Lipcolor in Young Attitude Green is a fun matte lipstick. The lipstick is easy to apply and doesn't dry out completely, giving your lips a supple feel. Also, the lipstick is great for creating sultry moods.
If you were thinking green isn't a great color on dark skin, then think again. The green hue is just the right amount of dark you need to give your tone a deeper aura.
Asides from this, the lipstick doesn't smear so easily and has the perfect stay on the lips. You can wear it for a sunny day or a sultry night if you are looking for something to express your sexiness.
11. Best Glossy Crème Lipstick for Dark Skin
NYX Professional Makeup Butter Gloss in Crème Brulee is a lightly pigmented lipstick with a sheer to medium finish. The lipstick is easy to apply, with a melting formula that is buttery soft, and silky on the lips.
The lipstick is never sticky, rather it has a shiny stay effect on the lips. You can achieve perfect natural pouty lips with this creamy gloss.
Also, it can be paired with a lip liner to define natural-looking lips. The pastel color is very enticing, and it is also long-lasting.
12. Best Earth Tone Lipstick for Dark Skin
Lip Bar's Matte Lipstick in Brickhouse is a lovely earthy color lipstick that complements dark skin tones very well. The vegan lipstick is also a nourishing lip balm that keeps the lips healthy.
The deep earthy tone is a great way to keep the lips vibrant and mysterious. If you are looking for reddish-brown lipstick for your cool tone, then this is the color to use.
Also, you would be getting a cruelty-free product that is safe for your lips and the environment. Plus, the texture is soft to the lips and doesn't leave a greyish after feeling.
13. Best Sheer Lipstick for Dark Skin
NARS Sheer Lipstick in Manhunt is the perfect lipstick for a light day. The lipstick is, of course, lightweight and provides a simple glossy finish.
You can wear it to make your dark skin pop in contrast to the light cherry color. Also, the lipstick is slick to the lips and smooth when you apply. You can wear it anytime, anywhere.
Although you would be getting your money's worth, the lipstick is a bit on the expensive side. It's one must-have for color-loving black women.
14. Best Velvet Lipstick for Dark Skin
Mented Velvet Matte Lipstick in Nude LaLa offers a smooth finish that is matte and also non-drying. All skin types and tones can wear the brown and pink nude hue.
Also, the lipstick is lightweight and is easy to glide on the lips, creating a natural lip color that feels like a second skin.
And Mented Cosmetics is known for being a vegan brand that produces cruelty-free products. Furthermore, the lipstick is paraben-free and non-toxic.
This nude lipstick will flatter your dark skin tone, deepening your rich color with its own deep tones. It's a lipstick meant to make you stand out no matter the accompanying makeup you are wearing.
15. Best Hydrating Lipstick for Dark Skin
Maybelline Super Stay 24 Lipstick in Perpetual Plum is a long-lasting matte lipstick. Also, it has hydrating balm that helps to lock in moisture.
The lipstick delivers a highly pigmented color that fills the lips and makes it look glossy-matte. Therefore, you would be getting lip filling, balm-healing, and protecting lipstick all in one.
You can pair the lipstick with the same shade of lip liner. Also, you can enjoy the simple pinkish shade for a simple day or an evening out.
How to Choose Best Lipsticks for Dark Skin Tones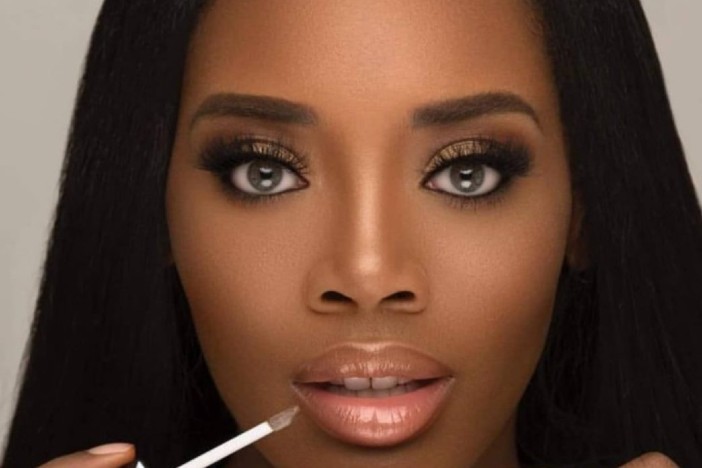 Several factors contribute to your lipstick choice. However, knowing why you should choose a particular shade of lipstick would help you pick the right lipstick shade.
1. Choose based on your undertone
Your skin undertone is essential when it comes to choosing your lipstick. We have warm, cool, and neutral undertones.
Warm undertones are characterized by golden, yellow, or peachy colors. The cool undertone is bluish, red, or pink in color. Meanwhile, neutral is both warm and cool colors. Also, you would find olive a nice in-between color.
So how do you choose lipstick based on your undertone?
Warm undertones should go for colors that complement their undertones. Colors like brick, terracotta, red, and orange are great colors that enhance the skin undertone.
Cool undertones can pick colors in bluish and pink tones. Cherry is a lovely color. A lovely berry or plum color would define the skin too.
And neutral undertones can pick from a wider range of colors. They can pick berry colors that are bright or subtle to the lips.
2. Size of your lips
The size of your lips is essential when picking the right lipstick. You either have full lips or thin lips.
For thin lips, you should go for shades that are thick or matte to give your lips volume. Try your best to avoid light or glossy lipsticks. And you can line your lips with lip liners to fill your edges and define them.
On the other hand, full lips need lipsticks that would make their lips look thinner. Glossy and creamy lipsticks are great matches.
However, full lips are getting the eye-popping attraction with bold matte colors. You can wear matte and full lipsticks, lining them with the exact shade of lip liners. This brings out your full lips more.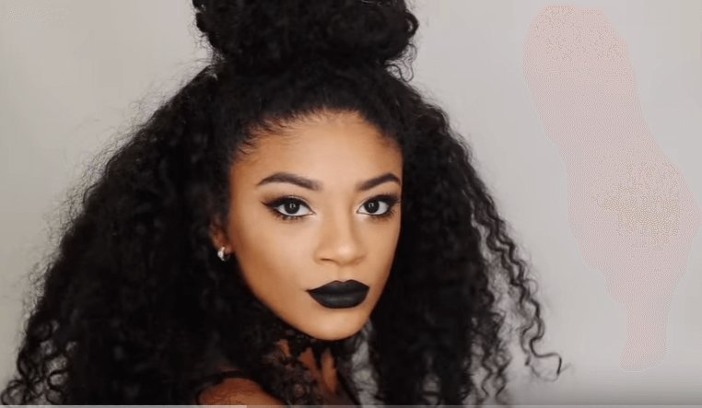 3. Teeth color
You might be wondering what your teeth have to do with lipstick, but if you want an appealing smile, it will. A little (or a lot) coffee stain could result in brownish-yellow teeth. There is nothing wrong with having colored teeth.
However, if you want to create a little illusion, let your lipstick be the focus instead of your teeth, then the lipstick you choose is important.
Yellowish teeth should avoid browns, deep purples, and scarlet red shades. However, they can wear slightly orange, rose, or light red colors.
On the other hand, white teeth are free to choose whatever color matches their skin undertone. It's good to have lovely teeth color.
4. Lipstick pigment
The quality of your lipstick pigment is equally as important as the color. If you buy lipsticks of poor quality, you will be getting greyish effects on your lips.
Also, your lipstick should contain as little amount of titanium dioxide that it can. This makes you avoid looking choppy.
5. Texture
This is how the color of the lipstick would impact your overall look. For instance, liquid matte lipsticks are great options if you want to fill out your uneven lips. Also, they have long-lasting effects when applied.
Also, liquid shimmering lipsticks are excellent for giving soft look and making your mouth a pouty look. This tends to soften your face, and it blends well with your natural everyday makeup look.
Frequently Asked Questions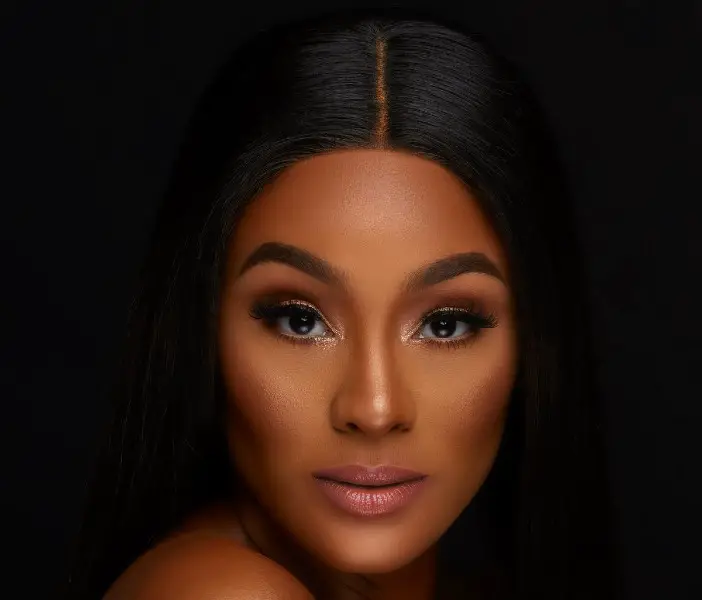 Can I use bright colored lipsticks for my dark skin tone?
Yes, you can. It is quite shocking that people think dark skin does not take color when that's the best skin to play with colors and get unique combinations.
What matters when you choose your lipstick shade is your undertone. Once the shade you choose matches your undertone, you can play with as much color as you want.
Also, it feels refreshing when you try odd colors with your dark skin tone.
Can lipstick make my lips smaller?
Yes, it can. When you want small pouty lips, use lightly colored lipsticks or go for creamy lipsticks.
They help in making the lips look thin and small. You can also add a little glitter when you wear creamy or liquid lipstick. This increases your sensual lips, making them look soft.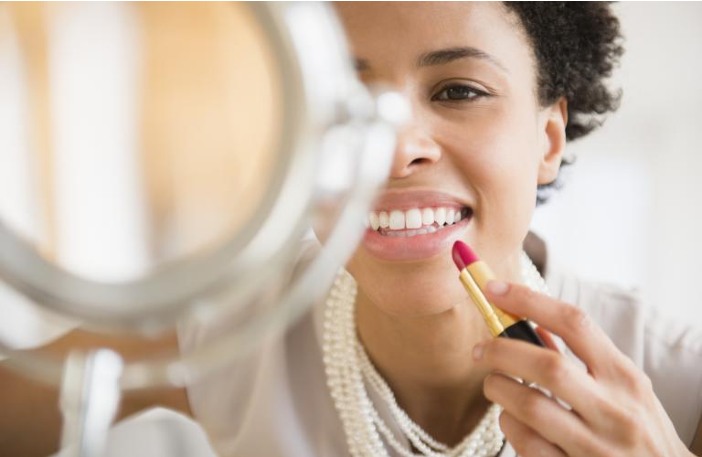 Does pink lipstick suit dark skin?
Yes, it does. However, your undertones matter.
If you have a cool skin undertone, you can get away with wearing a pink lipstick shade. But just like not all nude lipstick shades go with dark skin, so is it for pink shades.
The texture of the lipstick and the undertone of your skin are what matter.
Does dark lipstick look good on dark skin?
Yes, it does. Dark lipstick colors are great on dark skin tones.
Deep earthy tones like brown, burgundy, wine and red are a great contrast that complements dark skin tones.
When you want to pick deep colors, they have to match your undertones. Also, they have to hide the color of your lips well so as not to create an underlying effect.
Also, choose dark colors with blue undertones to complement dark skin tones when worn. Or go for colors two shades darker than your lips.
Summary
Lipsticks for dark skin tones are not so easy to find if you don't know your skin undertone. However, you can get the best colors for your skin in the list above.
For instance, if you need vibrant color, you can use L'Oreal Paris x Balmain Lipstick in Liberation. It is loud and will draw attention to your lips. Also, purple is a fun color to wear.
Also, Mented Velvet Matte Lipstick in Nude LaLa gives you the best-enhanced lips with its matte texture.
But I would recommend Revlon Super Lustrous Lipstick On the Mauve for any dark skin shade. It is hydrating, and the soft color is meant for every occasion. Also, the lipstick is sheer but still highly pigmented to give you the filled lips you want.
Now you have choices to pick from, you should be ready to take the streets with any of the lovely lipsticks in the pick. But always remember, no color is never your color. All that matters is buying one that matches your dark skin perfectly.
Africana Fashion provides relevant beauty articles and reviews to suit your daily lifestyle needs.