Certain makeup skills do not come easy and one of which is how to put on fake eyelashes especially if you're a beginner. However, when you eventually become a master of this skill, you'll agree that it's worth what it's worth.
Of all the makeup skills, anyone that has to do with eyes could be quite daunting because we're talking about a delicate body organ here. You picked this article because you want to ditch a face beat and go on your way with just eyelash extensions.
The knowledge of how to perfectly put on eyelash extensions come in very handy when you want to do your makeup at home and by yourself. I have put this article together to help you put on fake lashes at home without hurting yourself. I'll need you to follow me closely.
How to Put On Eyelash Extension
1. How to Put On Strip Eyelashes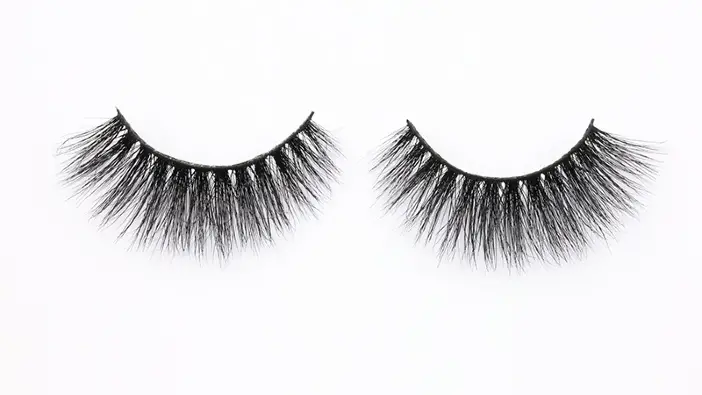 Strip eyelashes or falsies are ready to wear eyelashes that you put on with removable adhesive glue. This type of eyelash cannot be worn all through the day. After wearing strip lashes out and take them off in the evenings before bedtime. Here's how to put them on:
Prep your eyes for the eyelashes
Before you put on eyelash extensions, you should apply your eye makeup- eyeshadow and eyeliner. You do not want to bend over the false lashes while applying the eye makeup. Besides, it may hurt your eyes.
After your eye makeup, use an eyelash curler to straighten your natural lashes. Afterward, apply a thin coat of mascara over your natural lashes. The mascara will allow the fake eyelashes to stick well.
Unbox your eyelashes
This may seem irrelevant, but it is just as important. If you unbox your fake eyelashes anyhow, you may ruin the spines and they won't sit well. Hold down the plastic casing and strip them out from the outer edges to the inside. If you peel from the inner part, you may have bent eyelashes.
After unboxing the eyelashes, you should soften the spine so that it will fit well. Wrap each eyelash around your finger; wrap it around the area between the knuckle closest to your fingernail and the end of the nail. A makeup brush or any other round tool can help you soften the spine.
However, if you're using already used eyelashes, peel off the old adhesive glue from each strip. You need to do all these carefully and gently to avoid plucking off the individual lash. 
Measure and trim eyelashes to fit
This is the part where you check to see if the eyelashes are the perfect fit for your eyes. Also, you can trim them if they are longer (and you love them). You should use a mirror for this stage. Use your fingers to lay the eyelash strip over your lash line and see how it fits.
Here's how to know if the eyelashes fit. Start from the outer part of your eyelash, however, it should not get to the end and fill your inner eye. It should stop about three to four lashes to your inner eye. Otherwise, it will irritate your eye.
However, you should not leave it hanging. If it does, it will weigh your eye down. Take note of the length that fits and take it down. Trim off the excess length with a pair of clean, sharp scissors.
When you trim, work from the outside in so you do not cut off more than is necessary. That is to say, you should cut along the vein of the strip.
SEE: Makeup Hacks MUAs Say Are Perfect for Dark Skin Tones
Apply eyelash glue
Use an adhesive that is specific for bonding eyelashes. So, you do not apply too much glue, squirt a little into a plastic cup (the one you can dispose of) and use the end of a q-tip to apply eyelash glue to the strip. Do not make a thick coat of glue, a thin layer will do. Ensure you evenly spread glue along the strip.
Hold it in the air for 30 seconds so the glue gets dry and tacky. Do not blow-dry with your mouth, otherwise, you may be getting bacteria onto the eyelashes and thereafter your eyes. In addition, do not apply glue on the lashes. 
Bond eyelashes to your lash line
When the glue looks tacky, carefully place the false eyelashes on your lash line. Set it like you did when you were measuring it against your eyelid. With your eyes open, use your fingers to press the strip down onto your lash line. Gently press the strip and your natural lashes together until they stick well and firmly.  
Look into the mirror to check for gaps between the eyelashes and your lash line. If there are any, pinch the gaps with your fingers so they close. When you fix the second lashes, look into the mirror again to be sure they align perfectly.
Leave them to dry for a minute or two and you are all set to go anywhere.
SEE: Organic Makeup: Is It the Next Best Thing?
2. How to Put On Individual Eyelashes
Individual lashes are synthetic lashes that look more natural than falsies. Rather than having a strip, they are placed over each other with a knot. This knot is what makes them adhere to your lash line. They add length and volume to your natural lashes, yet they look natural. Follow these steps to safely put them on.
Prep your eyes
After you have applied your eye makeup, apply a thin coat of mascara over your natural lashes. This will help the individual lashes adhere better and firmly.
Unpack individual lashes
Use your fingers to gently remove the individual lashes from the plastic tray they come in. You can put them on the back of your hand or any other clean, flat surface. Do this gently and without tweezers to avoid having bent eyelashes.
Unlike the falsies, you do not need to soften this type of eyelashes. You can put them on straight away and carefully.
SEE: How to Take Care of Eyelash Extensions to Keep Them Looking Glamorous
Apply glue and bond individual eyelashes
Squirt just enough dollop of glue to the back of your hand or any flat surface. Leave it for 30 seconds to get tacky and thicker. Do not blow dry it with your mouth. Fixing eyelashes is a very delicate process and should be followed as such.
Thereafter, sit in front of a mirror and gently tilt your head a little backward. The tilt should angle your head so your lash line is visible, and you can see what you're doing in the mirror. Use your lash tweezers to take each lash and tap the base of the cluster on the glue.
Begin to apply eyelashes on your lash line from your outer eye to the inner eye. In between applying each cluster, hold on a few seconds for the previous one to dry and bind properly. Drop them side by side so you don't have scanty eyelashes at the end.
Most importantly, if you want a very natural look, you may trim the length of the lashes as you approach your inner eye. This way, they blend with the length of your natural eyelashes which are shorter and thinner there. Look and fill up any gaps. Leave them to dry for 6-10 minutes.
SEE: Best Micellar Water for an Effortless Makeup and Cleansing Routine
Bond
When you are sure that the glue has dried, use your fingers to pinch them onto your natural eyelashes. Look carefully and close any gaps between the fake lashes and your natural eyelashes.
Tips on How to Care For Fake Eyelashes
Avoid getting water onto them for the first 24 to 48 hours
Keep fake eyelashes clean and free from dust and dirt
Do not apply mascara after fake eyelashes
Avoid itching, pulling, rubbing, or picking at eyelash extensions
Wear swim goggles if you'll be getting into salt water
Get eyelash refills after weeks or wearing fake lashes
Do not use an eyelash curler on fake lashes
Do not use an oil-based facial or make-up cleanser, or any oil-based product at all
Use a silk or satin pillowcase
Try to sleep on your backside when you have false lashes on
Take off your strip eyelashes before going to bed. On the other hand, you can go to bed with individual lashes on
Cut down on eye cream application
Brush them regularly with a clean mascara brush
SEE: How to Remove Eyelash Extension at Home- The Guide You Need
Frequently Asked Questions
What are the easiest eyelashes to apply for beginners?
Strip lashes are best for beginners. Individual lashes, on the other hand, are for people who have experience with eyelashes. The former is an already made, easy-to-wear lash that takes a shorter time and less technicality to put on.
However, you should choose eyelash extensions based on the purpose for which you want to wear them. Strip lashes are for occasions that you should take off before bedtime while individual lashes work with any time for the day.
Should you put mascara before or after fake eyelashes?
Apply mascara before you put on eyelash extensions. The coat of mascara will allow the false and natural lashes to stick together for a resulting seamless finish. Also, it prevents your natural lashes from sticking out of the falsies.
Can false lashes ruin your natural lashes?
Yes, they can. False lashes can damage your natural lashes if you wear them for too long and if you overfill your lashes. Overfilled lashes can weigh down your natural lashes and cause them to shed. Also, wearing lashes for too long can alter the growth cycle of your natural lashes.
To avoid ruined or scanty lashes, do not overfill. Additionally, do not wear them for too long and take breaks between extensions. Be generous with post-eyelash care.  
How long do individual eyelashes last?
They can last up to 4-6 weeks. But this depends on your natural eyelashes, the bonding glue, and how well you care for them.
To enjoy lashes longevity, get a refill every two weeks, keep them from getting drenched, and do not use eyelash curlers.
Conclusion
Eyelashes are eye lifting and you can say on some days, they are just enough makeup. There are two types of fake eyelashes; strip and individual eyelashes. The types do not suggest that one is superior to the other although one has an advantage over the other.
When you master the art of putting on your eyelashes by yourself, you'll begin to feel like a makeup pro and the feeling is welcome.
As a beginner, you must be ready to give your first trial all the time it needs. This skill is not one you just get over and done with besides it's the eyes we are talking about here. Weigh your options and the occasion for getting fake lashes. That should better inform your choice of eyelashes.
Thanks for reading.
Check Africana Fashion for relevant beauty articles that help you achieve a detailed and upbeat fashion lifestyle.