The evolution and convergence of beauty and cosmetic products brought about skincare and makeup products like BB creams. They were the best thing that happened to women because they could be swapped for a foundation. However, you have to ask, is BB cream a foundation?
Many find there is little to no difference between the two as they both provide a level of pigmentation to cover our imperfections. And some think it's best to stick to one or the other because they are far apart.
Well, I would like to clear it out now.
BB cream is not foundation. They both provide a cover to our skin imperfections and blotches, but they are not the same.
Here, I would be discussing the differences between BB creams and foundations if you were wondering which one is suited for you.
Is BB Cream Foundation?
As I said, BB cream is not the same as foundation. They are varying cosmetic products that have different uses in your makeup routine. The following are the differences between BB creams and foundations.
SEE: All You Need to Know About BB Cream
1. Coverage
Beauty Balm (BB) cream's coverage is light to medium. It is used to hide blemishes with a natural finish. Meanwhile, foundation gives you total coverage on your face.
Most BB creams are for minimal days where you want to look natural but not bare. For such days, you need sheer coverage with just enough color to give your face enough a natural glow.
Foundations can go from sheer to full coverage with no sight of your blemishes and imperfections. It provides a smooth and flawless cover. You can wear it for days you really want to hide your face, looking decked-up.
2. Different Formulas
The formulas of BB creams and foundations are different. A BB cream is lighter and less pigmented than a foundation. The product feels like a second skin without any weight on your face.
On the other hand, a foundation is heavy and highly pigmented. Furthermore, the colored product ranges in formulas. It can come as powder, cream, liquid, or wax. Whereas, BB cream mostly comes in liquid or creamy formulas.
The concentration of both formulas is quite different and the ingredients are different too. However, they have the same primary function, that is, to hide blemishes.
3. Hybrid Cosmetic Product vs Makeup Product
BB cream is a hybrid cosmetic product that aims to improve your skin while making you look beautiful and natural. Foundations, on the other hand, are makeup products created to beautify and enhance your natural look.
Foundations provide more than just beauty enhancement. You can use them for aesthetic purposes, where your face is a representation of art.
If you need to convey a specific type of feeling with your makeup, a foundation is the right option rather than a BB cream due to its full and thick coverage.
4. Skincare Benefits
In terms of skincare benefits, BB cream leads the charge. BB creams are mainly hydrating and moisturizing formulas with pigments to hide blemishes and imperfections. Their fluffy texture is concentrated with hydrating and moisturizing components.
Foundations are not so much the same when it comes to hydrating the skin. However, they do come with non-comedogenic formulas; that is, they do not clog your pores.
Nonetheless, this does not beat having a product that hydrates your skin and protects it while on your face. This is why people opt for BB cream; it provides the needed hydration you need.
Therefore, you wear BB cream when you want to maintain your skin's moisture and still hide your spots and dark corners.
5. Skin Tones
Foundations have a wider range of colors and shades than BB creams. With foundations, you will find the most unique skin tone shades for all possible tones in the color chart.
On the other hand, BB creams have limited color shades. For BB creams, you have light, medium, dark, and deep dark. However, foundations range from fair, to the in-between shades, to deep dark- the richest of all colors.
The options for shades are different between the colors.
6. SPF Protection
Most BB creams contain SPF that protects the skin from the sun's UV (ultraviolet) rays. This makes them a necessary product to have in your makeup kit. The SPF protection also differs from as little as SPF of 15 to SPF of 50.
However, you should not replace sunscreen with BB cream; it is the primary skin-protector against UV rays.
Foundations do not have SPF in them; well that is changing now. However, a common misconception about foundations is that the face stays protected when covered by them. However, this is not true.
We need to layer sunscreen on our faces before adding makeup. No matter your skin color, you need sunscreen, even if your makeup product contains SPF.
SEE: Bursting the Myth – Is Sunscreen Good For Dark Skin Tones?
Similarities Between BB Cream and Foundation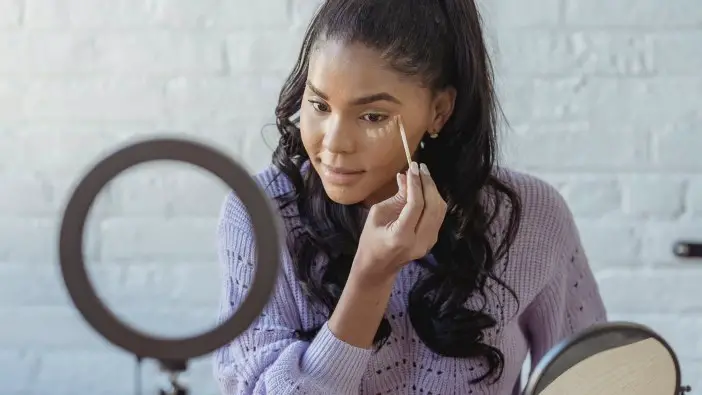 1. Base Product
Both BB cream and foundation serve as a base makeup for other products. The pigments are the canvas on which you draw your other makeup products. They are designed to create a clean and clear face canvas.
2. Used to Cover Blemishes
Although they differ in coverage, BB creams and foundations cover the skin's blemishes. BB creams provide sheer to medium coverage. The coverage might not hide the blotches and imperfections entirely; it does give your face a natural look.
Meanwhile, foundations provide sheer to full coverage with blotches and imperfections fully covered, providing flawless makeup.
3. Pigmented Products
They are both pigmented products that match skin color. Their pigment level decides if they can provide total or sheer coverage on the face. They also range in color based on general skin tone and complexion.
The cosmetic products give the skin a matching blend to hide blemishes with near to natural pigment colors.
SEE: From Natural to Shiny: 15 Best Foundations for Dark Skin
BB Cream vs CC Cream vs Foundation
BB cream is a sheer blemish coverage product, while CC cream is a spot corrector with hydrating ingredients. Whereas a foundation is primarily used to hide blemishes with full coverage.
These sets are all pigment products, therefore, they are often mixed for the other. However, they are different from each other.
BB creams are hybrid cosmetic products that provide sheer to medium coverage while hydrating and protecting the skin from free radicals.
CC creams, meanwhile, are color-correcting creams that are lighter, fluffier, and highly pigmented to color correct your face. They also have skin benefits that can be set apart from a BB cream.
A CC (color corrector) cream could be targeted too. For instance, we have anti-aging CC creams, acne scar CC creams, spot corrector CC creams, and age spots and wrinkle-hiding CC creams.
Unlike these two, a foundation is purely to hide blemishes and imperfections with its thick formula. Consequently, if you are looking at a scale of which has more coverage power, the order goes like this: BB cream < CC cream < foundation.
SEE: BB Cream vs CC Cream: Know Their 2 Distinctive Differences
BB Cream vs Tinted Moisturizer vs Foundation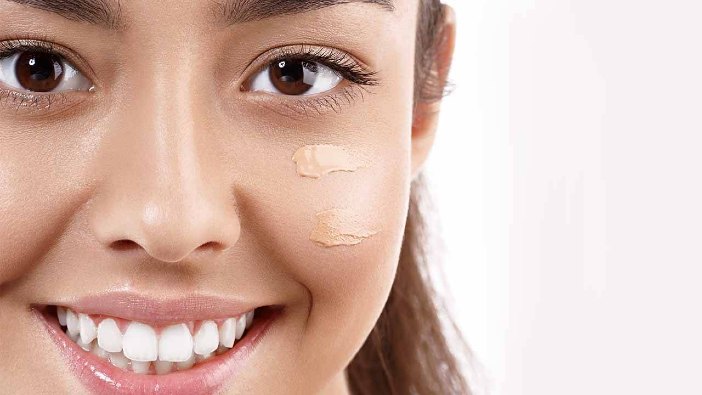 Tinted moisturizer is a moisturizer with color. BB cream is a hybrid product that provides hydration and hides blemishes. On the other hand, foundation is a thick paste that does not have moisturizing properties.
This is also a topic of debate people can't seem to weave an answer for, but there is one.
Asides from being a moisturizer with color, a tinted moisturizer is lighter than others. It just adds color to your face, but its main priority is to moisturize your face. Also, the color is not long-lasting. You can feel see a moisturizer's color until it is absorbed by your skin pores.
BB creams are thicker than tinted moisturizers and last longer but it does not provide full coverage. Meanwhile, foundations are long-lasting and have full coverage on the face.
How you use these products depends on your needs. If you need something that wouldn't clog your pores or feel heavy, use a tinted moisturizer. If you want sheer coverage with hydrating ingredients, use a BB cream. And if you need total coverage, a foundation is best.
Frequently Asked Questions
Can my BB cream replace my foundation?
Yes, it can. A BB cream can replace a foundation in your makeup routine.
However, it should not be used if you want to hide all your blemishes and imperfections. BB creams are perfect when you have little to no spots or skin issues on your face.
Moreover, a foundation provides a flawless finish on your face.
Which should I use between BB cream and foundation?
You should use a BB cream and foundation based on your skin's needs.
If you have little to no spots or blemishes, a BB cream would lightly blend your face, giving you a natural finish. Whereas, a foundation is right for you if you have blemishes, spots, and imperfections that needs covering.
Additionally, if you want to look natural with minimal makeup, a BB cream is your perfect choice. On the other hand, a foundation serves for a glammed-up look.
How do I use a BB cream?
You use your BB cream as you do any makeup product on your face. It should also be applied after your moisturizer and sunscreen.
Dab your BB cream on your face. And with a beauty blender, sponge, brush, or fingers rub the BB cream on your face, massaging the product in. Then, build the product on your face as needed.
How do I use a foundation?
You use a foundation after applying your moisturizer, sunscreen, and primer. Then, you can use an applicator like a brush, beauty blender, or sponge. You can opt for your fingers, but I do not recommend this because it turns messy.
All you need to do is use your applicator of choice to dab the foundation on your face. Then you blend the foundation focusing on your problem areas. Build the foundation based on the type of coverage you want.
Conclusion
It's easy to answer if BB cream is a foundation. The answer is no, it is not. Although they both act as base makeup for other products, they have different features.
For instance, BB creams are great hybrid products that enhance your beauty while keeping your skin protected and hydrated. Foundations are mostly beauty-enhancing products.
Both products hide blemishes, giving your skin sheer to full coverage. However, these two are worlds apart. Furthermore, they are for different purposes. All you have to do is know what situation calls for which base makeup.
If you are in a hurry, need light makeup, or have clear skin, a BB cream is your choice. Meanwhile, foundations are perfect for a glammed-up look, full coverage of blemishes, or wanting to create a beautiful aesthetic.
If you know when to use these two, you have conquered the misconception between the two beauty enhancing products.
Thanks for reading.
Africana Fashion provides relevant beauty articles to suit your everyday beauty lifestyle.