Do you think Guess is a luxury brand? If you have an eye for luxury, this is one question that has likely popped up in your head or conversation at one time or another. And many people are still asking.
Many factors contribute to whether or not a brand can be considered luxurious. Plus, some key elements often associated with luxury brands include high-quality materials, aesthetics, and price tags.
In this review, you'll see if Guess has consistently been able to meet these standards and why it is a favorite among luxury shoppers. 
About Guess
Early years
Inspiration comes and goes, but when it has the name Guess in it, you cannot let it slip, and that's what the Marciano brothers did.
GUESS was founded in the year 1981, and as the story goes, the Marciano brothers had paid a visit to Los Angeles from their hometown in the South of France.
There, they fell in love with their new lifestyle and decided to make it their home. While on their way to work, they saw an advertisement slogan that read, "Guess what's in our new Big Mac?" and somehow the word Guess just couldn't leave their minds.
Guess launch
Before long, the brothers had adopted the Americana lifestyle and redefined the way denim was advertised in the fashion industry.
With the release of their Marilyn Jean, a slim-fitting, ankle jeans, they brought on board some of the best and most curvy models, including the iconic Naomi Campbell, Paris Hilton, and Claudia Schiffer.
They also added new cute and washes to their denim fashion, one the world had never seen before. It was their moment, and they were not about to let it slip.
SEE: Is Champion A Good Brand Or Not?
1990 to date
By 1990, the brothers decided it was time to license the brand's name to other manufacturers. And Revlon was one of the earliest brands to market its perfume using the Guess logo.
By 1996, Guess went public, with royalties making up about 10% of the company's revenue, but it remained a family-run business. 
Over time, Guess became known for producing quality and trendy products, and they were often seen as marketing genius.
To date, Guess remains an American clothing and retailer brand. It is 41 years strong and has a solid online presence and over 1300 thriving stores worldwide. 
Is Guess a luxury brand?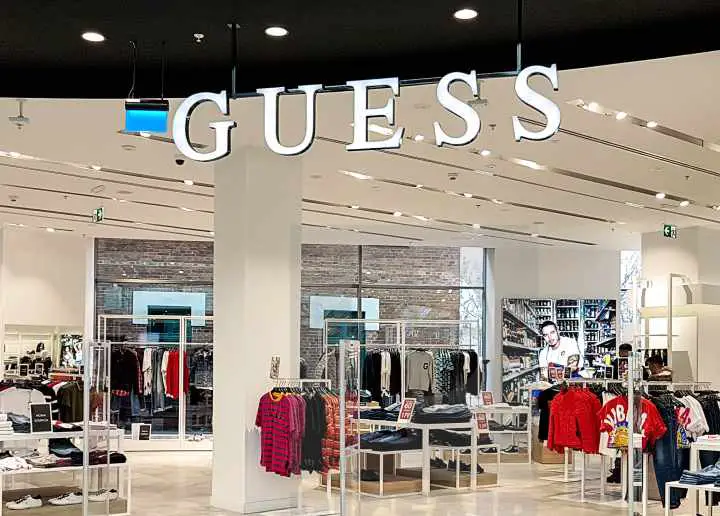 Not entirely. But I'd like to clarify what a luxury brand is and isn't.
First, the products have to be expensive
That is, they should be above the average department store price.
In the case of Guess, the brand has products with a high price tag, but most of them are not as insanely expensive as lofty-height brands like Gucci, Chanel, or Prada.
You can still shop for a pair of Guess jeans, bag, or jacket without spending over a few hundred dollars- and that's not exactly luxury.
Next, you have to consider its exclusivity
That is, it should be difficult for most people to get their hands on their products, and the products should be so rare that only a select few can afford them.
Guess does not practice this form of exclusivity and scarcity. Instead, they churn out several products and offer leftovers at a discount price.
Finally, is the aesthetic
A luxury brand needs to have that extra touch of class to it. Its products cannot afford to look like a standard or everyday type. Guess still doesn't fit into this category because it does not push the boundaries by creating timeless pieces.
Its designs are also more standard than luxurious, especially when compared to high-end brands like Louis Vuitton. That is not to say that Guess isn't making other efforts to establish itself as a luxury brand.
SEE: Is Poshmark Safe To Buy From?
What makes Guess a luxury brand?
Creative marketing.
It's a common fashion talk that when celebrities wear a brand frequently, it is a luxury brand. This is true, whether or not they are consciously marketing the brand. And I can clearly say it's one area that Guess is leveraging so well.
A popular example was when Kendal Jenner was spotted wearing a Guess T-shirt in Beverly Hills. You may also have seen Peyton List, Disney Channel's star, step out in a Guess jumpsuit, and the list goes on and on.
The more celebrities endorse a brand by wearing it in public, the more validation it has in the public eye. More importantly, it's instantly termed luxury, and people want to have a piece of what their favorite celebrity is wearing.
In essence, although Guess does not entirely match up to what a luxury brand should be, people still consider them a luxury brand for its creative marketing and brand exposure.
Is Guess a luxury brand for bags?
No, it isn't.
While I wouldn't exactly refer to Guess bags as 'luxury' for the same reasons I mentioned earlier, it's still clear that Guess bags are of very high quality and exceptional styles.
You can get a classic purse for up to $50, and most of the bags are affordable and come from durable faux leather. I'd instead refer to the bags as stylish and classy than luxurious.
SEE: Is Express A Good Brand Or Not?
Is Guess a luxury brand for watches?
No, it isn't.
Keep in mind that Guess is more of a fashion brand than a watch brand. Also, compared to other luxury brands, Guess has some of the most affordable watches on the market.
For this reason, Guess is not a luxury brand for watches, as one of the features of a high-end brand is its sky-high price tag.
Is Guess perfume a luxury brand?
No, it isn't.
Although people still consider Guess perfume to be luxurious, it's not entirely true. The most luxurious perfume in the world is Chanel No. 5, and it's over 100 years old.
Guess perfumes are affordable and will take a while to climb the charts of truly luxurious scents.
However, Guess licenses its brand on other fashion items like perfumes, bags, watches, and jewelry. 
Is Guess a designer brand?
Not really.
It's a standard and quality brand with high-end fashion and creativity, but it's not on the level of designer brands like Hermes and Louis Vuitton. 
SEE: Best Evergreen Gift Ideas for Women
FAQs
Is Guess a fast-fashion brand?
Yes, it is.
The reason is that it produces a full range of denim and apparel that keep pace with the latest trends in the fashion industry.
Which is better, Gucci and Guess?
Gucci is better.
According to Comparably, Gucci ranks 52 in the list of Top 100 Global Brands, while Guess is at 365 out of the Global Top 1000 brands. Also, Gucci is a more expensive and luxurious brand than Guess.
What age group is Guess meant for?
Fashion-forward customers between the age of 18 and 32.
Do celebrities wear Guess?
Yes, they do.
As mentioned earlier, Guess is still a favorite among celebrities like Jenifer Lopez, Vanessa Hudgens, Ashley Benson, and Bella Hadid. Quite a number of celebrities have been spotted wearing Guess jeans or T-shirts.
Conclusion
Guess is considered a luxury brand, but in a true sense, it's not one. Furthermore, it is not as well-known as other luxury labels. The company's products are known for their high-quality and durable materials.
And its clothing, accessories, and fragrances are all popular among celebrities and fashionistas. Guess is also known for its sexy and glamorous advertising campaigns. They are a marketing wiz and deserve their flowers.
If you're looking for a great brand that offers both high-quality products and a sexy appeal, Guess is definitely worth buying.
Thanks for reading.
Did you find this guide insightful? Read more on Africana Fashion.