If you are unfamiliar with the fashion world, you might think Christian Louboutin and Louis Vuitton are interchangeable, but this is not the case.
Even though they both started from the same place, are luxury brands, and sound similar when spoken, these two brands have distinguishing selling points.
To find out if Christian Louboutin and Louis Vuitton are the same, I suggest reading this article all the way through.
About Louis Vuitton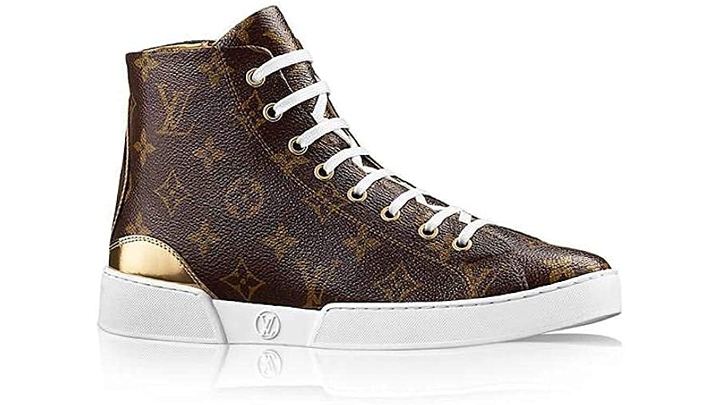 One of the most well-known luxury brands in the world, Louis Vuitton is known for its exquisite leather goods, storied steamer trunks, recognizable monogram handbags, exquisite watches and jewelry, and cutting-edge clothing.
French fashion designer and expert craftsman Louis Vuitton founded his company in Paris in 1854.
Vuitton began his career by creating trunks for Empress Eugénie de Montijo, the wife of Napoleon III. And at the age of 33, he established his artisanal workshop at 4 Rue Neuve-des-Capucines.
When he first started, the main modes of transportation were steamships, boats, and horse-drawn carriages.
Thanks to his expert craftsmanship in trunk making, Vuitton invented ground-breaking flat-topped stackable cases that were waterproof and as light as a feather, suitable for traveling the gruesome modes.
Even today, Louis Vuitton trunks, with their monogram logos and ground-breaking single lock systems with unpickable spring buckles, are highly prized and collectible.
Georges Vuitton took over the company after his father Louis passed away in 1892, and four years later, the first canvas with the 'LV' monogram, quatrefoil, and flower design was introduced.
The iconic monogram pattern is still present on Louis Vuitton shoes, jewelry, and handbags, and it continues to represent luxury travel, sophistication, and style.
About Christian Louboutin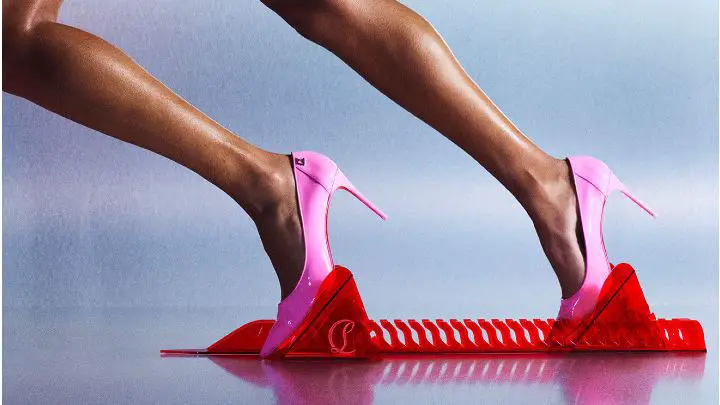 Christian Louboutin, born in Paris in 1963, is a French fashion designer best known for his high-end shoes, which can be recognized by their brilliant red soles.
When Louboutin was a teenager working in the dressing rooms of the famed Parisian music hall Folies-Bergère, he was struck by how the showgirls managed to walk confidently while donning enormous headdresses.
It was at this point in the early 1980s that he understood the depth of his interest in footwear design.
After completing his training at the Folies-Bergère, Louboutin gained experience as a designer for the fashion houses established by Coco Chanel, Maud Frizon, and Yves Saint Laurent.
Also, the designer did occasional work for the renowned Parisian shoe company with the master shoe designer Roger Vivier, who later served as Louboutin's mentor.
In 1992, Louboutin started his company in Paris, continuing to run it out of the store and design studio. He gave the soles of all his shoes a bright red color, giving him an instantly recognizable signature.
Moreover, his designer shoes typically cost around $800 per pair. The brand's signature designs include a stiletto heel, colored leather, or exotic reptile skins for the upper portions.
Are Louis Vuitton and Christian Louboutin the same?
No, they are not the same.
Christian Louboutin and Louis Vuitton are two French fashion houses that have long been mixed up.
Even though both businesses primarily specialize in women's clothing, they're two separate businesses with different brand DNAs.
Differences between Louis Vuitton and Christian Louboutin
Christian Louboutin
Christian Louboutin launched in the year 1992.
Its primary focus is on women's high heel shoes.
Additionally, its classy high-heel is preferred over the shoes that come from Louis Vuitton.
The shimmering red-lacquer sole is a signature of Louboutin shoes.
Louis Vuitton
The brand was founded in the year 1854.
Its main focus is on female handbags and purses more than shoes. As a result, they're more popular in the bag industry than Christain Louboutin.
It has a hidden serial number attached to each Louis Vuitton bag and is located in the seam with a piece of leather used to make them.
The stitches on Louis Vuitton bags are neat and even, sewn with yellow thread.
Louboutin handbags are available in a variety of colors and patterns. The strap chains for these bags may also be made of silver or gold tone.
How expensive are Louis Vuitton items?
Since Louis Vuitton is regarded as a luxury brand, the majority of its items are exorbitantly priced, usually beginning at $1,000.
How expensive are Christian Louboutin shoes?
There is no denying that Louboutin shoes are expensive buys, with prices ranging from $650 to $6,000 upwards.
FAQs
Are Louis Vuitton and Louboutin pronounced the same?
Because they are both French names, the pronunciations of Louis Vuitton and Louboutin are similar and can be confusing. Louboutin is pronounced LOO-buh-TAAN, while Louis Vuitton is pronounced LOO-ee (pause) vuh-TAAN.
Does Louis Vuitton make red-bottom shoes?
No, they don't.
Louis Vuitton shoes are not known for having red soles. The red soles are majorly Christian Louboutin's signature and can be found throughout their collection.
What makes Christian Louboutin so special?
Fine attention to detail improves the quality of Louboutin shoes.
Attention is drawn to these trademark shoes by their unique details, which are designed to stand out. Also, quality craftsmanship reflects this meticulous attention to detail.
What is the most luxurious fashion brand?
According to the Luxury Columnist, the topmost luxurious fashion brand out there is Louis Vuitton.
Conclusion
Comparing the two French powerhouses, Louis Vuitton and Christian Louboutin, is quite tricky.
Even though both are excellent and highly regarded brands, ultimately, they are very different in terms of design, merchandise, and marketing.
Additionally, what actually separates Louis Vuitton from Christian Louboutin is that the latter is more famous for its red bottom shoes. Meanwhile, the former is for its handbags more than its shoes and clothes.
Thanks for reading.
If you enjoyed reading this article, check out Africana Fashion for more.